Welcome to the natural gas storage forecast edition of Natural Gas Daily!
The EIA reported a -150 Bcf draw figure yesterday, which was 10 Bcf lower than our forecast of -160 Bcf. Be sure to read our summary of the storage figures here.
We anticipate a storage draw of -50 Bcf for the week ending March 24.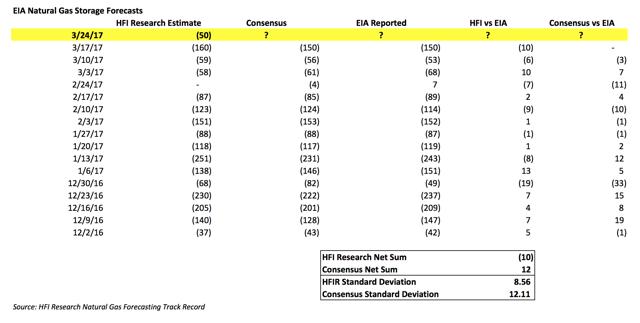 We will be resetting our track record of storage forecasts at the end of March. Current forecasting track record pins our net sum to EIA storage figures at -10 Bcf (indicating 10 Bcf lower than EIA estimates) and a standard deviation of 8.56 against EIA estimates.
Here are how fundamentals matched up to the previous week: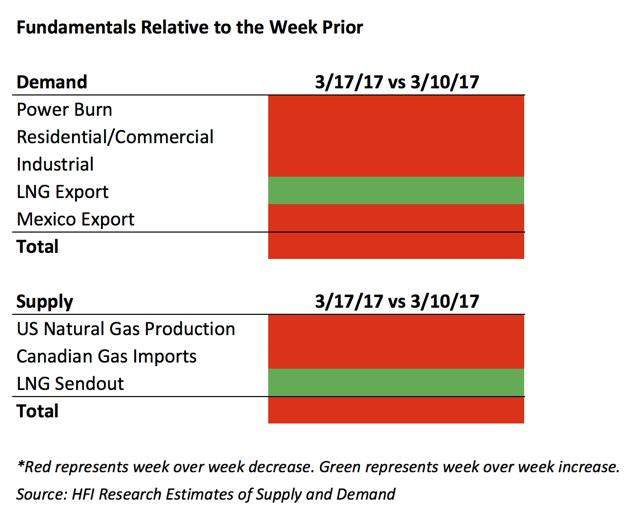 As a service to our premium subscribers, we will no longer be posting specific data each week. Rather, we will post the general direction of how fundamentals are shifting. Green represents an increase week over week while red represents a decrease week over week.
Fundamentals this week saw US gas production drop back into the low 70 Bcf/d range and Canadian gas net imports fell as well. On the demand side, power burn, heating demand, and industrial demand all fell this week as the winter storm dissipates. Overall demand was materially lower, and the resulting net imbalance is 100+ Bcf lower than last week's. If fundamentals continue as we currently project, natural gas prices should find a solid floor at $2.90/MMBtu.
If the EIA storage report comes in around -50 Bcf, it would be compared to a -27 Bcf five-year average and -19 Bcf from last year.
For HFI Research's analysis ONLY in natural gas markets (new premium service), please sign up here. For more info, you can read this.
For HFI Research energy equity research AND analysis in natural gas markets, please sign up here. For more info, you can read this.
Disclosure: I/we have no positions in any stocks mentioned, and no plans to initiate any positions within the next 72 hours.
I wrote this article myself, and it expresses my own opinions. I am not receiving compensation for it (other than from Seeking Alpha). I have no business relationship with any company whose stock is mentioned in this article.