The stock market correction is underway. It is neither long nor deep. Nor is it anything that should cause stock investors alarm, at least at this point. But it is now taking place. Thus, it is worthwhile to consider how low stocks might go before the seemingly inevitable bounce that follows.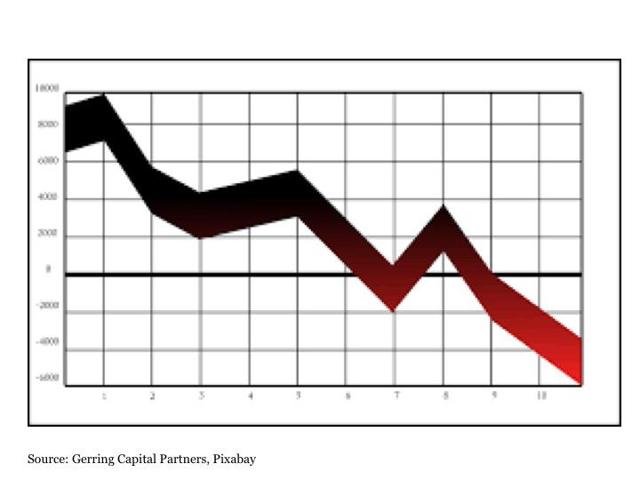 A Correction One Month In The Making
While it seems a bit surprising, the current stock market correction got started nearly four weeks ago. On March 1, stocks (NASDAQ:QQQ) as measured by the S&P 500 Index (NYSEARCA:SPY) peaked at a new intraday all-time high of 2,400.98 not long after the address to the joint session of Congress. In the 17 trading days since, stocks (NYSEARCA:DIA) have edged lower by as much as -2.68% from peak to trough and are still -2.21% lower through Friday's trading.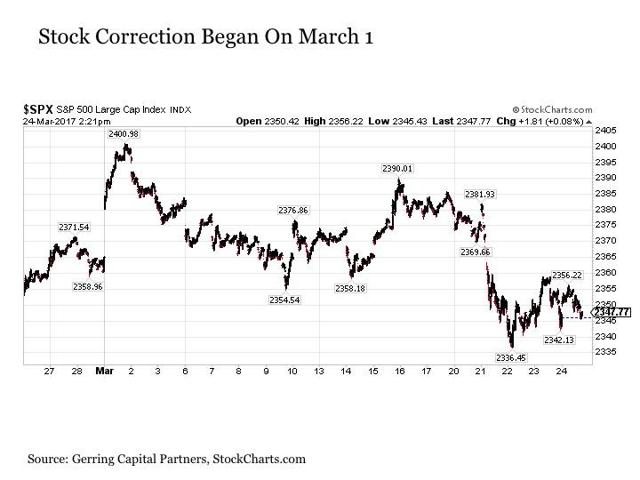 The large-cap benchmark has not been alone among U.S. stocks in moving to the downside, as both the S&P 400 Mid-Cap (NYSEARCA:IJH) and the small-cap Russell 2000 Index (NYSEARCA:IWM) have fallen by as much as -4.25% and -5.50%, respectively, from peak to trough over this same time period.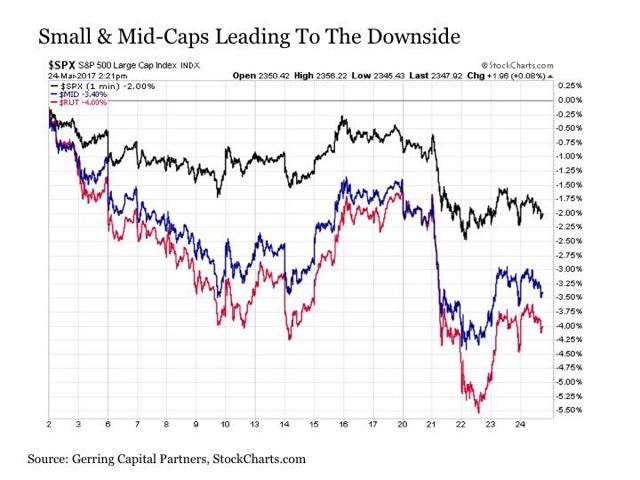 Putting This Correction In Perspective
One of the reasons that the recent stock (NYSEARCA:IVV) correction seems a bit surprising is because it has not felt like stocks have been falling over the past month. And it is important to put this recent correction that is still less than -3% on the S&P 500 Index into perspective.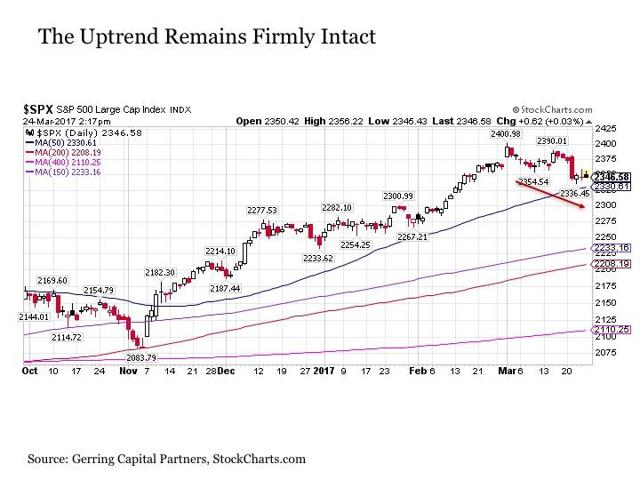 Most significantly, the uptrend in stocks remains very much intact. The S&P 500 Index has not even broken below its intermediate-term 50-day moving average during its recent pullback. If anything, the recent decline during the month of March looks more like a healthy consolidation after an extended upside move in stocks.
Thus, the recent pullback in stocks at -2.68% peak to trough over 17 trading days is so mild in magnitude that one could even dismiss the notion that stocks are even correcting right now.
The Fundamental Risk Remains
But just because the pullback has been mild thus far does not mean that it can't evolve into something more profound. As one of many examples, the stock market pullback in July 2011 was very mild at first before quickly accelerating to the downside once August got underway that year.
And today's market is not without both fundamental and behavioral risks that could easily spark a more pronounced downside move in the coming days and weeks.
First, the S&P 500 Index remains effectively priced for perfection at more than 24 times trailing 12-month as-reported earnings, which is roughly 50% above the long-term historical average for the broader market. And stocks are continuing to become more expensive even as they drift marginally lower with each passing week, as forecasted earnings for the coming quarters continue to be revised lower.
Also, the latest stock rally that began back in early November was predicated on the notion that the implementation of pro-growth fiscal policies this year would result in an acceleration of economic growth and subsequently corporate earnings as well as ignite higher inflation. But it has become increasingly evident in recent weeks that even if the healthcare bill manages to pass the House of Representatives, that the transformational pro-growth legislative process that so many investors were banking on is likely to be far slower, messier and deliver much less in the way of results than originally expected. And given that stock prices soared due to these pro-growth fiscal policy expectations, the withdrawal of these same sentiments may result in stocks eventually giving back at least some if not all of these gains over the past several months.
Setting Targets
Given the potential that the current correction could take another more pronounced leg to the downside with shifts in the fiscal policy outlook serving as the catalyst, it is reasonable to consider what the key support levels may be that would support a bounce back to the upside for stocks.
Why should we expect stocks to so quickly bounce following any further correction in the coming days and weeks? Because, even if the March 1 peak ends up being the top tick for the second longest bull market in history (I am not suggesting this is the case with this statement), the stock market simply does not peak and start tumbling straight lower. Instead, the market topping process is something that plays out over a reasonable period of time typically lasting at least a few months and including corrections followed by rallies. And from a sentiment standpoint, given that nearly 100% of institutional investors believed as recently as a few weeks ago that stocks would be trading higher one year from now, there is likely no shortage of investors who are dying to seize the opportunity to buy stocks on their first sustained dip since last fall.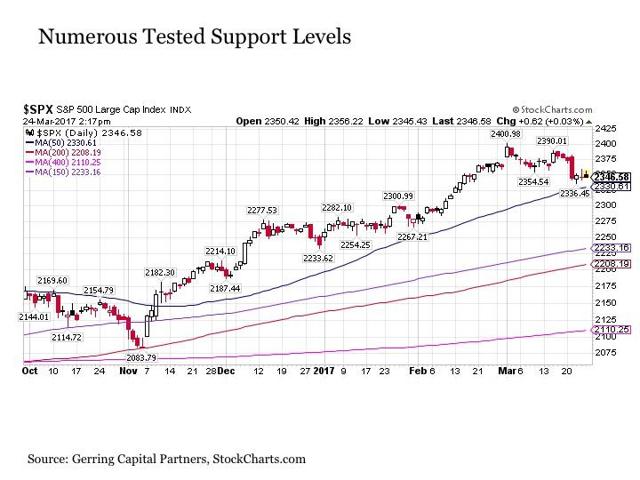 So what are some key levels to watch? The first would be the key moving average support levels. The first line of defense is the 50-day moving average that is quickly approaching at 2,330 and rising. A decline to this level would represent a still fairly mild -2.92% peak to trough decline. Other key support levels include the 150-day moving average at 2,233 and rising, which would be just short of -7% below the peak, the 200-day moving average at 2,208 and rising, which would be roughly -8% below the peak, and the ultra-long-term 400-day moving average at 2,110, which would be a bit more than -12% below the all-time highs. But even with a drop down to the 400-day moving average, this would still remain within the norm of a typical stock market correction and the uptrend would still be very much intact.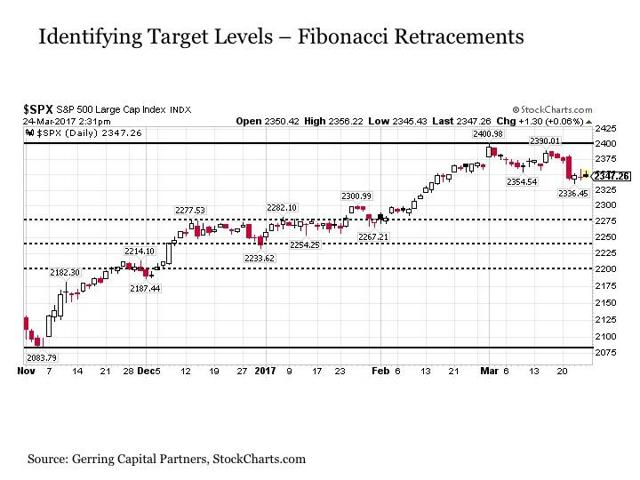 Another would be the Fibonacci retracement levels struck by the early November lows and the early March highs on the S&P 500 Index. These Fibonacci retracement levels present themselves over time as commonly repeated retracement patterns for securities movements over time. The three key retracement levels associated with the Fibonacci sequence are the following: 61.8%, 50.0%, and 38.2%. And as it relates to the S&P 500 Index, these readings currently reside at 2,278, 2,240, and 2,202, respectively. These levels would suggest retracements from the March 1 peak of -5.08%, -6.67%, and -8.25%. All of these readings are perfectly normal and well within the realm of a standard stock market pullback at any given point in time.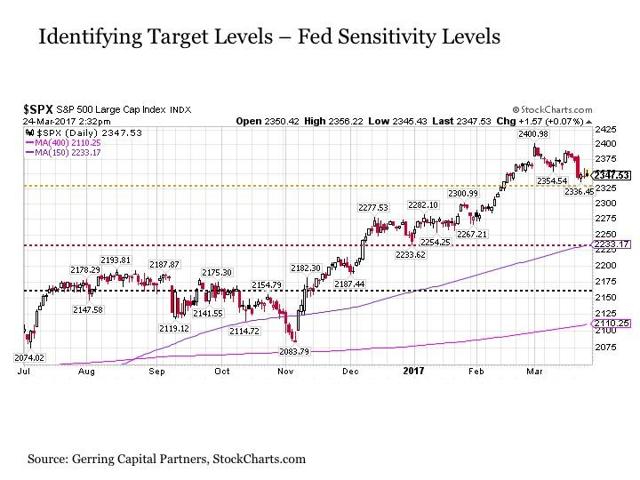 Yet, another would be the decline levels where the Fed has shown a particular degree of sensitivity to take action. Typically, the Fed will maintain its faux hawkish resolve up until stocks have fallen by -3% from their peak. And while it may begin to soften its tone once this line has been crossed, it will usually hold its hawkish ground until the decline hits around -7% on average. Historically, during the post-crisis period, once the decline starts moving beyond the -7% range, the Fed starts singing a more dovish tune and may even muse about delaying further interest rate hikes. Lastly, a correction below -10% typically has Fed members trying to find a podium to speak at and start doing a bit of jawboning to try and stem the decline. In so far as today's market is concerned, these levels would come at 2,328, 2,232 and 2,160, respectively. Once again, all are support levels that remain well within the realm of a normal healthy correction while still keeping the long-term uptrend intact.
The Bottom Line
The stock market correction has been underway throughout the month of March. The correction has been mild to this point, but has the potential to pick up speed in the coming days and weeks, particularly if it appears that the pro-growth legislative dreams of investors may be stalled in Congress.
But even with an acceleration to the downside, the U.S. stock market enjoys so much technical and behavioral support at these levels that it is bound to find a bottom within the range of a reasonable correction and subsequently begin working its way back to the upside. As a result, investors would be well served during any short-term correction in the coming weeks to look sharp for key support levels upon which they can use to buy up short-term stock allocations or perhaps even longer-term investment opportunities that may be of interest.
Disclosure: This article is for information purposes only. There are risks involved with investing including loss of principal. Gerring Capital Partners makes no explicit or implicit guarantee with respect to performance or the outcome of any investment or projections made. There is no guarantee that the goals of the strategies discussed by Gerring Capital Partners will be met.
Disclosure: I/we have no positions in any stocks mentioned, and no plans to initiate any positions within the next 72 hours.
I wrote this article myself, and it expresses my own opinions. I am not receiving compensation for it (other than from Seeking Alpha). I have no business relationship with any company whose stock is mentioned in this article.
Additional disclosure: I am long selected individual stocks as part of a broadly diversified asset allocation strategy.