United Parcel Service (NYSE:UPS), better known as UPS, looks like it could be a very attractive dividend stock and one we are considering for our dividend portfolio. The stock currently sports a healthy 3.12% dividend yield and trades at only 16 times forward earnings (the current P/E ratio is high due to a pension accounting charge this year).
What makes UPS attractive is that it offers dividend (or really any) investors a cheap way to play the shift to online retail. Investors that want to add exposure to online retail are faced with a difficult dilemma. Amazon.com (NASDAQ:AMZN) is pretty much eating everyone's lunch when it comes to online sales growth, but the stock pretty much always looks expensive. Plus, it doesn't pay a dividend, which rules it out for dividend investors. Wal-Mart (NYSE:WMT) is an option, but it needs to invest heavily to even be considered a bona fide number two to Amazon. You could test your luck and try to pick the brick and mortar retail survivors like Best Buy (NYSE:BBY). Another option would be a roundabout way such as the packaging industry - after all, buying items online means more cardboard boxes. But as we found out with our research, the packaging industry is highly competitive, and returns on capital are unattractive. We think UPS might be the best next best thing to buying Amazon.
We won't go into detail about the online shift of retail. The chart below from Deloitte shows you everything you need to know.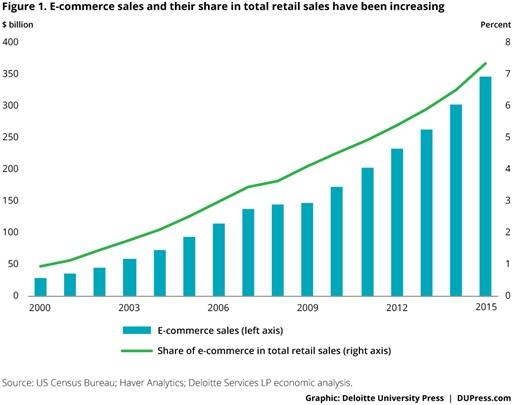 E-commerce is steadily growing. Indeed, it has accounted for a majority of retail sales growth for several years running, and at only 7% of total retail sales, still has a long growth runway ahead of it.
Looking at UPS's revenue breakdown by segment, we can see that the US domestic market is driving growth.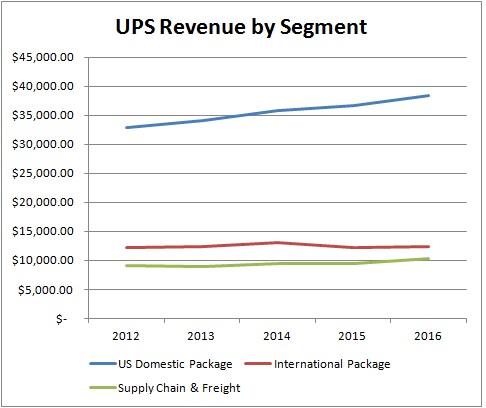 International growth has been relatively flat, which is not surprising given the anemic economic growth in Europe. Supply Chain and Freight has grown slowly, which is consistent with the sluggish business investment environment we've had post-recession. It's domestic package growth driven by the retail sales shift online that's really driving top line growth at UPS.
Will Amazon Squeeze Out UPS and FedEx?
The delivery market in the US is a comfortable duopoly between UPS and FedEx (NYSE:FDX) (or perhaps an oligopoly, if you want to include the USPS). Recently, Amazon has made the news by announcing it was going to take over some of its own logistics operations. Right now, Amazon has 40 planes leased or chartered and "thousands" of trucks and trailers for its own delivery fleet. By contrast, UPS has 657 aircraft owned, leased or chartered and a ground fleet of over 114,000 vehicles. (FedEx has 643 aircraft and 103,000 ground vehicles). So the question is, will Amazon eventually have no need for UPS or FedEx, and what will happen if so?
Well, first UPS reports in its 10-K that no customer accounts for more than 10% of UPS's business. Indeed, Moody's estimates that Amazon makes up 7% of UPS's North American business and 3% of FedEx's. What's even more comforting to UPS shareholders is that Amazon receives huge bulk discounts, so while the revenue it generates for UPS is high, the actual profit is very low. Again, Moody's estimates that UPS would lose only $26M in profit for each 10% decline in shipping volumes from Amazon, meaning UPS makes only about $260M a year total in profit from Amazon (excluding any economies of scale). Not great, but not a crushing blow to UPS.
But more importantly what are the odds that Amazon would build out an entire North American delivery network? Well, let's look at the last company to try to muscle in, Deutsche Post (OTCPK:DPSTF). Deutsche Post, via DHL and its Airborne Express purchase in 2003, tried to build out a North American express delivery network. The company spent five years trying until the recession in 2008 finally killed its effort. All told Deutsche Post lost over $1B in the North American market. At its height, it was only able to capture around 4% of the express delivery market.
Right now, UPS has around 48% of the North American market and FedEx has around 49%. If Amazon is around 7% of UPS's business and 3% of FedEx, we can approximate that Amazon makes up about 4.83% of the North American market (7% of 48% = 3.36% plus 3% of 49% = 1.47% equals 4.83%). So Amazon is about as big as DHL was at its height. However, DHL was still losing money. Even with Amazon's size, it currently doesn't seem to make financial sense for the company to cut UPS and FedEx completely out of the picture. What makes sense is likely Amazon taking over some logistics and delivery business and using the threat of expanding further as a stick to beat UPS and FedEx with to get better pricing.
Valuation
As we stated in the intro, UPS is traded at an attractive 16 times forward earnings. Our favorite valuation method, however, is using a discounted cash flow to "reverse engineer" what the market is expected of UPS. That is, we take the stock's current price and see what growth rate that implies. For our model, we used a 10% discount rate and a long-term terminal growth rate of 3% after 10 years. As of its latest 10-K, UPS has cash and securities of approximately $4.6B versus long-term debt of $12.4B for a net debt position of $7.8B. UPS generated approximately $8.6B of adjusted (we backed out changes to working capital and pension changes) cash flow from operations. In 2016, the company placed a large order for eight new aircraft, which bumped up capital expenses compared to the two previous years. However, the company spent less on ground vehicles this year. Because UPS makes large capital expenditures that vary from year to year, we think the best thing to do is average capital expenses from several years in order to smooth out timing issues caused by large orders. Over the past three years, UPS averaged approximately $2.6B in capital expenditures. This gives the company free cash flow of about $6B. Using these numbers, the market is only expecting UPS to grow free cash flow at 1.8% annually over the next decade.
To us, it looks like the market is pricing in a lot of pessimism about UPS's business, including perhaps a loss of some of Amazon's business. With a solid dividend yield and a safe payout ratio of an average of 63% of free cash flow over past three years, UPS looks like a good dividend stock pick to us.
Disclosure: I/we have no positions in any stocks mentioned, but may initiate a long position in UPS over the next 72 hours.
I wrote this article myself, and it expresses my own opinions. I am not receiving compensation for it (other than from Seeking Alpha). I have no business relationship with any company whose stock is mentioned in this article.