January to March was hard for cocoa investors. With a history of glut into the winter, short traders were heavily selling cocoa, even while the market was increasingly going long, (as evidenced by the charts below). Cocoa has, however, 'pulled itself out of the hole' and put in a normal positive price reaction. So what happens now?
Supply, Demand, and the Weather
Surplus global cocoa supplies have been the reason behind the dramatic fall in the price of cocoa since last fall. Agra-net reported that
The Ivory Coast government has expended "a large part" of its stabilization funds in order to maintain cocoa farmers' prices for the current main crop, amid a sharp drop in world prices.
Earlier this month, ICCO (International Cocoa Organization) warned that:
The world's cocoa sector may be facing a structural surplus that risks depressing global prices and dealing a blow to producer country and farm revenues in the coming years.
So far this season, weather has supported a good crop, Agra-net reported:
Rains in the last week in most of Ivory Coast's main cocoa growing regions are a positive sign for the development of the mid-crop but hot weather could hurt it... if it gets too hot.
The period for concern is mid-November - March, so far it looks like a normal crop size for the current season, and seasonality may offer some further insight.
Seasonal Cocoa
Below are two long-term seasonal charts with slightly different time frames, which confirm that seasonality is a guide, and not an exact science. All that can be gathered is the likelihood for weakness or strength, which is also influenced by trading behavior, and trading behavior can depend on past achieved high or low prices, regardless of season.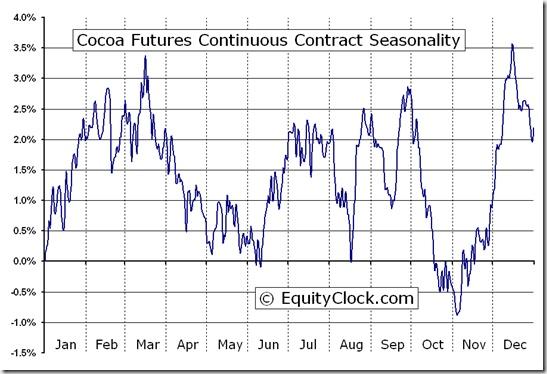 'Equity Clock' seasonal cocoa shows a high mid-March, with an absolute low mid-June, but, in reality, there is very little difference in terms of prices, which are in a range for about two months from mid-April to mid-June.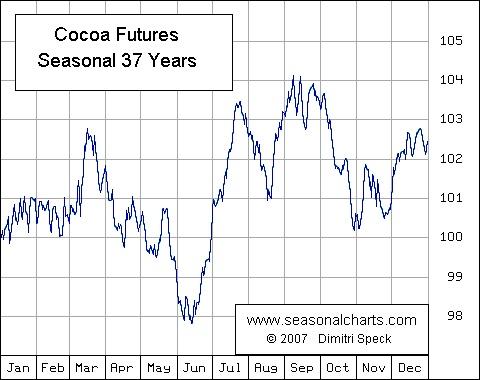 On Seasonal Charts, cocoa shows April trading on a par with February, with 'some' weakness into early May and after another high, more weakness into June, before a recovery into July.
Both charts suggest, however, that early season strength is likely to meet with a correction in the later Spring (of the northern hemisphere), and weather patterns so far suggest no change to normal cocoa crops.
Investing in Cocoa
As described by 'Futures Knowledge':
You can trade futures by opening a trading account with a trusted broker who handles futures trading. CME Globex, CME Clearport, Ameritrade and E-Trade are some well-known online platforms for trading futures.

Most brokerages will charge the National Futures Association fees, which is roughly around $0.02 per side, along with a commission (which can range from $0.025 to $3 and more, per contract per side). You will also have to pay an exchange fee, which will vary depending on the exchange and the specific contract you are trading. Be sure to look at the fine print and add up all the fees into your cost.
However, there are risks, which include southern hemisphere weather changes, supply and demand, sentiment and behavior of the dominant chocolate market manufacturers, as well as attitude towards a stronger or weaker US Dollar over fundamentals. As I wrote in a recent article about gold, a stronger euro is the factor behind a mildly weaker US Dollar. However, for investment, there's always a cocoa ETF too.
Cocoa ETF Options
The two ETF options for cocoa investing are : 'NIB' and 'CHOC' ETF.com advise: NIB and CHOC charge 75 and 85 bps, respectively, and although NIB's AUM asset base beats that of CHOC, the difference in tradability and efficiency between the two is marginal, so your choice is about contract selection. NIB's index tracks the front-month cocoa futures contract, which gives you the best proxy available for spot cocoa prices - NIB is also our 'Analyst Pick' for the segment. CHOC, on the other hand, tracks the contract, its index determines to be least impacted by contango.
ETF expense ratio calculator
Cocoa COT
The COT chart below illustrates the extreme position which occurred in January this year, with positions operating within the tightest band on the chart for years. It also illustrates that large specs were heavily short, even going into February. 'Trading Bots' and their algorithms have a tendency to create extreme trading positions, and Cocoa seems to have been no exception, although it is quite a small market anyway. Since the low there's been a bounce and test of that low, all normal trading behavior, which appears set for a further advance.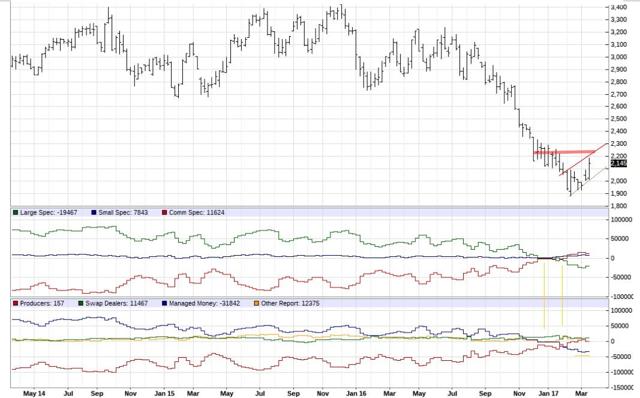 Stock Chart
The oscillators (RSI, MACD, stochastic), indicate that while some 'specs' were riding the price of Cocoa down, other investors were buying, creating 'positive divergence' or rising momentum from January to February.
I've highlighted previous early year peaks, in green and red. Although 2016 took longer to achieve the length of the wave (it was shallower), the subsequent correction, was to a higher rather than a similar low. As cocoa approaches an 'overbought' position on the RSI, while the fast stochastic is trading sideways in the top quartile, cocoa becomes ripe for a similar correction. We should also note that the current leg is similar in length to the previous two.
I've indicated the pivot level in green which can act as a support level, although a slightly lower level is, of course, possible, the prior absolute low must hold for a bullish continuation. A bullish resumption appears precedent, as trading has already broken away from the downtrend channel created last Fall, with trading now over the 50 moving average.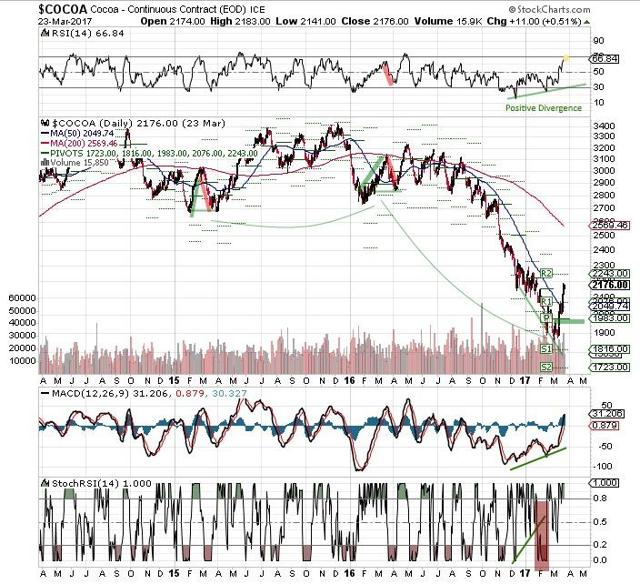 A cocoa 'long' position is appropriate as trading approaches or bounces from the pivot level, with risk management based on the last price low being maintained. Supply still seems to be an issue so there is cause for concern, but the situation appears no worse than 2016, while demand from manufacturers could still improve. Trading risk from the next high, depends on whether the market continues to recover from ultralow prices, or remains range bound. As the market corrected by a huge amount last year, a recovery shouldn't be ruled out.
Disclosure: I/we have no positions in any stocks mentioned, and no plans to initiate any positions within the next 72 hours.
I wrote this article myself, and it expresses my own opinions. I am not receiving compensation for it (other than from Seeking Alpha). I have no business relationship with any company whose stock is mentioned in this article.