"Everything happening to you now is a signal or symbol and has meaning. Your opportunity is to recognize the meaning and utilize it in your life." - Russell Anthony Gibbs
Searching for signals is a part of life, and an integral part of investing. We look for signals in a person's words, and their body language. Some of us search for a sign from above. When it comes to investing, we are constantly on the lookout for signals in the stock market, to tell us when it's the right time to buy in or hit the sell button.
Since we are human, our tendencies can push us to levels where we all overdo it. It is at that point when we might just stumble on something that really isn't there. In many situations that an investor finds themselves in, successful investing always comes down to a fine line. In this case, defining what indicators or signals one wishes to employ than relying on that data to form a picture.

Ahh, if it was that easy. No indicator, signal, strategy is infallible when it comes to investing. Here again it is a balancing act. Navigating that fine line to select what has worked in the past, then refine it to a point. That means don't go looking for the signal that you may feel is behind the original signal. Yes that is quite common, and it is then as I mentioned earlier that we find stuff that really isn't there. At the end of the day, keep it simple. There is a striking difference in success between someone who overdoes it and the individual that keeps it simple. It is best to simply look at the data for what it is instead of overdoing it. The latter opens the door for an individual to continually conjure up that one item they believe will either catapult the market to highs all of the time, or that one piece of evidence that is sure to crash the market.
That is the downfall of the unsuccessful individual, because we should know by now there is no one piece of data that will tell anyone that. Yet, how many times during this bull market has someone stepped up and claimed they found that single piece of evidence and the market is about to fall. On the other hand, some of the best investors I know do what I described earlier. Use the indicators that have worked for them in the past, to paint that picture, and put the odds in their favor.

They also come to know full well that they have to trust their strategy, but also realize that their model may not be as reliable as they are accustomed to. Therein lies another fine line, trust is a must or your game is a bust, versus not seeing the water rise as your ship is sinking. Investing isn't easy, it's all about tipping the scales to your side. That is what makes the best money managers out there head and shoulders above the rest.
Signals also give us an out. After all, it's easy, we can just sit back and blame a poor outcome on a bad indicator. Well, that is the easy way out. The better way to proceed is to look on the mirror and accept that we made a bad decision.
Harvard Business School's Max Bazerman offers these words of wisdom when it comes to taking a look at how we are doing:
"It's easy to have illusions about the future if you don't even have a grip on your own recent past. Do yourself a favor and get a grip. Log into your account and examine your performance. It might not feel good and it might not even change your approach, but maybe it will dampen any illusions you have about the future."
In other words, deal with the reality of the situation, past, present, and future, instead of a made-up scenario that fits any preconceived ideas.
The S&P came close to tying a record for consecutive string of trading days without a 1% drop. The resilience being displayed is quite extraordinary, but it hasn't impressed everyone. Many have been patiently waiting to put money to work, or simply want to start getting involved in the equity market. The graphic presented below shows just how long some have been waiting as the market remained overbought.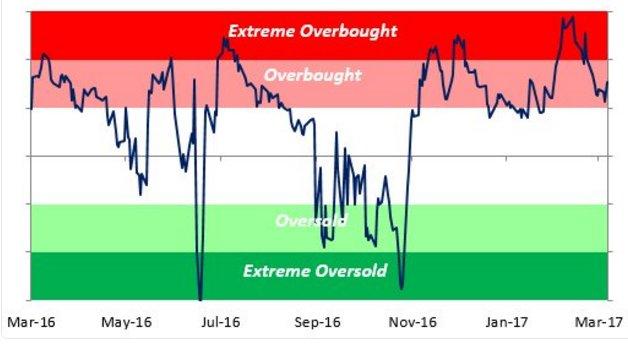 Source: Bespoke
In terms of market internals, the weakness so far in March has definitely worked off any overbought levels that were in place. The S&P just moved out of overbought territory back into the neutral zone for the first time in months. As usual many started searching for the causes and with that come up with every reason why the rally paused. The simple fact is that the market as shown was overbought for an extended period and now it's reversion to the mean.
Many investors have been questioning what to do now with the market at these levels. Those questions have increased now that we have seen some weakness. My answer is that depends. This time though rather than tell everyone the canned speeches that every money manager uses telling all it depends on an individual's personal situation, let's just go over what the market is telling us today. Then one can decide if any of the info is useful to them.
While the S&P is now back to a more neutral stance, we are not yet near any oversold conditions. This is not a market where all signals are flashing green for the near term, but I am also not seeing red flags all over the place. The price action has been strong, and it has come with across the board strength. Contrary to what may seem logical to some, this strength won't dissipate overnight.
Bespoke Investment Group reminds us of that fact with this study of prior markets where the S&P gained 5% or more during the first 50 trading days. On the 50th day of trading this year, the S&P was up 6%.
"In 21 of the 22 prior years where this occurred, the S&P went on to post additional gains over the remainder of the year. The average rest-of-year gain in these years has been +12.16% compared to an average gain of just 4.36% in all other years. First years of the Presidential Cycle were even stronger."
There are no earth-shattering revelations here, anything can occur to make the short term tricky. If you are trying to guess the bottom of any market pause, good luck. Whether it's right here or a bit lower, if you have a stock that has traded down to a buy range, there is nothing wrong with adding it here. The long-term trend is UP.
All have to understand that we are in the eighth year of an up trending market. Buying at below historical P/E ratios has come and gone. If an individual is sitting on a lot of cash, sector rotation has been in play for quite some time and I believe that continues. This is where an investor can find opportunities that can take advantage of what I maintain is an ongoing secular bull market. So it then becomes a matter of risk tolerance and putting that cash in areas of the market that are still attractive.

Economy
Following a deep and prolonged downturn in the market or the economy, things get so beat down that any improvement tends to lift all or most boats early on. Then, the deeper you get into the cycle, the thinner breadth becomes as certain sectors start to fade. In this regard, when the market or economy peaks, breadth usually shows signs of narrowing before the actual high. Many believe that is where the economy stands after this prolonged recovery. I was never one to buy into the idea that an economic recovery has a time limit.
If we use the recent Philly Fed report as a gauge, what many believe may not be the case. There was strong breadth in that report as every sub category was positive and that has happened only three times going back to 1980. The strong breadth in that recent survey isn't just a new trend in the last one or two months either. Monthly breadth of the 10 components in the report has been positive in five of the last six months.
Don't get too excited over these developments; remember this data is telling us what the market has been telling us for several months. We need to be reminded that while the economy ultimately drives equity prices in the long term, they don't always move in sync with each other. In fact, with the market generally looking forward while economic data looks backward or at best provides a real-time account of conditions, it is common for them to give mixed signals. This is where many investors get tripped up. The key as a successful investor is anticipating whether that trend will continue.
We have seen estimates coming down for GDP growth in the first quarter. Let's remind everyone that first-quarter GDP has a history of being much weaker than the next three quarters.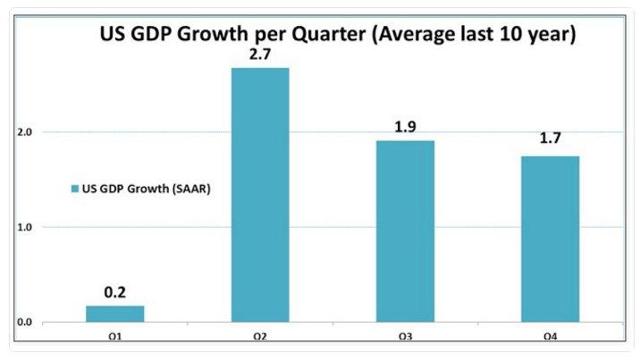 Chart courtesy of Jeroen Blokland
Current GDP estimates are all over the map. The current reading of Q1 growth based on the average Chicago Fed national activity index (CFNAI readings) for January and February suggests growth of roughly 3.25% versus a current reading of 0.9% forecast by the Atlanta Fed's GDPNow tracker. The NY Fed's latest readings suggest 2.8% GDP growth in Q1.
Markit Services flash PMI came in lower than expectations with a reading of 52.9 down from the February report of 53.8. That is a five-month low. The Manufacturing sector also showed contraction with that Markit flash report also coming in lower than anticipated at 53.4 versus the February read of 54.2.

It used to be that a sub 300K reading on jobless claims was a big deal. These days not so much; they now haven't been above that level in over two years. I wouldn't get too concerned about the spike last week from 243K to 258K.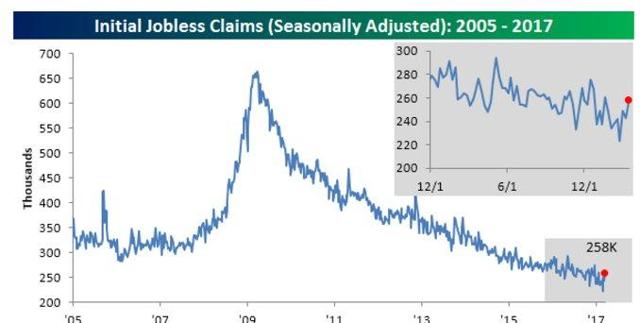 Source: Bespoke
The Conference Board cautioned that stronger labor demand is likely to run into labor supply constraints this year, a warning that appeared in the Philly Fed survey, with more than 60% of respondents reporting labor shortages and 68% reporting job/skill mismatches.
In the NFIB Small Business Survey, 32% of firms said they couldn't fill an opening (the highest since December 2000) and 17% cited the "quality of labor" as their single most important problem (the highest since November 2001).
It's not about the number of jobs out there, it's about finding people with the skills to fill those jobs.

Existing home sales for February were down 3.7% missing consensus expectations. Lawrence Yun, NAR chief economist:
"Closings retreated in February as too few properties for sale and weakening affordability conditions stifled buyers in most of the country. 'Realtors® are reporting stronger foot traffic from a year ago, but low supply in the affordable price range continues to be the pest that's pushing up price growth and pressuring the budgets of prospective buyers,' he said. 'Newly listed properties are being snatched up quickly so far this year and leaving behind minimal choices for buyers trying to reach the market.'"
The story has remained the same for existing home sales; it's not about demand it's about supply.
New home sales came in strong during February increasing by 6.1% over the revised January read. Good weather across the country helped, and there is more inventory that what we see in the existing home scene.

Global Economy

The job openings rate for the Eurozone rose to match its highest level in at least 10 years.
European Flash Manufacturing and Services PMI recorded a 71-month high. Manufacturing came in at 56.7. Services PMI kept pace with a solid reading of 56.5. Germany and France boasted the biggest increases to the indexes.
Shh, please don't let this data get into the wrong hands. It actually might change the mania over a healthcare bill.

The outcome of the vote that gave everyone fits slowly grinds along. This past week saw an announcement that the U.K. would invoke Article 50 on March 29th.
The French presidential elections were also receiving increased attention this past week, as their first televised debate took place. For what it is worth, in the wake of the debate, the odds of a Macron win have hit a new high, with Le Pen sliding to about 1 in 4.

Earnings Observations
Thomson Reuters is keeping with its $146 S&P 500 forward estimate for 2018. I have noted that these estimates have been very stable since Election Day. The estimate it is using for 2017 is $134. Thomson is currently predicting 9.6% EPS growth, which is 100 basis points above the 27-year average of 8.6%.
Jeffries then says:
"In years in which there has been above-average EPS growth, S&P returns (excluding the financial crisis) have been 4% higher than the 27 year average."
FactSet Research gives us its weekly update:
"The forward 12month P/E ratio for the S&P 500 is 17.5. This P/E ratio is based on Wednesday's closing price (2348.45) and forward 12 month EPS estimate ($134.50)."

"For Q1 2017, the estimated earnings growth rate for the S&P 500 is 9.1%. If 9.1% is the actual earnings growth rate for the quarter, it will mark the highest year over year earnings growth reported by the index since Q4 2011 (11.6%)."

"The sector that is expected to be the largest contributor to earnings growth for the S&P 500 in the 1st quarter is the Energy sector."

The Political Scene
I witnessed an extraordinary event this past week, the head of the FBI and the NSA both testified that they are looking into any potential tires to the administration and Russia regarding the election. Whether one thinks there is something there or not, believe in the waffling antics of prior comments from FBI Director Comey, the market reaction to all of this on Monday was a yawn.
I think it is because the political grandstanding that is now at full speed has been identified for what it is. The general population, which includes investors, wants healthcare reform, more well-paying jobs, lower taxes, a better economy, less government, etc., etc., etc. If this doesn't show the underlying strength in the bid for stock prices, I do not know what could possibly be a better example.
Greg Valliere, Chief Global Strategist at Horizon Investments:
"Washington will be riveted by the James Comey testimony today, but lawmakers report there's little interest among most constituents."
Mr. Valliere also wrote this comment before the healthcare vote on Thursday:
"The most pressing concern involves President Trump's agenda, which is why Thursday's House vote on an Obamacare replacement is crucial. Despite Trump's personal involvement in the issue, he still appears to be a vote or two short this morning. Make no mistake: a defeat in Thursday's vote would send a clear signal that the rest of Trump's agenda, taxes, the budget, infrastructure, etc. is in trouble.
That is a QUANTUM leap, and the type of rhetoric that has no place in the formation of my strategy. How about taking it one step, one day at a time, and see what develops before we put ourselves in the time machine and warp back to the land of no growth.
What we are witnessing is how things work in Washington, it doesn't mean that the entire pro growth agenda is off the table. These types of events do not change the long-term trend by themselves. Remember Brexit, the U.S. election, and all of the other events (debt ceiling debacle) that were supposed to take this bull market down.

The Fed
FOMC members were active in unscheduled media appearances this past week; Chicago Fed President Evans (a voter) suggested three rate hikes are "entirely possible" this year while Minneapolis Fed President Kashkari (a voter) argued for balance sheet reductions ahead of more hikes. Philly Fed President Harker (a voter) noted that MBS should be a priority when balance sheet reductions via runoff begin, also noting that more than three hikes are possible this year.
There were a few others that also came out this past week. It's virtually impossible to keep tabs on all of them, and quite frankly when I think about it, it doesn't really matter that much.
These members are worse than the analysts. They remain fixated on whether there will be one, two, three or four more rate hikes this year. Astonishing how each group hasn't learned anything in the last eight years. It's business as usual, watch the data.
The yield curve looks to flatten over the coming months, consistent with a rising rate cycle when bull markets typically shift from a liquidity-driven advance to an earnings-driven one. An observation that was mentioned here last October.

Sentiment
For those following household equity ownership, Urban Carmel reveals:
"Equity ownership reached 2007 peak in 3Q2013; SPX total return since added 50%. So, it's also a terrible timing device."
With bulls failing to reach a majority in the weekly AAII sentiment poll for a record 116 straight weeks, one would think that the selloff earlier this week would have sent bullish investors running for the hills. The reality was somewhat different, though. Apparently some individual investors decided to be buyers last week. In the recent survey, bullish sentiment actually ticked higher, rising from 31.1% up to 35.2%.

Crude Oil
Dramatically lower break-even prices for shale production is one of the reasons why I am still bullish on select E&P companies here in the U.S.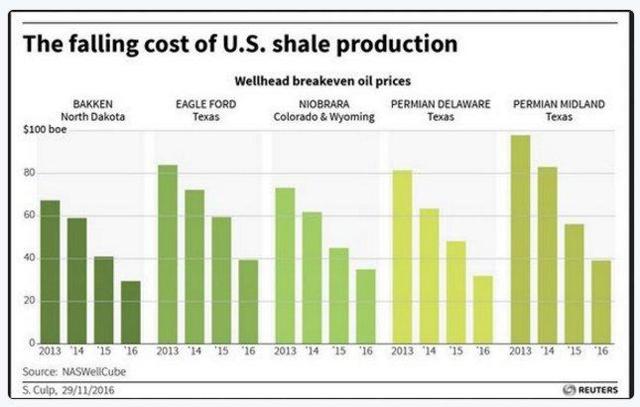 Technology and efficiency improvements have brought down costs that threaten OPEC's dwindling control of pricing.
More rhetoric and posturing as reports surfaced that OPEC is considering an extension to the production freeze implemented last year.
The price of WTI closed the week at $48.44, down $0.34 for the week.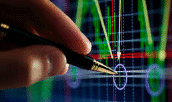 The Technical Picture
The S&P kept its streak intact on Monday as it put in the 109th straight trading day without a drop of 1% one short of tying the streak that ended in May of 1995. That finally came to an end when the first 1% dip came on Tuesday; 1% decline for the S&P. It was the first 1%+ drop since October 11th, 2016, when the index also ironically fell the same 1.24%. Below is a look at historical streaks of trading days without a 1%+ decline: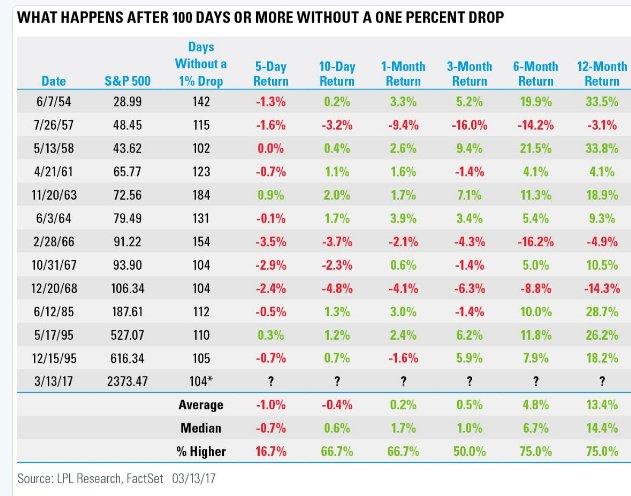 More positive occurrences than negative. I imagine the bulls would favor a repeat of 1995. The takeaway, the 1% decline that everyone was all excited about is not unusual. What is unusual is the 109 trading days without one.
My call for new highs before any pullback looks to be in serious jeopardy. To say that the short-term view is conflicted is an understatement. The price action last week tricked me into believing that all short-term support would hold. Now we are dealing with the incredible mania over a vote. That also brings the computer generated algorithms into the picture. How much pressure that puts on the short-term action is anyone's guess. Whatever one wants to believe is the cause of a pullback, it doesn't matter, because at these levels, it is quite normal. The S&P is merely consolidating the strength exhibited over the past few months.
This week saw the index drop through the 2,377 and 2,355 support levels in short order. However, the S&P did pass the next test when it dipped right to the 2,336 pivot early in the week, and bounced nicely from there. Friday's volatility over the thought of will they, won't they also gave us another retest of 2,336 that held for now.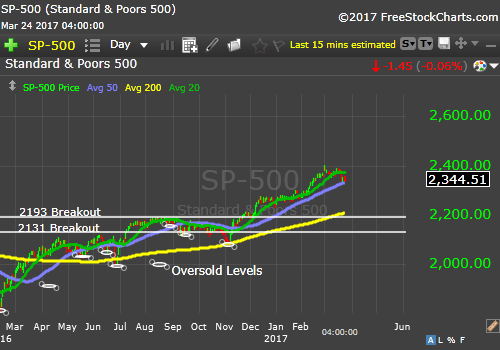 Chart courtesy of FreeStockCharts.com
So where does that leave us when we look at the short-term picture. What I uncovered this week was the fact that while the large cap S&P 500 was coasting to new highs on a regular basis, other areas of the market have struggled to comfortably surpass highs reached in early December. At its recent peak, the S&P 500 was ~6% above the price high reached in early December. The small-cap S&P 600's recent high was a mere 0.40% above the December high.
At this point, the divergences only appear to be a normal give back of relative outperformance produced just after the election and is an issue that needs to be watched. Another item that popped up on my technical watchlist for the week was the reversal that the Nasdaq put in on Tuesday. The index climbed to a new all-time high only to close 2% lower on the day. That drop tested the 50-day moving average. Now it will be time to be on the lookout for any more weakness that could breach that support level.
Next up we check the S&P 500's cumulative A/D line, which measures the rolling total of the net number of advancing issues (up stocks on a given day minus down stock) in the S&P 500 on a daily basis. When we look at this indicator, the key thing to look for is divergences. The idea is if the S&P 500 makes a new high, but the cumulative A/D line shows signs of faltering, it suggests that the rally is thinning out which could be a troubling sign.
The chart below demonstrates that breadth closely tracked the price of the S&P 500, and when the S&P 500 made its peak on March 1st, breadth also made a new high on the same day. Action here suggests nothing in the way of warning signs.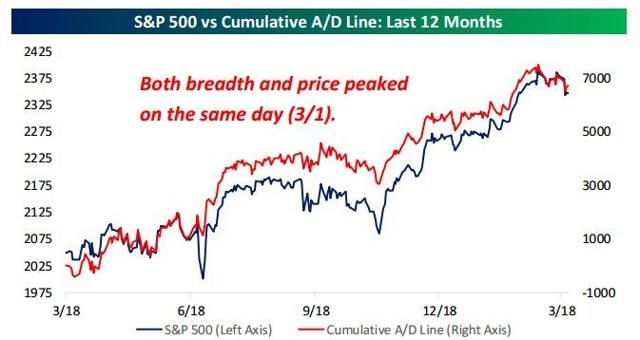 Source: Bespoke
This confirms my earlier comments, green signals aren't everywhere, but the red flags aren't overwhelming either. The question now becomes, is this the beginning of a whoosh to the downside, or was that it on the downside? The answer to that question likely comes with the market's obsession with the healthcare bill.
Short-term support is at the 2,336 and 2,321 pivots, with resistance in the 2,350 area than the 2,385 pivot.
The long-term technical view of the S&P 500 continues to look bullish. Ignoring day-to-day movements, there's a clear uptrend pattern in place that began once the lows were put in last February. Until this uptrend is broken, there's no reason to abandon my bullish strategy.

Market Skeptics
I am not a fan of hedging until I see a solid downtrend in place. My reasoning is that those who like to continually buy protection in a bull market usually wind up watching that hedge become a huge drag on any profits.

An interesting article on the hedge fund industry. More funds closed down in 2016 than 2009. It was obvious how many funds got creamed during the financial crisis. But unless we had another one in 2016 that I don't know about, the stats revealed in that article are quite remarkable.
To that end, I gleaned this nugget from an article here on SA, which speaks to the current mindset of the institutional investment community:
"Certainly the large commercial hedgers are somewhat confused, because, with the stock market trading towards new all time highs, they are 'short' (betting on the downside) holding the second largest short position in the equity index futures in history."

Individual Stocks and Sectors
Technology is leading the way with a double-digit percentage gain in the first months of trading. Healthcare ranks second followed by the two consumer sectors. Energy remains the worst performer with a decline of 7.7%.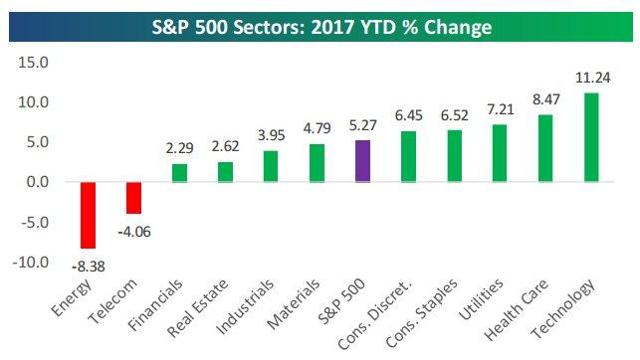 Source: Bespoke
A solid in-depth review of a company, Applied Optoelectronics (NASDAQ:AAOI), that was mentioned last week. As previously disclosed, I added shares on the recent pullback.
Merck (NYSE:MRK) is another drug stock in the same category as AbbVie (NYSE:ABBV). The stock yields 2.9%, with a forward PE of 17-18. It is a solid choice to add as a core holding in any long-term portfolio. Shares look attractive in the $60-65 level.
The financials were struggling since the Fed raised rates. As mentioned last week after the Fed announcement, it was a sell on the news event. This week's price action confirms that for the time being that big move has now had a significant pause. This should come as no surprise the advance after the election has been gigantic. There is a group of analysts that look for this as being an Achilles' heel for the market. I believe they fall into the category of looking so hard for that one issue that will take down the market. This is nothing more than reversion to the mean after some banks logged gains of 25-30%.
It should be pointed out that if new leadership doesn't step up from another sector or two it may become troublesome. As an example, the Philadelphia Semiconductor Index (NASDAQ:SOXX) receives a boost from the positive results out of Micron (NASDAQ:MU). In addition the Biotech sector is grudgingly holding on to most of its recent gains. Since we have seen sector rotation pull the market to new highs, there is a decent chance that will continue. In other words, don't get too excited over the zealous individuals that raise their red warning flags as often as we change our socks.

It is no secret that investors appear to be anticipating a material improvement in U.S. economic activity, which has the potential to evolve into a virtuous circle, where lower taxes and regulatory burdens create faster GDP growth, which results in higher corporate cash flows, which pushes management teams from playing defense into playing offense via increased investments into growth initiatives for their corporations.
The same holds true for institutional investors as the rally has shown that they too have switched from playing risk off to more offense with a lean to risk on.

Despite what the skeptics are saying, this has not been a stock market rally based on what some describe as Trump Hope. Rather, it has been importantly underpinned by one of the largest and most persistent economic improvements of the entire global economic recovery. More importantly, the evidence is there to show that this is a synchronized global recovery. Please go back and look at the Eurozone PMI reading just reported.
No rally goes on unabated, and this week we finally saw a crack in the major averages. The price action is well within the norm, and nothing to be feared. The break in upward momentum conjured up every reason why stocks were weaker. Anxiety over the idea of the Trump agenda not being passed, North Korea, the falling dollar, or falling crude oil. The real reason is that the market had been OVERBOUGHT for some time now. End of story. The other issues mentioned are all noise, and with any reason put forth to sell, the short-term traders did just that.
Following the idea that the growth agenda is in trouble, and basing a strategy on that thought is premature at best. Now that some have made the quantum leap and focus on the perception that President Trump's agenda may have difficulty passing is ironic. In fact it is hysterical considering his victory was viewed as death to the markets. Now the same geniuses who told us the market would crash if he was elected, want his policies. Not only that, but also if they don't see it happening in the next 48 hours, it's viewed as a time to panic. Good luck to anyone wanting to follow that crowd.

Financial markets tend to make investors uncomfortable from time to time, it comes from the daily, weekly noise that distracts us. By following the long-term trends, it assists us in filtering out that noise. Let me rephrase that, we can't just follow the long-term trend, it has to be the predominant thought in our minds. Otherwise the volatility that is part of investing will overwhelm an investor.
Case in point, I researched a period from October 2012 to September 2013. The S&P gained 16+% in that time period. For an investor to get the total gain in the 11 months, they would have had to sit through 10 pullbacks ranging from 1.5% to 8.6%. That is the noise I am referring to.
In my view, the way to proceed is to continue on the path that led us here. Following the long-term trend in place increases the odds of success. An investor needs to realize where they are now, the bargains are long gone, but that doesn't mean money can't be made here. I believe we are in the midst of one of the great secular-bull markets that come along every generation. If one isn't comfortable believing in that, then they can sit and wait for a more reasonable time to get involved, the next bear market.
If that is the case, they have to be prepared to answer the questions, when will that occur, how high might the S&P trade before it does indeed come around. I wish them the best of luck coming up with those answers.

There are many positives that are present from the rebound across the globe in economic data, to a Fed that appears to focus on the data and has telegraphed its moves as to not surprise investors. So despite the inevitable pullback, the path of least resistance remains higher.
Unless you are a trader or have an extremely short time horizon, my work indicates that at some point, we will see more highs for the major indices. Back in December of last year, I stated that I wasn't staying in this market to play for the last 2%. At the time that was met with some skepticism. I'm here to say that is still my view today despite the S&P being 6% higher than it was back then.

Let's all stop for a moment and remember the victims of last week's terrorist incident in the U.K. These events are commonplace now, that is the real tragedy, and they need to be dignified with our thoughts for the families.
Best of Luck to all!
Disclosure: I am/we are long AAOI, ABBV.
I wrote this article myself, and it expresses my own opinions. I am not receiving compensation for it (other than from Seeking Alpha). I have no business relationship with any company whose stock is mentioned in this article.
Additional disclosure: The opinions rendered here, are just that - opinions - and along with positions can change at any time. As always I encourage readers to use common sense when it comes to managing any ideas that I decide to share with the community. Nowhere is it implied that any stock should be bought and put away until you die. Periodic reviews are mandatory to adjust to changes in the macro backdrop that will take place over time.