Friday, after the bell, the WSJ published short interest data. Unlike on February 28th, when short interest data actually modestly declined by roughly 700K shares (see Reverse Engineering The Panic), this time we learned that the "Masters of the Universe" (loosely translated to hedge funds) shorts continued to put their foot on the accelerator. As of March 15, 2017, short interest in shares of Northern Dynasty (NYSEMKT:NAK) increased by 6.46 million shares and stood at 21.253 million.

Source: Wall Street Journal
Incidentally, this is a bit strange in that shares of NAK were under $1.50 throughout most of the fifteen-day window (March 1st-March 15th).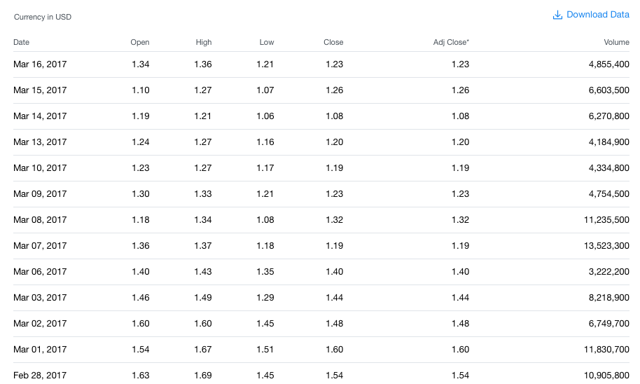 Source: Yahoo Finance
At this point, despite the growing skepticism throughout many media channels, look no further than this March 2, 2017 piece, published in The New Yorker (Alaska's Pebble Mine and the Legend of Trump's Gold), I was again surprised that the shorts resumed their short campaign given the low price levels. However, once again, I, incorrectly it turns out, theorized that Kerrisdale Capital and friends made a nice quick hit and covered. Evidently, not only have they not covered, they are adding to their bet. The plot thickens.
Now, although it would be kind of fun to attribute the strong bounce in shares of NAK to my highly spirited and well reasoned counterarguments (see: Why Kerrisdale Is Wrong, Detective Columbo, and Alaska's Budget Deficits), I think that shares of NAK simply got too oversold and the technicals finally held up around the $1.06-$1.09 level.
That said, I have downgraded my conviction level from really high to guardedly optimistic, as I was disappointed that NAK's management team didn't deliver the resolution of the preemptive veto by March 20th (see my March 21st piece). On the one hand, I am very frustrated that CEO Tom Collier, a former top lawyer in Bill Clinton's cabinet, should have had this mediation wrapped up by March 20th. On the other hand, Washington D.C. is a bureaucracy, and let's face it, Pebble mine is not Scott Pruitt's top agenda item. Mr. Pruitt needs to work on CAFE standards, ethanol RINS (think Carl Icahn), oil and gas drilling and pipeline issues, and other more pressing items that will be optically seen as big wins for jobs and President Trump. The right to due process and Pebble mine is certainly on Mr. Pruitt's list, but I am just no sure how high it is ranked.
Takeaway
Given the high level of skepticism surrounding Pebble mine and Northern Dynasty's management team, as chronicled in the New Yorker, among other left leaning publications, it is solely up to NAK's management team to land the knock punch against the shorts. Mr. Thiessen, similar to other business development types, has allowed glowing optimism to the point where it has painted the company into a corner and raised expectations to a Mount McKinley level. This strategy has back fired, at least in the short term, but the jury is still out.
See this cool chart that ranks how liberal or conservative various media publications are.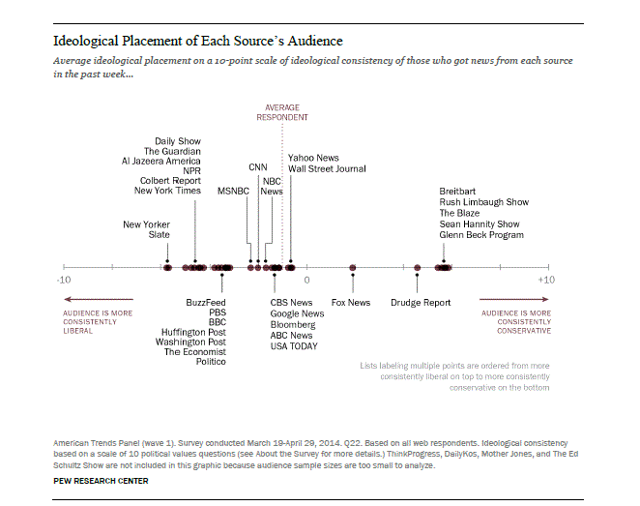 Source: The Washington Post (October 21, 2014)
If Northern Dynasty can acclimate to the Mount McKinley level of altitude, then shares of NAK will prove to be an absolute home run. I continue to believe that it is in Alaska's best interest to have the preemptive veto thrown out, given the severely rugged terrain the state has to traverse, with its massive deficits (both current and projected). However, as I said on Tuesday, we sold down our once 30,000 shares position, taking about a $5K loss on that block of shares, and now only own 5,000 shares, after we bought back those shares in the low $1.40s. As is often the case when it comes to shares of Northern Dynasty, next week's trading sessions should be interesting.
Disclosure: I am/we are long NAK.
I wrote this article myself, and it expresses my own opinions. I am not receiving compensation for it (other than from Seeking Alpha). I have no business relationship with any company whose stock is mentioned in this article.