There is good news for Chesapeake Energy (NYSE: CHK) investors: the stock seems to have established a support around $5 which greatly reduces the possibility of an immediate decline. This is worth noting since an extremely bearish crossover known as the "death cross" is about to be recorded in CHK. I am of the opinion that the death cross will not have any significant effect on the stock.
A death cross is said to occur when the short-term simple moving average (50-day) crosses the long-term simple moving average (200-day) on the downside. Marking a shift in the investor sentiment, such a crossover is considered bearish for the underlying. With yesterday's close at $5.22, CHK saw its 50-day SMA of $5.99 below the 200-day SMA of $6.00. Erring on the side of caution, I will wait for another day's data to call it a death cross.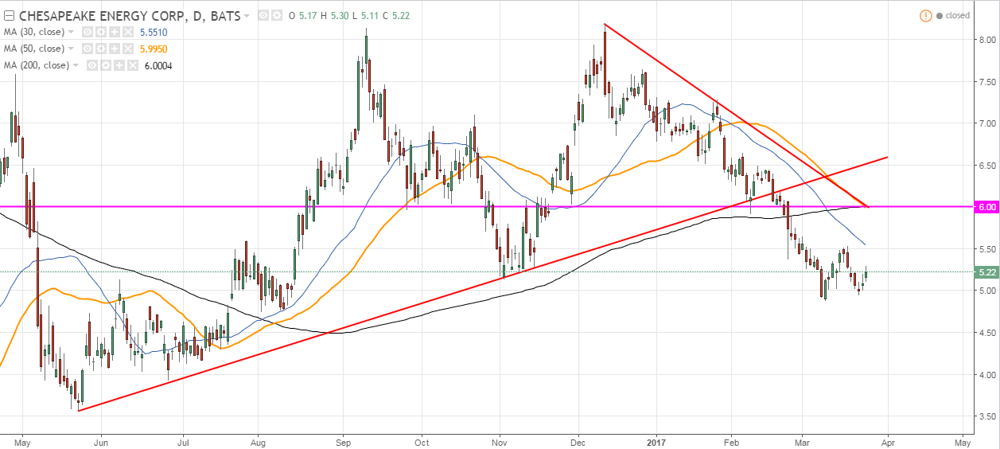 Source: TradingView
About a month ago, I submitted an article titled, Chesapeake Energy Cracks On Expected Lines, in which I argued that even though the stock has broken the uptrend, there is a good probability that it may enter a consolidation phase. My conclusion read:
Chesapeake's debacle yesterday was on expected lines. I had apprised my readers of the possibility that the stock drops to $5.40 if the earnings were to not impress. The stock may enter consolidation mode now since the nine-month long uptrend and the 200-day SMA have been decisively breached. All is not lost for the bulls but the wait for gains may get longer.
One reader then asked me what I meant by consolidation? To that I replied:
Consolidation mode means that the stock might enter into a tiring, sideways price action with intermittent bouts of volatility striking both bulls and bears hard. It means that the wait for gains may get longer.
We have seen that thesis play out really well since the stock quickly made two swift moves – one on the downside and other on the upside to upset both the bulls and the bears. As soon as CHK dropped below $5, many started believing that the stock would plummet to $4.50 and even $4, but the stock made a strong return and hit $5.54. It recently tested $5 again and is making another move to head higher. With one month having passed by, I am more confident that the consolidation will continue for some more time. Although this rules out any runaway rally in the stock, this also indicates that the stock may have found its floor.
The daily CHK price chart presented above tells us that the 30-day SMA is at $5.55. I am expecting this hurdle to be crossed with time. Why? Allow me to explain.
It is worth considering that the 50-day SMA is dropping sharply. On March 20, 2017, I submitted an article titled, Chesapeake Energy – This 'Dangerously Oversold' Reading Could Be A Trap, in which I presented important technical levels for the stock. Back then, the 50-day SMA stood at $6.18 while now it is hinting at sub-$6 levels. While it can be easily spun into a negative manner, it has to be understood what exactly is happening to gain an honest and sensible perspective. To do so, it has to be remembered that averages are lagging indicators. This means that the 50-day SMA will stabilize if the stock extends its consolidation period or jumps higher. Since the stock is easily sustaining $5, a declining 50-day SMA will pose no threat to the stock. Similar is the case with the 30-day SMA.
Coming to the weekly CHK price chart, it can be validated that the market does respect the $5 level. For the past three weeks, no matter where the stock went intra-week, it always closed Fridays above $5. A base formation is clearly in place.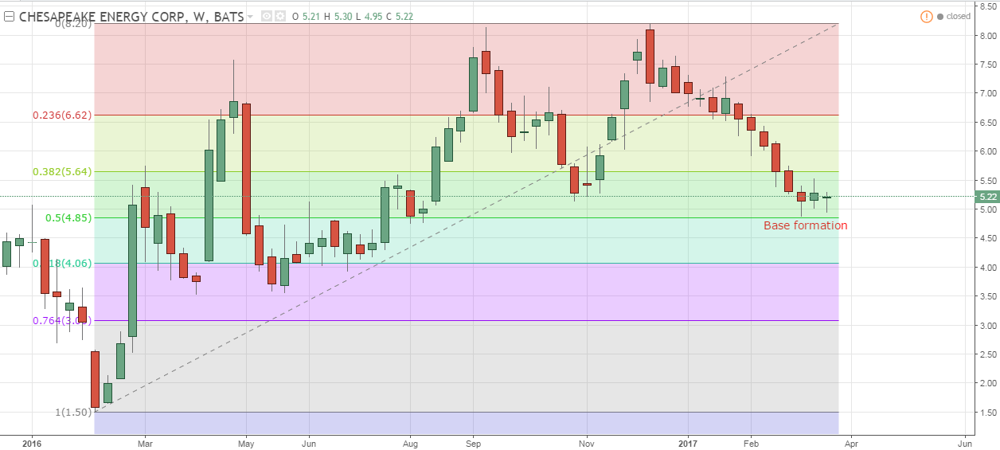 Source: TradingView
To it, I also want to add that the stock has been doing well to sustain above the 50 percent Fibonacci retracement of $4.85. So, I am watching it closely. If the market continues to respect this support region as I expect it to, shorts will have a hard time convincing themselves what went so wrong.
Note: I cover several stocks in different sectors as well as S&P 500, crude oil, gold and silver, U.S. dollar, etc. So, if you liked this update, and would like to read more of such informative articles, please consider hitting the "Follow" button above. Thank you for reading!
Disclosure: I/we have no positions in any stocks mentioned, and no plans to initiate any positions within the next 72 hours.
I wrote this article myself, and it expresses my own opinions. I am not receiving compensation for it (other than from Seeking Alpha). I have no business relationship with any company whose stock is mentioned in this article.