I've been known to write a fun title (or five).
For instance, a couple of weeks ago I penned a piece called, "7 Signs Of The (Market) Apocalypse."
But this particular post isn't a doomsday prophecy. Rather, the idea is simply that over the past several days, we've gotten quite a bit of evidence to suggest that the narrative driving markets has cracked and that likely presages an unwind of some kind.
Does that mean the S&P (NYSEARCA:SPY) is going to promptly crater on Monday morning or that 10Y yields (NYSEARCA:TLT) are going to abruptly crash to post-crisis lows in a mad dash to safety that catalyzes massive short-covering in the 3-sigma Treasury short and drives a stake through the heart of the global reflation story?
No. That's not what it means. Or at least I hope not (reminder: Heisenberg is your friend - he wants you to make money contrary to popular belief).
What it means is that the honeymoon ended when the GOP bid to repeal and replace Obamacare failed.
Donald Trump's Friday afternoon move to cancel the vote on the new health care bill served as confirmation of what markets had already begun to price. Namely that the contentiousness of the health care debate presaged nothing good with regard to the timetable for tax reform and fiscal stimulus, two pillars of the reflation narrative that's propelled risk assets higher since early November.
With that as the backdrop, consider that according to EPFR Global data, U.S. equity funds saw net outflows of $8.9B, last week, the largest in 38 weeks or, in context, the most since the Brexit referendum. As BofAML wrote on Friday citing the same data, "outflows from U.S. value funds were the largest in 66 weeks [while] outflows from U.S. small caps were the largest in 24 weeks."
That marks something of a reversal of fortune considering the fact that retail inflows have been variously cited as the proximate cause for YTD gains in stocks.
Speaking of retail inflows and the impact on the S&P, consider the following out Friday from RBC's Charlie McElligott (my highlights):
The Quant-Insight PCA macro factor model shows that the long-term (250d) model for SPX pricing shows that 'shares outstanding' increases in SPY ETF have been the second largest factor sensitivity for SPX, i.e. the shift from active to passive from both institutions and retail flows has been a massively important price support for SPX. This relationship 'peaked' in the "post- US election through Jan '17" period… and has since collapsed precipitously, down to 'zero' in fact. Thus, increases in SPY shares outstanding are showing no impact on SPX short-term prices.
The takeaway seems to be this: not only are retail flows reversing, they don't matter anymore anyway.
Now, consider another sign that the reflation story has cracked. In CFTC data through Tuesday, the 10Y Treasury short was trimmed aggressively to its least short since November while the eurodollar short hit a new record: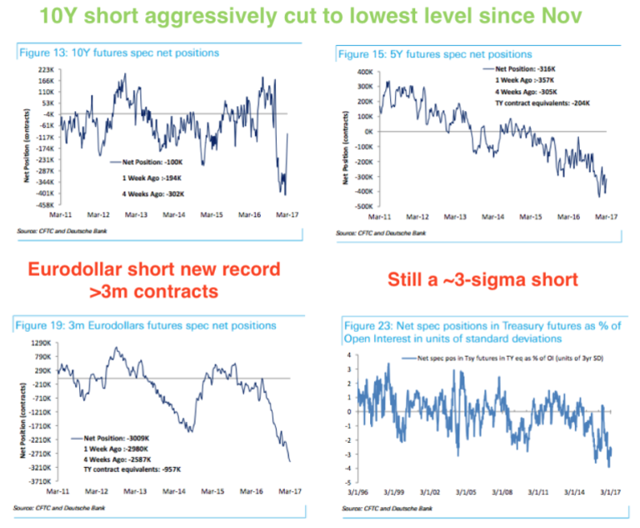 (Deutsche Bank, CFTC, my additions)
So that suggests 10Y shorts trimmed their positions following the collapse in yields that accompanied the "dovish" Fed hike while eurodollar shorts rose above 3 million contracts (more here).
I don't know about you, but to me that doesn't seem to suggest folks have very much confidence in the idea of a steeper curve.
Relatedly, the latest Lipper data shows investors yanked the most money from bank sector funds in more than year over the last week, as the Fed's "dovish" hike exacerbated fears that popular Trump trades may have run their course.
Meanwhile, have a look at the following chart which shows how the equity of companies with the highest tax rates have performed versus the broad market since the election: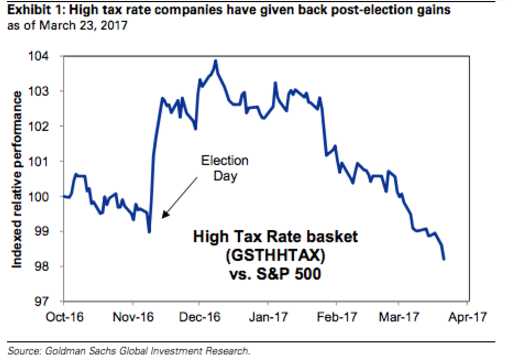 (Goldman)
"Investors have reduced expectations for the timing and size of tax reform," Goldman wrote on Friday afternoon, adding that "after outperforming the S&P 500 by 520 bp post-election, our basket of stocks with the highest effective tax rates has given back all of its post-election gains in the last three months."
Now that the GOP has failed to push through health care reform, can you imagine what that chart is going to look like in a couple of weeks? Remember, repealing and replacing the ACA was billed as a prerequisite for moving ahead with tax reform.
Again, none of this means that everything is going to suddenly come unglued on Monday.
But what it does mean is that the writing is on the wall.
Disclosure: I/we have no positions in any stocks mentioned, and no plans to initiate any positions within the next 72 hours.
I wrote this article myself, and it expresses my own opinions. I am not receiving compensation for it (other than from Seeking Alpha). I have no business relationship with any company whose stock is mentioned in this article.