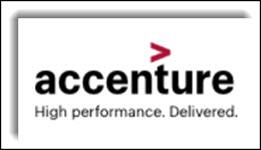 Quick Take
Global consulting major Accenture (ACN) has agreed to acquire payments consulting firm First Annapolis Consulting for an undisclosed amount.
First Annapolis has developed expertise and client relationships across the payments industry value chain.
The deal promises to speed Accenture's practice growth in the rapidly changing payments sector, which is one of the largest sectors within the financial services industry.
Target Company
Annapolis, Maryland-based First Annapolis was founded in 1991 primarily to provide core management consulting services to the following payment industry players in North America and Europe:
Transaction processors
Retailers
Payment networks
Credit and debit card issuers
Notable customers included
Below is an infographic overview of the company's industry practice areas: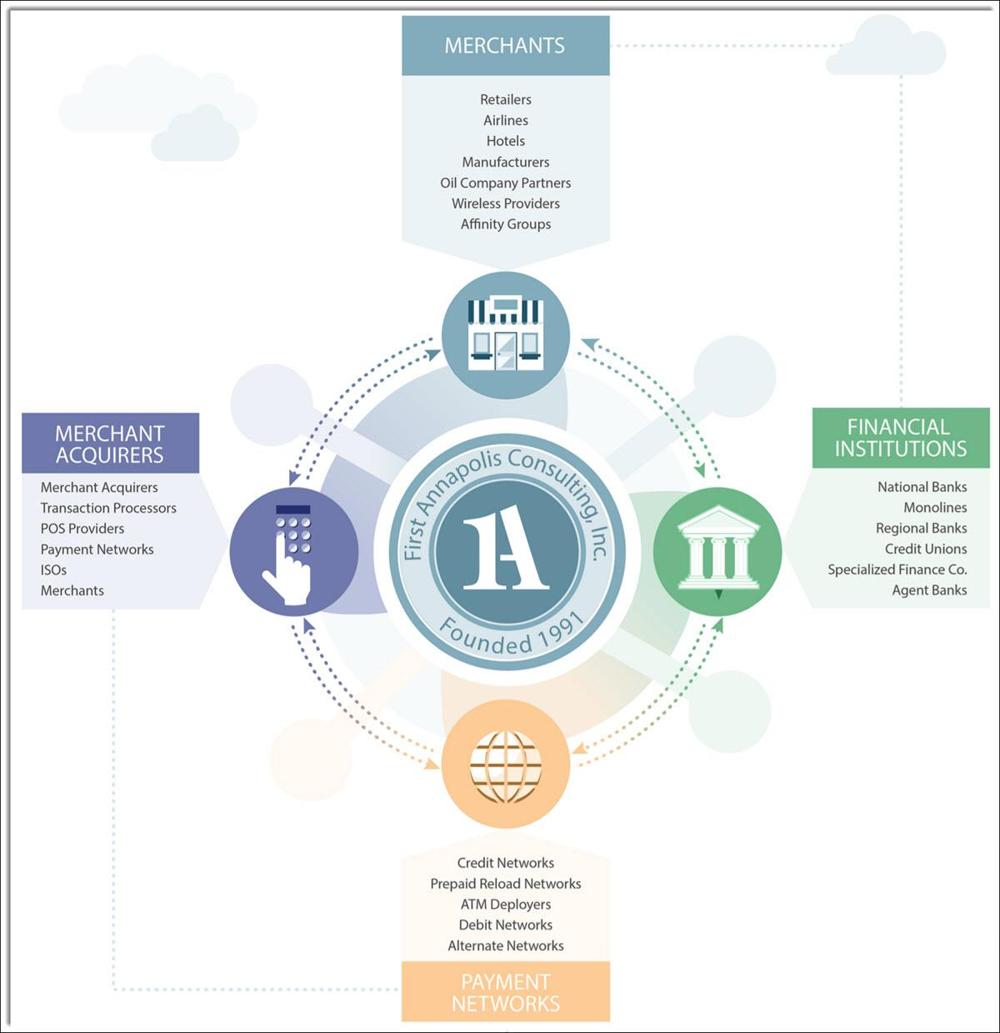 (Source: First Annapolis Consulting)
First Annapolis also provides several ancillary services such as M&A advisory, strategic sourcing, partnership finance, portfolio management and rewards program support.
Acquisition Terms, Rationale and Commentary
Neither company disclosed the amount or terms of the transaction agreement.
I expect that Accenture will pay in the range of 2x–4x TTM revenues (Trailing Twelve Month).
The acquisition is squarely aimed at bolstering Accenture's capabilities in the financial payments vertical.
Alan McIntyre, head of Accenture's Banking practice, said, "The pace of innovation in the payments sector is accelerating with new platform and tools being launched daily; and emerging technologies such as blockchain, mobile wallets, and P2P payments disrupting traditional financial services and technology providers… As payments increasingly move from plastic to digital, players across the industry value chain will need to rethink their value propositions and business models."
Accenture has already developed technology expertise in the payments area, and the acquisition of First Annapolis will add to its service capabilities.
As an example of the disruptive forces at play, below is a graphic published in December 2015 of a selection of payments industry technology companies aiming to disrupt various aspects of the financial processing chain: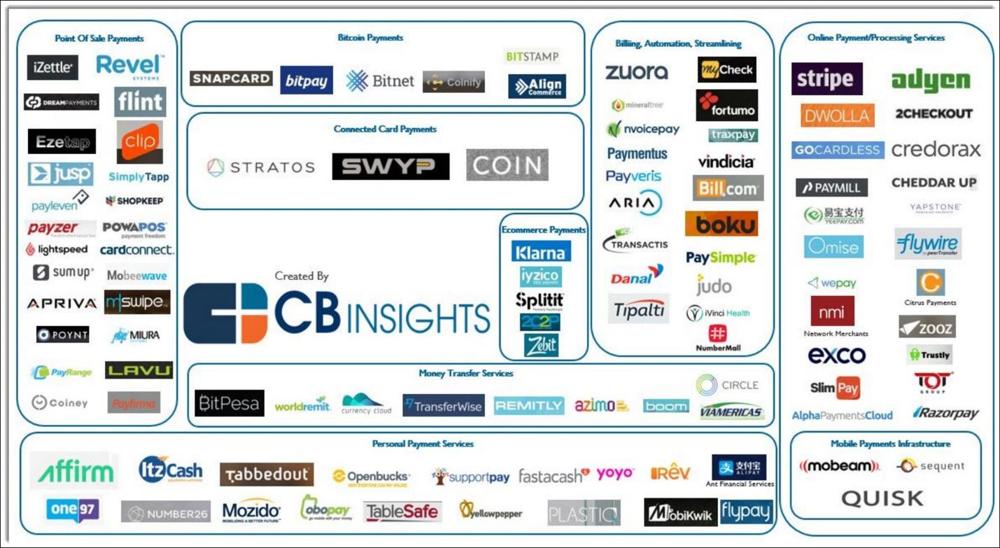 (Source: CB Insights)
Within the larger financial services industry, payments activity accounts for a large category of volume.
Payments technology startups raised nearly $4 billion in venture capital investment in 2015.
According to a January 2017 report, startups in the Payments/Loyalty/E-commerce sectors secured $13.5 billion in new investment, the largest category within the FinTech sector: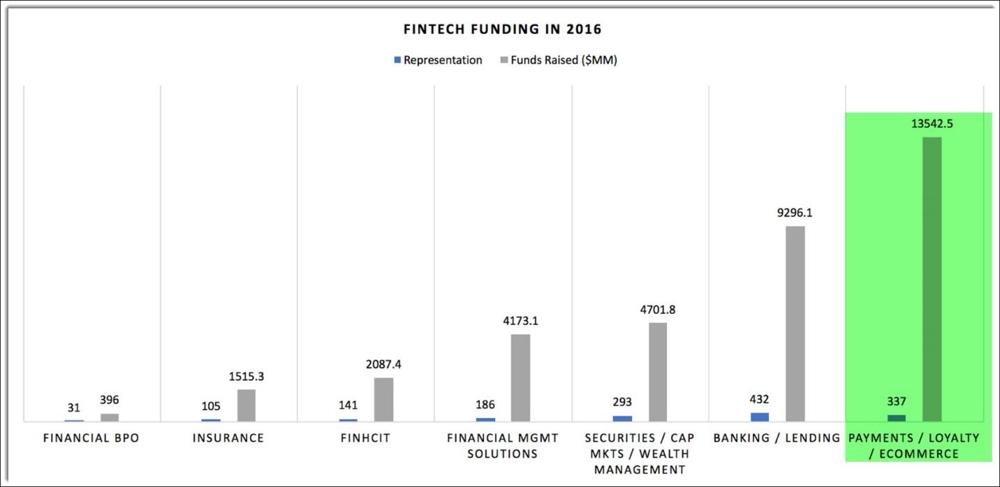 (Source: Let's Talk Payments)
Accenture is quite right to move to scale its payments practice as quickly as possible, so an acquisition to speed that process is entirely justified in my view.
The firm has accelerated its acquisition pace in recent years, as the pace of technological change has increased and the need for solutions by middle market and large enterprises grows.
As an example, I recently wrote about ACN's purchase of iDefense Security in my article, Accenture To Acquire VeriSign's Threat Intelligence Unit.
Cyber security is area of rapid change and risk for businesses as threats proliferate.
With the rise of machine learning and its promising application to security technologies, I viewed that deal as a positive for Accenture's security practice.
Accenture management appears to be making the right moves, and I support their approach to staying at the forefront of rapidly changing industries.
I write about IPOs and M&A deals. Click the Follow button next to my name at the top of this article if you want to receive future articles automatically.
Disclosure: I/we have no positions in any stocks mentioned, and no plans to initiate any positions within the next 72 hours.
I wrote this article myself, and it expresses my own opinions. I am not receiving compensation for it (other than from Seeking Alpha). I have no business relationship with any company whose stock is mentioned in this article.