Alphabet's (NASDAQ:GOOGL) stock has taken a beating during the last several days, as the ad crisis unfolded. What used to be an $870-something Class A stock is now trading at around $835. However, such price drops, in general, are usually the result of over-reaction and create an excellent buying opportunity. On this occasion, I have decided to make some changes in my research schedule and push the valuation of Alphabet up in the list.
Thesis
I have to admit, Alphabet is one of my favourite companies. It is, undeniably, a market leader in the online advertising industry with a share of around 41%, based on GOOGL's 2016 online ad revenues of $79.38bln and eMarketer's total market estimate of about $195bln. While it is true that Facebook - as a major competitor to Alphabet - has been posing some spectacular revenue growth figures, it is important to note that Alphabet's market share is far greater and 19% 5-year CAGR from a higher revenue base is no less of an achievement.
Furthermore, I believe that Alphabet has a net cast wider over the online ad market, as opposed to its other competitors, because the company has something others do not - Google search engine, Chrome browser, and Android mobile operating system (OS). Google search is the world's most popular search engine and that factor alone creates huge demand on the part of advertisers for pay-per-click content. Meanwhile, according to W3Counter, Chrome is the absolute leader when it comes to internet browsing, boasting a 57.2% share of monthly users (as of February 2017) and is the only one growing; its closest competitor Safari has a much lower 13.2% share. That much penetration into the browsing activity creates an excellent opportunity to learn the behaviour of and present the ad content to users with high 'click' chances to help drive revenues and attract more advertisers. With regard to Android, it is the world's most popular (according to IDC) mobile OS with a share of close to 85%, which, once again, helps Alphabet better identify the trends and shifts in people's tastes and behaviour and adjust the ad content accordingly. Eventually, this is translated into that content being featured in either free apps downloadable from the Google Play, YouTube, or websites using Google search.
An extraordinary feature, attributable to Google search, Chrome, and Android, is that they help generate revenues naturally for Alphabet. As an example, I view Facebook's revenues as being platform-dependent, implying that the company is able to generate them only when users are actually being active on either of its online sites. For Alphabet, on the other hand, there is no such a requirement and a simple browsing activity of a user over the internet may be enough to help GOOGL create a solid revenue stream.
Unsurprisingly, Alphabet has been able to achieve outstanding and consistent results in revenue growth (19% 5-year CAGR), profitability (32% 5-year aggregate adjusted operating margin), and excess returns (29.6% 5-year median adjusted ROIC versus a cost of capital of 8.48%). While the last several days have been difficult for the company, following the YouTube ad crisis, (temporary) loss of some of the big clients and their ad dollars, I believe the Alphabet will be able to recover from the scandal quickly and the lost clients will return (after all, they have to, given the scope and reach of YouTube). Consequently, before even initiating the valuation, my expectation has been that the price drop may have strayed too far from the perceived value and has, therefore, created an opportunity.
Valuation
As I did in the past, I will value the stock using a three-stage DCF model, taking into account the following assumptions and considerations:
Growth. First and foremost, Alphabet is an online advertising company, given that about 88% of total revenues in 2016 came from that business. With 41% current market share, I believe Alphabet will not only remain the leader in the online advertising market, but will also be able to improve its share to 50% of around $514.4bln (eMarketer expects the industry to expand from $195bln in 2016 to $335bln 4 years from now, which is an annual growth rate of about 14.5%; given my 10-year valuation horizon, starting from year 5 I will linearly decrease that figure to reach a rate of 10-Year T-bill of 2.45% in year 10).
The other portion of revenues come from the so-called "Google other revenues" (hardware, app and in-app purchases, licensing fees) - all comprising 11%, and "Other Bets". While I will ignore the latter segment (given how insignificant it is), the former is not that negligible to ignore. During the last four years of available data, this segment has grown at a rate higher than 31% per year. Since there is no break-down data available for this segment, I will take a cautious and conservative approach by applying a growth rate of 10% for the next 5 years and, similar to the approach above, linearly adjust it downward to 2.45%.
These assumptions create a total annual growth rate in company's revenues of approximately 16.14% for the next five years, steadily declining to the terminal growth rate of 2.45%;
Adjusted(for capitalised R&D expenses) pre-tax operating margins have been steadily declining at Alphabet for a period beyond the last five years. Interestingly, during the last half of the decade the margins have somewhat levelled off at a level of around 31%-32%. As a result, I will apply a target adjusted pre-tax operating margin of 30%. My approach in this case will be to linearly decrease the current margin of about 31% to the target rate of 30% over the 10-year period;
Reinvestment rate during the last five years has been relatively stable for Alphabet, with $1.19 generated in sales for each $1 in adjusted reinvestment (capitalised R&D), on average, during the last five years (see a table below). This 5-year median sales-to-capital value of 1.19 is the one I will apply in the model;
| | | | | | | |
| --- | --- | --- | --- | --- | --- | --- |
| GOOGL | 2012 | 2013 | 2014 | 2015 | 2016 | 5-Year Median |
| Sales | 46,039 | 55,519 | 66,001 | 74,989 | 90,272 | |
| Adjusted Invested Capital | 38,747 | 45,816 | 61,019 | 70,946 | 76,173 | |
| Sales to capital ratio | 1.19 | 1.21 | 1.08 | 1.06 | 1.19 | 1.19 |
Risk, as defined by WACC, is relatively low for Alphabet (with respect to the world's median), currently standing at 8.48%, computed as:
| | | | |
| --- | --- | --- | --- |
| | Equity | Debt | Capital |
| Weight in Cost of Capital | 98.1% | 1.9% | 100% |
| Component cost | 8.6% | 2.28% | 8.48% |
The equity component comprises the risk-free rate of 2.45%, sales-geographically-weighted ERP of 6.61%, and beta of 0.90 (Damodaran, 2017). The debt component was computed at a pre-tax cost of debt of 3.25% (see discussion on value of debt below for details on this figure) and the marginal tax rate of 30%, adjusted for the imminent change in the corporate tax legislation. The computed WACC is assumed to steadily decline starting from year 6 onwards to about 8% (worlds' median) in year 10, as the company matures and its risk structure will more closely resemble that of the median global company.
Apart from these major assumptions, I have also assumed the following:
Share count of 691.42 million, computed as 297.12 million Class A, 47.37 million Class B, and 346.93 million Class C common stock outstanding as of January 26, 2017 (10-K, 2016, p.2);
Marginal tax rate of 30% in the terminal period, towards which the current effective tax rate of 19.35% will drift, adjusted down to reflect the imminent changes in corporate tax legislation;
Value of debt of $10,707 million. Please note that even though GOOGL has only a long-term debt of $3,935 million as of 2016 fiscal year-end, the company does have off-balance sheet net operating lease commitments (10-K, 2016, p.68), which I have capitalized by discounting to the present the future minimum net lease payments at 3.25%, computed as the default spread of a typical AA-rated (actual rating) non-manufacturing company of 0.8% and the risk-free rate of 2.45%.
The table below presents the model output results: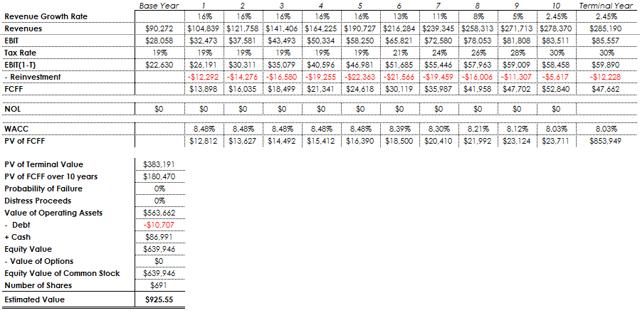 Given the current market price of about $835 for Class A shares and the value per share that I get of $925.55, the stock is undervalued by about 10%. Note that the reason I am referring to Class A shares is that they have a classical 'one-vote per share' structure. For Class C shares, which have no voting rights, the value per share should be expected to be lower.
Since the value is just one point across the range of possible ones, I have performed Monte Carlo analysis with 100,000 iterations, by varying some of my key assumptions:
Growth by applying a uniform distribution (equal likelihood of occurrence) with a minimum value of 12.4% and maximum of 19.33%. Note that these figures represent online ad market share of 40% (or almost no change against the current share) and 5% growth of the "Google other revenues" segment for the lower range of the distribution; for the higher range it indicates 60% and 15% growth, respectively;
Margin by applying a triangular distribution with the likeliest assumption as my base case 30%, minimum value of 25%, and maximum of 35%; and
WACC by applying a normal distribution with a mean of 8.48% (base case assumption) and standard deviation of 0.23%, such that 95% of values fall within a range of 8.03%-8.93%, where 8.03% is the worldwide median WACC value.

As can be seen, given my distribution assumptions, the median value is $914.04 per share. Given the current market price of about $835 per share, we can see that it is at about 25 th percentile, meaning that there is a 75% chance of the current stock price being undervalued.
Conclusion
Negative corporate events, apart from stained reputation, very often lead to sharp decreases in stock prices. While some adverse publicity may turn out to be detrimental in the long-term (with lower prices finding their new 'norm'), others are short-lived and are led more by over-reaction (leading to a rebound in stock prices). As a result, the latter scenarios provide an excellent buy opportunity, as is the case with Alphabet. Having valued GOOGL, I conclude that there is a 7 5% chance Class A shares are undervalued at the current price of $835, and that the true value is around $925.
Disclosure: I/we have no positions in any stocks mentioned, but may initiate a long position in GOOGL over the next 72 hours.
I wrote this article myself, and it expresses my own opinions. I am not receiving compensation for it (other than from Seeking Alpha). I have no business relationship with any company whose stock is mentioned in this article.