On March 9, 2017, American International Group's (NYSE:AIG) CEO, Peter Hancock, announced his resignation but disclosed that he would be staying onboard until a successor was found. More recently, it was reported that AIG's CEO search would likely take "months rather than weeks" and it appears more likely that the company will bring in outside talent for this position, which should be viewed as a positive development.
AIG's stock price has pulled back closer to $60/share range, so I believe that the company's state of limbo is creating a buying opportunity for investors with a long-term perspective (at least three-to-five years).
2017, The Roller Coaster Ride
Over the last year, the company's stock performance has been inline with the broader market but AIG shares have significantly underperformed one of its close competitors, MetLife (NYSE:MET), over the same period of time.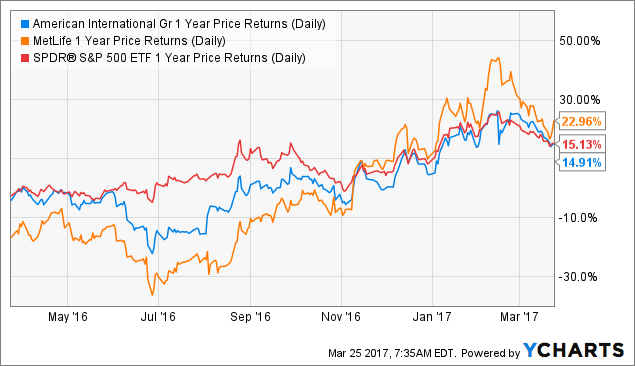 AIG 1 Year Price Returns (Daily) data by YCharts
The graph below is the YTD stock performance, which shows that shareholders have been on a rollercoaster ride since the start of 2017.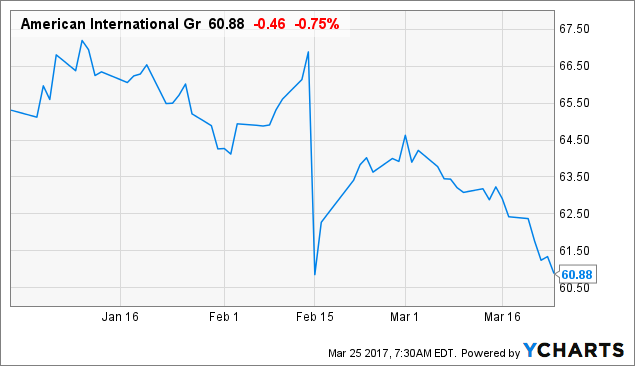 The big dip in February was a result of the company's disappointing Q4 2016 results, in which the company reported an adjusted loss of $2.72/share. However, as I described in this article, Q4 2016 was the kitchen sink type of quarter that the company needed to flush out some of its under-reserving concerns. The almost $6b reserve charge, coupled with the Berkshire (NYSE:BRK.B) reinsurance deal, will give the new management team an opportunity to change the narrative because the market has long viewed AIG as an under-reserved global insurer that should not trade at (or close to) its accounting book value.
Not all of the reserving concerns were put to bed with the Q4 2016 charge and the Berkshire deal but, in my opinion, AIG took a big step in the right direction. In addition, management recently confirmed that AIG's restructuring plan was still intact and that the company was still in the position to return $25b to shareholders. Plus, let's not forget that Carl Icahn is still in the shadows and that he is likely to start pushing for drastic changes in an attempt to unlock shareholder value.
The Icahn Trade
It has already been reported that Mr. Hancock likely resigned due to the pressure that was being applied by activist investor Carl Icahn, but I do not believe that Mr. Hancock's resignation will be enough to keep Icahn and crew at bay. In late 2015, Mr. Icahn and Mr. John Paulsen (another activist investor) announced a "master plan" that would have AIG split into three separate companies. Their base case was that AIG's stock should be trading around $100/share.
Mr. Hancock was the biggest hurdle to Icahn's master plan, so it should be assumed that a three-way split, or some type of significant restructuring effort, is now back on the table. It is anyone's guess to how much value will be unlocked with a three-way split of the company, but it would be hard to deny that AIG would be worth a lot more if this global insurer was split into more manageable components, with the P&C business being the priced asset. To this point, everyone's favorite AIG critic, Abigsoxfan, brought up a very valid point in Activist Stocks' recent article.

His point, how beneficial is a breakup of AIG if the P&C business is still plagued with underwriting and under-reserving concerns? I could not agree more that splitting the company without fixing the P&C issues would not be ideal, but my only push back would be that AIG could breakup the company and bring in a qualified person to take over the priced P&C business. In this scenario, AIG would eventually be three (or more) separate businesses that are managed by qualified individuals. As such, the non-P&C businesses would not be "pulled down" by the under-reserving concerns and the P&C business would eventually warrant a higher valuation once the market is sold on the new management team that is put into place.
Of course, management would have to figure out if they could breakup AIG in a manner that some (or all) of the deferred tax asset ("DTA") could stay intact, but I would contend that the value created by having better managed separate companies would far outweigh keeping AIG together just for the DTA.
Bottom Line
There is a lot to like about AIG's long-term business prospects but, on the other hand, there is also significant concerns about the sufficiency of the company's reserves. Mr. Hancock's resignation was a necessary step for the company to take to get past the under-reserving concerns, plus it opened the door for Carl Icahn to make the drastic changes that will be needed for the company to truly unlock "real" shareholder value.
Additionally, the Federal Reserve recently lifted the Fed Funds rate by 25bps and current expectations are for several additional hikes later in 2017. Therefore, investors should start to bake in the fact that AIG will soon be reaping the benefits of a rising interest rate environment (a topic that was discussed in this article). It is important to note that a rising rate environment will not instantly have a positive impact on AIG's results, as the bond prices will be negatively impacted and it will take time for the new money at higher rates to flow through, but there is no denying that a rising rate environment will be a long-term catalyst for AIG. Therefore, long-term investors should consider layering into an AIG position while shares are trading in the lower $60s and high $50s.
If you found this article to be informative and would like to hear more about this company, or any other company that I analyze, please consider hitting the "Follow" button above.
Disclaimer: This article is not a recommendation to buy or sell any stock mentioned. These are only my personal opinions. Every investor must do his/her own due diligence before making any investment decision.
Disclosure: I am/we are long AIG, MET.
I wrote this article myself, and it expresses my own opinions. I am not receiving compensation for it (other than from Seeking Alpha). I have no business relationship with any company whose stock is mentioned in this article.