The markets are correcting and investor sentiment according to many market traders, is at an all time high, they quote their distant acquaintances who are either fully invested, or ready to jump into an extremely over valued stock market, all hypothesizing a 1929 or 1987 'boot boy' equivalent. Well, not according to the facts presented here, in fact the Russell 2000 'RUT' seems to be close to a 'low', which will be reflected in RUT etf's, IWM, VTWO, and TWOK.
Investor Sentiment is Poor
Investor sentiment (as reported on Y charts, and freely available), is currently lower than the long term average at a very inaudacious 35% bullish. Investor sentiment is generally very little improved on last year.
'US Investor Sentiment', % Bullish, is at 35.28%, compared to 31.17% last week and 29.96% last year. This is lower than the long term average of 38.38%, having topped recently at a still unspectacular 50% bullish..
According to Trading Economics however, consumer sentiment is improved on last year, which has to be good news for business, as it has the potential to boost earnings.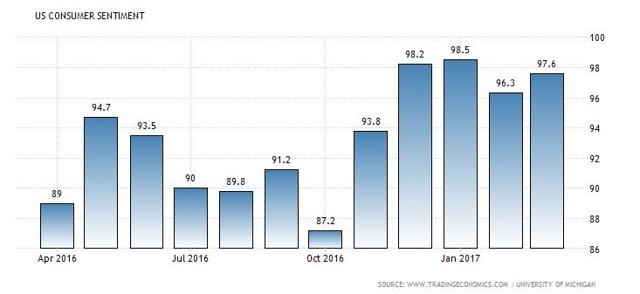 Dow Transports % Bullishness Index
Dow Transports are often used as an indication for a coming recession. This index, based on Dow Transports measures the percentage of bullishness, and is also showing an 'RSI over sold level' (underlined red) close to the lows of early 2016.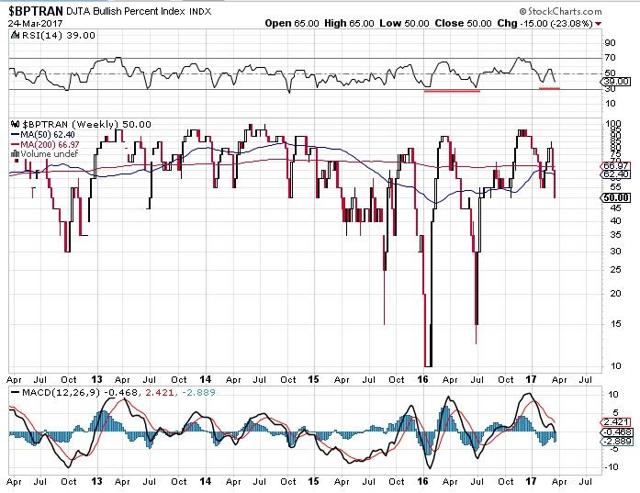 Market Volatility
In terms of volatility, a rising VIX is also an indicator of concerns; the Vix is relatively low, with a one year precedence of reducing rather than rising highs, and having found a January 2017 low, which is on a par with 2014.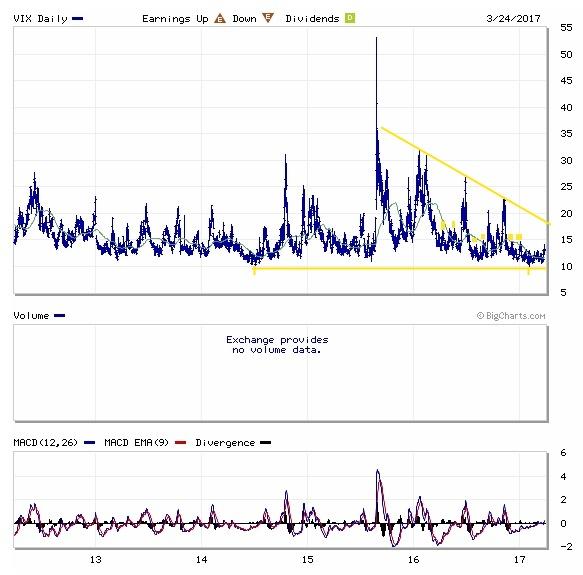 The 'RUT' Stock Chart
The fast stochastic is a useful oscillator to guide market lows for the RUT index, and is approaching an 'over sold' position. The RSI bounced from the 40's level in October, so an 'over sold' RSI position isn't necessary. What is relevant is the proximity to the lower bollinger, which also provided support for wave ii, and further down the 50 moving average. This mini correction seems similar in depth to that of April or May 2016. It isn't possible for the current wave iii to be shorter than wave i, and needs to be at least that same length. A drop to the 50ma would imply the same depth as wave ii down, potentially cutting the wave too short; it could still extend, but is a less likely pattern. Many small companies are already trending chart lows, with no particular reason for dropping significantly further.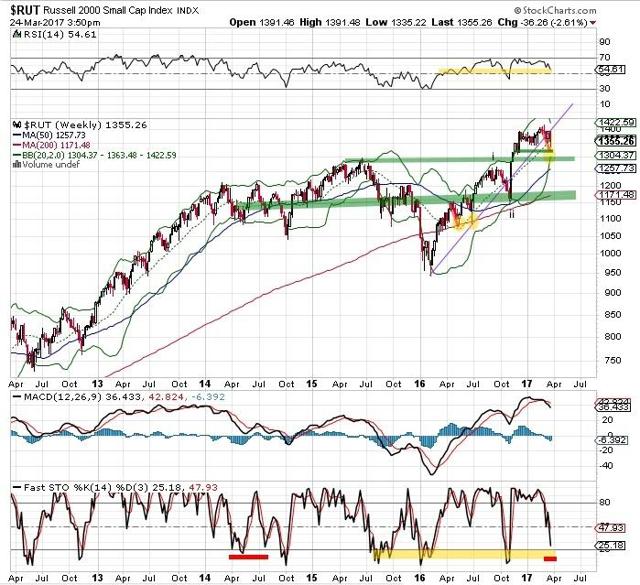 Other General Market Influences
One concern is the possibility that a potentially negative influence on the market is the biotech bill, which according to this article, the House is now moving on from, to consider tax cuts, which are bullish for business, (although the market has already given up about 30% of gains made in expectation of those savings).
Another negative is the issue of the debt ceiling.
Since President Obama signed the 'Bipartisan Budget Act' on Nov 2 2015, there's been no legal limit on the amount of cash the Federal government could borrow. The law imposing the limit states that it:
"shall not apply for the period beginning on the date of the enactment of this Act and ending on March 15, 2017."
So the Budget Act end date has passed, and the debt can't rise until the ceiling is increased or suspended once again. The US government does have cash on hand, so a crisis isn't automatically - now, but reserves won't last indefinitely.
This situation developed several times during the Obama presidency, any delay is likely to be 'political'.
Earnings - S&P 500 12 Month Lagging P/E Ratio
Average P/E is another frequently sited reason for a forthcoming down turn. Below is the 12 month lagging p/e ratio chart for the SP500. Compare the length of individual rises in the 1990's, and each one seems similar to that of the 1950's, however the peaks of the 1930's and 40's were longer. This suggests that share prices vs earnings in recession, (also see the very high 2009 peak), are likely be consistently higher than outside of it. Also that prices vs earnings in p/e rise and fall on a regular basis.
The SP500 includes a number of oil companies who's profit is below average compared to recent years, and also international companies who's profits are not down but affected by a strong US Dollar. Domestic US earnings are affected by the relatively high US Corporation tax, higher regulation of US businesses and US consumer spending habits by the high cost of Obamacare. An positive alteration to these policies can positively affect business earnings and support a higher p/e.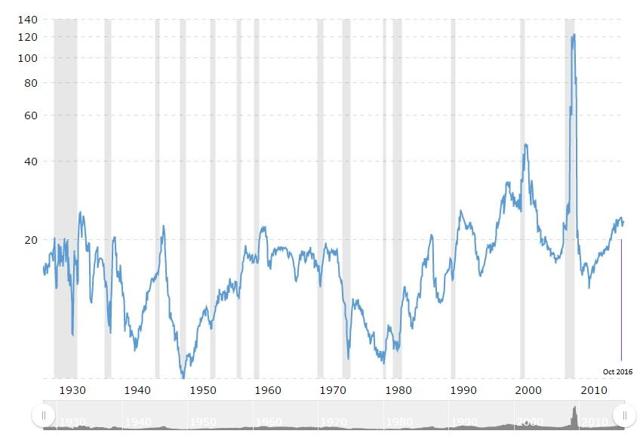 Source: Macrotrends
Below is the SP500 earnings, but inflation adjusted. This shows that minus inflated dollars, S&P500 is at the top end of a very long term rising channel, it isn't 'overvalued' historically, and can maintain this level, providing earnings increase to support rising share valuations.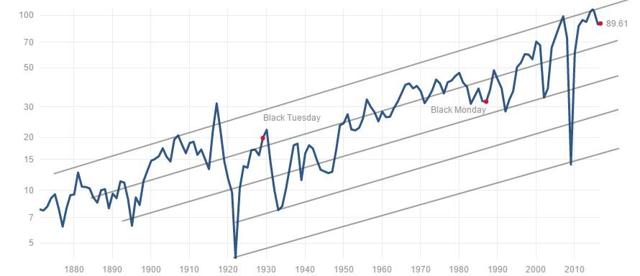 The Russell index of course is mostly smaller companies which are more likely to benefit proportionately from positive domestic changes.
Although a market reaction to the debt ceiling can't be ruled out, there's no reason to suppose that it's imminent, and could be delayed for some while. Mean time corporate tax cuts will be awaiting a decision in the house. There's no reason to assume a major correction at this point in time, no sign of recession, and no sign of overly bullish sentiment.
Although it is prudent to manage downside risk, (and a fast stochastic cross over the 35 level could include that); the RUT looks close to an imminent reversal.
Disclosure: I/we have no positions in any stocks mentioned, and no plans to initiate any positions within the next 72 hours.
I wrote this article myself, and it expresses my own opinions. I am not receiving compensation for it (other than from Seeking Alpha). I have no business relationship with any company whose stock is mentioned in this article.