New Home Sales
Boosted by warmer weather in the Midwest, new home sales rose 6.1% in February to a 592,000 seasonally adjusted annual rate. Discounting also appears to have been a factor in boosting sales, as the median price of a new home sold fell 4.9% on a year-over-year basis. This is clearly a stronger report than last month, and higher mortgage rates don't appear to have been as much of a headwind as they were in prior months. Then again, new home sales are a fraction of existing home sales, which is probably a better measuring stick of the health of the housing market.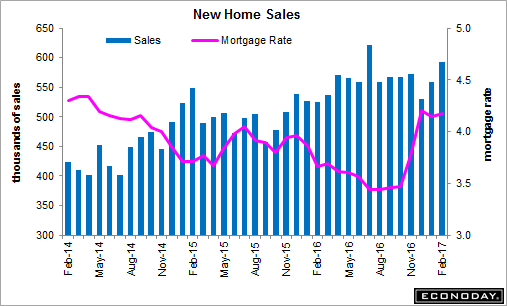 Existing Home Sales
Existing home sales fell 3.7% in February to 5.48 million on a seasonally adjusted annual basis, but sales remain up 5.4% on a year-over-year basis. The supply of homes for sale increased from 3.5 months to 3.8 months, based on the current sales rate. It is too early to tell if there was a rush to close pending homes sales at the beginning of the year as mortgage rates rose, but my suspicion is that the sales rate will level off in coming months. Borrowing costs have risen, real incomes are now declining and there could not be more political uncertainty over fiscal policy. This has an impact on consumer confidence and spending.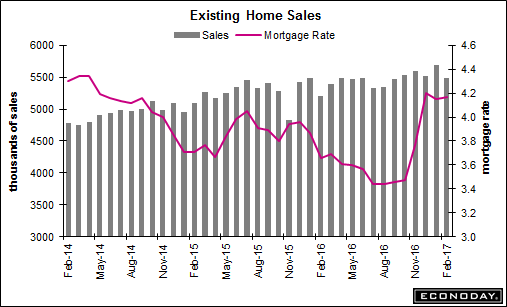 Durable Goods Orders
Orders for durable goods rose 1.7% in February, but that was mostly due to aircraft. When we exclude the volatile transportation sector, orders were up just 0.4%. This leaves orders up 1.6% on a year-over-year basis.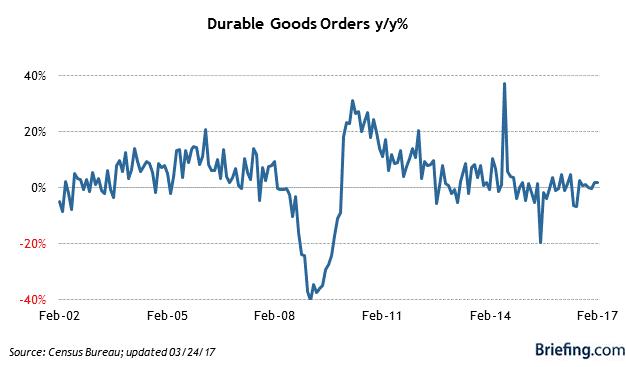 Business investment remains weak, as orders for non-defense capital goods excluding aircraft, otherwise known as capital expenditures, fell 0.1% in February after a revised 0.1% increase in January. Yet shipment of these goods, which is used to calculate GDP, rose modestly for the first two months of the year and unfilled orders are edging higher as well.
The increase in activity in the energy sector has clearly had a positive impact on this report, but it remains very weak overall relative to the surge in business confidence we have seen in recent months.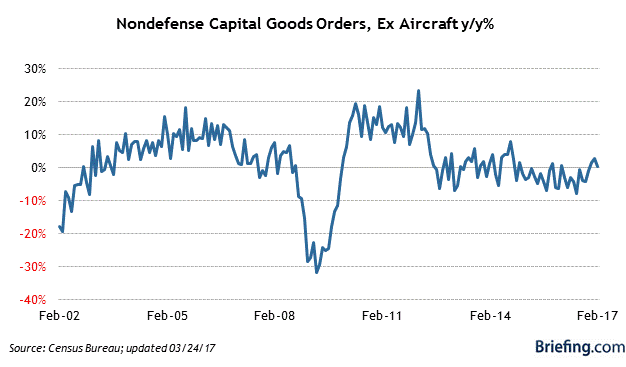 Markit's Flash PMI Index
Early indications from Markit's Composite Purchasing Managers Index for March are discouraging. It shows the private sector expanding at the slowest pace in six months. Not only is the service sector slowing, but the manufacturing sector is slowing as well. The Trump bump in this PMI indicator is clearly over.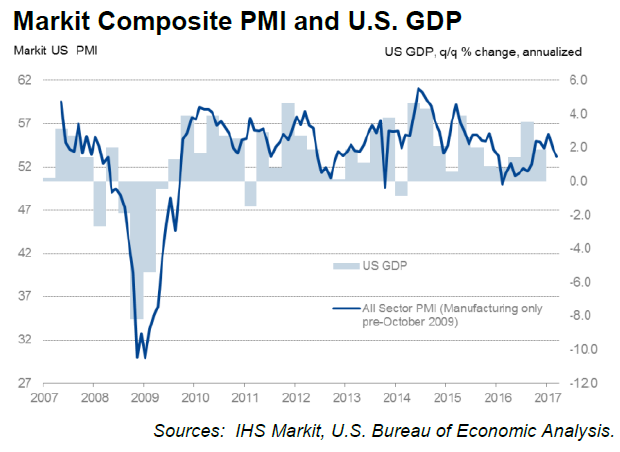 The index continues to reflect growth, registering a reading of 53.2 in March, which was down from 54.1 in February. Hiring plans were particularly weak for the service sector, which does not bode well for the March jobs report. The manufacturing sector is showing more strength, but new order growth is starting to slow. Business confidence remains at lofty levels, but it is increases in aggregate demand that fuel production and new hires. Look for business confidence levels to begin falling based on this data, and consumer confidence should not be far behind.
The presidential election is over. It's time for Trump to put some money where his mouth is with respect to his campaign promises. He has failed with respect to healthcare. It looks like tax reform is next on deck. My outlook for the rate of economic growth in 2017 will have everything to do with how any proposed tax cuts are structured.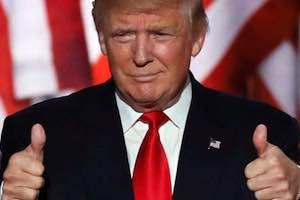 Disclosure: I/we have no positions in any stocks mentioned, and no plans to initiate any positions within the next 72 hours.
I wrote this article myself, and it expresses my own opinions. I am not receiving compensation for it (other than from Seeking Alpha). I have no business relationship with any company whose stock is mentioned in this article.