As a young investor, I tend to struggle with the patience needed for good investment strategies. I review my holdings too often, and I see those double-digit unrealized gains and I only focus on one word - unrealized. I try not to meddle too much and overthink my selections, especially considering things have been going so well. But, I am human and ultimately desire a sense of control so I try to remember Benjamin Graham's statement in The Intelligent Investor:
"For indeed, the investor's chief problem - and even his worst enemy - is likely to be himself."
That does not mean you should never sell, but rather should have a strong reason and a better plan of what do with the capital received. So, to ease my overthinking, I will be reviewing three of my bigger holdings - Apple (NASDAQ:AAPL), AT&T (NYSE:T), and Procter & Gamble (NYSE:PG).
Current/Historical Valuations
My current price appreciations:

When I made these purchases a year to a year and a half ago, I really did not expect this rapid of a rise. The market exceeding my expectations almost led me to make a rash decision and sell the other day and making rash decisions can lead to a ton of regret down the road. While historical valuations can only tell you so much, let's see how these stack up against the other 28 stocks in the Dow.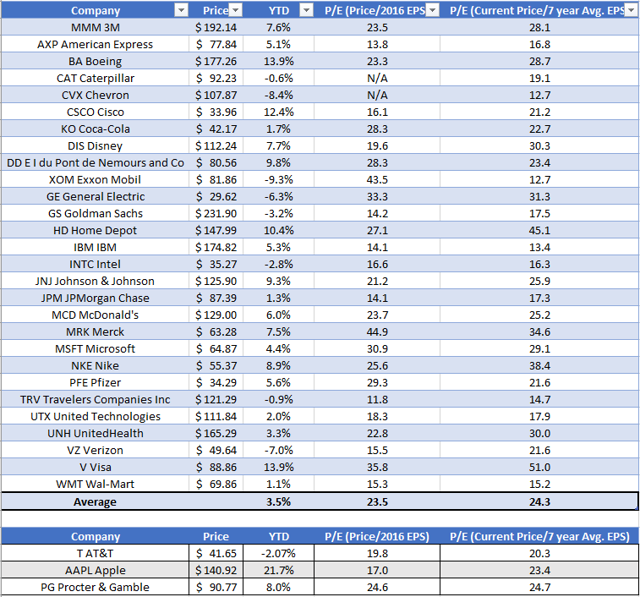 Overall, the valuations on T, AAPL, and PG look better than I thought. PG's current P/E is a little higher than desired, but its 7-year is below what Graham in The Intelligent Investor considered a good threshold (<25). While AT&T's P/E ratios are not bad, it's safe to assume that there is slight premium being paid for it due to the yield starved, income seeking investors. If interest rates rise enough, it may experience a slight decline if they abandon ship, but not enough for it to be a concern right now. It is interesting to note that based on one-year's earnings, the Dow is overvalued at 23.5, but extending the time frame considered out 7 years, it shows decent value. Based on this data, I am feeling better about staying with my holdings.
Estimates/Forecast
Now, it is time to look at what the future may hold. I am not a huge fan of forecasts and estimates (I have gotten wet quite a few times when the weatherman said no rain), but what a company did yesterday only builds its reputation. It is what it does tomorrow that actually makes the investor wealthy!
EPS estimates (Source: Yahoo! Finance)

Let's attempt to forecast using these estimates. I will use the current P/E ratios as the valuation starting point and expand the range even further by adding a plus-minus 15% to the current P/E. This resulted in:



To make it easier to visualize, the graphs below show the medians: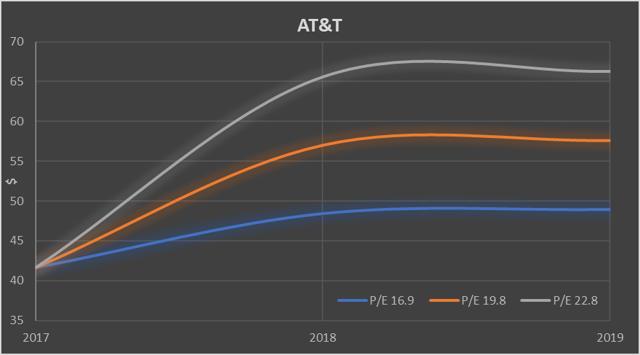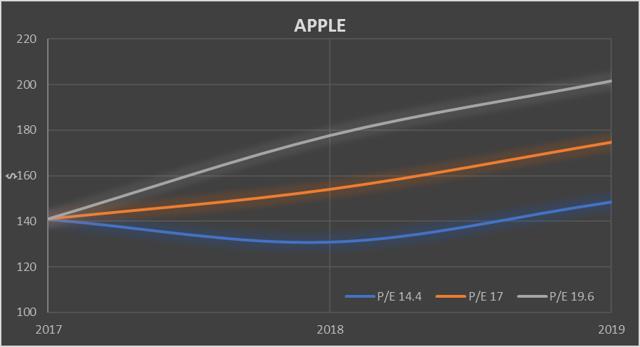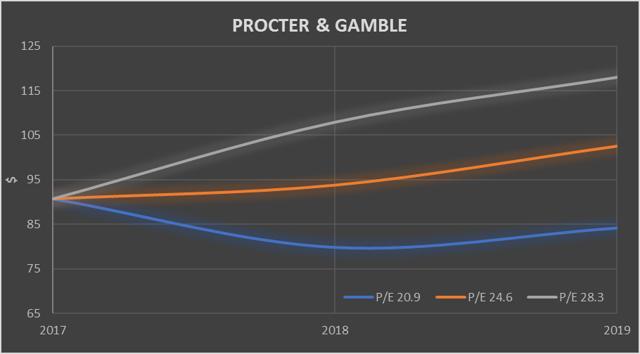 AT&T and Apple look positioned well for the future according to estimates, but the AT&T forecast surprised me as I do not foresee a capital appreciation of that magnitude for the higher estimates. The P/E 16.9 line seems more likely based on its commitment to increasing its dividend (and as a result, high dividend payout ratio). Procter & Gamble is estimated to grow at a slower rate, but that is expected of a company of its size.
Portfolio Strategy
The most important factor to consider before selling is what is your overall portfolio goal? My strategy when buying these 3 large cap stocks was based on future dividend income. I wanted a blend of at least one high current yield (T), one established dividend champion, but still room to grow (PG), and a dividend growth selection (AAPL).
Source: Yahoo!Finance

Procter & Gamble has lagged as of late for dividend increases, but I have faith it will increase the rate as the results of its sell off and improving production efficiencies begin to take shape. See Procter & Gamble: Get Ready for Faster Dividend Growth Ahead for a more complete analysis. While Apple's current dividend yield (1.6%) is lower than many investors desire, its micro payout ratio gives me confidence it will continue to raise the dividend at an above average rate. AT&T's current yield and my yield on cost are so high that its slow growth rate is no concern to me. Overall, the dividend prospects still look strong and that is reason enough to stay the course even when the market headwinds eventually rise.
Conclusion
It can be difficult to balance valuing a stock between history and future estimates. The intent of this exercise was not to predict a future price point, but instead to ease anxiety about the potential of missing current unrealized gains by showing that current valuations are higher, but not unrealistically so and that the analysts still view AAPL, PG, and T favorably for the time being. My goal when I purchased was not to achieve a short/medium-term capital gain, but to build future dividend income. Constant monitoring of stocks has been shown to do more harm than the other extreme of never monitoring, so for these 3 large caps, I am going to tuck them at the back of my portfolio and forget about them.
Disclosure: I am/we are long AAPL, T, PG.
I wrote this article myself, and it expresses my own opinions. I am not receiving compensation for it (other than from Seeking Alpha). I have no business relationship with any company whose stock is mentioned in this article.