As we rapidly approach the first net worth sweep of the incoming administration, it's worth noting that the only two companies in history that have paid out net worth equity dividends as part of a plan to wind them down are Fannie Mae (OTCQB:FNMA) and Freddie Mac (OTCQB:FMCC). These two companies support middle class America by providing counter-cyclical access to home ownership opportunities regardless of gender or race. Most commonly known for the 30-year mortgage, Fannie Mae and Freddie Mac have been held captive for nearly a decade as they were forced by their conservator to report massive accounting losses when they were making massive cash gains in the early years of conservatorship. The intent behind forcing Fannie and Freddie to overstate losses at the time was the conservator believed that they were necessary to retroactively justify the imposition of conservatorship by forcing draws on the Senior Preferred Securities Purchase Agreement.
The problem with overstating accounting losses is that what goes around comes back around and in 2012 when the enterprises had returned to profitability the accounting writedowns were going to be reversed into massive one time accounting gains. Judges have ruled that at this time it doesn't matter if FHFA implemented the net worth sweep to take all of this money in spite of the fact they would have to release Fannie and Freddie from conservatorship. Judges have ruled that FHFA had the authority to do whatever they wanted with the enterprises. Since then, these two conservatees have paid out their net worth to FHFA's sister agency US Treasury. Aside from the fact they are private companies and they are accounted for like they are private companies, they've been treated like off-balance sheet government agencies since 2008.
Investment Thesis: There are two people who can recapitalize Fannie Mae and Freddie Mac, FHFA's Melvin Watt and Treasury's Steven Mnuchin. According to Paul Muolo of IMFNews, "Watt's people expressed their concerns about zero capital to the Obama Treasury Department, and pushed for an increase, not a reduction." A little over a year ago, Watt came out and expressed his concerns of zero capital. Watt always deferred to Treasury even though he could have stopped the net worth sweep on his own. Now, Steven Mnuchin is running the show at Treasury. As part of Mnuchin's confirmation hearing, Mnuchin wrote to Senator Sherrod Brown saying "any solution will be dependent upon the GSEs being capitalized properly and other such controls that eliminate risk to taxpayers." Watt seems to want capital. Mnuchin seems to want capital. I own preferred shares because I think that the solution is capital based. If the solution is capital based, sweeping that capital to Treasury simply is not part of the solution and that's why it makes sense to stop this month's net worth sweep. I've heard arguments saying that Mnuchin can't stop this one because of the budget and the debt ceiling but Mnuchin has since called out the debt limit as a 'ridiculous concept.' All considered, I'm betting that the net worth sweep ends and Fannie Mae and Freddie Mac are recapitalized as early as this month.
Treasury Turns Its Back On FHFA's Constitutionality
In light of the fact the DOJ turned around in the CFPB case, Treasury is now Turning around in the Collins case and pulling its support from FHFA:

Footnote one is Treasury's support of FHFA's constitutional argument:

This puts Treasury at odds with FHFA in so far as how the Summary Judgment on Count IV will play out. Count IV seeks to vacate the net worth sweep so in effect Treasury is no longer doing things that fully support the net worth sweep. This has all happened in the last six months: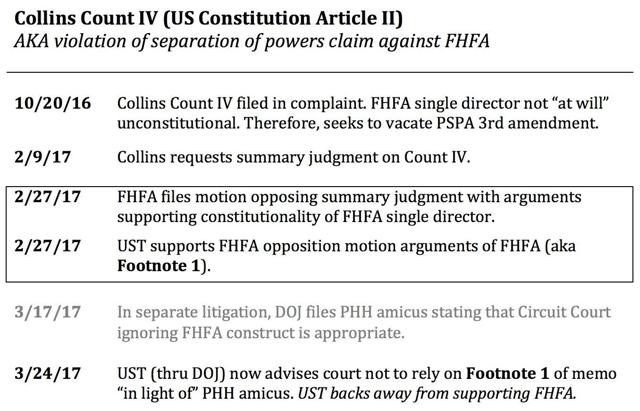 The question for investors is what exactly happens to the net worth sweep that was put into place by an unconstitutionally structured federal agency? First, FHFA would have to be structured constitutionally and second the net worth sweep would get vacated and a new director (perhaps Watt) would have to re-review the net worth sweep: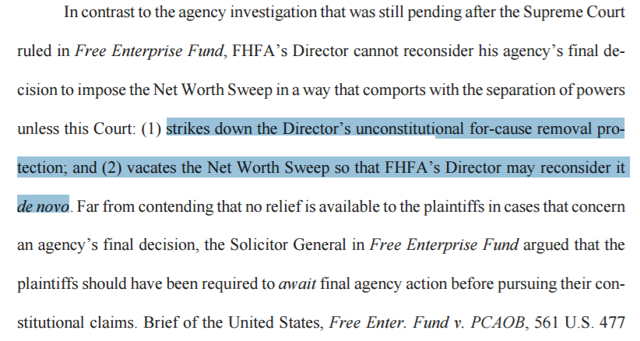 At this point, FHFA's Director Melvin Watt may have a different perspective on the net worth sweep than DeMarco as it was put into place before he got there and Watt seems to think capital is important.
Advocacy Letter Urges Suspension This Month
Advocacy groups got together and wrote to Watt and Mnuchin. These groups represent millions of members and span housing, building, people of color, Latin Americans, and community lenders. The fact that Trump's tax reform proposal will cause DTA impairments is not lost on these groups:
We urge FHFA to suspend the dividend payments to the U.S. Treasury this month and allow the Enterprises to rebuild their capital buffers to avoid a draw for widely anticipated non-credit related losses at the Enterprises.
The Leadership Conference has over 200 member organizations, the largest of which has over 37,000,000 members. The National Association for the Advancement of Colored People, Community Home Lenders Association, Community Mortgage Lenders of America, Corporation for Enterprise Development, League of United Latin American Citizens, Leading Builders of America, and the National Community Reinvestment Coalition signed on as well.
On February 2, Trump signed an executive order that would "prevent taxpayer funded bailouts" that these groups draw on for the authority to stop the sweep this month: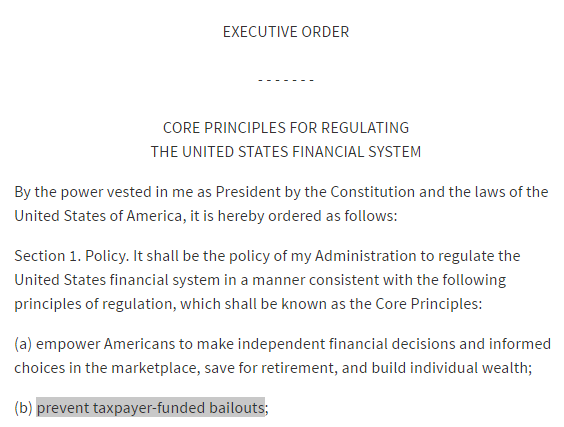 The premise here is that much like the financial accounting techniques that were employed earlier in conservatorship, DTA write downs are not actual credit losses. As such, if we can prevent a bailout that we know is coming by simply amending an agreement, we should do so to be consistent with Trump's executive order.
Exploring Alternatives To Fannie And Freddie
Prior Fannie Mae CFO Timothy J Howard has proposed that some solutions proposed by GSE detractors are simply unworkable: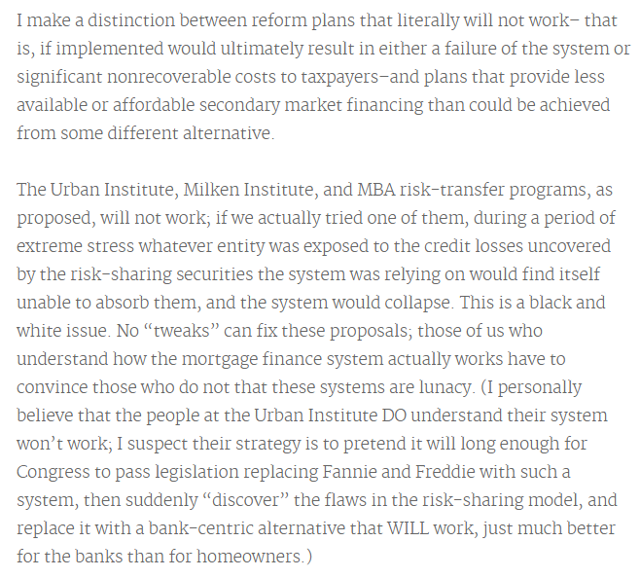 He does propose one workable alternative that benefits the banks instead of home buyers:

One workable solution appears to be one where the government provides emergency support to credit guarantors who abide by certain standards: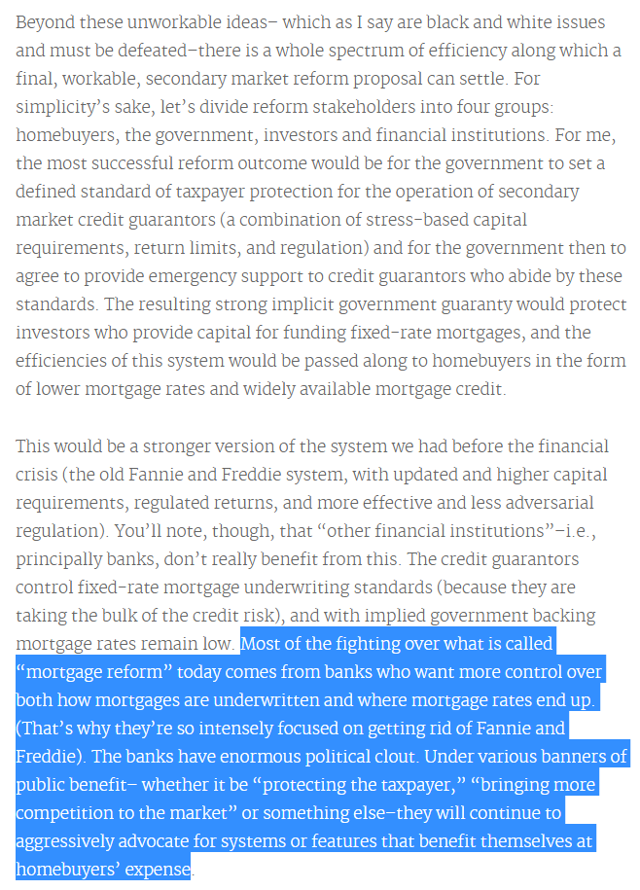 Although this is a workable solution, it's probably not the one Mnuchin will go for since he's been trying to get Fannie and Freddie out of government control:

Mnuchin knows how the mortgage market works and how to solve big problems and has a history of winning when he puts his money where his mouth is. As Treasury Secretary, he is empowered to protect taxpayers from bailing out Fannie Mae and Freddie Mac and can easily do so simply by letting them retain their own earnings. In fact, that's the first step to recapitalization.
Summary and Conclusion
I own 4050 shares of FMCCH, 23088 shares of FMCCP, 7370 shares of FMCCT, 1341 shares of FMCKO, 13185 shares of FMCKP, 12788 shares of FNMFN, and 5 shares of FNMFO. I own these shares because I strongly believe that the only reasonable solution involves the existing capital structures. Throwing them away presents too many challenges if they can be fixed by regulating them and operating with more capital than they used to. In fact, if you prevent FHFA from forcing Fannie and Freddie to take money from Treasury at usurious rates based on FHFA's accounting discretion during a mortgage crisis, the amount of capital they would actually need is within range of what private capital markets could raise by issuing new equity.
Watt has wanted to retain capital in the past. Mnuchin has in effect said that any solution requires capital. There is literally no reason in that context to take their capital away from them. Fannie and Freddie are privately owned companies and they are taxpayers. Lately, the preferred shares have dropped over 30% from their pre-Perry appeals court highs. Paulson, one of the big three preferred shareholders said that there was a high probability of resolution before the end of 2017 and that the investment was never based on the court cases.
Even if the net worth sweep dividend is stopped this month, Fannie and Freddie will remain in conservatorship until they have enough capital to exit conservatorship. I would expect the more liquid preferreds to trade between 65-85% of par in the event that the net worth sweep dividend is suspended. The reason for that is if the net worth sweep is stopped, the only option left is to put forth a recapitalization plan and I don't see how you do that without honoring the existing capital structure.
Disclosure: I am/we are long FMCCH,FMCCP,FMCCT,FMCKO,FMCKP,FNMFN,FNMFO.
I wrote this article myself, and it expresses my own opinions. I am not receiving compensation for it (other than from Seeking Alpha). I have no business relationship with any company whose stock is mentioned in this article.
Editor's Note: This article discusses one or more securities that do not trade on a major U.S. exchange. Please be aware of the risks associated with these stocks.