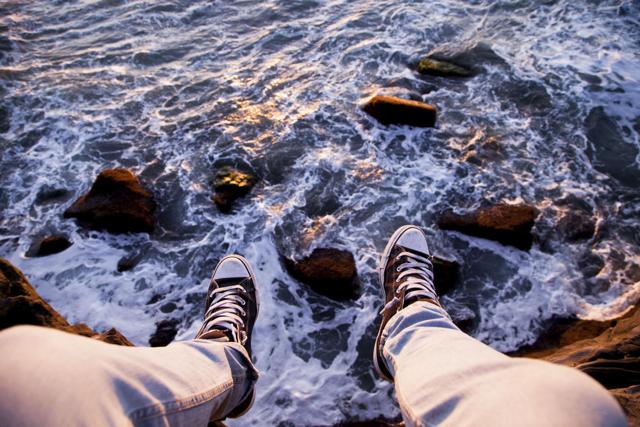 Currently, PayPal (NASDAQ:PYPL) is a challenging stock to value, but for very different reasons than stocks such as Amazon (NASDAQ:AMZN) that are playing an extremely long game. I'd argue that PayPal's fate will be decided to a large extent in the next five years. Why? Because despite great execution and key acquisitions, it will likely face off either directly or indirectly with the big ecosystem plays (Google (NASDAQ:GOOG), Facebook (NASDAQ:FB), Apple (NASDAQ:AAPL), Amazon (AMZN), Microsoft (NASDAQ:MSFT)), which most of you know generally turns out to be the kiss of death.
PayPal Is In A Terrific Position
PayPal is the clear leader in the extremely fast-growing online payments market, which, to some extent, is due to its early entry in the market, but also its ability to quickly become global - a feat that many competitors and analysts downplay.
The leadership was also given a better chance of succeeding when it was spun off from eBay (NASDAQ:EBAY), which faces all kind of different issues. Thanks to terrific execution in products such as PayPal One Touch, PayPal has been able to fend off competition, increasing its number of customers and their engagement: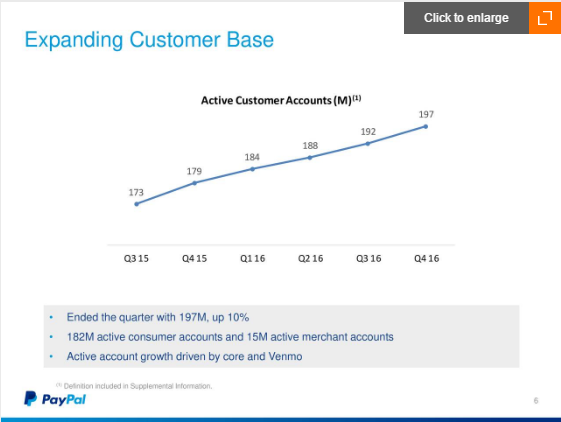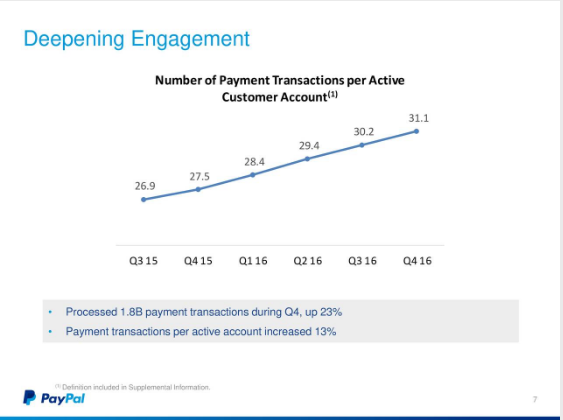 (Credit: PayPal earnings slides)
PayPal must continue to adapt quickly to a fast-changing area where an increasing number of consumers are making payments through different applications. The company leadership does seem to have the right strategy:
"We found that merchants who offered PayPal payments in their Quick book invoices will pay two times faster than it to get paid without PayPal. This meaningful improvement in cash flow is crucial for the SMB market. We are proud to bring this benefit to Intuit's customers. Our partnerships with Facebook, Google, American Mobile, Vodafone, AliExpress, and other financial institutions and major retailers continue to grow as our platform and capabilities expand."

- Dan Schulman, CEO, on the latest earnings call
The opportunity in mobile is incredible: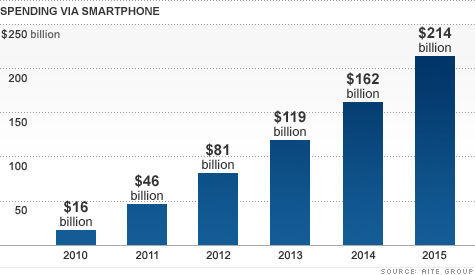 (Credit: Valuewalk)
Of course, that also brings competitors...
The Great Threat
All of that being said, the world is changing quickly, and an increasing number of industries are being disrupted by the ecosystem plays which seem poised to disrupt and take their share in the payments space. Some players have been able to successfully compete with the ecosystem plays, of course, with Netflix (NASDAQ:NFLX) being one of the best examples, as it has now leveraged most ecosystems to its benefit. But, the examples are rare. Let's take a look at the specific threats they create for PayPal.
Apple - The most valuable company in the world maintains a fairly closed ecosystem and has already started competing with PYPL thanks to Apple Pay, a payment method used by clients to pay for offline and online goods and services, with clear rumors that Apple will soon be getting into the P2P payments game. Apple has an incredibly valuable customer base, one of the top messaging platforms (iMessage) and controls iOS, giving plenty of incentive for not only businesses to accept (and even promote) Apple Pay, but also leverage in getting its own terms accepted.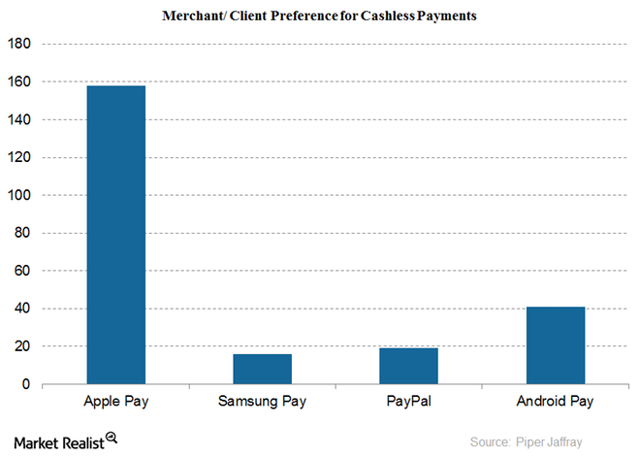 (Credit: Market Realist)
Facebook - The good news is that at this point, Facebook does not seem determined to use only its own payment solution, but rather, is trying to simply have its ecosystem (especially its messaging services Messenger and WhatsApp) used as the networks to send money. That provides an incredible opportunity for PayPal, but also adds two areas of concern. The opportunity being obviously that Facebook will likely prefer working with a non-ecosystem player, and PayPal would fit perfectly. But it's unlikely that Facebook will commit to only one payment platform (unless it is its own) at any point. There's also a risk that Facebook will eventually find a way to tax transactions that occur on its network in the same fashion as Facebook and Instagram pages, where an increasing number of businesses now feel forced to advertise to reach the audiences that they built.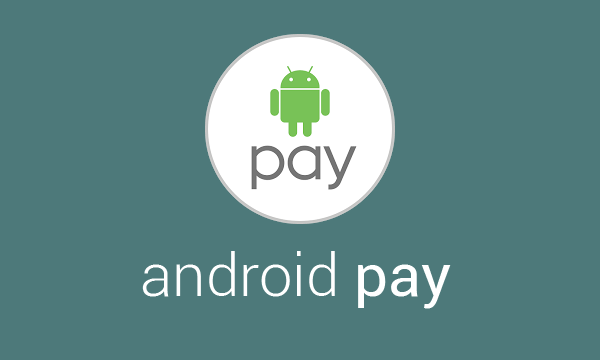 Google - Not only does Google have the most used ecosystem in the world in Android, but it also has its own payment solution: Android Pay. Google seems determined to succeed, but will need to get better at working with others (merchants, banks, etc). That being said, Android Pay currently seems to be the most likely Apple Pay competitor.
Amazon - Amazon might be the greatest threat of all, despite not being as global of a player. It has hundreds of millions of paying customers, and has been eager to increase the presence of Amazon Payments, which can now be used to pay businesses on one-time and recurring payments. Amazon's range of goods and services and total ecommerce market share has been expanding so quickly that it's impossible to ignore the threat. While many are skeptical of Amazon's desire to become an online bank because of the regulations involved, it's likely that it will cover as many areas as possible, including transfers, conversions, etc. Even in the loans space, Amazon has been quietly emerging as a big threat for PayPal and others, with annual loans in the billion dollar range according to The Information. While Amazon might be willing to work with PayPal, it will have very little leverage in negotiations (which have already started, according to Bloomberg), and Jeff Bezos will capitalize on this advantage. You can look at what Amazon ended up doing recently, aligning with Chase for a credit card, leading analysts to express concern for competing banks/credit cards such as Discover (NYSE:DFS) and American Express (NYSE:AXP).
Working with any of these big ecosystems will be extremely difficult. Just think of how PayPal was reportedly cut out of Apple Pay because it was working with Samsung (OTC:SSNLF). Being the "Netflix" of payments and being able to be present on each of these ecosystems will be an extremely challenging task.
One Key Acquisition Might Save The Day
One thing that seems increasingly clear is that the concern for PayPal at this stage of the game would be much greater if it had not acquired Braintree and (which included) Venmo, which are both growing extremely quickly.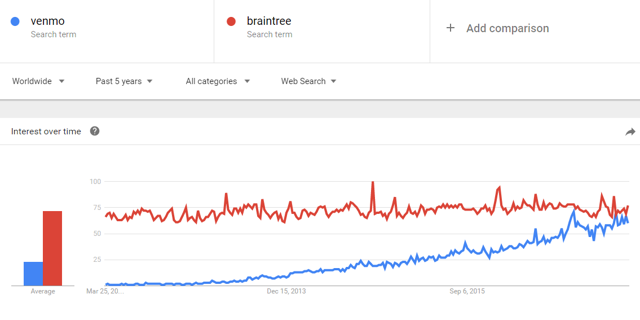 "So, you heard us talk about what we are doing at interest buy buttons, Facebook messenger having commerce experiences for companies like Uber (Private:UBER) and others. Those things are all running through our Braintree platform. So we are seeing the strategy of Braintree and a 100% share of checkout, not only driving good great growth for our business, but getting our best experiences out there to more merchants to really interesting margins, really just to commerce experiences and available to our consumers as they encounter to those new commerce experience. So, we've been quite pleased with that and see that momentum continue to build in terms of Braintree as a key enabler of many of those interesting commerce experiences out there."

- CEO Dan Schulman talking about Braintree on the latest earnings call
Clearly, Braintree is at the forefront of the payment processing business, competing with Stripe for the growing pie.
Venmo, on the other hand, has been doing incredibly well in the P2P sphere, and if the NCAA basketball tournament is any sign, the growth has been staggering: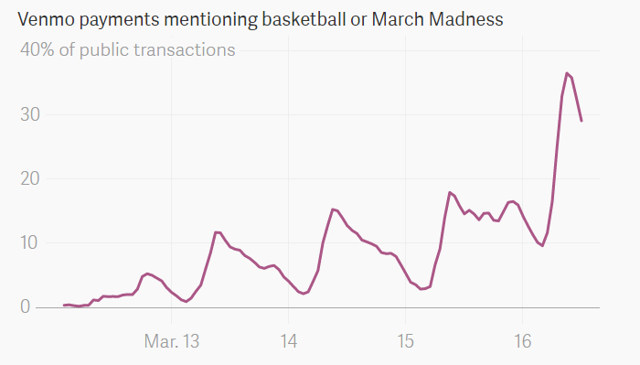 (Credit: QZ)
I am a strong believer that PayPal would be in big trouble without those two acquisitions, which have been gaining traction, market share and are well positioned to do well in this new mobile era.
Be Very Careful
I do believe PayPal will be okay in the short to medium term and would invest in the name, but I'd be very cautious about getting out if momentum turns. PYPL's current forward P/E of 21 is clearly a reasonable valuation given the growth and the incredible opportunity in a fast-growing space.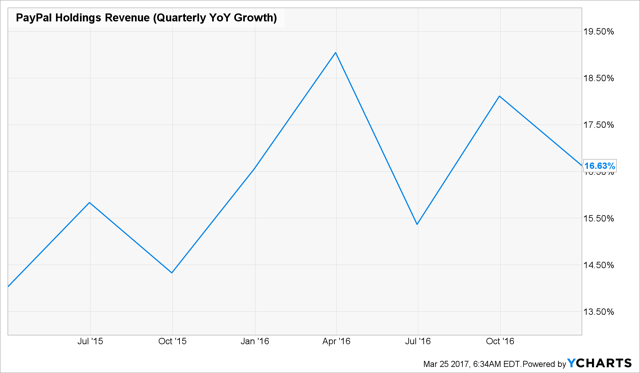 (Credit: YCharts)
There's no doubt that there will be tremendous pressure on PayPal in the coming three to five years as the ecosystem players start investing more heavily into the payments space. This will increase pressure on margins, since they are more concerned about getting market share than the actual shorter-term profitability of what they consider a feature to their ecosystem.
Disclosure: I am/we are short PYPL.
I wrote this article myself, and it expresses my own opinions. I am not receiving compensation for it (other than from Seeking Alpha). I have no business relationship with any company whose stock is mentioned in this article.