MLPs finished the week negative overall, but showed relative strength against the broad market and energy stocks (but not against utilities). Oil prices drifted lower on an unwind of long oil bets, driven by concerns U.S. production growth is too much, raising uncertainty about the next OPEC meeting, even though it's 2 months away. Without much MLP specific news, we again find ourselves living week-to-week with oil prices, waiting until the next inventory report or OPEC meeting.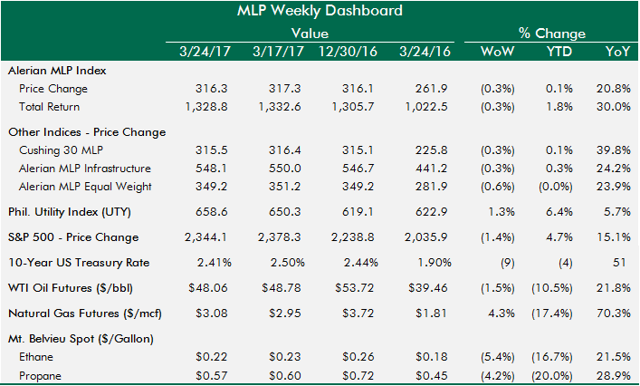 There is just one more week left in March and the index is down 3.4% for the month so far. That's a big hole to dig out of to keep the positive monthly return streak alive (currently at four months), but MLPs have had three weeks bigger than 3.5% since the election in November, so it remains a possibility. If things go the other way and MLPs decline 1.8%+ this week, they would break their current streak of four straight positive quarters.
Poll Question: Coming Soon
My wife and I have three children under 10, and we don't trust anyone to watch them. Part of it is bad experiences with babysitters, but most of it is we are control freaks. Between the kids and this blog each weekend, I don't get out much. I go to the movies, but mostly in daylight hours just to be the popcorn sherpa at Animated Movie Dujour. So, I don't catch too many made-for-adults movies in the theaters these days.
This weekend, however, Star Wars Rogue One became available to stream at home, and I finally got to watch it. I knew it was coming, I heard some things about it, but I had to wait for a long time before actually seeing it. Sometimes the hype in this situation can overwhelm the experience of actually watching it, but not this time.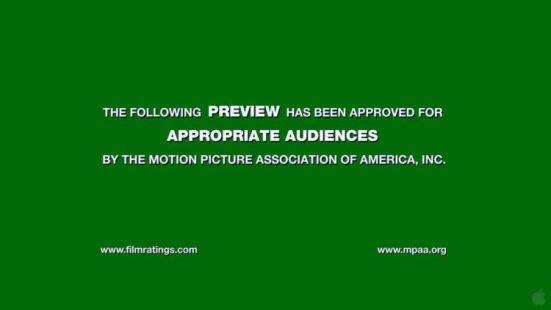 In the MLP sector, we seem to be in a similar waiting period. We are waiting for the following, non-exhaustive list of "catalysts":
Williams Partners L.P. (NYSE:WPZ) to sell Geismer.
Kinder Morgan (NYSE:KMI) to sell or IPO its Canadian business.
Enbridge Inc. (NYSE:ENB) to announce a plan for itself, Enbridge Energy Partners L.P. (NYSE:EEP) and Spectra Energy Partners (NYSE:SEP).
Tesoro Logistics LP (TLLP) to restructure IDRs or to merge with Western Refining Logistics (NYSE:WNRL) or both.
Energy Transfer Partners (NYSE:ETP) to clear trees on the Rover path.
ETP to announce solutions or simplifications for Sunoco LP (NYSE:SUN) and PennTex Midstream Partners (NASDAQ:PTXP).
Volume and utilitization of plants and pipelines to ramp up after drilling activity.
The hype embedded in the anticipation of the above announcements varies, and all of the above should be resolved in the next few months, hopefully rescuing MLP sentiment before oil prices cause too much more damage.
Winners & Losers
Low liquidity midstream MLPs (Delek Logistics Partners LP (NYSE:DKL), Cheniere Energy Partners (NYSEMKT:CQP) and Noble Midstream Partners LP (NYSE:NBLX)) led the way this week, with DKL making the jump from bottom to top 5. Suburban Propane Partners (NYSE:SPH) made it two straight top 5 weeks, perhaps saved by the late March heating degree day push that has also helped natural gas prices.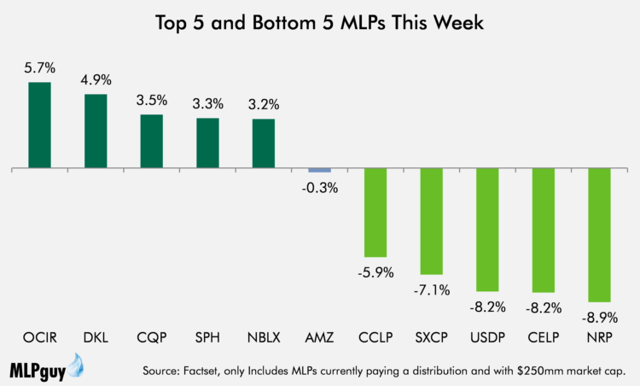 In the bottom 5, no news among the losers, but Cypress Energy LP (NYSE:CELP) did repeat near the bottom of the MLP sector with another 8% decline.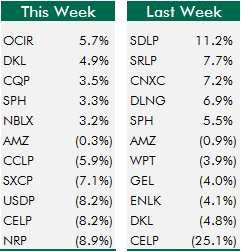 YTD Leaderboard
The number of 20%+ YTD return MLPs went from 5 last week down to 3 this week, led by NBLX with nearly double the return of the next best return. On the downside, we went from one 20%+ YTD return MLP last week to 3 this week. 3 of the biggest losers for the week are among the biggest losers YTD (CELP, SunCoke Energy Partners (NYSE:SXCP), USD Partners LP (NYSE:USDP)). MLPs are hanging onto a small 1.8% gain overall, but the disparity of returns is broad, illustrative of uncertainty driving indecisiveness among investors.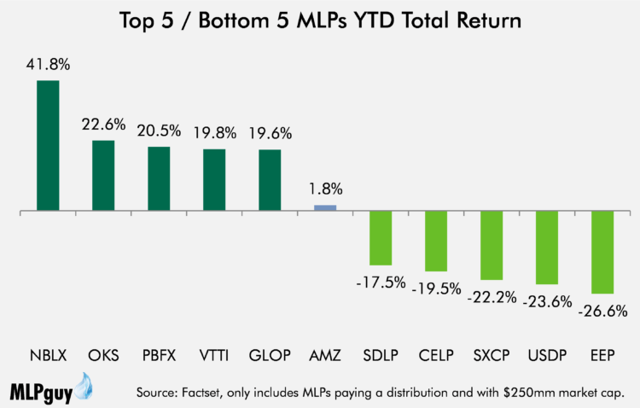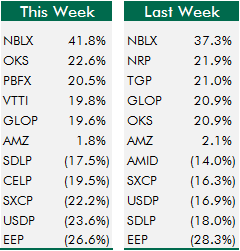 General Partners and Midstream Corporations
Median GP and Midstream corporation returns of -1.4% underperformed MLPs this week. Just four of the group were positive. Tallgrass Energy GP LP (NYSE:TEGP-OLD) and Targa Resources Corp. (NYSE:TRGP) were the only ones with back to back positive weekly gains.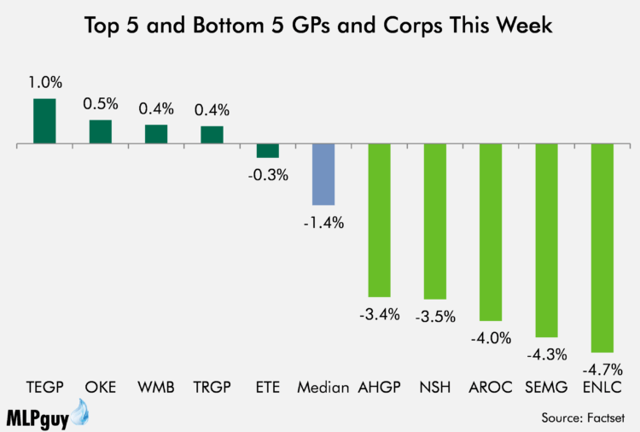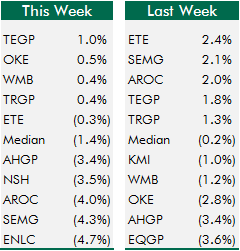 News of the (MLP) World
There was a surprising equity offering from Genesis Energy, L.P. (NYSE:GEL) this week, but the trend of positive after-market performance for MLP offerings was maintained. No big M&A, but KMI announced an open season for their proposed solution to what has become a clear need for natural gas takeaway options from the Permian. Enterprise Products Partners L.P. (NYSE:EPD) announced a similar project at their analyst day a few weeks back. ETP and Atmos also have natural gas systems connected at Waha that could compete for takeaway solutions, but EPD and KMI seem to be moving faster.
Capital Markets
Genesis Energy priced public offering of 4.0M units at $31/unit, raising $124M in gross proceeds (press release)

Overnight offering, priced at 5.7% discount, traded up 3.3% from pricing in the following session

Energy Transfer (NYSE:ETE) entered into an equity distribution agreement for up to $1B (filing)
Growth Projects/M&A
Kinder Morgan announced open season for Gulf Coast Express Pipeline (press release)

The project will provide an outlet for increased natural gas production (1.7bcf/d) from the Permian Basin to markets along the Texas Gulf Coast

The project will have connections with existing receipt points along KMI's Texas Pipeline and El Paso Natural Gas pipeline systems, and a proposed interconnection with the Trans-Pecos Pipeline

Magellan Midstream (NYSE:MMP) announced new agreement with Trafigura Trading regarding condensate splitter project, reaffirmed 2017 DCF guidance (press release)

Kinder Morgan's Trans Mountain successfully concluded an open season for remaining 22k bpd of capacity on its planned expanded pipeline (press release)

Shippers have made 15 and 20-year commitments of 707k bpd, roughly 80% of capacity, with the other 20% reserved for spot volumes

All available long-term service capacity is now contracted with 13 customers

Trump administration signed a presidential permit to approve the Keystone Pipeline (WSJ)

The TransCanada (TRP-CA) project, blocked by former President Obama, will need to go through state regulators for necessary permits and approvals

GasLog Partners (NYSE:GLOP) announced acquisition of GasLog Greece from GasLog Ltd. (NYSE:GLOG) for $219M (press release)

GLOP will finance the acquisition with cash, including proceeds from its recent equity offering, and the assumption of $151M of GasLog Greece's existing debt

Acquisition price represents an estimated 9.1x EBITDA, and 16.8x distributable cash flow
Other
Delaware Supreme Court denied Williams Companies' (NYSE:WMB) appeal and affirmed Energy Transfer's right to have terminated their merger in 2016 (article)

The final loose end in a very long saga that will be remembered as one of the most painful parts of the oil crisis of 2014-2016
Editor's Note: This article covers one or more stocks trading at less than $1 per share and/or with less than a $100 million market cap. Please be aware of the risks associated with these stocks.