Welcome to the second edition of:
Focus on Europe
(vol. 2 - March 27, 2017)
As always, I will highlight one interesting fact on the European markets and provide a somewhat more in-depth background story on what appears to be a headline story (or should be a headline story) on the European markets. This will be followed by some Euro-focused articles written by other authors that appeared on Seeking Alpha in the previous week and deserve to be highlighted.
And in the final section, you will find a myriad of short updates on several European companies. Keep in mind the European investment universe is huge, and not all updates and companies will be covered in the news releases section.
What's up in Europe this week?
Perhaps a news fact which went completely unnoticed, but the management team of Melrose Industries (OTC:MLSPF) (OTC:MLSPY) is probably ordering new Ferrari's and yachts as we speak. Last week, it became clear the company's management team would be entitled to a 200M+ GBP bonus (US$250M+), of which 70% would be divided amongst the top management.
Melrose has a very intriguing business model. It acquires failing businesses for a song, turns them around in a 2-7 year process and then sells the businesses again at a much higher price.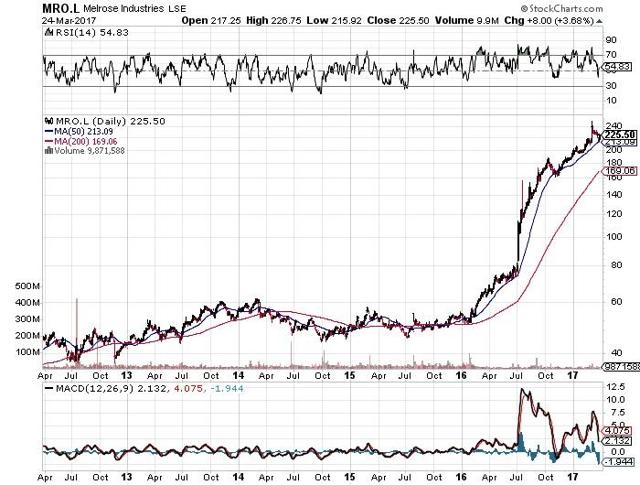 Source: stockcharts.com
The details will only be announced in a few weeks, but Sky News reported the size of the bonus based on the amount paid to the national insurance scheme. Approximately four members of the management team will be able to divide 75% of the bonus amongst themselves, with an additional 20 senior-level managers entitled to an average bonus of 2.5M GBP each.
An act of greed? Not really. As part of a management compensation plan five years ago, the Melrose management would be entitled to 7.5% of the total shareholder gains as a bonus. So shareholders were perfectly aware that if the company would be performing well, the top brass at Melrose would definitely be much better off as well.
And indeed, there has been no shareholder revolution or public outcry. If the shareholders made money, the management team is entitled to a bonus. And because Melrose made a LOT of money for its shareholders (the company returned a stunning 4.2B British Pounds (US$5.25B) in the past five years), there's no reason why the bonus payment should be rejected.
If you pay peanuts, you get monkeys.
And a management team which has really outperformed itself deserves to be rewarded. All shareholders are happy, and the $250M bonus payment should be ratified at the next AGM.
Melrose continues to acquire businesses to improve its margins. The recently acquired Nortek division is already putting in a really strong performance:

Source: company presentation
It looks like Nortek could soon be sold again, and Melrose is already looking for its next acquisition. The business model is great, but only works when you have the right people running the company.
The company's slogan is 'Buy, Improve, Sell'. And that's exactly what it's doing, and what it's good at. Never change a winning team.
Interesting reads from last week's Seeking Alpha harvest
- Dividend Drive discussed Britvic (OTCQX:BTVCY). That's quite a coincidence as The Investment Doctor is sipping from a Britvic-produced 'Tango' beverage as he writes this, directly helping the company to boost its free cash flow - which is one of Dividend Drive's main points in his thesis!
- Elsewhere in the UK, Healthblogger says it's time to buy Shire (NASDAQ:SHPG) because the current share price is undervaluing the company by 40%. And finally, I wrote an article on Tullow Oil (OTCPK:TUWLF) to discuss the company's plans to raise $750M in a fully underwritten rights issue.
- Jean-Christope Schmitt has analyzed Sanofi (NASDAQ:SNY) to figure out how the company would deal with its declining diabetes-related revenue. It's a very comprehensive article, and definitely worth your time. Good job, JC!
An action-packed week on the press release front!
In this section of the newsletter, I will provide brief blurbs on updates from the European markets that caught my attention. Of course, not every single news fact will be covered, and I obviously might miss something. Feel free to leave a comment under this article to point out other interesting Euro-news!
Akzo Nobel (OTCQX:AKZOY) (OTCQX:AKZOF) has now rejected a second offer from PPG Industries (NYSE:PPG), claiming a merger would lead to a number of disposals and job cuts. PPG was offering 56.22 EUR in cash and 0.331 shares of PPG per share of Akzo Nobel - which I personally consider to be an excellent offer.
Wabtec (NYSE:WAB) has now completed its acquisition of Faiveley Transport (OTC:FVLEF) (OTC:FVLTY) and has started a squeeze-out procedure offering 100 EUR/share. Faiveley's shares have now been delisted from the stock exchange.
Finnair (OTC:FNNNF) is encountering a temporary shortage of aircraft and crew, and is cancelling its Helsinki-Miami route in the summer, and slashes the Helsinki-Chicago service by two flights per week. No additional details were given, but the 'crew shortage' might be caused by the re-training program as Finnair is taking delivery of more Airbus A350s (OTCPK:EADSF) (EADSY). Three more 350s will be delivered this year (and an additional 8 in 2019-2023), and will replace the 8 Airbus 330s.
EDF (OTCPK:ECIFF) (OTCPK:ECIFY) finally had some good news for its shareholders after completing a 4B EUR cash call to reduce its huge debt load. EDF has now been added to the consortium which is developing the 16 square kilometer solar park in Dubai. The solar park will have a capacity of 800 MW after completing phase III, but should be up at 5,0000 MW when the full $14B will be deployed.
Ocean Yield (OTCQX:OYIEF) has taken delivery of a 19,500 TEU container ship, which was immediately redeployed on a 15-year charter agreement. Ocean Yield pays a dividend of almost 10%, which has been highlighted by several authors here on Seeking Alpha.
JC Decaux (OTCPK:JCDXF) has published its annual results, and reported a full-year revenue of 3.4B EUR. The dividend will remain stable at 0.56 EUR/share, and will be approved at the next AGM. JC Decaux' share price is still 20% lower compared to the price when I wrote an article saying the company wasn't undervalued. Elsewhere in France, Hermes International (OTCPK:HESAF) (OTCPK:HESAY) also published its financial results, but the company remains very expensive, says Mark Dockray.
Italian energy company Eni (NYSE:E) was very active last week, as it signed an agreement with Gazprom (OTCQX:GZPFY) (OTCPK:OGZPY) to analyze the potential to transport Russian gas to the European markets through Italy. In Africa, Eni sold a stake in a gas field to Exxon Mobil (NYSE:XOM) for $2.8B.
Swedish company Skanska (OTCPK:SKSBF) (OTCPK:SKBSY) has been awarded a contract to build a new railway in Sundsvall, Sweden. The new railway will increase the local capacity, and should be ready by the summer of 2022. This won't really move the needle for Skanska, but a lot of smaller contracts can add up really quickly!
There was also plenty of news from the European resource commodities. Whilst most resource plays are listed in the USA, Australia or Canada, we can't ignore the potential of the Europe-based metals and oil producers.
KAZ Minerals (OTCPK:KZMYF) (OTCPK:KZMYY) has (finally) received a VAT tax refund related to the construction of Bozshakol and Aktogay mines. KAZ pocketed $166M in cash, and this will undoubtedly increase the company's flexibility. KAZ Minerals produced in excess of 300 million pounds copper in 2016, as well as 165M bs of zinc, 120,000 ounces of gold and 3.1 million ounces of silver. The two new projects will add approximately 225 million pounds of copper per year to its production profile during a 40 and 50 year mine life. Definitely a company to watch, along with Freeport-McMoRan (NYSE:FCX) and Antofagasta (OTC:ANFGF) (OTCPK:ANFGY) to gain exposure to the copper price.
Polymetal International (OTC:POYYF) (OTCPK:AUCOY) reported joint venture partner on the Nezhda project, Polyus Gold (OTC:PGILF) has sold its 82% stake to a private company controlled by Ivan Kulakov, a former MD of Highland Gold Mining (OTC:HGHGF). Elsewhere in the mining world, Endeavour Mining (OTCQX:EDVMF) has now officially pulled the plug on a potential merger with Acacia Mining (OTCPK:ABGLF). No dominant African gold producer (NYSEARCA:GLD) will be created - for now.
A lot of moving parts in the oil sector. The price of the black gold remains volatile, but there's a lot going on in the sector. Transocean (NYSE:RIG) sold its shallow water drill rigs to Borr Drilling for $1.4B. Borr might not sound familiar as it's the newest toy of some executives from Seadrill (NYSE:SDRL). Borr was created to acquire assets at firesale prices during the current oil turmoil, and this acquisition fits the bill. Also in Scandinavia, Subsea 7 (OTCPK:SUBCY) will be working on the $9B Mad Dog Phase 2 project from BP (NYSE:BP). Subsea will be part of a consortium with Schlumberger (NYSE:SLB), and should have a positive impact on its revenue.
Lundin Petroleum (OTCPK:LNDNF) is making serious progress at the newly discovered Johan Sverdrup oilfield. The total cost to develop the offshore oilfield is now budgeted at $16-18B, and joint venture partner Statoil (STO) seems to be pretty keen to start development as soon as possible. Elsewhere in the European waters, Enquest (OTCPK:ENQUF) (OTC:ENQUY) is (FINALLY!) getting ready to produce its first oil from the Kraken oilfield. After having spent almost $3B on developing the offshore oil project, the company is close to the finish line. For this year, Enquest will produce 45,000 boe/day at an opex of just $21-25/bbl. This should allow the company to start to reduce its net debt ($1.8B) pretty fast, even at just $50 oil. Readers of European Small Cap Opportunities have seen the more in-depth update and financial simulation to see how Enquest will be able to deal with its debt burden.
Altice (ATSVF) (OTCPK:ALVVF) (OTCPK:ATCEY) has announced it refinanced a large part of its (expensive) debt, and the company will now save approximately 60M EUR per year on its interest bill and has extended the average maturity date by approximately two years.
Fuchs Petrolub (OTCPK:FUPEF) (OTCPK:FUPBY) reported a substantial 9% increase in its revenue in 2016. The EBIT increased by 8.3%, whilst the total net income increased by 10% to 260M EUR. The company is proposing a 0.89 EUR dividend.
Ahold Delhaize (OTCQX:ADRNY) (OTCQX:AHODF), the mergeco created by Ahold and Delhaize, is quickly reducing its share count as part of a 1B EUR share buyback program. In the week ending March 17th, AD repurchased 1.07 million shares, bringing the total amount of repurchased shares to 12.16 million. Talking about share buybacks, HSBC (NYSE:HSBC) is also buying back stock but at a faster pace. The bank is purchasing millions of shares per day as part of a larger buyback program.
Hellenic Duty Free Shops (OTCPK:DUFRY) and Fraport (OTCPK:FPRUF) (OTCPK:FPRUY) have signed an agreement allowing Dufry to operate the duty-free shops in 14 Greek airports for the next 30 years. Good news for Dufry, which now immediately confirms its commitment to Greece (NYSEARCA:GREK), right after seeing Fraport secure a concession at those airports.
Fevertree (OTCPK:FQVTF), which is really leaving its mark in the tonic and ginger ale market, reported yet another year of strong growth. The dividend will be doubled, but at 6.25 pence, the dividend yield will still be less than 0.5%. The company's net income came in at approximately 34.3M GBP and even though this is a growth company which will very likely continue to report a double-digit revenue growth, one could start to wonder if a 1.7B GBP market cap isn't too excessive. The company is now trading at 50 times its 2016 income, and at an EV/EBITDA of in excess of 40. And that's high, even for a growth company. Elsewhere in the beverage sector, Heineken (OTCQX:HEINY) (OTCQX:HINKF) has successfully placed $1.75B worth of bonds in the market. The interest rates are definitely increasing, as the company now needs to pay 3.5% on its 10-year bond, and 4.35% on a 30-year debt security. That's relatively high for a senior note.
Anglo American (OTCQX:AAUKF) (OTCPK:AAUKY) De Beers unit is purchasing the remaining 50% stake in De Beers Diamond Jewellers from French fashion brand LVMH (OTCPK:LVMHF) for an undisclosed amount. De Beers claims that owning 100% of the diamond brand will increase the efficiencies, and LVMH will now be fully able to focus on its Bulgari-brand. A win-win situation for both parties?
Tesco (OTCPK:TSCDF) (OTCPK:TSCDY) is banning Heineken products from its stores as it's planning to diversify into other alcoholic beverages. Tesco claims this has nothing to do with Heineken's planned price increases, but we'll see if the supermarket chain backs then. Personal note from The Investment Doctor: there are much better beers out there than Heineken. Send me a private message for a stereotypical Heineken joke - and beer advice! All joking aside, there seems to be a growing tension between supermarkets and producers of consumer goods. Supermarkets seem to be fed up with having to deal with continuous price increases, and this 'silent war' between Tesco and Heineken might be related to these issues.
A very volatile week at Fingerprint Cards (OTCPK:FGRPF) (OTC:FGRRF) as the company warned for an exceptionally weak first quarter of the year. These 'short-term challenges' will continue in the second quarter of the year, and the company has pulled its full-year guidance. Once a darling of the analysts, Fingerprint Cards has lost 70% (!) of its value since September.
Gemalto (OTCPK:GTOMY) (OTCPK:GTOFF) surprised the market with a profit warning, just a few weeks after announcing its FY 2016 results. Needless to say investors and analysts were 'not amused' (which is a diplomatic way to say they were really ticked off), as it's virtually impossible the company didn't know it was in for a weak year, earlier this month. Gemalto is now guiding for a 7-9% lower revenue, due to a disappointing update from the payment business in the USA.
That's it for this week! We are zeroing in on the end of the first quarter, so let's see if more companies will start to release disappointing trading updates, just like Gemalto did.
As mentioned before; consider joining European Small-Cap Opportunities to gain exclusive access to actionable research on appealing European-focused investment opportunities, and to the real-time chat function to discuss ideas with similar-minded investors!
Disclosure: I am/we are long AHODF, AKZOF, TUWLF. I wrote this article myself, and it expresses my own opinions. I am not receiving compensation for it (other than from Seeking Alpha). I have no business relationship with any company whose stock is mentioned in this article.
Editor's Note: This article covers one or more microcap stocks. Please be aware of the risks associated with these stocks.