"The House is in recess, subject to the call of the chair."
On Friday, the stock market took out the closing lows from Tuesday and then the intraday lows from Wednesday, before cutting its losses into the close. A series of lower lows confirms the downtrend that was signaled earlier this week in all of the major indexes, with the exception of Nasdaq. The caveat to this bearish scenario is how the market reacted on Friday with every tilt, one way or another, on the vote of a new version of Obamacare. As I write this late Friday, the "deal" is dead, but these are politicians, and we could wake up Monday to who knows what at the end of a stethoscope. News event-triggered volatility can temporarily affect ongoing trends, and since no market trend goes straight up or down, a news-generated zig will eventually transform back into a zag. Otherwise known as retracements, they are all over the charts below. The dominant trend remains short until the price closes above the blue trend lines. Everything else is just noise.
Elliott Wave Analysis
Pattern recognition can be an effective technique for identifying longer-term price trends. My favorite is Elliott Wave analysis, although I use what is more of an Elliott Wave-Lite approach, where rules and guidelines are minimized in favor of a simple math algorithm applied to the past 300 price bars. It is that algorithm (coded in Advanced GET) that produces the numbered waves on the charts below, and although not always spot on, it catches the basic Elliott structure with surprising regularity. For our purposes, five waves up followed by the break of our blue trend line is compelling evidence for lower prices ahead, Obamacare or not.
The remainder of this weekend's update is contained in these five market index charts. Pattern recognition is in part the observation of repeating patterns that, as a whole, can be predictive when identified as they are unfolding. This is the underlying essence of Elliott wave theory. Unfortunately, it is not an exact science, but trade enough of these patterns, and your share of winners will overwhelm your share of losers. The structure of these price trends in the indexes below are coming together to suggest an important top. We have been here before over the past few years, but so far none of the tops have been terminal - they have always given way to new highs. One of these times they won't, and so long as we are seeing lower lows, as uncomfortable as it may seem, we have to trade on the side that says this time it's different.
Major Market Indexes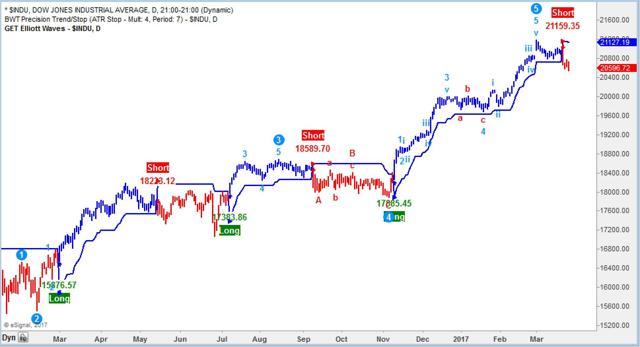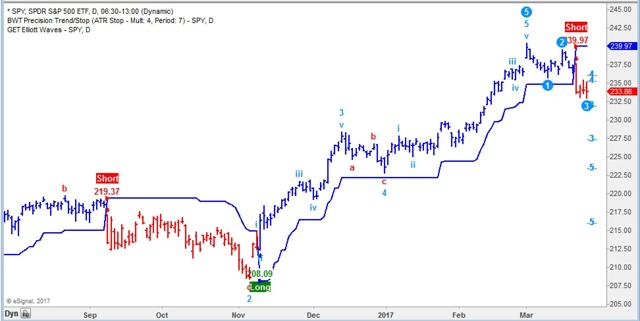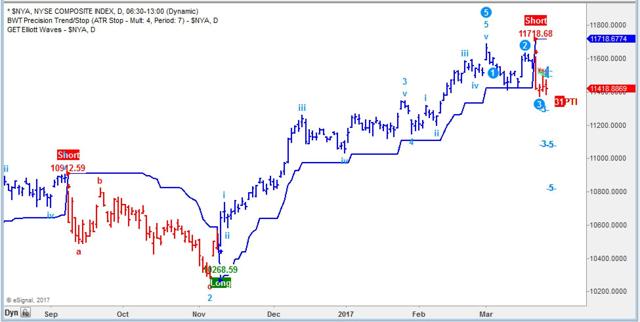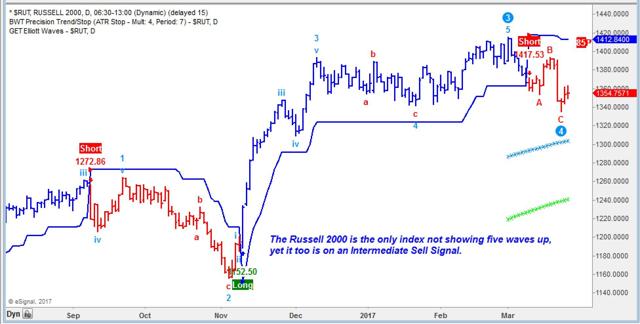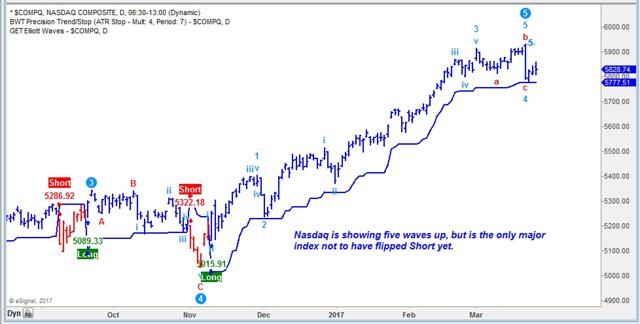 Disclosure: I am/we are short SPY.
I wrote this article myself, and it expresses my own opinions. I am not receiving compensation for it. I have no business relationship with any company whose stock is mentioned in this article.