A quick look at the iShares Nasdaq Biotechnology ETF (NASDAQ:IBB) reveals the index is up 9% year to date. Performance remains flat for the past month, however, with the past week showing quite a bit of weakness.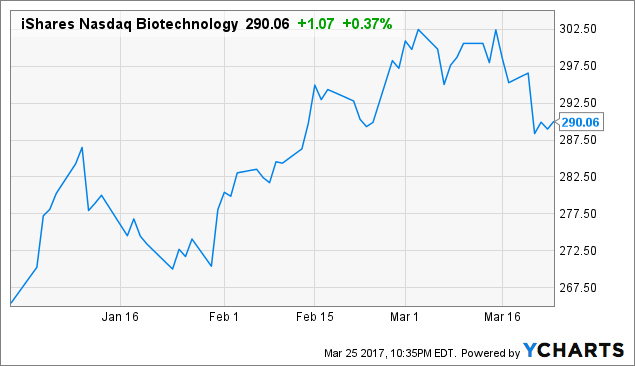 As a general rule of thumb, I refrain from making macro calls, as I prefer simply to find stocks that I expect to outperform due to their own catalysts.
In the case of biotech stocks, we can speculate all we want about drug pricing, the effects of a more efficient regulatory process, or corporate tax reforms, but in the end I believe our time is better utilized by focusing on catalysts that could push a stock's price higher.
Today I'd like to focus on two stocks with near term catalysts, what I dub as "runners of the month". Both of these have the potential for steep share price increases in the next few months, although they each possess their own unique risks.
Stock #1: Adamis Pharmaceuticals (ADMP)
Shares have already runup 40% since my writeup on February 1st, where I called the company a key beneficiary of the drug pricing debate.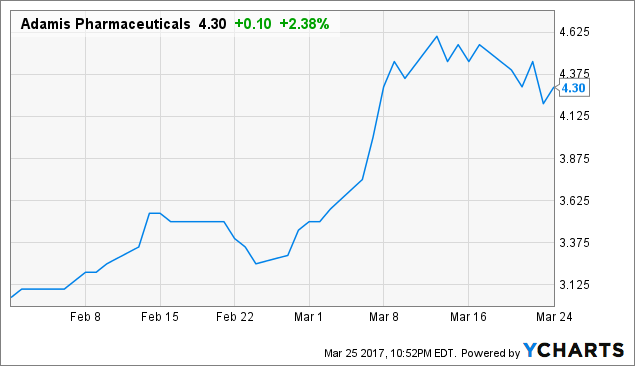 This tiny firm is trying to commercialize a lower-cost alternative to Mylan's EpiPen, the Epinephrine Pre-Filled Syringe. After receiving two complete response letters (NYSE:CRL), management believes it has resolved points raised including a volume delivery issue.
The company also has a oft-ignored pipeline with potential hidden value, with three clinical candidates at the phase two stage. Also, growing revenues from acquired compound pharmacy could help fund future development efforts.

Figure 2: Pipeline (source: corporate website)
As stated previously, even after a secondary offering in the middle of 2016 I expect management to seek funding again in the near future. The million dollar question is will they wait until after the FDA's decision or take some risk off the table by raising cash prior.
Another new twist to the story that could result in speculative money flow into the name is that just a few days ago Mylan announced the recall of 81,000 EpiPen devices after reports of failure.
The main catalyst for the company is their PDUFA date in mid-June, where hopefully they will cross the goal line on their third try.
For readers who have done their due diligence and are interested in the story, I suggest acquiring shares in the near term. As this is a runup play, it would be wise to take profits prior to the FDA decision. In this case I suggest partial profits in order to retain upside in the story, but more risk-averse investors should sell out entirely prior to such a binary catalyst.
The big risk here is a third regulatory downthumb, which would be a a devastating blow to shareholders and management. Also, near term management might seek additional funding, whether dilutive or otherwise.
Stock #2: Zafgen (ZFGN)
Shares of Zafgen have slowly started to show strength, trending up over 30% in the past six months alone.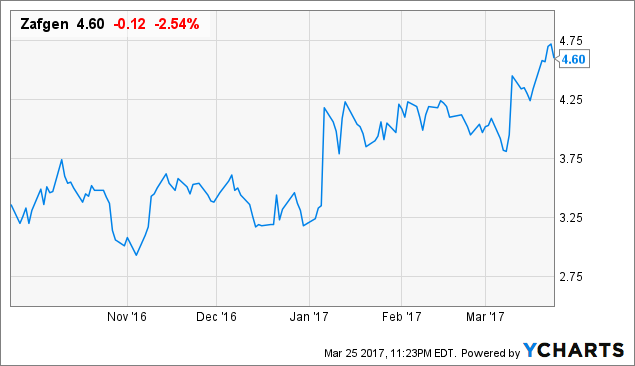 This small biotech lost most of its value after abandoning development of lead treatment beloranib due to patient deaths involving thrombosis related issues.
However, the company trades at a market capitalization equaling roughly cash on hand as of year end 2016. Management believes second generation MetAP2 inhibitor ZGN-1061 will show desired efficacy in obesity and diabetes patients without the safety issues of its predecessor. In prior preclinical studies ZGN-1061 administration did not result in clinical signs of thrombosis or elevate related markers of the condition. Similar changes reductions in bodyweight, as well as changes in blood glucose levels, liver function, and other markers were observed just as with beloranib.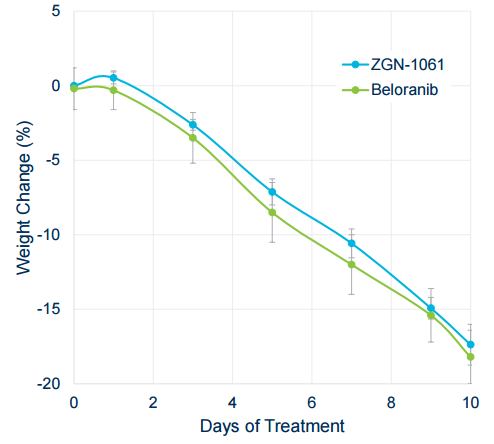 Figure 4: Preclinical data ZGN-1061 versus beloranib in obese high fat diet-fed C57Bl/6 mice (source: corporate presentation)
For such a small company trading at cash levels, it is targeting large prescription markets for diabetes ($35 billion) and obesity ($500 million). In an ongoing phase 1 dose escalation study healthy volunteers are being enrolled in six cohorts of eight patients. In the second multiple ascending dose stage of the study, three cohorts of eight healthy obese volunteers will receive twice weekly dosing for 28 days, with dosing to be completed in the first quarter of the year.
Data should be reported early in the second quarter, representing a significant catalyst for the company.
For readers who have done their due diligence and are interested in the story, I suggest acquiring shares in the near term. As with the prior idea, I would take partial profits into a runup and hold onto a portion of the position for longer term upside potential.
Risks to the story include disappointing data and adverse safety events as with their prior lead treatment. Dilution should not be a worry- assuming quarterly net losses of $14 million, the company has enough funds to keep moving the ball forward into late 2017 or early 2018 before raising additional cash.
Stock #3: Intra-Cellular Therapies (NASDAQ:ITCI)
Shares of Intra-Cellular Therapies have traded relatively flat since my initial writeup at the beginning of February.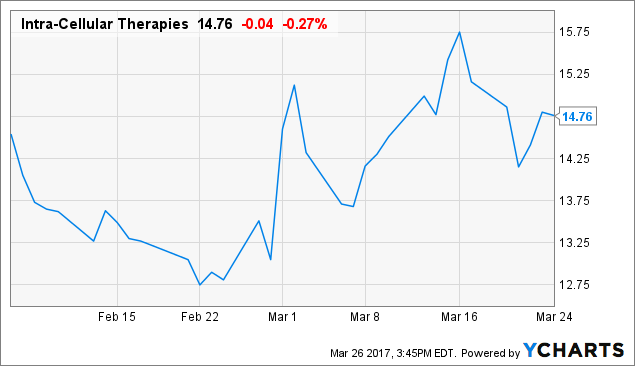 Shares plummeted last year when lead drug candidate ITI-007 failed to beat placebo in a phase III trial in patients with schizophrenia. The candidate acts primarily as a potent 5-HT2A serotonin receptor antagonist, while at higher doses modest dopamine receptor modulation and modest inhibition of serotonin transporters occur. Such a treatment could have potential in many indications aside from schizophrenia, such as dementia and Alzheimer's.
While it is true that ITI-007 flunked a phase III study, it did ace a prior phase three study in addition to another mid-stage trial. When data from all three studies is taken into account, it's clear that the 60mg dose of lumateperone resulted in similar improvement of schizophrenia symptoms.
If the FDA is somewhat lenient, perhaps they will take into account that high placebo response in these types of trials is quite common- considering ITI-007's safety profile is superior to risperidone (currently the subject of several lawsuits), this candidate could potentially still see a path forward to approval.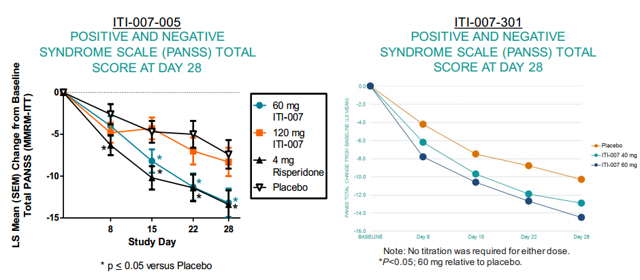 Figure 5: Primary endpoint met in two large phase schizophrenia studies (source: corporate presentation)
With over $400 million in cash representing two-thirds of the market capitalization, readers have to ask themselves if the company's nervous-system focused pipeline is really only worth around $200 million after backing cash out. Assuming quarterly cash burn of $30 million, dilution should not be an issue until late 2018. Other sources of upside include updates on late stage programs and associated data in CNS and non-CNS indications.
A major catalyst should occur in the next week, when management will inform investors on the outcome of discussions with the FDA regarding their new drug application (NDA). Also, presently the company is presenting data at the International Congress on Schizophrenia Research (ICOSR).
While insiders have been buying shares, I suggest a small position in the near term. The main near term risk is a negative outcome for the FDA meeting, while throughout the year clinical delays and disappointing readouts for their primary and other assets is also a possibility. Fortunately, the company's large cash stockpile should provide a modicum of downside protection.
Author's note: My goal is to identify undervalued stocks for my readers with favorable risk/reward profiles and catalysts that could propel shares higher. I categorize ideas into near-term, medium-term (months to a year), and long term (multi-year), based on when I expect outperformance to potentially occur. If that interests you, consider clicking the follow button at the top of the article, next to my name.
Disclosure: I/we have no positions in any stocks mentioned, but may initiate a long position in ZFGN, ADMP over the next 72 hours.
I wrote this article myself, and it expresses my own opinions. I am not receiving compensation for it (other than from Seeking Alpha). I have no business relationship with any company whose stock is mentioned in this article.
Editor's Note: This article covers one or more stocks trading at less than $1 per share and/or with less than a $100 million market cap. Please be aware of the risks associated with these stocks.