UK GOVERNMENT BONDS: SHORT
By: Alex Harris
Investment Proposal: Acquire a short position on 10-year UK government bonds (gilts).
Current macroeconomic conditions suggest that UK gilts may continue to be overvalued. Although the 10-year gilt yield has more than doubled over the past 6 months to 1.20% as of 03/24/17, it remains low relative to historical levels over the last 5 years. Indeed, 10-year yields peaked at 3.08% in December 2013, and there is no clear structural explanation for their present markedly lower level. In fact, there are three main categories of reasons that explain why the market is likely underestimating the future growth path of 10-year gilt yields:
Monetary Policy
In June 2016, the Bank of England cut the UK Bank Rate by 25bp to a record low of 0.25% following the referendum vote to leave the European Union. In its most recent meeting on 02/01/17, the Monetary Policy Committee (MPC) voted unanimously to maintain Bank Rate at 0.25%. However, as indicated in the February 2017 Inflation Report, the MPC has revised its central forecasts for UK growth and inflation upwards over a two-year horizon. With the UK unemployment rate at 4.8% - near the estimated natural rate - and CPI inflation jumping to 1.6% last month, it seems that there is minimal spare capacity remaining in the UK economy.
Moreover, the sterling has depreciated 18% from its peak in November 2015 in response to the referendum, which is likely to fuel cost-push inflation at least in the short run. According to the MPC, "higher imported costs… will boost consumer prices and cause inflation to overshoot the 2% target," yet UK inflation may rise even faster than the MPC anticipates. Indeed, the Bank of England has historically under-predicted inflation by 93bp, and market forecasts are closely aligned with those of the Bank (mean difference of 12bp and standard deviation of 22bp).
Another reason why the MPC may raise rates sooner than expected is that excessively high UK household indebtedness will pose a threat to long-run economic growth and financial stability. Mark Carney, the Governor of the Bank of England, has repeatedly warned that UK consumers have been borrowing more on credit cards, causing unsecured household debt to rise. Sir Jon Cunliffe, the Deputy Governor for Financial Stability, has similarly expressed leverage concerns.
Although Larry Summers has postulated the secular stagnation hypothesis, implying that the neutral real interest rate is close to zero (possible negative), his theory may be incompatible with the new high-growth, high-inflation conditions present in the UK and the US.1 Indeed, Kenneth Rogoff has countered with the idea of an extended but non-permanent debt super-cycle.
As a consequence of these factors, it appears likely that the Bank of England will need to increase the Bank Rate sooner and more rapidly than its current forecasts suggest. While it remains unclear exactly when the Bank will begin raising rates (and therefore is prudent to bet on 10-year rather than 2-year gilts), it seems probable that they will rise more sharply than markets are pricing in.
Brexit Uncertainty
With the UK in the process of triggering Article 50 to leave the European Union, macroeconomic predictions become substantially less reliable. One possibility is that the market demands a higher yield on long-term UK gilts to compensate for the risk premium relative to US or German bonds.
Alternatively, it is possible that UK equities become more volatile and so UK gilts are seen as a safer option. Given that the 2-year window for Brexit negotiations between the UK and the EU is only just about to commence, and there has been little clarity regarding the shape of these negotiations, it is difficult to determine which of the two possibilities outlined is more probable.
That said, UK equities are currently rallying alongside their US counterparts, with the FTSE 100 achieving its best streak since the crisis and the Dow Jones breaking 20,000 for the first time ever. If equities continue to perform strongly over the coming months, then it is plausible that gilt yields will rise as market demand for bonds falls. Nonetheless, some media commentators (e.g. John Authers, FT) have questioned whether these equity rallies signify a stock market bubble.
The sustainability of rising equities will depend significantly on the particular policies put forward by the new US administration. Overall, the Brexit-related risks for UK gilts appear relatively balanced, and therefore the monetary policy analysis conducted earlier should tilt the prospects for gilt prices to the downside.
Brexit creates similar uncertainty surrounding the appropriate value of the sterling. However, these risks also apply to Europe. Consequently, if UK interest rates rise sooner than expected while the ECB maintains its asset-purchases as anticipated, it would be logical to bet long on GBP/EUR. Furthermore, the sharp depreciation of the sterling following the referendum primarily reflects the sudden evaporation of confidence in the UK currency.
Yet it would appear that this is not entirely justified, given consistently strong economic fundamentals - the UK economy has grown at 0.6% for each of the past three quarters, putting it on track to be one of the fastest growing economies in the G7. Historical levels would indicate that any price for GBP/EUR below 1.15 is extremely attractive. Since it is likely that there will be a positive correlation between the impacts of Brexit on the UK and the EU, there is no obvious reason to suspect that historical levels would be misleading. It may even be worth betting on GBP/EUR at its present rate of 1.17.
On the other hand, the uncertainty around Brexit does suggest that these bets on gilts and GBP (due to the analysis in this memo implying that UK interest rates will rise faster than expected) should be hedged. The most natural way to achieve this in the current economic climate is to hold a long position on USD/GBP, especially since the dollar may continue to appreciate as the new US administration slashes regulations and expands fiscal policy.
Historical Parallels
The Bank of England has warned that once the latest bond market bubble bursts, it will "leave investors worse off than the 1994 'bond massacre'." In his report, Paul Schmelzing (Harvard PhD Candidate and a visiting scholar at the Bank of England) has little cheer for bond bulls. Looking back over 8 centuries of data, he finds that the 2016 bull market was in fact one of the largest ever recorded. History seems to suggest that this reversal will be driven by inflation fundamentals, and leave investors worse off than the 1994 "bond massacre."
Schmelzing divided modern-day bond bear markets into three major types: the "inflation reversal" of 1967-71, the "sharp reversal" of 1994, and Japan's "VaR Shock" in 2003. He focuses on the 1994 reversal period, when the BofA Government Bond Index fell 3.1% in its worst-ever annual loss, as Alan Greenspan surprised investors by doubling the benchmark rate.
Ingredients for the "perfect storm" - the potential for a painful steepening of bond curves, after a sustained flattening as in 2003, coupled with monetary tightening, and a multi-year period of sustained losses due to a structural return of inflation as in 1967.
Over 800 years, only two previous episodes (both of which were prior to the 18th century) recorded longer continued risk-free rate compressions. What particularly stands out in the current situation is the magnitude of the fall in central bank policy rates. Bond bear markets are typically characterized by CPI at twice its average, a slightly smaller government deficit (an increase in bond supply does not seem decisive to the weakening in price levels), a much lower average equity return, and much lower GDP growth.
US Inflation Reversal (1967-71): Most clearly associated with fundamentals, namely a sharp turnaround in realized CPI. US bonds lose 36% in real price terms. Annual CPI more than tripled in the same time frame, from 1.6% to 5.9%. Looser fiscal policy also played a role.
US Sharp Reversal (1994): Steep but short-lived turbulence that is associated more with financial sector leverage and exogenous positioning - rather than macro fundamentals. Evidence from the financial sector suggests that the dramatic increase in leveraged bond positions by both US hedge funds and mundane money managers set in motion self-reinforcing liquidations once uncertainty over emerging markets put pressure on speculative positions.
Japanese VaR Shock (2003): Bond turbulence can be highly discriminatory across maturities. Given the latest decision by the BoJ to target long-term bond yields, after a period of unprecedented yield curve flattening, parallels emerge with the 2003 Japanese curve steepening episode. VaR shocks have especially deep impacts on the banking sector, whose profitability in the maturity transformation business tracks prevailing curve steepness.
The potential for a painful steepening of bond curves (after a sustained flattening as in 2003), coupled with monetary tightening and a multi-year period of sustained losses due to a structural return of inflation as in 1967, could lead to a "perfect storm" in bond markets. There has been some progress on bank leverage regulations, so the anecdotal fear that a repeat of a 1994-type of bond crash is likely may be somewhat exaggerated. Meanwhile, the current global capital flow cycle has already almost fully reversed from the cycle peak.
However, the inflation reversal and VaR shock-type bear markets deserve more attention. Global inflation dynamics are picking up, at a time when central bankers voice more tolerance for "inflation overshoots." The IMF has warned that VaR risks have risen significantly in Japanese financial institutions after the financial crisis, given a continued build-up of JGB concentration in balance sheets. By historical standards, the combination of these two effects implies sustained double-digit losses on bond holdings, subpar growth in developed markets, and balance sheet risks for banking systems with a large home bias.
Ray Dalio has issued a similar warning for US bonds: "It would only take a 100 basis point rise in Treasury bond yields to trigger the worst price decline in bonds since the 1981 bond market crash. And since those interest rates are embedded in the pricing of all investment assets, that would send them all much lower."
Conclusions
Given rising prices and household indebtedness in the UK, it is likely that the Monetary Policy Committee will need to raise rates sooner and more sharply than markets currently anticipate in order to curtail inflation and a potential credit boom. In addition, uncertainty surrounding the Brexit negotiations may lead to higher risk premia on UK gilts, with this possibility being reinforced by stronger performance in equity markets. Historical comparisons also indicate that the bond market is currently in a significant and prolonged bubble.
If rates begin to rise, this could quickly come to an end (Ray Dalio has noted that even a relatively small 100bp increase in interest rates could lead to trillion-dollar losses in global bond markets), and the longer that the Bank of England waits to raise interest rates, the steeper it may be required to raise them when it does. It is therefore attractive to acquire a short position on 10-year UK gilts at current prices.
Appendix

Figure 1 (ONS): So far, the Brexit vote has not really impacted UK growth (2.3% in 2016).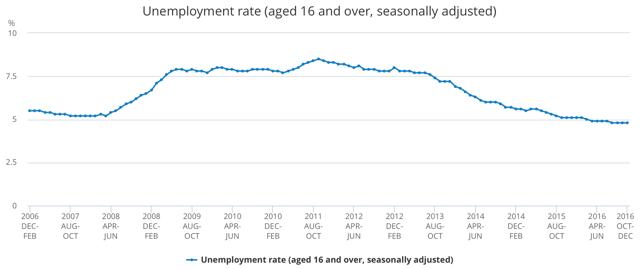 Figure 2 : Unemployment has fallen consistently since 2011 and is close to the NAIRU.

Figure 3 : CPI to exceed 2% soon, Capital Economics predicts 2.6% (2017), 2.9% (2018).
Figure 4 (Bank of England Inflation Report, February 2017):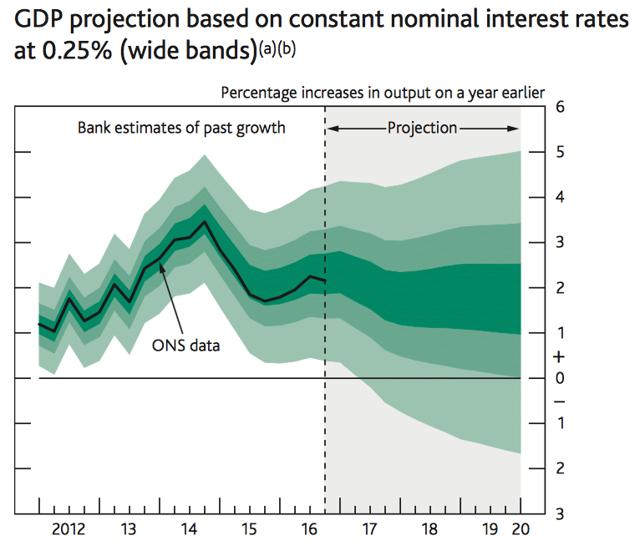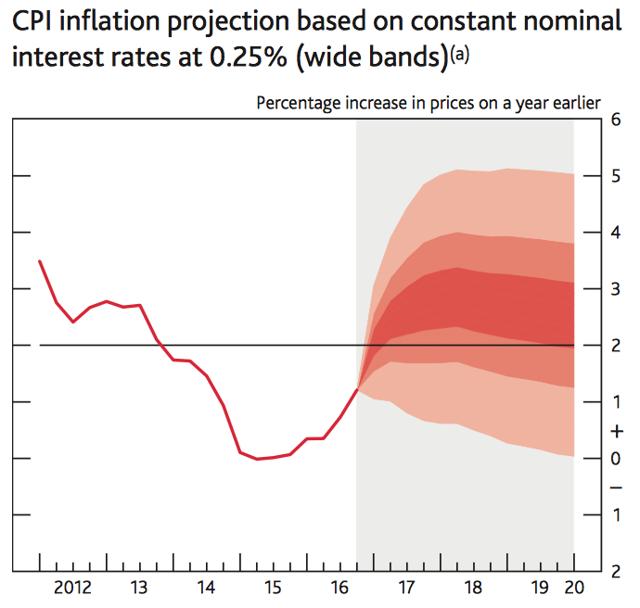 "The projections described in the Inflation Report depend in good part on three main judgments: that the lower level of sterling continues to boost consumer prices broadly as expected, and without adverse consequences for expectations of inflation further ahead; that regular pay growth does indeed remain modest, consistent with the Committee's updated assessment of the remaining degree of slack in the labor market; and that the hitherto resilient rates of household spending growth slow as real income gains weaken." - Monetary Policy Summary
Figure 5: Monte Carlo simulation of possible future inflation outcomes at a 2-year horizon, comparing historical Bank of England forecasts with actual inflation 2 years forward.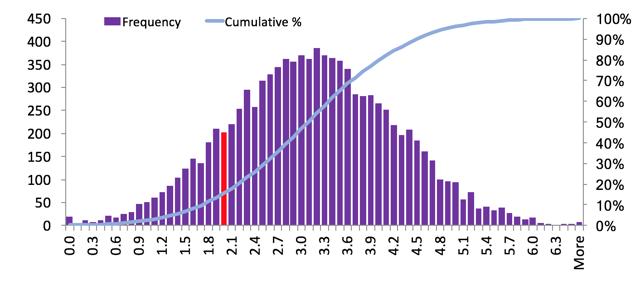 The red bar in the graph represents the 2% inflation target. Almost 85% of simulated outcomes exceed this, so it is likely from a historical point of view that the Bank of England is continuing to underestimate future inflation, and hence the pace at which it will need to raise rates.
Figure 6 (Paul Schmelzing, Harvard/Bank of England): Appears to be a global bond bubble.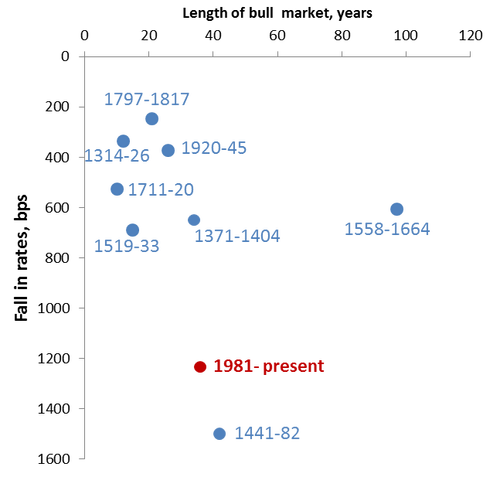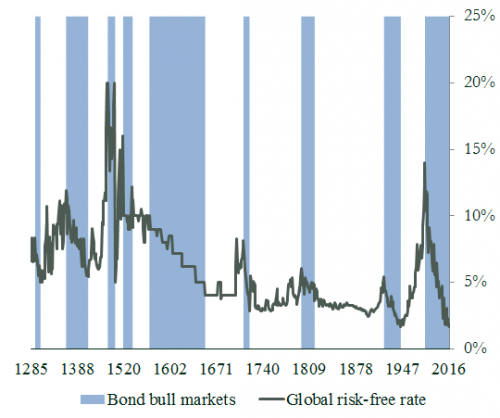 Figure 7 (YouGov and Citi Research): UK household inflation expectations remain anchored.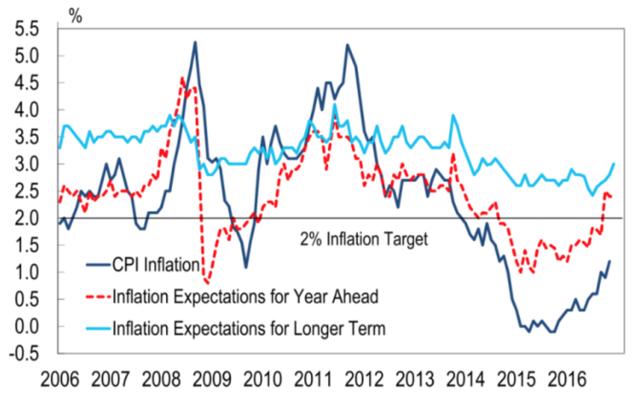 Figure 8 (FT/Bloomberg, UK Government Bonds 10-Year Note Generic Bid Yield):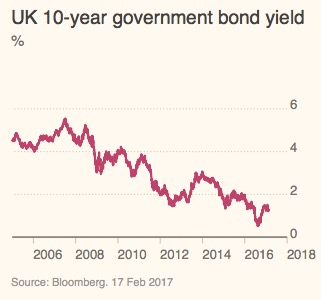 Figure 9 (Bank of England): Implied inflation is well above the target over the medium term.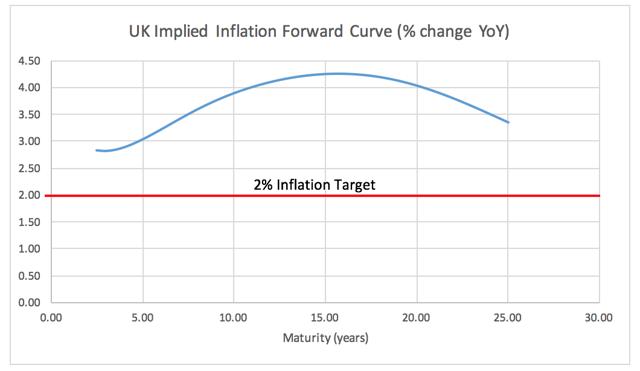 Figure 10 (Bank of England): UK Overnight Index Swap Rates over a 5-year horizon. OIS are not a perfect indicator of market participants' expectations of Bank Rate, since they also include varying levels of credit, liquidity and term premia. Yet even with these factors internalized, the forward curve slopes upwards too gently given the steep upward path of UK inflation. (N.B. The sterling overnight index average is an overnight rate and contains a smaller credit premium than the longer-maturity rates underlying forward Libor rates, so SONIA is the preferred indicator.)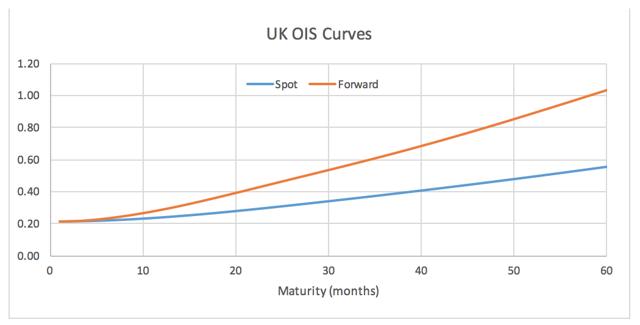 Figure 11 (Bank of England Inflation Report, February 2017):
Figure 12 (Trading Economics): GBPUSD is extremely low by historical standards (1.2412). This may or may not reflect a dramatic shift in fundamentals. However, a weak sterling is likely to lead to higher import prices and thereby feed through to higher inflation (indeed, this is already occurring). It will also be very difficult for the Bank of England to cut interest rates any further given this.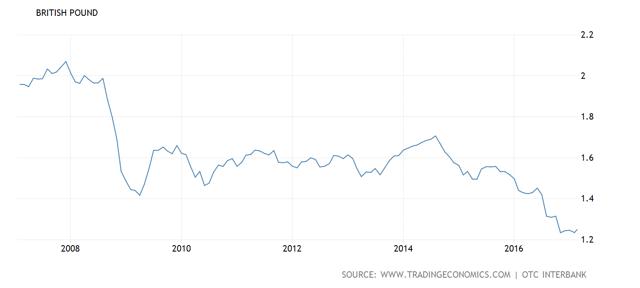 Figure 13 (Bloomberg): GBPEUR is also low, and there is more limited downside on this front because a messy Brexit will hurt both the UK and the EU. No sign of the ECB raising rates.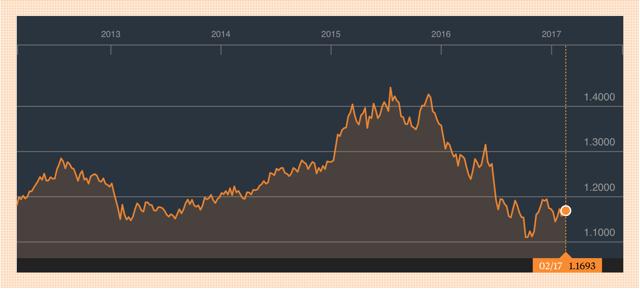 Figure 14 : UK productivity has stagnated since the 2008 crisis and does not appear likely to rise anytime soon. Consequently, it is likely that low productivity will continue to contribute to upward inflationary pressure in the UK and so will force the MPC to raise rates sooner.

In Office Hours, Larry Summers emphasized the glut of savings relative to investment along with demographic and technological shifts that support the secular stagnation hypothesis. If productivity continues to stagnate as it has done in the UK and the US since the crisis, this will lead to additional upward pressure on inflation. He also proposed raising the inflation target from 2% to 4% in order to permit negative real interest rates.
Disclosure: I/we have no positions in any stocks mentioned, but may initiate a long position in UK INTEREST RATES over the next 72 hours.
I wrote this article myself, and it expresses my own opinions. I am not receiving compensation for it (other than from Seeking Alpha). I have no business relationship with any company whose stock is mentioned in this article.