This article is a two-part series, the first will concentrate on the return of the Majors to U.S. exploration and production. The second part will follow the week after this publication and focus on cost inflation and the U.S. environmental lobby implications for U.S. shale growth.
Is History Repeating?
It has been said that history repeats, and looking at recalibrations in the Oil & Gas Majors' business models seems to indicate exactly that. Recent behavior by the Majors clearly indicates that they have re-considered their long-term portfolio strategy. But the underlining question is what drove them to rethink their exploration and production strategy with an intense focus on oil exploration and specifically in the U.S. The answer may very well be that their behavior is being driven by several catalysts, and I believe that is true. However, more significantly can we draw any insights into their view on oil prices long-term. The Majors I am referring to are, primarily Exxon Mobil (NYSE:XOM), Chevron (NYSE:CVX), BP (NYSE:BP), Royal Dutch Shell (NYSE:RDS.A) (NYSE:RDS.B), Statoil (STO), and ConocoPhillips (NYSE:COP).
Back in the late 1960's the U.S. based Majors decided to reduce their exposure to U.S. exploration and production (E&P) to geographically diversify and grow their portfolio. This made sense since it appeared then that U.S. production was declining. They reasoned and correctly that to grow their portfolio it was imperative to explore abroad. Particularly, offshore since onshore opportunities were limited, and offshore opportunities offered economies of scale, significant upside resource potential and were politically more accessible.
After diversifying from the U.S., why did the Majors re-balanced their E&P Portfolios to a greater gas weighting?
Additionally, besides drifting away from the U.S. shores, many of the Majors over the years re-balanced their portfolios to greater gas production than oil. In the aggregate, the oil to gas weighting in their portfolios shifted to more gas than oil.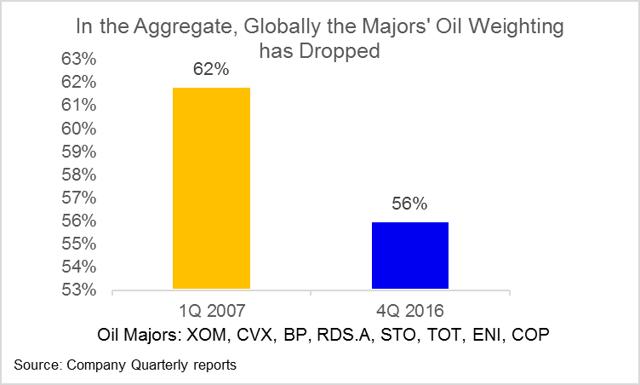 Individually, each Major over the last ten years has seen its oil exposure reduced except for ConocoPhillips.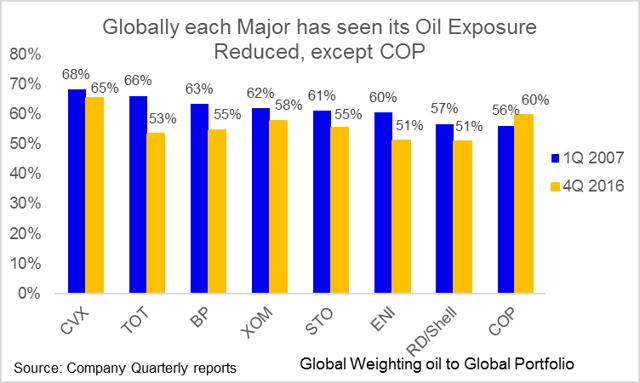 A few reasons for the shift to a greater gas balance in their portfolios. Natural gas exploration has over the years been globally more successful than oil exploration. Many of the Majors increasingly believe that natural gas market share of overall energy demand is growing faster than oil and will reach parity with oil by roughly 2035. The gains in natural gas market share will be from displacing coal in electrical power generation due to higher BTU caloric value and cleaner lower CO2 emissions. Oil market share particularly from vehicle demand is under assault from increasing use of electric vehicles and even natural gas powered vehicles. For data and more detail see BP Energy Outlook - 2017 Edition.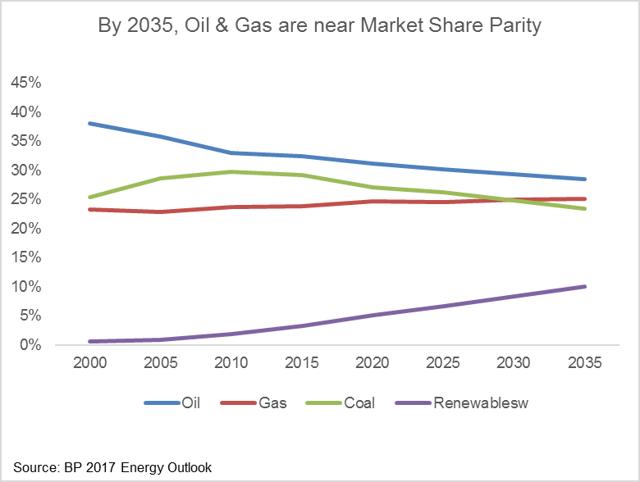 But, there is one other major reason that is often overlooked in the Majors' portfolio re-balancing to more gas production than oil production. That is fewer economically viable oil discoveries globally. Fewer oil discoveries for the Majors who also are prohibited from exploration or production in OPEC and other nationalized nations has led to declining oil production by them. Remember, nationalized oil companies that includes OPEC and Russia driven by resource nationalism control more than 75% of global oil & gas production.
From the 1Q 2007 to the 4Q 2016, in the aggregate for the eight Majors: Exxon Mobil, Chevron, BP, Royal Dutch Shell, Statoil, Total, Eni, and ConocoPhillips have seen their global oil production decrease 14%, while their natural gas production increased 9%.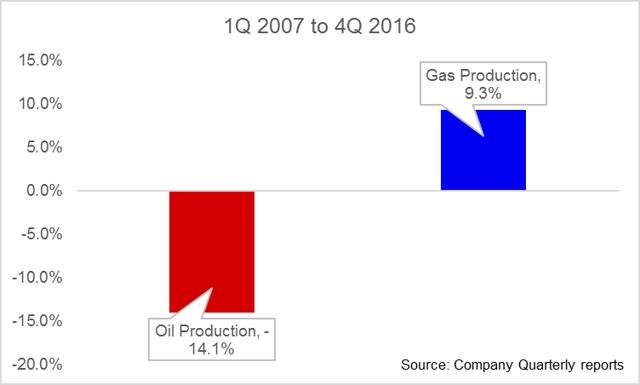 Return to the U.S.
But the tide is returning and bringing with it many of the Majors who had come to believe that oil exploration prospects in the U.S. was a long-ago memory. The return has been marked by a greater and more intense exploration in the U.S. over the last few years. This U.S. exploration renaissance is driven in large part by the significant upside potential of the U.S. unconventional shale - tight oil boom. This exploration has begun to dramatically re-shape their portfolios. But, the return is being driven by a quest for "black gold" - oil that is, not natural gas.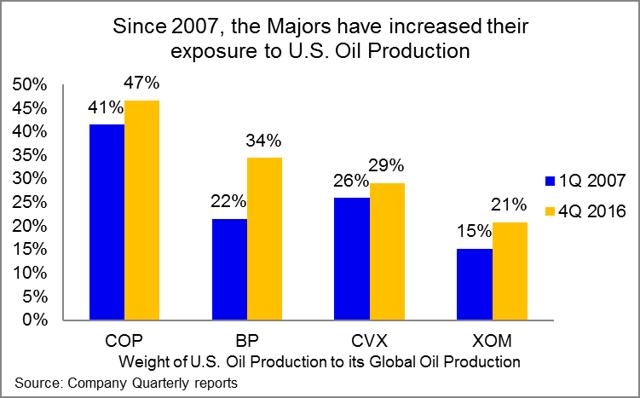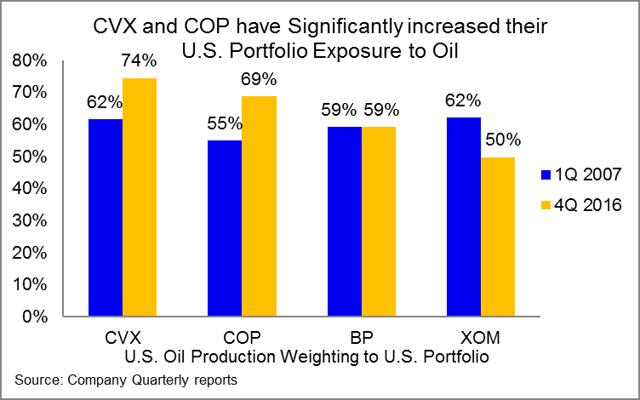 Why the Recent Pursuit of Oil Exploration and focus in the U.S.?
Why the recent rush to oil exploration and in the U.S.? Well, there are a few reasons. Most importantly oil generates significantly higher margins than natural gas, so profitability and returns are much greater. Oil is fungible, it is easily transportable than gas; particularly over water. Oil can be efficiently transported by tankers and barges, but gas must be liquefied and re-gasified a more costly - capital intensive option for transport. The spot oil market is more globally developed than gas. The high upside potential of U.S. unconventional oil shale production. The significantly shorter time development cycles that generate faster positive cash flow payback. Faster cash payback helps protect dividends and that is very important to the Majors and supports their equity share prices.
The Majors are not exiting offshore E&P. But offshore development cycles - from seismic to full production can be from 10 to 12 years or greater depending on whether project setbacks occur. Where onshore shale field developments can be from a year and a half to two years. Additionally, there is less upfront costs for onshore well drilling and well drilling pads are easily transportable to the next onshore location at low cost.
The Recent Central Gulf of Mexico Auction
Signaling the Majors return to the U.S. Gulf of Mexico (GoM) deep-waters, the recent Central Gulf of Mexico Lease Sale attracted 247 bids totaling roughly $275 million in high bids. The high bidders were led by Royal Dutch Shell, Chevron Corp and Exxon Mobil, and to a lesser extent France's Total. What was significant about the deep-water auction this year is that the high bids were 76% higher compared with a year ago. The auction receipt of nearly $275 million in high bids, compares with $156 million a year ago. Last year's auction drew the fourth lowest total bids for leases in the central Gulf. Additionally, this auction is noteworthy, in that many of the Majors and other oil companies are reversing course after recently having reduced their exposure to the U.S. GoM, particularly in deep-water after the recent oil price collapse.
As to U.S. shale investment, combined Exxon Mobil, Royal Dutch Shell, and Chevron are planning to spend roughly $10 billion in U.S. shale production.
With capital spending expected to significantly sky rocket this year in U.S. shale production, it is no surprise that even the U.S. Energy Information Administration - EIA is forecasting total conventional and unconventional, onshore and offshore U.S. domestic production to pass the 10 M b/d mark by the end of 2018 from a current level of roughly 9 M b/d. A 10 M b/d level that was "surpassed only twice, in October and November 1970, according to the EIA".
Is there a Long-term Oil Price Inference in the U.S. Return?
I believe there is. What is eye-opening regarding the return of the Majors to U.S. production is the magnitude of the investment capital and the timing. The Majors could have returned sooner, prior to 2014. The high oil resource potential of many of the unconventional shale basins was well known from the Bakken, the Eagle Ford, the Niobrara, the Granite Wash, to the Permian, to name the top plays. Indeed, Chevron has operated for years in the Permian before hydraulic fracturing had been developed. But something happened post 2014 and that was the oil price collapse. Oil margins for the Majors was on life support, cash flow was turning red, and many of the Majors were turning to debt borrowing to finance dividends, and prevent a complete rout in their equity share prices. However, the Majors had a major - no pun intended advantage, a massive and resilient balance sheet. A financial advantage that smaller U.S. E&Ps did not and still do not possess.
The Majors have made a fundamental shift in their global portfolio strategy. A significant reorientation to the U.S. and specifically to U.S. shale production. The financial lessons learned from 2011 to 2014 when margins began to tighten and cash flow began to evaporate forced the Majors to focus on projects with shorter development cycles and faster cash flow payback returns. A strategy recalibration to focus less on large scale long-live resource projects, and more on smaller scale quick payback return projects. Large scale projects have been their expertise, their niche competitive advantage where they could bring to bear their formidable balance sheets and technical prowess to achieve economies of scale, and reap above average returns. The dilemma for massive long-live projects is that they consume high upfront capital investment, and can take over ten years to generate positive cash flow. It is a high risk, high return venture. In a world of low and volatile prices, being development nimble and minimizing your price risk exposure has premium value. Projects that minimize upfront investment and generate positive cash flow in shorter turnarounds is now the name of the game.
Conclusion:
The Majors have returned to the U.S., motivated by a desire to reverse the decline in global oil production in their portfolios. But the more immediate motivation is to survive and hopefully prosper in an environment of relatively low oil prices. The Majors have concluded correctly or not that we in a low oil price environment for a considerable period. To survive in that environment, faster turnaround projects are the prime strategic focus. This does not mean that the Majors have walked away from long-lived resource projects, particularly offshore projects. Rather, the Majors will be very selective in large scale projects and conservatively sanction only those projects that can exhibit positive returns in a lower price environment from $45 to $60/bbl. Portfolio diversification remains the overarching portfolio strategic pursuit, balancing opposite end goals: oil vs. gas, onshore vs. offshore, U.S. vs. international, unconventional shale vs. conventional drilling against a backdrop of low oil prices. Maintain positive cash flow and protect the balance are the imperatives. However, the U.S. presence in their portfolios will be considerably elevated going forward. Welcome back.
Note from author: Thank you for reading. If you like this article, then please follow me by clicking the "Follow" button at the top of this page.
Disclaimer: Please do your own research on the company's SEC filings, press releases and any relevant information to determine whether this company is suitable for your investment risk profile. The reader should contact a qualified investment advisor. I am not a registered investment advisor, and this article is not an advice to buy or sell stock in any company. I am not responsible for investment decisions you make.
Disclosure: I am/we are long CVX.
I wrote this article myself, and it expresses my own opinions. I am not receiving compensation for it (other than from Seeking Alpha). I have no business relationship with any company whose stock is mentioned in this article.