The failure of the American Health Care Act to garner enough support among House Republicans has heightened policy risk with respect to the remainder of President Trump's agenda. This is important given a substantive amount of the US equity markets valuation is contingent on fiscal stimulus, with corporate tax reform being a notable component of that.
The stock market basically glossed over the failure of the AHCA, as it's more sector specific. A shift in healthcare policy more toward a conservative bent was never a market mover one way or the other.
But corporate tax reform is relatively well baked into stock prices. The S&P 500 (NYSEARCA:SPY) closed at 2,132 on the day of the November US elections. It was at 2,344 as of Friday's close (March 24), a gain of about 10%. It would be some degree lower if expansionary fiscal initiatives were not anticipated.
I estimate that corporate earnings growth is likely assumed at around a 11%-12% year-over-year pace over the next five years. Corporate tax breaks of some form are likely necessary to make this happen.
Reducing the nominal rate from 35% down to around the 20% mark is expected to hold the dual effect of increasing corporate earnings while also incentivizing greater on-shoring of business activity back to the US by reducing the cost of doing business. This has some level of bipartisan support, with the Obama administration at one point proposing a drop in the top corporate rate down to 28%.
The topic of individual tax reform is more or less split across party lines. Republicans have traditionally been the "small government" party, preferring lower taxes to stimulate growth and delegate more economic activity in the private sector, while "big government" Democrats have preferred higher taxes to fund various government-led programs and initiatives.
In terms of the ease of policy implementation, tax reform is likely easier with the "life or death" aspect of healthcare absent from the equation and more of a matter of running the numbers. However, tax reform fundamentally concerns money and how it may be allocated to or from various constituencies.
So even while the GOP may ideologically unify around "lower taxes," it will have a few main issues to iron out. If this stumbles as well and no resolution is passed and implemented, the consequences will be much more material for the market. Among the most consequential:
1. Mainstream fiscal conservatives are likely to prefer tax cuts be paired with a level of prudent spending, such that the budget doesn't continue to rise from its deficit of 3.2% of GDP. Total public debt as a percentage of GDP is already the highest it's ever been as a percentage of GDP at 105%.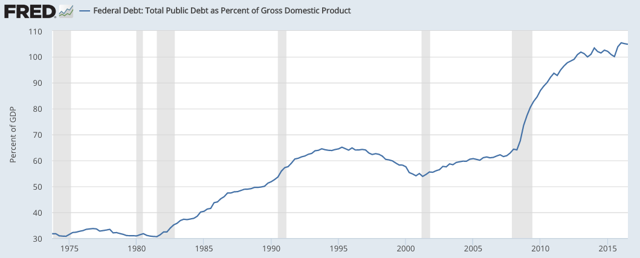 (Source: US Office of Management and Budget, St. Louis Federal Reserve)
Tax cuts may stimulate a level of growth, but a combination of additional spending and individual and corporate cuts present forces that will expand the rate of public debt growth further.
Closing the gap could possibly be supported by eliminating certain lower-profile deductions, but naturally each of these would be lobbied against. A resolution will take time.
2. Border adjustment is a common proposal put forth by some Republicans and is hotly debated within the party. It presents one method to help fund budgetary shortfalls by subsidizing exports and taxing imports. US GDP is 69% consumption, but reducing trade deficits is another such option to boost growth if it avoids taking away from the other components of GDP (investment, government spending, and consumption as mentioned).
President Trump has argued that free trade agreements have mostly been parasitic and one-sided with respect to Mexico, China, among other developing nations, causing a loss of jobs and growth. Instituting border adjustment is one tactic to balance US trade deficits more in the country's favor. Trump has nonetheless been equivocal on the issue, asserting it adds unnecessary complexity to the tax code, with the thinking being a complex, bloated tax code opens up inefficiencies, such as loopholes and gaps that result in higher amounts of uncollected taxes.
Of the many stumbling blocks to tax reform, border adjustment could represent one of the more polarizing issues. Many interest groups and lobbyists will adamantly fight against it. The retail sector (NYSEARCA:XRT) would be among the hardest hit by its implementation as an industry that fundamentally profits off the spread between the per-unit cost of production (usually from cheaper offshore labor) and per-unit price it can demand in domestic markets.
3. Despite the GOP's ideological unity for lower taxes, there is plenty of infighting with respect to whom will be the main beneficiaries of these breaks, how the tax brackets will be organized, and what the nominal rates will come to.
Many Republicans would prefer to offer breaks primarily for the middle class and not for the highest-earning Americans, which is the most politically popular stance. Other Republicans are content with tax breaks for "the 1%" if it means best promoting overall economic growth.
If Republicans can't get the votes organized due to one or more major disagreements, it is expected this will be a material blow to US equity values.
Federal Reserve Policy
The Fed expects to move its lower bound rate to 1.25% by the end of 2017, 2.00% by the end of 2018, 2.75% by the end of 2019, and achieve a neutral rate of 2.75%-3.00% long-term.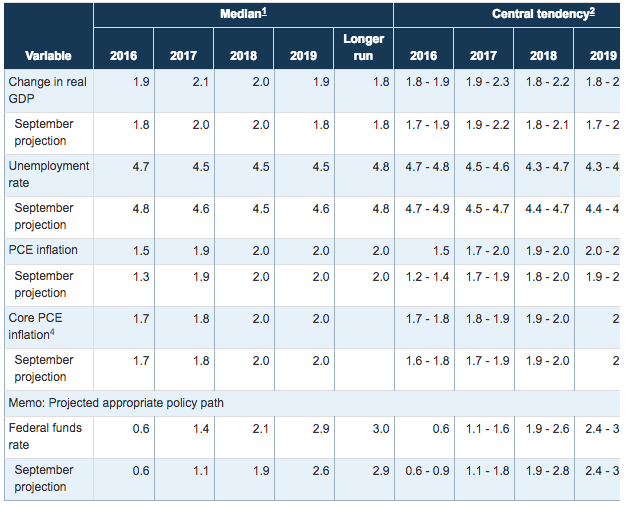 (Source: Federal Reserve)
The Fed's aggression on hiking rates for the first time since the financial crisis underscores its thinking that credit-related risks in the economy remain low.
With other highly influential central banks in ultra-accommodative mode (e.g., ECB, BOJ, Swiss National Bank), higher rates are expected to be bullish for the dollar, bearish for bonds, negative for commodity demand (many commodities are priced in US dollars), and will hold back inflation.
- Impact on Treasuries
As rates increase, this is expected to keep equity prices in check by increasing corporate costs of capital. Higher rates generally increase yields on bonds, which can work to shift more funds away from stocks and into fixed income instruments.
However, I've felt the common "short Treasuries" thesis, part of the "Trump reflation trade," has been overrated. I don't believe the Trump administration's policies are going to put the US and world economy back on a high dose on inflation and ratchet up Treasury yields.
For one, Treasuries demand should still remain high, especially as emerging markets become wealthier and demand safe, liquid assets to store their wealth. Second, inflationary factors globally remain muted due to structural forces in the world economy, which I've covered in other posts. And just because short-term rates are projected to go up does not always mean that long-term rates will move up in lockstep.
Accordingly, I expect Treasuries to remain range-bound for the time being, and don't expect a 3%+ 10-year before 2017 is over and a 4%+ 10-year could be some ways off. Over the long-run, the median yield on the 10-year will likely be around 4%-5%, assuming a 2%-3% neutral rate and 200-bp median spread roughly in line with inflation.
Going short the front end of the curve looks more appealing at this point than going short the long end. I don't believe the yield curve will substantively steepen before the next recession hits with the combination of a relatively high demand for Treasuries and structural disinflationary forces in the world economy. Eventually the yield curve will invert (short-term rates higher than long-term rates) leading into the next recession.
The 0-400 basis point spread we generally observe between the federal funds rate and 10-year would suggest a median expectation of a 10-year yield around the 5% mark by the end of 2019. That would suggest a 20% drop in the 10-year relative to today's 2.4% mark, but demand for Treasuries likely won't be low enough to see yields that high. If the Fed is as serious about hiking rates according to FOMC's projections this will keep inflation in check and hold back longer-term yields as well.
­- Impact on Banks
This also has implications for banks. Lenders follow a business model where they borrow on the short end of the curve and lend at the long end. If demand for longer-duration Treasuries remains high (keeping yields suppressed) or inflation expectations are estimated too high - both possible consequences of underwhelming fiscal policy implementations and Fed rate hiking - this will limit how steep the curve can go.
If investors have baked in expectations off too much curve steepening, and these aren't fulfilled from fiscal policy enactments (e.g., corporate tax overhaul, Dodd-Frank revision and other deregulatory initiatives), banks will retrace to some degree.
On March 1, Bank of America (NYSE:BAC) was up precisely 50% from its election day close, but has since retraced 9%-10% on revaluation of some of these sentiments.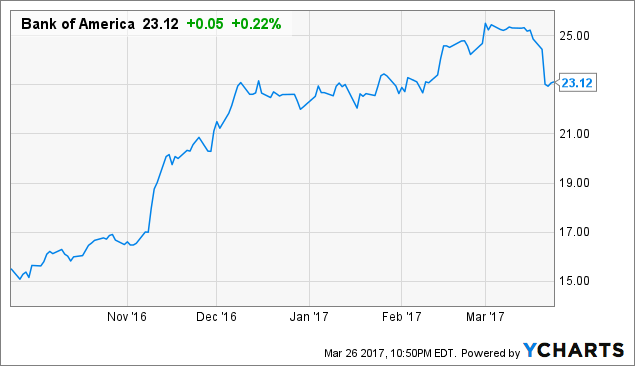 BAC data by YCharts
Citigroup (NYSE:C) had been up 23%, but has since taken back 6% of these gains.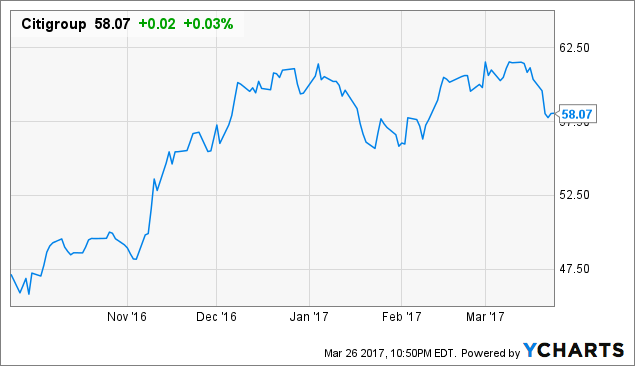 C data by YCharts
Conclusion
For Congress, something will need to get done on tax reform for the stock market to keep its current expectations with respect to future earnings potential. Failure to drive nominal corporate rates down to 20% at the least is very likely to be met with a material dip in the US equities markets.
More broadly, US equities will look to have less support from central banks moving forward as the Fed looks to keep pace with its tightening projections. This decreases the appetite for risk assets such as stocks, real estate, and high-yield credit and will limit downside on safer bonds such as Treasuries.
Fed tightening is also negative for inflation and increases risk more broadly through the means by which it increases capital costs and inherently slows down economic activity. This limits how steep the yield curve can get and could take the luster off bullish positions on US banks and lenders.
Overall, I believe the Fed's choice to more aggressively raise rates is positive for the overall economy. The economy is not in emergency mode and it's unnecessary to leaves rates as low as they have been. Large amounts of monetary accommodation have the general effect of pulling forward growth from the future to compensate for adverse circumstances in the present.
Just over a decade ago, 3% annual real growth was considered normal. Now, the Fed estimates long-run growth at approximately 1.8%. This means in a short period of time we've gone from expectations of doubling living standards every 23 years, to doubling them only every 38-39 years. Letting the economy become more self-sufficient without a constant surfeit of cheap credit and ample liquidity expansion may not be ideal news for stocks, but will begin to place more responsibility on the fiscal side to come up with workable solutions to society's economic needs.
Disclosure: I/we have no positions in any stocks mentioned, and no plans to initiate any positions within the next 72 hours.
I wrote this article myself, and it expresses my own opinions. I am not receiving compensation for it (other than from Seeking Alpha). I have no business relationship with any company whose stock is mentioned in this article.