Investment Thesis
Manhattan Bridge Capital (LOAN) has experienced a significant drop in price, giving the prospective investor a chance to establish a position with a high margin of security. The purpose of this article will be to identify some of the unique risks LOAN has when compared to more common property REITs (real estate investment trusts).
What Is A REIT?
To understand LOAN, we need to first review what a REIT is because this structure of business comes with significant tax benefits. To qualify, companies must own or finance income-producing real estate and they must pay out at least 90% of their taxable income. In exchange, an entity like LOAN pays no income tax, because the responsibility is shifted to the investor.
What Makes LOAN So Risky?
The two primary categories of REITs are equity REITs and mortgage REITs and according to REIT.com, they are defined by the following characteristics:
1. Equity REITs - Generate income through the collection of rent on, and sales of, properties that are owned over a long period of time.
2. Mortgage REITs - Invest in mortgages and securities tied to the commercial or residential market.
LOAN qualifies as an equity REIT, but its mortgages are typically tied to properties for less than one year (although it has re-written loans in rare circumstances). LOAN's competitive advantage is that it is less bound by financial regulations and therefore able to provide faster approval that traditional financial institutions cannot. Here are examples of the types of projects they finance.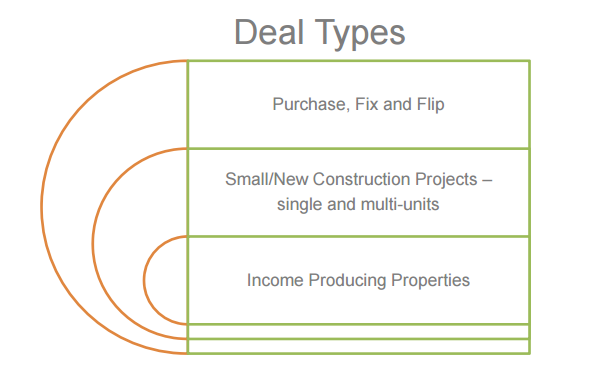 Source: March 2017 - Investor Presentation - Page 5
The first risk to consider before making an investment in LOAN has to do with the short-term nature of their portfolio. If for some reason the real-estate market were to slow down, LOAN would experience significant problems with maintaining profitability. At any given time, LOAN typically manages a portfolio of 100 loans, so as old loans fall off, it is necessary for LOAN to drum up additional business to continue generating growing revenue. LOAN's operations are based in New York City exclusively and there has been no talk of expanding outside of this market.
The second risk to consider is LOAN's exposure to reduced margins as interest rates increase. LOAN currently charges 12% - 14% on its mortgages and their margin per loan will either decrease as rates go up, or they will be forced to charge higher interest rates in an effort to maintain margins. In the company's investor presentation, they tout that they have not foreclosed on a property since going public in 2007. While this is true, investors need to consider that we have experienced record-low interest rates and increased foreclosures during this time (foreclosures matter because LOAN provides financing for flipping these types of properties). For this reason, it is important to understand usury laws for corporations based out of New York.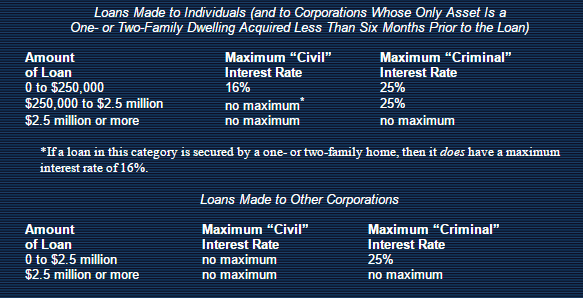 Source: Kdlaw.com
From the illustration above, it would appear that LOAN runs into trouble with the top end interest rates it can charge, but since it makes most of its loans to corporations, it doesn't run into trouble until the 25% mark. The big question is can LOAN still provide competitive financing that its customers need?
What Advantages Does LOAN Have?
As I mentioned before, LOAN can provide flexible financing that other traditional institutions cannot compete with. The following is an illustration to show how their mortgages are structured.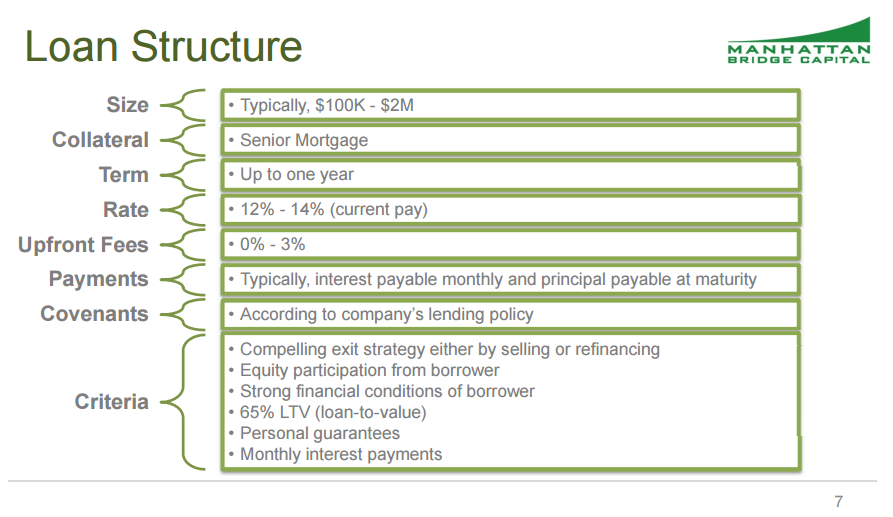 Source: March 2017 - Investor Presentation - Page 7
In terms of safety, I see the following criteria as points that instill confidence in LOAN:
Senior Mortgage (first lien).
Loan-to-value of 65% or less.
Monthly interest only payments.
Total employees: 4 full-time, 1 part-time.
Experienced management team with significant equity positions in the company.
Business relationships fuel growth, with many mortgages made as repeat business.
The point of this is to show that LOAN's primary risk is in its business model and not in the operating guidelines of the company itself. With this criterion in place, LOAN would be in a beneficial position to liquidate distressed properties (although they have never needed to foreclose on any properties since going public).
High Insider Ownership - Should We Be Concerned?
Typically, high insider ownership represents a positive in the investing world. Making sure that executive level employees' interests are aligned with ours as an investor is almost always a good thing for everyone.
In reading through the 2016 10-K Annual Report, I came across the CEO's restricted stock covenants. These are especially important because Assaf Ran is in many ways intellectual property for LOAN because of the business relationships he has created and because he has run the business for almost 18 years. The concern is if Mr. Ran leaves, that he could liquidate his ownership in the company and leave it significantly underfunded.
Fortunately, the Mr. Ran has some heavy guidelines that keep high interests aligned with the company for almost another decade. The restrictions associated with his 1,000,000 shares are as follows:
The first 1/3 of his shares cannot be sold, conveyed, transferred, pledged, encumbered, or otherwise disposed of until September 9th, 2026.
The second 1/3 are not available until September 9th, 2027.
The last 1/3 are not available until September 9th, 2028.
Mr. Ran only has access to these shares earlier than these dates if he is terminated by the company for any reason other than cause, death, or disability (which requires a physician of LOAN's choice to state that he is not employable on a full-time basis).
If for any reason Mr. Ran is terminated for cause or if Mr. Ran leaves voluntarily, he loses any portion of shares that have not been vested.

Source: 2016 10-K Annual Report
The previous illustration shows the total number of shares Mr. Ran has at stake (including his restricted shares). Based on existing share prices, almost $14.5 million of Mr. Ran's wealth is tied up in this company, of which $5.75 million is not currently accessible. If stock prices return to previous highs, Mr. Ran's shares stand to gain approximately $4.6 million in value. In other words, Mr. Ran has a meaningful reason to continue growing the business in a sustainable and positive manner.
Business Increasing - Profitability Up
In a review of the most recent 10-k, there are concerns about the continued growth of the business and who is benefitting the most from it. The following shows significant increases in LOAN's portfolio year-over-year (YoY).

Source: 2016 10-K Annual Report
Revenues for the year were up from $4,001,000 in 2015 to $4,649,000 in 2016, or approximately 16.2% YoY.
Net Income was up from $2,238,000 in 2015 to $2,837,000 in 2016, or approximately 26.8% YoY.
Conclusion
LOAN is a compelling investment for those who are interested in taking the risk. There are a lot of positives to go with LOAN's business model, but there are also serious risks that need to be considered before making an investment. Based on the recent pull-back, LOAN is a compelling buy when it comes to margin of safety, and that's about it. I personally regard the dividend as being unsafe and the stock price to be volatile at best.
Final Note: If you enjoy my articles please take the time to follow me. While I enjoy performing analysis, following me is the best method for showing me that SA subscribers are finding my work useful.
If you have any suggestions to improve my articles or if you would like me to perform analysis on a stock please feel free to message me and I will do my best to make it happen.
Disclosure: I/we have no positions in any stocks mentioned, but may initiate a long position in LOAN over the next 72 hours.
I wrote this article myself, and it expresses my own opinions. I am not receiving compensation for it (other than from Seeking Alpha). I have no business relationship with any company whose stock is mentioned in this article.
Additional disclosure: This article reflects my own personal views and is not meant to be taken as investment advice. It is recommended that you do your own research. This article was written on my own and does not reflect the views or opinion of my employer.
Editor's Note: This article covers one or more stocks trading at less than $1 per share and/or with less than a $100 million market cap. Please be aware of the risks associated with these stocks.