In my previous article on volatility, I shared the progress of the Z(30) volatility indicator over the past two weeks.
The Z(30) is essentially the coefficient of variation for the S&P 500 (NYSEARCA: SPY).
As of March 24th, the actual trend of the indicator seems to be very similar to the +/- 2% scenario column, which assumed a 2% daily swing in the S&P 500.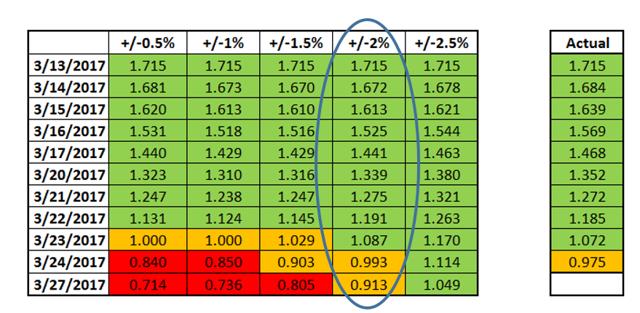 As of today, the Z(30) is trending at 0.975, just a bit away from the 0.85 point.
The importance of the value of 0.85 is that the indicator visited these areas very few times in the past. In fact, in the recent 4,302 trading days (since January 2000), the indicator was below or equal to 0.85 only 239 times. That is only 5.5% of the trading days. As a reference, the indicator was below or equal to 0.975 484 times, which means 11% of the trading days.
Moreover, when looking at the distribution of these 239 days when the indicator was below 0.85, it stayed in this territory before jumping up again. In the chart below, you can see that the majority of the times it didn't last for more than 10 trading days.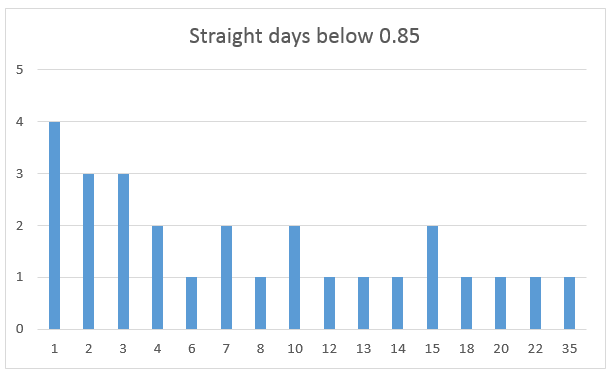 If extrapolating forward based on the same sensitivity table above, it is very hard to see a scenario where the indicator would stand still. If any, I suspect that we are heading towards a period of higher volatility in the coming weeks.

Conclusions:
The Z(30) volatility indicator reached areas that are at the tail of it distribution. That means that it is mostly likely going to turn around very soon. It could take a couple of more days, or even a couple of weeks, but based on the Z(30), the time for a correction is just around the corner.
Disclosure: I/we have no positions in any stocks mentioned, and no plans to initiate any positions within the next 72 hours.
I wrote this article myself, and it expresses my own opinions. I am not receiving compensation for it (other than from Seeking Alpha). I have no business relationship with any company whose stock is mentioned in this article.
Additional disclosure: The opinions of the author are not recommendations to either buy or sell any security. Please do your own research prior to making any investment decision.