Back in the early 2000s, investing in BRICs and Russia in particular was all the rage. When the GFC (Great Financial Crisis) hit unfortunately, many emerging markets, including Russia, took a deep tumble and some never really recovered.
While China and India have been looked at again since the crisis, Russia and investments in Russia are still taboo in large part due to the political situation in the United States and its foreign policy. In the never-ending spirit of looking for a boogie man, the US media has been reliable in painting all things Russia bad even going as far as claiming that Russia was responsible for electing President Trump.
Is it any wonder than that due to this Western villainization of Russia, the Russian equity markets are trading at some of the cheapest valuations in the world? Even after the recent rally, the MICEX index is trading at a current PE of 10 and yields over 6%.
Looking at Russia with our big picture glasses, we have the sixth largest economy (NYSEMKT:GDP) in the world. The public debt is a mere 17% of GDP, and the international reserves increased 30-fold to $378 billion since 1999 (Source: Invest In Russia).
Yet... Apple's (NASDAQ:AAPL) market cap of $741 billion is greater than all of Russia by more than $100 billion. Let that sink in yet? Yep... Apple is worth more than all of Russia's publicly-traded companies combined. Either Apple is overpriced or perhaps Russia is on sale.
Investing In Russia
Unlike many developed and emerging markets which have one or two investment options for the US domiciled investor, we have a solid variety of investment choices for investing in Russia. In this article, we will take a look at a variety of ETF and fund options. More importantly, for this quick pick article, I will, as I have in the past, attempt to sum up the investment into key points including the biggest takeaways, who I believe should look at the fund, and how I believe the fund would be best used.
Let's get started.
Russia Centric Funds
| | | | | | | |
| --- | --- | --- | --- | --- | --- | --- |
| Ticker | Name | Structure | Distribution | Expense Ratio | Inception | AUM |
| RSX | VanEck Vectors Russia ETF | ETF | 1.63% | 0.67% | 4/24/2007 | 2.458B |
| RSXJ | VanEck Vectors Russia Small-Cap ETF | ETF | 2.06% | 0.77% | 4/13/2010 | 68.53M |
| ERUS | iShares MSCI Russia Capped | ETF | 2.62% | 0.64% | 11/9/2010 | 479.96M |
| RUSL | Direxion Daily Russia Bull 3X ETF | ETF | 0% | 1.14% | 5/25/2011 | 176.06M |
| RUSS | Direxion Daily Russia Bear 3X ETF | ETF | 0% | 1.13% | 5/25/2011 | 35.83M |
| RBL | SPDR® S&P Russia ETF | ETF | 2.07% | 0.59% | 3/10/2010 | 31.67M |
| LETRX | Voya Russia A | Mutual Fund | 1.61% | 2.01% | 7/3/1996 | 83M |
There are seven investment options available which invest predominately in Russia. There are six exchange-traded funds and one open-end mutual fund.
Out of the ETFs, while four are meant as longer-term investments, the two Direxion funds are strictly designed as trading products.
VanEck Vectors Russia ETF
Key Takeaways: It is the oldest and largest ETF which invests in Russian equities. The ETF follows the MVIS Russia Index (MVRSXTR) which tracks companies domiciled in Russia or which generate at least 50% of the revenues in Russia. The index follows a free float market cap methodology with 8% cap. The top 90% of the securities screened are considered for index inclusion.
Who Is It For: Investors looking for Russian exposure in a low cost, potentially lower beta portfolio. Being the oldest and largest ETF provides liquidity for ETF holders.
Best Way To Use: As a standalone investment or in conjunction with RSXJ, the small-cap ETF.
VanEck Vectors Russia Small-Cap ETF
Key Takeaways: VanEck's follow up to the RSX success. This ETF focuses on the bottom 10% of the market capitalization screen used by the index for RSX. It is the only ETF focusing on growing Russian equities, and serves as an alternative to the energy-heavy funds.
Who Is It For: Investors seeking Russian exposure for their international small-cap portfolio, or investors who want to diversify their existing Russian investments.
Best Way To Use: As a standalone investment or in conjunction with RSX, the predominately large-cap ETF.
iShares MSCI Russia Capped ETF
Key Takeaways: Follows the MSCI Russia Index. The index is also a free float market cap weight index; however, unlike the VanEck ETF, it may be significantly more concentrated. The fund follows a 25/50 methodology where an individual security may be weighted as much as 25%; however, all holdings greater than 5% must be less than 50% combined. As a result of this methodology, this ETF is more than 51% weight in energy.
Who Is It For: Investors seeking traditional index methodologies with fewer limitations on security weightings. For fans of the iShares ETFs, this is an investment option under the same umbrella.
Best Way To Use: As a standalone investment or even as part of an iShares global portfolio.
SPDR® S&P Russia ETF
Key Takeaways: Another Russian focused ETF with a free float market cap weighted index; in this case, the S&P Russia Capped BMI Index. This is a sampling ETF which tries to replicate the index; however, it does not need to include every security. The investments are weighted using a 5/20/45 methodology similar to the one employed by iShares. The major difference here is that the 5% holdings may not add up to more than 45%, and not 50% as in the iShares. In part to this difference, the fund holds 47 securities, a bit more than its peers. The fund is also nearly 50% energy weighted as well.
Who Is It For: The same crowd of investors which is looking at RSX and ERUS, but may want a little bit more diversification.
Best Way To Use: As a standalone investment or in conjunction with other global ETFs.
Voya Russia Fund - [LETRX] (MUTF:IIRFX) (MUTF:IWRFX)
Key Takeaways: The only actively managed fund that is concentrated on Russia. The fund seeks to make investment choices looking at companies that are underpriced because the market has either underpriced or undervalued the potential earnings growth.
Who Is It For: Investors who are looking for an actively managed portfolio or a Russia-centric fund which may have lower beta to the indexes.
Best Way To Use: As a standalone investment or part of a global portfolio. Being an open-end mutual fund, it presents a good opportunity for smaller investors who are looking to dollar cost average into the fund over the long term.
Direxion 3x Daily Russia Bull/Bear ETFs - RUSL/RUSS
Key Takeaways: Another extension of Direxion's popular 3x funds. These funds are designed to track the Market Vectors Russia Index, the same as the RSX and RSXJ funds. These funds however seek to provide 3x the daily results of the index. These are NOT investment products.
Who Is It For: Gamblers. Really. =) These are not long-term investment products, but rather designed as trading products to take advantage of short-term trends.
Best Way To Use: Two ways I can see these being used. First, to "gamble" on short-term moves, and secondly to possibly hedge a long or short portfolio for an extremely short time.
I want to give a quick explanation here. These 3x ETFs are not designed to replicate 3x long or short the index over a longer term, they reset daily. Here is some proof.
The first chart is showing RUSS and RUSL in relation to RSX: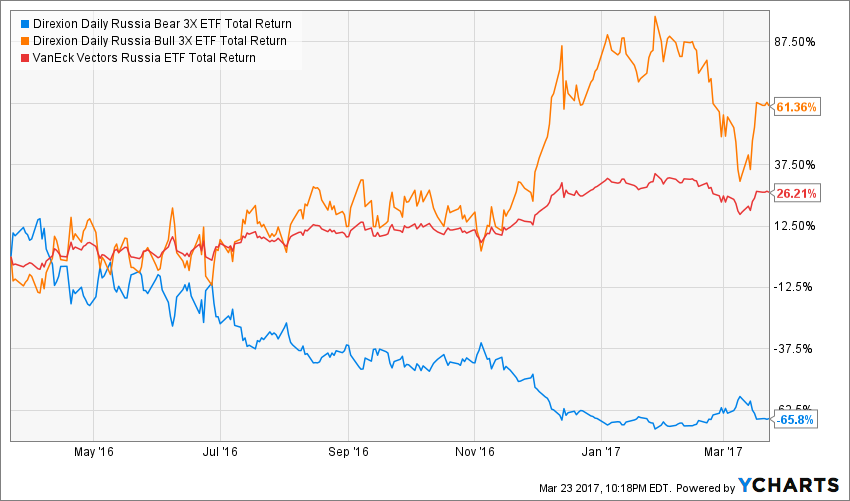 As we can see, while RSX is up over 26% over the one-year time frame, both of the 3x funds are not 3x higher/lower than the index, but a little more than 2x.
If we look beyond the one-year number, we start seeing the real issues and why these are not investment products.
For the three-year time frame, while RSX is slightly up, the 3x bull ETF is down a whopping 70.9%, and the bear ETF is down more than 92%.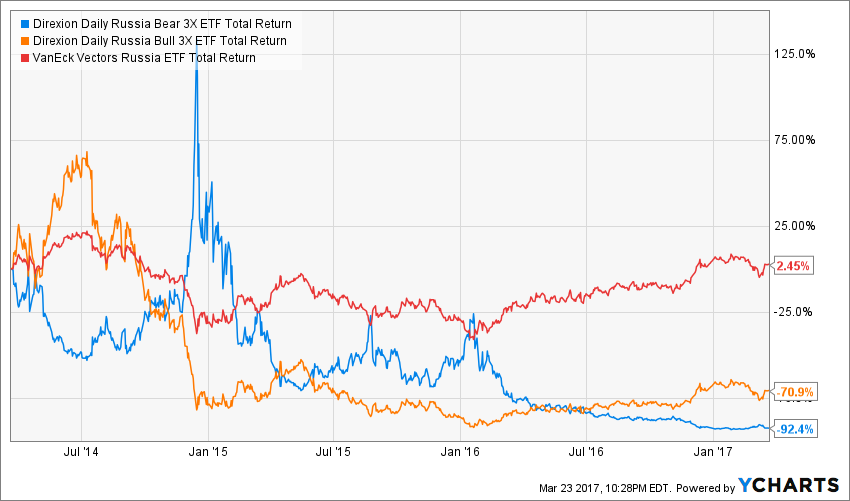 On a five-year time frame, both the bull and bear ETFs are down more than 90%.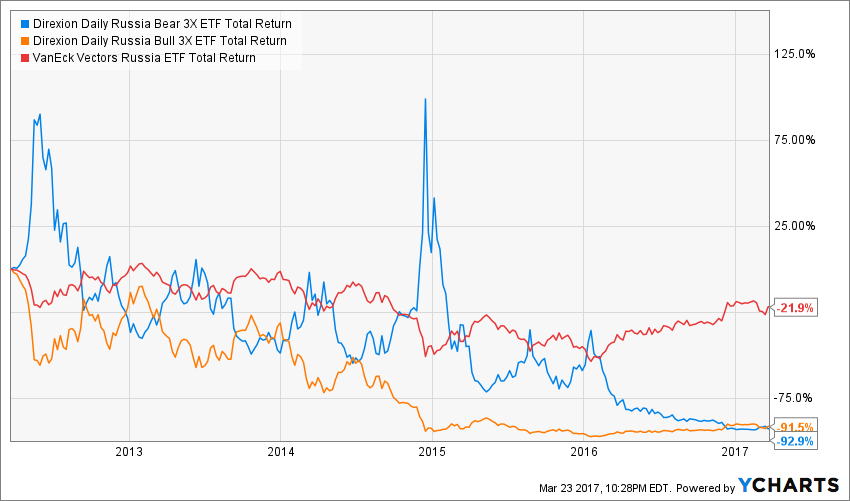 Finally, since inception they would have both nearly eliminated all of your principal investment.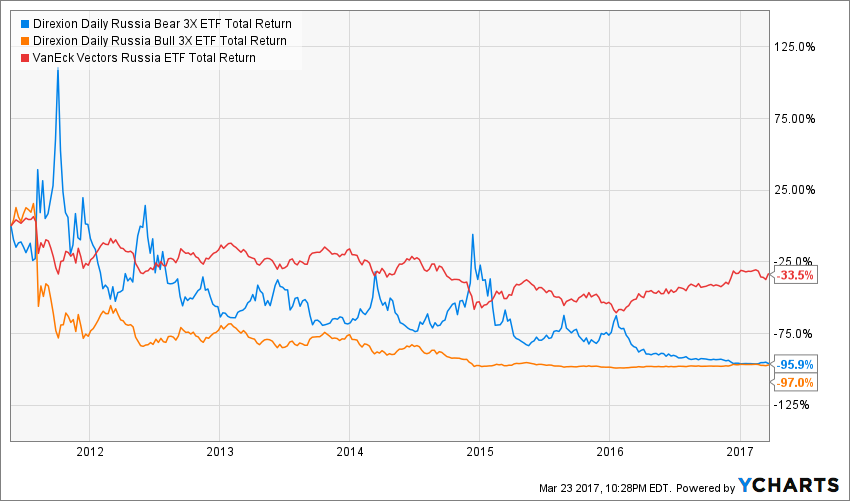 Our Take & Bottom Line
In my previous articles, we have done quick looks at both actively managed fixed income ETFs, socially responsible ETFs and water funds. In all of those previous cases, there was a significant difference in index methodologies.
When looking at Russian-themed investments, I was surprised to find that the three major long-only ETFs looked very much alike, with the only difference really being the weightings, with ERUS and RBL being separated by merely a 5% cap.
It is therefore no surprise that RSX, ERUS and RBL had very similar performance numbers. The only differentiators of the group were the VanEck Russia Small Cap ETF and the actively managed Voya fund.
Over the last year, we can see all of the funds have performed within 2% of each other with the exception being the small-cap ETF which was up over 85%.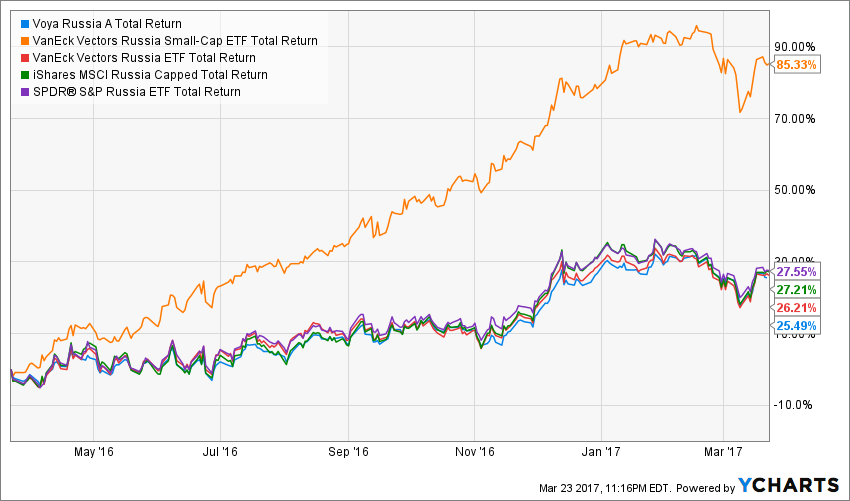 Over the three year time frame, we see a continuation of this trend, with RSXJ leading the way, followed by the actively managed Voya Fund. While RSX and RBL were nearly identical, ERUS returned a nearly 4x higher return.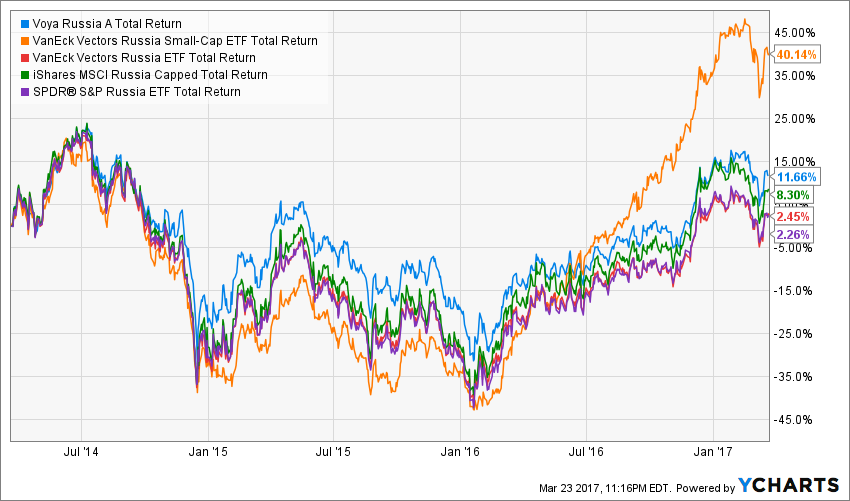 Over the last five years, while all of the investments were down, the actively managed Voya fund was down significantly less than its peers. While RSXJ was leading the way of the ETF pack, it was significantly more volatile for most of those five years. The three large funds were nearly identical in returns.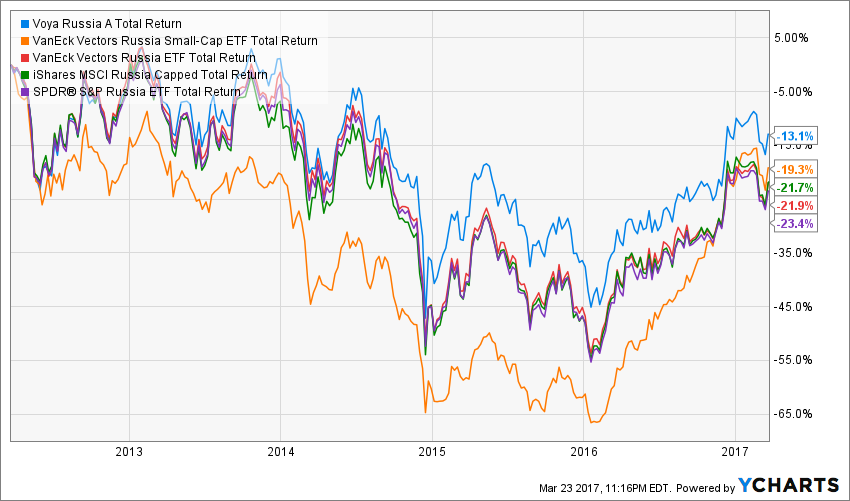 Finally, looking at the earliest common time frame, we see the same results as for the five-year track record. The only difference this time being RSXJ not having made up the massive losses quite yet.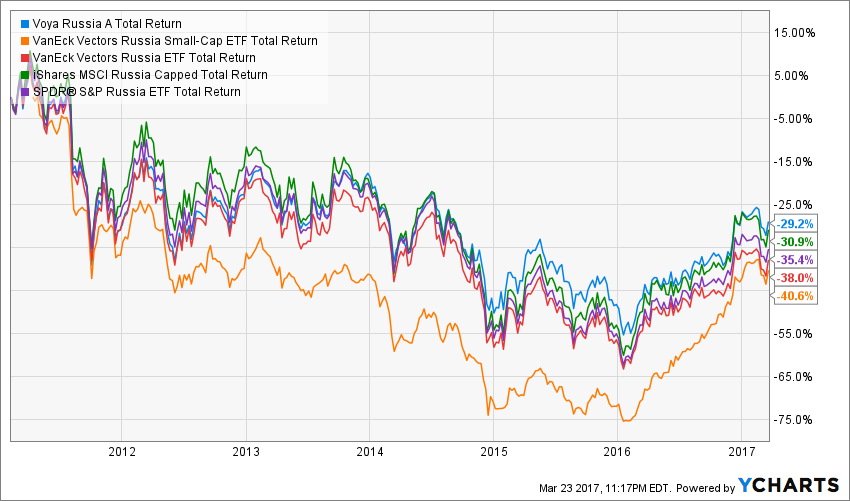 By going through this exercise, we can arrive at a few conclusions.
First, even though there are not a hundred different ways of investing in Russia, the seven available funds provide an answer to almost every investor need.
For investors seeking actively managed funds, there is the Voya Russia open-ended mutual funds. Over the years, they have demonstrated they can provide solid performance and good risk management.
For traders looking at short-term trading opportunities, the two 3x leveraged Direxion funds provide just that. Again, these should not be held long term as it will nearly guarantee significant loss of capital.
For investors seeking Russia in an index fund or ETF format, the three main ETFs, the VanEck Market Vectors Russia, iShares MSCI Russia Capped and the SPDR Russia present solid choices with neck and neck performance. The VanEck being the largest and most liquid should be the go-to for most investors. I am personally invested in it, in part due to the more prudent index weighting methodology.
The real gem here however is the VanEck Market Vectors Russia Small Cap ETF. Out of all the investment choices out for Russia, this fund has the most unique value proposition, giving you access to investments which would be otherwise difficult to get access to. For investors looking at unique growth opportunities, this fund should be a component in any foreign or global development portfolio. The other unique feature of this portfolio is that it can be thought of as Russia ex/Energy, as Energy makes up less than 8% of this ETF.
Finally, I wanted to raise awareness to three other ways of getting Russian exposure in broader funds:
| | | | | | | |
| --- | --- | --- | --- | --- | --- | --- |
| Ticker | Name | Structure | Distribution | Expense Ratio | Inception | AUM |
| BKF | iShares MSCI BRIC ETF | ETF | 1.59% | 0.72% | 11/12/2007 | 203.40M |
| EEB | Guggenheim BRIC ETF | ETF | 1.31% | 0.64% | 9/21/2006 | 81.36M |
| CEE | Central Europe Russia and Turkey Fund | CEF | 1.53% | 1.34% | 3/6/1990 | 186.26M |
Even though BRICs were all the rage prior to the Great Financial Crisis, we are left with only a few BRIC (Brazil, Russia, India, China) options today. Although small, both BKF and EEB have Russian exposure.
For investors looking at getting Russian exposure on sale, I would look at the Central Europe Russia and Turkey Closed End Fund.
Over the next few articles, we will take a deeper look at a number of these investments to see if they belong in your portfolio.
I believe in active management that works, and I am here to help you find those opportunities. Please follow me here on Seeking Alpha as we look for those opportunities and sort out the good managers from the mediocre. Simply click the "Follow" button next to my name at the top of the article or on my profile page.
Disclosure: I am/we are long RSX.
I wrote this article myself, and it expresses my own opinions. I am not receiving compensation for it (other than from Seeking Alpha). I have no business relationship with any company whose stock is mentioned in this article.
Additional disclosure: We certify that the opinions and predictions in these articles are our professional beliefs at the time of publication and should not be construed as personal investment advice. Please consult your financial professional to see how anything discussed here applies to you. Furthermore this is not a solicitation to buy or sell any securities. This is not Tax Advice. Please consult your tax professional.