The news from OPEC as well as the IEA that OECD inventories increased substantially in January was understandably enough to break the bullish spirit of oil investors. A massive 1.5 mb/d inventory build pretty much cuts the OECD inventory declines experienced in the second half of 2016 in half in only one month. Investors can't be blamed for feeling disheartened by the news, especially given that January was the first month of the OPEC oil production cut deal. It is very important however to take a step back and put the news into the wider perspective and take a closer look at the details in regards to the factors that made this happen.
OPEC compliance.
According to OPEC's own data, there is a great degree of compliance with the 1.2 mb/d production cut and it seems that even Russia has partially fallen in line with the cuts.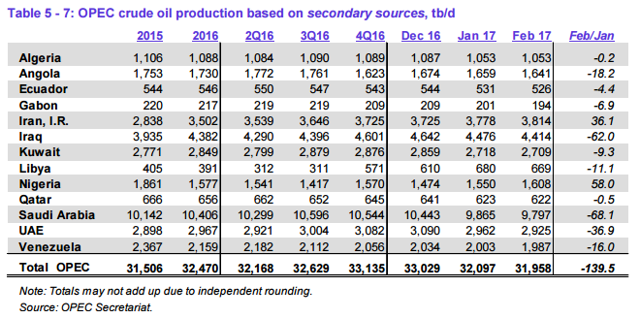 Source: OPEC.
As we can see, the February numbers based on secondary sources suggest that there is almost full compliance with the cut, with production 1.18 mb/d bellow the Q4 production average. The OECD build therefore has to do with factors other than current production. It may be the case that some inventory carried into the new year, such as some of the oil stored on oil tankers, or oil stored in the developing world ended up being shifted directly or indirectly to the OECD. In other words, it is possible that there was no actual inventory build on a global scale.
If we look back at the IEA data for supply/demand, in the second half of 2017 there was almost a complete balance, with production averaging 97.64 mb/d and demand averaging 97.52 mb/d in the June-December period. For January, we have seen a roughly 1 mb/d production cut from OPEC and we should keep in mind that it is a time period when there are some temporary non-OPEC cuts that typically take place in order to perform maintenance and so on. So while demand tends to be much lower in the first quarter of the year compared with the previous quarter, production also tends to be lower. This effectively means that for this quarter we are most likely looking at global inventories declining, even if it does not show up in OECD data at the moment.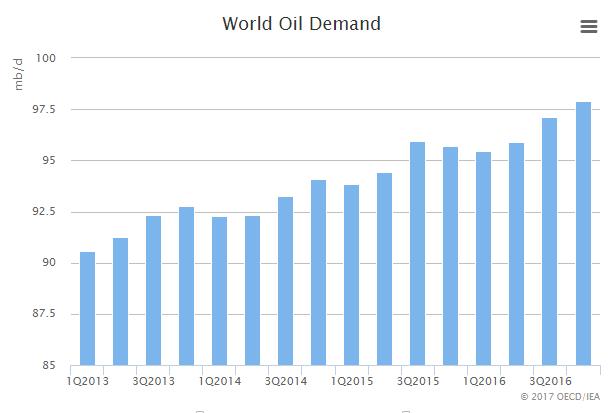 Source: IEA.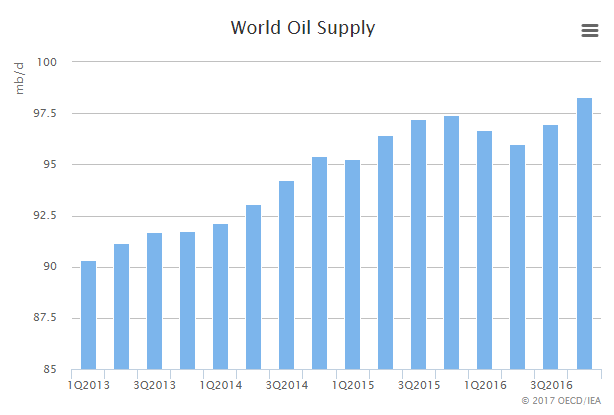 Source: IEA.
If we look at the past few years, demand in the first quarter of each year is only lower by a few hundred thousand barrels per day compared with the previous quarter. Since we know that last year's fourth quarter was only a few hundred thousand barrels out of balance and assuming that in the current quarter we will see a similar rate of demand decline compared with the previous quarter as we did in previous years, the OPEC cut most likely brought things into balance for the current quarter, or perhaps even created a slight supply deficit. Thing is that it may be months before it will become obvious when looking at US or OECD inventory data, because it seems rather obvious that in the second half of 2016, when OECD oil stockpiles were declining by about 800,000 b/d on average, somewhere else an extra 1 mb/d was being stored. I think we will see the opposite trend happen for the first half of this year.
If the OPEC deal will be renewed in June, we can expect a significant oil price rally in the second half of this year.
Some people seem to think that the main thing to watch for is US shale when it comes to guessing the trajectory of the global oil market. It certainly makes sense, given that it was the roughly 4mb/d in liquids that US shale added to global production which led to the collapse in oil prices in 2014. Of note however is the fact that it was not the only source of production increase we saw leading up to the 2014 oil price collapse and afterwards. In fact, it was not even the most significant source.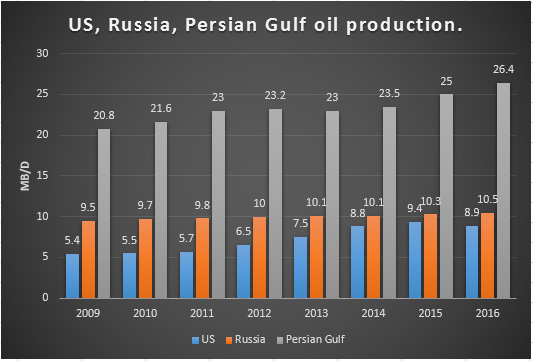 Data source: EIA.
As we can see from the chart, US oil production increased from 5.4 mb/d in 2009, to a decades high of 9.4 mb/d in 2015. It is an increase of 4 mb/d, which is quite impressive. But if we look at the Persian Gulf, production increased from 20.8 mb/d in 2009, to 26.4 mb/d, in 2016, which is an increase of 5.6 mb/d. Some of the main factors that led to this increase include the Iraqi oil production revival, as well as the more recent Iranian return to normal production in the aftermath of sanctions being lifted. Saudi Arabia, Kuwait and the UAE also played a major role in this increase. I also added Russia to the graph, because it also quietly increased production by about 1 mb/d during the 2009-2016 period. It is also instructive to look at how much more oil the Gulf countries as well as Russia added to global supply since the 2014 price collapse. US production has been flat in 2016, compared with 2014, while Russia added another 400k barrels per day, and the Gulf countries added an extra 3 mb/d. Clearly shale is not the biggest story here, which is why I want to caution people from concluding that it will be the main factor going forward.
Shale producers may end up adding as much a million barrels per day in production by the end of the year compared with the beginning of the year. The Permian in particular is looking very strong, which is where most of the extra production will most likely come from. We should note however that the earlier champions of shale oil, namely the Bakken and Eagle Ford are increasingly looking like the best days of those fields are already behind them. In fact, the peak in oil production we have seen from both fields may end up being permanent, even though we are likely to see increasing production in the shorter term.
Of particular interest is the fact that many companies are looking to divest from the Eagle Ford, especially outside the core area. Sanchez Energy (NYSE:SN) became a major Eagle Ford producer based on the acquisition of two major plays that other companies wanted to get rid of. It purchased the Catarina play from Shell in 2014, and just recently closed on another similar-sized play which it acquired from Anadarko (NYSE:APC). Shell was willing to take a $2 billion loss in order to move on from that play, while Anadarko pretty much gave up on continuing to develop its own play back in 2015, due to profitability issues, as I pointed out in a recent article.
I believe the story of Sanchez is in fact emblematic of the situation we should expect in regards to the US shale patch going forward. Those companies which can, will in fact abandon most of the non-core Eagle Ford and Bakken areas, just as Shell and Anadarko did. Companies like Sanchez will pick up the abandoned acreage, which will seemingly be a bargain at first, as the producing wells alone will be worth the deal. As time passes and the initial beneficial effect of gaining in-place production capacity fades, replaced by the need to meet contractual drilling commitments, the fact that un-viable companies are emerging from this trend is becoming more and more apparent. Sanchez spent $127 million on interest costs in 2016, which was just under 30% of total revenue from operations. In the absence of a sustained return of oil prices to the $100 plateau we had in the 2010-2014 period and much higher natural gas prices compared with today, such companies will not be around indefinitely. This is something that everyone should keep in mind when hearing or reading for the millionth time someone claiming that oil prices will stay low indefinitely because increasingly profitable shale producers will just flood the market every time we have oil prices going over $50/barrel.
While I do expect shale producers to add perhaps as much as a million barrels per day in extra production by the end of the year compared with the beginning of the year, we have to recognize the fact that on its own it is not even enough to keep up with expected global oil demand gains. When factoring in the possibility that the OPEC deal will be extended in June and keeping in mind that in the second half of 2016 the supply/demand situation was more or less balanced, we could potentially be looking at a significant gap in supply demand in just a few months time. The IEA is in fact suggesting that if the current OPEC cuts persist until June, we are likely in a supply deficit situation of as much as .5 mb/d for the first half of 2017.
While there seems to be relatively broad market consensus that the OPEC cuts are failing to deal with the current glut in global stockpiles, based on the OECD data which shows that there was a significant increase in stockpiles in January, breaking a trend of declines in the second half of 2016, I think there is a definite need to step back and take a closer look at the details. I already made my bet on oil stocks (NYSE:SU) (NYSE:RDS.A) (NYSE:CVX) about a year and a half ago and I do not intend to increase my position. I also do not think that it was a mistake to take up these longer term positions. The current pull-back is in my view not a sign that investing in oil is not a good option at this point, but rather a last opportunity to invest in what I believe is the cusp of a second leg in the oil price recovery, which started just over a year ago. In order to identify and recognize this fact, we have to get past the noise of repeated slogans and look at the facts.
Note: If you enjoyed this article and would like to receive regular notifications when my articles on commodities and macro analysis are published, there is a "Follow" button at the top of the article.
Disclosure: I am/we are long SU, RDS.A, CVX.
I wrote this article myself, and it expresses my own opinions. I am not receiving compensation for it (other than from Seeking Alpha). I have no business relationship with any company whose stock is mentioned in this article.