Talks are rampant about an impending correction in the broader market if Trump's Healthcare plans fail and uncertainty over his other promises mounts. Though it is too early to portend any setback on the new president's plans, investors should always take guard for a bear case.
Investors should note that though the Nasdaq 100 (NASDAQ:QQQ) gave a fair return in the Trump rally, it lagged the Dow Jones Industrial Average (NYSEARCA:DIA) and the S&P 500 (NYSEARCA:SPY) in 2016. However, the tech-heavy index picked up greater momentum from the end of January 2017 to surpass the S&P 500, though it is still behind the Dow.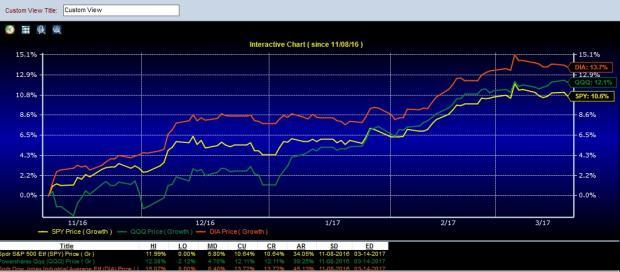 As fear gripped market lately on an uncertain future, we see that the Nasdaq 100 is way better positioned than the other two important U.S. equity gauges. In the last one month (as of March 22, 2017), QQQ was up 0.4%, while DIA lost over 0.1% and SPY was off about 0.5%.
Reasons for the Expected Rally in Tech Stocks
Trump's Softer Tone Toward Protectionist Views
Investors should note that tech stocks fell into a questionable spot after Donald Trump's win. This is because the president is expected to take stricter steps on immigration and outsourcing - the two pillars that the tech sector stands on. However, the Trump administration's tone turned softer lately on several key protectionist issues. We do not expect too many threats on the outsourcing and the tech sector as a whole.
Solid Earnings
Investors should note that the earnings picture of the technology sector has been reassuring lately. Expected earnings growth for the technology sector for Q1 2017 is 10.5% on 6.6% higher revenues, as per the Earnings Trends published on March 10. The earnings growth rate is the highest among the other industries. Revenue growth expectation is also decent.
Compelling Valuation
Valuation-wise, the tech sector is on a better ground than broader market ETFs like SPY and DIA. QQQ and the technology ETF (NYSEARCA:XLK) now have a positive weighted alpha of 23.30 each. On the other hand, SPY has a positive weighted alpha of 15.50 and DIA has it at 19.10. Since positive weighted alpha hints at more gains, one can see that tech-heavy ETFs have higher chances of a positive run than SPY and DIA.
Cyclical Nature
The technology sector is said to be a cyclical one and performs well in a growing economy. Recent data points give cues of economic well being. An influence of this uptick in the economy on the stock market was only natural.
So, if stocks continue to do well, a wealth effect can be realized, and tech stocks may prosper out of this cyclicality. If stocks retreat, then valuation and better fundamentals would fuel tech stocks.
Apple Returned in Style
Technology giant Apple (NASDAQ:AAPL) has regained its momentum and hit all-time highs this year after some struggles last year. A blockbuster fiscal first-quarter earnings report and the excitement surrounding the upcoming iPhone 8 made this possible. This also testifies to the strength in consumer demand related to tech products. Also, Apple has a solid exposure to many tech ETFs.
Emergence of Technology
The last but not the least, this sector saw strong demand for its products in emerging technology applications like tablets and smartphones, wearables, VR headsets and drones. Also, rise of cloud computing, big data and Internet of Things are there to give a big push to the sector. Moreover, the sector, especially the semiconductor area, is now concentrating on consolidation, something that investors follow closely.
Winning ETFs of This Year
iShares North American Tech-Software ETF (BATS:IGV) - Up 14.9%
ARK Innovation ETF (NYSEARCA:ARKK) - Up 14.8%
Global X Internet of Things Thematic ETF (NASDAQ:SNSR) - Up 13.4%
First Trust NASDAQ-100-Tech Index ETF (NASDAQ:QTEC) - Up 13.2%
PowerShares Dynamic Semiconductors Portfolio ETF (NYSE:PSI) - Up 13.2%
PureFunds Video Game Tech ETF (NYSEARCA:GAMR) - Up 13.2%