With earnings season fast approaching, it's a good time to take a step back and analyze the run-up in bank stocks to see how far we've come, but also to see if the financial performance will justify the current market valuations or exceed market expectations.
In this article, we'll look at the impact of the 10-year Treasury yield on net interest income, and ultimately on Bank of America Corporation's (NYSE:BAC) stock price.
Please keep in mind: This article is not a comprehensive analysis of Bank of America. I am not a financial advisor, and we will only be analyzing a few of the many fundamental and economic factors that go into driving the stock price and profitability of BAC. Before making any investment decisions, please contact your financial advisor for more in-depth coverage of BAC. And of course, any analysis of past performance does not equate to future results.
By analyzing bond yields and stock price behavior in prior periods, we might gain insight as to how yields can impact loan spreads and ultimately the stock price for one of the largest banks in the country.
Bank stock performance and the 10-year Treasury yield:
For anyone who is still on the fence as to whether Treasury yields can drive bank stock prices, including BAC, please see the charts below.
Although the correlation is not one-to-one, and the correlation can break down from time to time, there's a clear pattern of price behavior in response to the rise and fall of the 10-year Treasury yield.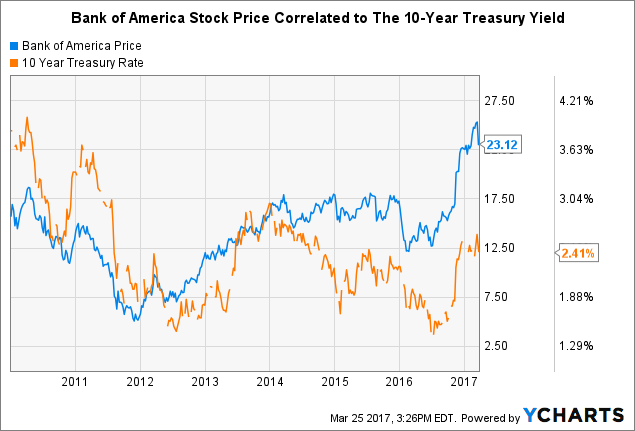 Bank of America is not the only bank that correlates well to yields.
Below is a chart of the performance since July of financial ETFs like the SPDR S&P Bank ETF (KBE) and the Financial Select Sector SPDR ETF (XLF) as they correlate to the 10-year Treasury yield.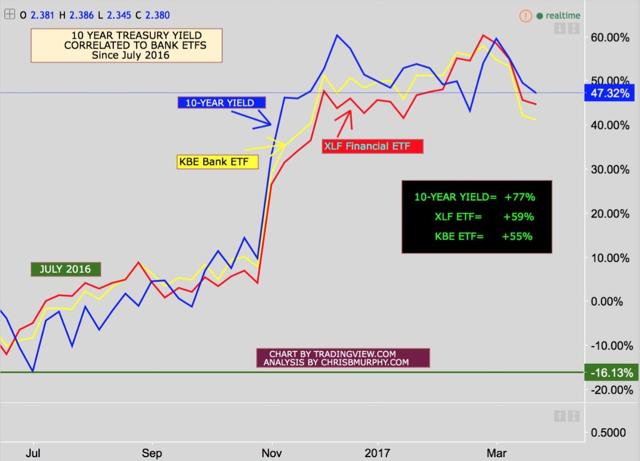 How yields impact net interest income and banks:
As interest rates rise, banks charge higher rates on their loans and the difference between the rate they pay investors for their deposits, and the rate they charge for lending money is referred to a bank's loan spread. As yields rise, banks can get away with charging higher rates on their loans, thus increasing their loan spreads. If you've checked the rates on certificate of deposits lately, you've probably noticed that the interest rate the bank pays you for your deposit is much lower than the 10-year Treasury yield. The deposit rate is also much lower than the rate they charge you for a loan.
The profitability from a bank's loan spreads shows up as net interest income on their financial statements. Tying it all together, as 10-year yields rise, a bank's net interest income rises since the bank has more pricing power with higher yields, allowing them to charge higher rates on their loans.
A word of caution with higher yields: It's true that bank profits typically rise with interest rates. However, this relationship only exists as long as there's economic growth producing healthy loan demand leading to loan growth for banks. This is why loan growth is a closely monitored indicator for U.S. economic growth.
Historical analysis:
Since we've had a huge run-up in Treasury yields boosting Bank of America's stock price, let's put the current rally into perspective. To analyze how yields impact net interest income for BAC, we'll look at the last time yields soared as dramatically as they have recently and compare the results from the two periods.
From 2012 to 2013, yields staged a massive rally on fears of the Fed reducing their balance sheet and halting the mortgage bond purchases. The event was referred to as the taper tantrum. I believe 2013 can give us some insight as to how the current market is performing, and the importance of higher yields and higher net interest income for Bank of America. Please bear in mind: no market period or performance results are identical.
Net interest income to the 10-year from July 2012 to 2013:
From the chart, we see that net interest income (orange line) was just about $10.8B while the 10-year yield (red line) was trading around 3%. BAC stock price surged during this period as well.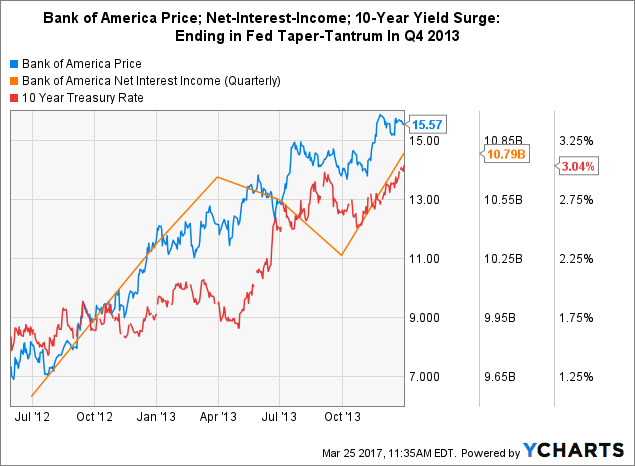 Following the doldrums of the financial crisis and the loan losses from the Countrywide Financial mortgage portfolio, Bank of America surged close to 100% from mid-2012 to the Fed taper tantrum in 2013. During that period, the 10-year yield rose from sub-2% to over 3% driving net interest income by over 12% during the period.
We can see from the chart above all three financial metrics moved in tandem (with a few exceptions). And by taking a step back to view the fundamentals of the market as a whole, we can see how Bank of America fits into that picture.
Please beware of the risks to correlation analysis.
It's not simply a rise in yields that drives the stock price higher, but instead, the higher net interest income as a result of the higher yields. Net interest income takes into account other factors, and for it to rise, then for example; loan demand and loan quality must be healthy or at least improving.
A confluence of events led to the market volatility in 2013. U.S. economic growth as measured by GDP (Gross Domestic Product) grew from 1.3% in 2012 to 2.7% in 2013 combined with the Fed signaling their desire to cut back the mortgage purchase program, sending the 10-year yield soaring. As a result, net interest income soared by over 12% for Bank of America.
Although we are not currently experiencing a market tantrum, today's market shares some similarities to the 2012-2013 moves, albeit for a few different reasons.
How Bank of America, yields, and net interest income look today:
Since the lows in July of 2016, net interest income jumped from roughly $9.2B to $10.3B as reported in the Q4 earnings report.
As we can see, yields began rising in July as market expectations of a Fed hike began to swell. And since higher yields typically generate higher net interest income, BAC's stock price soared in tandem. Also, during 2016, U.S. GDP growth was 1.9%.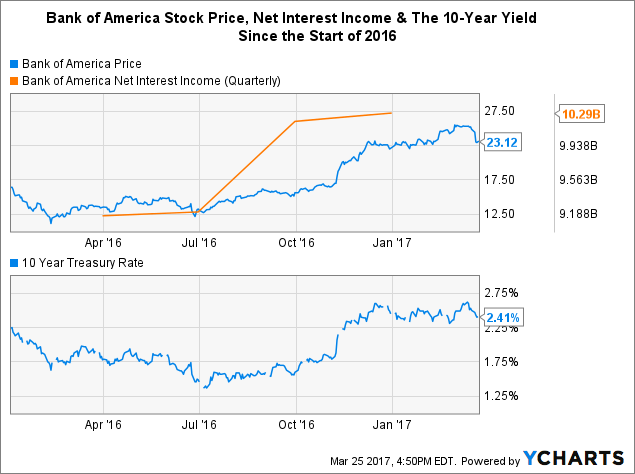 The next two charts illustrate the 2016 market movements in percentage terms, showing that a 77% jump in yields gave BAC roughly a 12% jump in net interest income while the stock soared over 87% during that period.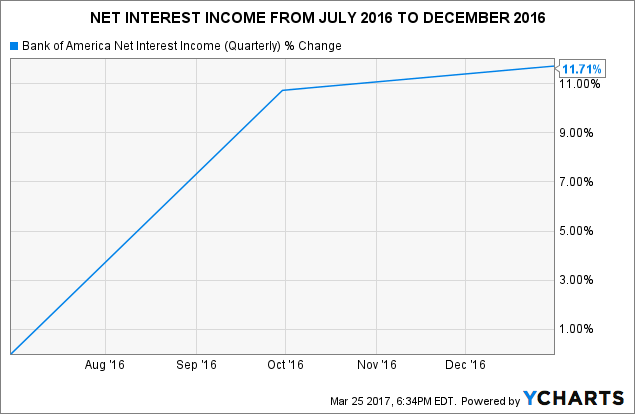 BAC Net Interest Income (Quarterly) data by YCharts
The 10-year yield surge in 2016 correlated to Bank of America: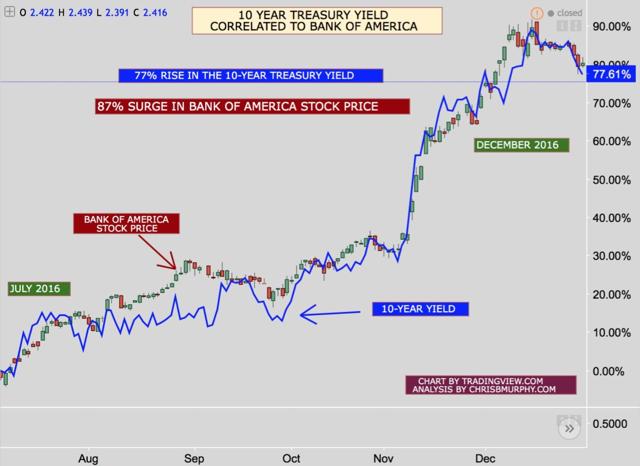 Tying it all together as we compare 2013 to 2016:
As stated earlier, there are a myriad of factors that drive net interest income and the stock price of Bank of America. We're only looking at a few of those factors.
However, in both periods, a massive run-up in yields boosted net interest income by over 10%, while in both cases, BAC's stock rose nearly 100%.
Here's a chart from research that I did last year highlighting the impact of yields on banks. The chart maps the profit margins of popular banks in 2013 and 2014 versus the 10-year yield.
The banks on the chart include Citigroup Inc. (C) and JPMorgan Chase & Co. (JPM) as well as Bank of America.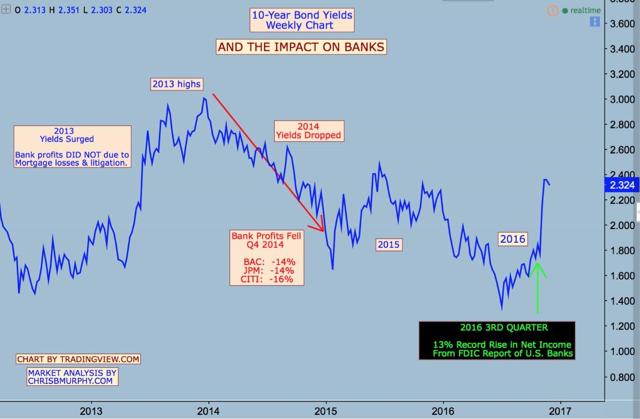 Is there a risk of a disappointment in 2016 Q1 results? If you noticed, the 10-year yield was at 3% in 2013, and it equated to $10.29B in net interest income. However, in the current quarter, the high for yields was only 2.63%, and we currently rest below 2.4%.
There's a risk that since the current 10-year yield is lower (as compared to the 3% yield from 2013), net interest income could come in lower than forecast for Q1 of this year. Adding to this risk is that the Federal Reserve Bank of Atlanta is forecasting Q1 U.S. growth to be around 1%.
In other words, it's possible that Bank of America's stock is trading as if yields are at 3%, and as a result, price may have gone to high in the short term. We've yet to see the Q1 earnings benefit from net interest income as a result of higher yields.
Remember, yields alone do not drive the stock. At some point, the higher yields must show up as higher net interest income for Bank of America.
However, in my opinion, I believe it's difficult to compare the two periods since BAC was facing loan losses in 2012 and 2013, and the bank has improved its balance sheet substantially since then.
In other words, Bank of America may have needed a 3% 10-year yield in 2013 to achieve the similar earnings results as today (despite the current 10-year yield being lower than 2013 at roughly 2.4%).
However, the bank could still disappoint in the short term producing lower than expected net interest income, given the poor growth in the economy. Q1 is typically a poor performing quarter from an economic standpoint.
On the positive side for Bank of America, the Q4 results did not include most of the run-up in yields since most of the move occurred after mid-November. Also, the 10-year yield has remained elevated throughout most of Q1, mostly due to the expectation and realization of the Fed hike a few weeks ago. The elevated yields should translate to improved net interest income for the bank's Q1 earnings report.
In the long term, the outlook should be bright for Bank of America provided there's an upward trajectory in loan growth, yields, and net interest income.
Regardless of our investment bias or opinion on the current market, it's evident that yields have a significant impact on net interest income, Bank of America stock, and ultimately the bank's profits.
In positioning your portfolio risk management strategy: If you're thinking of going long or short financials, you must incorporate an analysis of the 10-year Treasury yield, and its impact on net interest income before making a decision. Also, monitor for any changes in the bank's loan growth and overall U.S. loan demand, especially if the correlation between yields and net interest income has broken down.
More articles to follow analyzing Bank of America, financials, the Fed, and Treasury yields in the coming days and weeks.
If you like this article and would like to receive email alerts stay up to date on Bank of America, please click my profile page, and click the "follow" button next to my name, and check the "get email alerts" to receive these articles sent via email to your inbox. You can also find the "follow" button at the top of this article next to my name.
And of course, feel free to comment below if you have any questions or send me a private message by clicking the "send a message" link on my profile page.
Good luck.