By Parke Shall
With the GOP healthcare bill failing to pass this week, tax reform is now front and center. The difference between the two issues is that tax reform has already been priced into the market and could have a catastrophic effect on equity markets if it does not go according to plan. Healthcare reform would have caused some volatility, but the market's 10% rally since the election hasn't occurred under the assumption it would get done.
The issue du jour over the last few days has undoubtedly been the GOP's inability to get their healthcare reform bill passed. The market was volatile on Friday as Republican members of Congress duked it out as to whether or not they were going to be able to pass Trump's American Healthcare Act.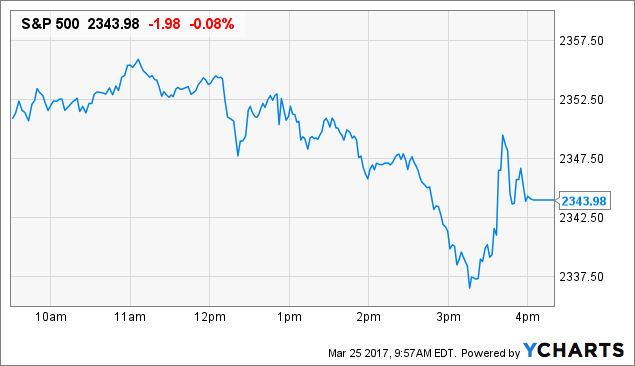 It was a struggle that had been detailed in the media all of last week and it came to a head on Friday at 4 PM when speaker Paul Ryan finally had to admit that the House simply didn't have the votes to pass the bill.
The funny thing about healthcare reform is that part of the GOP wanted the bill to actually be more conservative. While more conservative than the Affordable Care Act, the bill simply wasn't conservative enough for some Tea Party Republicans who wanted additional cuts and saw the remaining pieces of Obamacare as a threat and too much government going forward. In other words, the Republicans all agreed that Obamacare had to go but couldn't agree on how much of it to repeal and want to replace it with.
With the spectacular failure of the GOP on full display at the end of the week last week, the Trump administration tried to make a sharp pivot to tax reform and what will likely be their next top priority. It is not only going to be a important issue for the campaign; it's going to be important to show the country that the administration can actually get some type of reform done.
The Republicans have little to no margin for error for tax reform and failing to get tax reform done could have a substantially negative affect on the markets.
The first reason why they don't have any margin for error is that tax reform was a "yuge" campaign issue. Much like repealing and replacing Obamacare was a staple issue for the Trump campaign, tax cuts were also mentioned at almost every rally and in every speech.
In order to maintain the appearance of being able to execute on his ideas, Trump needs to make sure that his tax reform gets done. But then there is also the effect on equity markets that tax reform has already had. As you can see from the below chart, equities are up about 10% since Election Day due to anticipation of cutting corporate taxes and repatriating cash that is offshore.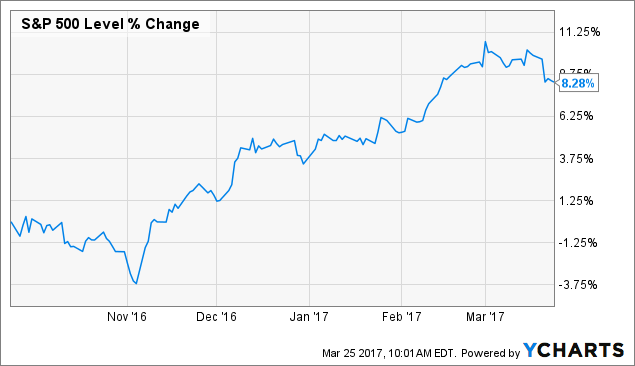 The market has already assumed that both of these things will happen and has priced both of them into equities across the board. We have seen a broad scale rally across a lot of sectors, but even more in US based corporations that would benefit greatly from tax cuts.
The market has already assumed that this is going to be a victory for the Trump campaign, but last week's disaster with the healthcare bill should give investors plenty of reason to think about why they may be in for a shock when it comes to trying to get something done.
If the Trump campaign is unable to get tax reform done, it will be nothing short of catastrophic. We predict equity markets will fall probably between 5% and 10%, giving back all of the gains that they have posted since the election, and there will be a major loss of confidence in the Trump administration. This loss of confidence will also contribute to volatility in the markets and overall the inability to get a deal done would be bad news for equity markets globally.
If the Trump administration is able to get tax reform done, the devil will be in the details. If tax reform is done under the rate that the market has estimated already, the market could still very easily pull back. Even if reform gets done on a grand scale as has already been anticipated by the market, it could still wind up being a "sell the news" event.
Put simply, there are a lot of reasons to not only doubt that tax reform will get done the way the administration has said it would, but also that it will have the effect on markets going forward from here that some people predict.
In addition to the administration being yet to show that they can get a bill passed, articles like this one in DealBook are starting to surface, questioning if Trump's "reform" is going to be expansive enough, stating it may only reduce the corporate tax rate to as high as 28%: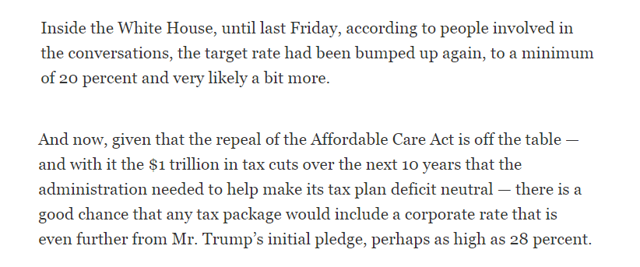 Tax reform is already baked into the cake and we see more reasons to sell on a tax reform bill than we do to go out and buy. Equities undoubtedly need a breather and whether it is a "sell the news" type of event or whether Trump is unable to get tax reform done as he planned, or at all, we believe being short the market here heading into summer is the right move.
We added a SPDR S&P 500 (NYSEARCA:SPY) short at the end of the day last Friday.
Disclosure: I am/we are short SPY.
I wrote this article myself, and it expresses my own opinions. I am not receiving compensation for it (other than from Seeking Alpha). I have no business relationship with any company whose stock is mentioned in this article.