"You can't predict. You can prepare." -- Howard Marks, Co-founder and Co-chairman of Oaktree Capital
Let's face it -- rather than dread a correction, it feels like most investors are eagerly waiting for a "healthy" 5-10% pull-back in markets. Thanks largely to confidence in the new U.S. administration's ability to implement certain business-friendly policy reforms, these investors would consider such a pull-back a great entry point into a reinvigorated bull market.
Although I am concerned that current equity market valuations will prevent investors from earning a reasonable rate of return over the next 10 years (see here for compelling articles), I think the bull market for risk assets remains intact based on my technical analysis of several asset classes. Accordingly, investors should look for good risk vs. reward opportunities among 'risky assets' such as stocks and high yield bonds. At this point in time, I feel that the US energy sector (NYSEARCA:XLE) offers one of the best risk vs. reward opportunities among liquid market opportunities for the next 6-12 months.
Risk appetite is still strong across several sub-asset classes
Before adding to my stock holdings or initiating new 'long' positions in equity-linked trades, I like to check if risk appetite is still healthy by analyzing price action across several asset classes. As I pointed out in my last article, risk appetite across several asset classes is strong. This remains the case despite last week's drop in equities and high yield since small and mid-caps (NYSEARCA:IWM) and high yield (NYSEARCA:HYG) ETFs remain in upward trends. Also, breadth -- approximated below using the percentage of NYSE and S&P 500 stocks above their 200-day moving averages -- is still in good shape.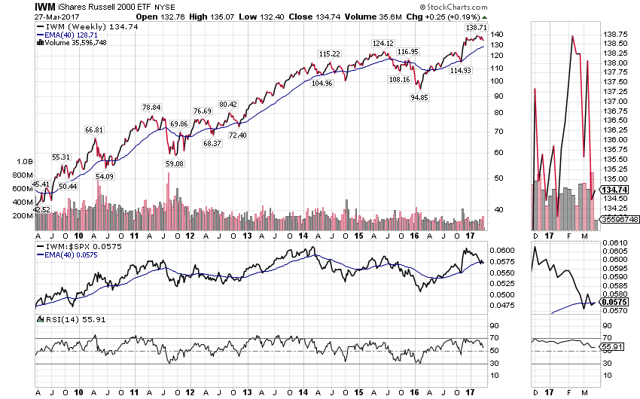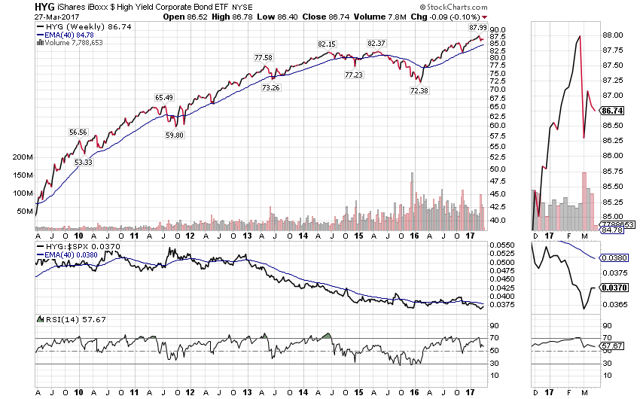 Another important indicator for risk appetite is the relative performance of consumer discretionary stocks (NYSEARCA:XLY), a cyclical sector, versus the market overall (NYSEARCA:SPY) and against consumer staples (NYSEARCA:XLP), a defensive sector. In recent weeks, consumer discretionary stocks have outperformed the overall market. Moreover, the relative strength chart of consumer discretionary stocks versus consumer staples stocks remains above its 40-week exponential moving average -- a rather reliable measure for identifying the trend of a security that is similar in time frame to the oft-quoted 200-day moving average.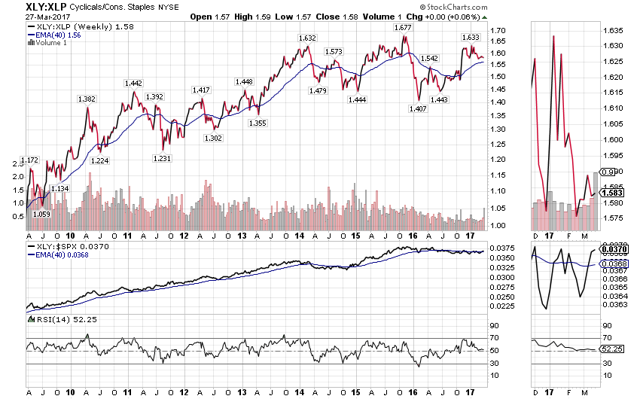 Energy has an ugly chart, but potential support is not far away
The SPDR Energy Select ETF peaked in December 2016 shortly after outperforming the overall market for almost the entire year. It has since fallen almost 12.5% amid a sharp decline in oil prices; Brent has fallen around 12.5% from its peak and WTI has fallen almost 13.5%.
The decline was so dramatic that the ETF fell through its 40-week EMA, which potentially signals a reversal in trend and sentiment. When a security breaks through this moving average, I'm inclined to respect the trend's direction and sell rallies instead of buying dips. Moreover, I prefer to then wait until the security's price demonstrates a clear "bullish divergence" with its weekly Relative Strength Index (RSI). This is a fairly reliable signal that the security is close to selling exhaustion.
In my view, the most likely level at which XLE will find solid support will be within a range from $61 to $63 since $63 roughly represents a 50% retracement of the move from the 2016 low of $48.41 to the $77.57 high. If this potential support level is broken, the next support I would look to would be the 61.8% Fibonacci retracement zone, which comes to approximately $59.50.
It is important to note, however, that studies of past market cycles show that energy tends to outperform the broader market in the latter stages of the market cycle. In addition, risk appetite is still broadly strong so episodes of panic selling in any given sector become less likely. As such, I think we are entering an attractive entry "zone" for a 6-12 month trade with double-digit return potential. Accordingly, I believe that investors should consider building between 40-50% of a full-position at current prices with a view of completing the position if the sector falls by a further 6-8%.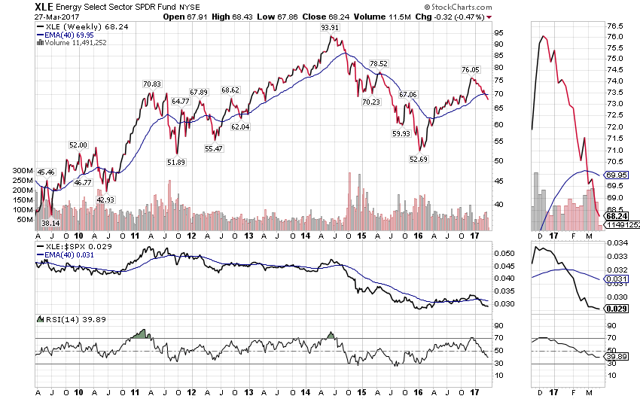 Another interesting trade for the energy sector
I love looking for opportunities to trade "risk reversals," a term often used to describe simultaneously selling out-of-the-money puts and using part or all of the premium received to buy out-of-the-money calls. This trade allows you to have a better entry point that simply buying at the prevailing spot price in case the price falls below your strike price on the expiration date of the puts you sold. Alternatively, you could gain exposure to the upside if the price of the security moves above the strike price of the calls on their expiration date.
The important thing to look for with risk reversals is a favorable 'skew,' which occurs when you are receiving more in premium for options you are selling of a certain "moneyness" (e.g., 5% out-of-the-money, OTM) than you are paying for options you are buying of the same moneyness. Currently, there is a favorable skew on XLE options if we look to sell $65 strike puts expiring on Sept. 16, 2017, (bid at $2.59) and buy $71.50 strike calls expiring the same day (offered at $2.14).
Other higher risk, potentially higher return opportunities linked to energy
U.S. shale-focused exploration and production companies have benefited from a decline in break-even costs thanks to technological advancements and discounting from oil field service providers. Moreover, cost-saving technological improvements could continue for some time to come, making U.S. shale gas drillers likely to become more competitive over time.
For the moment, however, much of the sector still has very high break-even costs compared to the larger, more diversified operators as well as other challenges such as weaker balance sheets. This leaves shale drillers particularly vulnerable if oil prices stay the same or decline further while interest rates continue to rise. These reasons explain to a large extent why an ETF that tracks the sector, the VanEck Vectors Unconventional Oil & Gas ETF (NYSEARCA:FRAK), has fallen -17.5% from its 2016 high and -52.7% from its 2014 high.
I would therefore not recommend FRAK for investors who are looking for a less volatile investment. For investors who are prepared to ride through the volatility and average down should the ETF decline by a further 5% or more, it is likely that this ETF will recover much more strongly than the broader energy sector ETF should oil prices rise sharply from current levels.
For a security that is less volatile than FRAK but more volatile than XLE, I would suggest that investors consider XOP or IEO. Both these ETFs focus on larger, more diversified US exploration and production companies.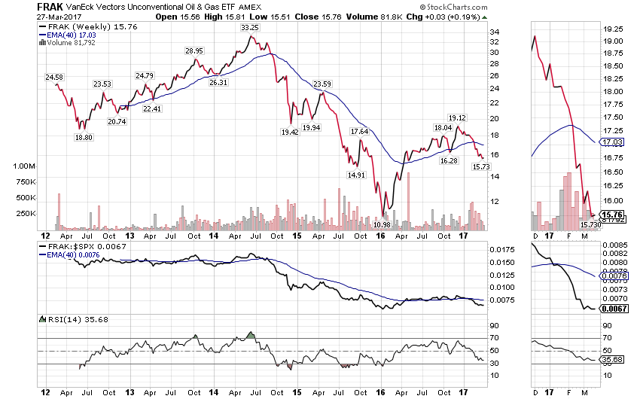 Managing risk
I mentioned that I am looking at trades linked to the U.S. energy sector primarily with a 6 to 12 month time frame. If you want to adopt this time-frame, I would recommend that you also consider placing a stop-loss to limit the capital you are risking for this trade. I would also recommend that you structure your trade size such that your maximum loss in the event that you are "stopped out" is between 1% and 3% of your total portfolio or "risk capital" (depending on your level of conviction).
If you prefer to adopt a longer time horizon (i.e., 3 years or more), then using stop-losses becomes less important. Instead, averaging down and position sizing become more important so that you can reduce your cost basis if prices decline further without having your portfolio overly exposed to one sector.
Conclusions
Until there is a clear decline in risk appetite across several asset classes, I think the best risk vs. reward for investors over the next 6-12 months will be in risk assets like stocks and high yield bonds. The best opportunities will most likely be linked to the most beaten down sectors after periods where the overall market has suffered a setback.
Although I normally wait for the overall market to decline considerably more than it already has done before deploying capital into speculative trades, the energy sector is already starting to look interesting after a substantial decline. Indeed, it already arguably warrants accumulation at these levels.
For more conservative investors seeking a low-risk entry point, I would suggest that they wait to see if the XLE ETF declines toward $60 in the coming months while demonstrating a "bullish divergence" with weekly RSI. For more aggressive investors, I would suggest trading a risk reversal or building a position immediately in any of the four ETFs mentioned in the article at current levels and adding on further weakness.
It is notoriously hard to predict the direction of oil prices and energy stocks, especially in the short and medium term. Instead, I believe that investors should prepare themselves for attractive opportunities in a sector that has already suffered a particularly large correction relative to the overall market -- and could potentially present a better risk vs. reward than any other sector.
Disclosure: I am/we are long FRAK, XOP, IEO.
I wrote this article myself, and it expresses my own opinions. I am not receiving compensation for it (other than from Seeking Alpha). I have no business relationship with any company whose stock is mentioned in this article.
Additional disclosure: The ideas presented in this article are for information purposes only. Please do your own research and consult your investment advisor before committing to any investments.