I'm more pessimistic about the current economy than at any time since 2008, and I'm usually an optimist. I laid out my reasons for expecting slow growth in Interest Rate Forecast 2017-2018. The primary concern is heightened business uncertainty. But there is an optimistic argument. I don't buy it, but after reviewing my pessimistic concerns, I'll explain how one might rationally be an optimist.
The pessimistic side is based on companies dragging their feet on discretionary spending until policy settles down. Companies affected by international trade are uncertain how President Trump will pursue reduced imports and greater exports. That impacts agriculture, manufacturing, retail trade, wholesalers, and transportation services. Businesses that might have employees who are immigrants with phony documents are uncertain about audits that could cause a loss of workers. That impacts agriculture, construction, manufacturing, restaurants, hotels, and some business services. The entire healthcare industry is uncertain about their revenues and costs while Congress debates Obamacare repeal.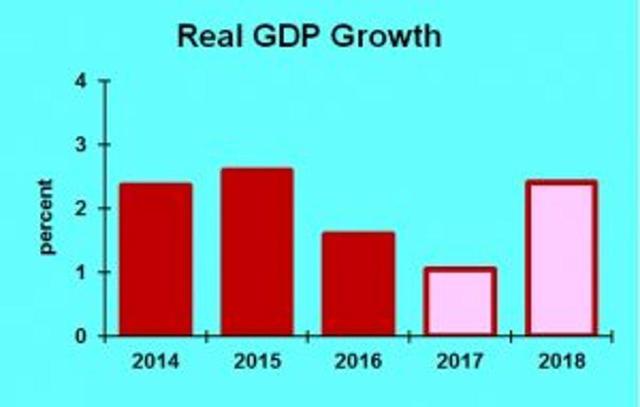 Forecast of U.S. Real GDP Growth - Copyright Conerly Consulting LLC
All told, these industries account for nearly half of GDP. Routine spending is likely to continue, and many expansion plans will also be undertaken. But some portion of these businesses will delay ground-breaking for new facilities, or delay replacement of old equipment, or slow down hiring of new workers. In the extreme, this uncertainty could trigger a recession, though I expect simply slower economic growth this year, less than 1 percent on inflation-adjusted GDP.
The optimistic side of the economic forecast debate is based on current optimism, which could lead to higher spending immediately. Talking to business leaders, I find optimism strong, much stronger than their current sales. Some of the optimism is about Trump's regulatory policy. It's likely that rules on labor, the environment, banking, and federal land use will be much more business-friendly. The Republicans may well pass a good bit of the President's tax proposals (though I'm personally skeptical that any Senate Democrats will go along unless the changes are greatly watered down). Despite my doubts, the current business optimism is real, confirmed by several polls of corporate executives and small business owners.
Surveys of attitudes I take with a grain of salt. As an economics student, I was taught to look at what people do, not what they say. And what they are doing since Trump was elected was buying stocks. The S&P 500 is up about 10 percent since election day. However, business leaders in the United States are not buying more capital goods. (Airplane orders were up in the latest durable goods orders report, but much of them go overseas.)
The next few months will determine who is right about 2017. I expect weaker capital spending and employment gains. Next year, though, and following, I'm right in line with the optimists. The economy has the capacity to grow more rapidly, and I believe that lessened uncertainty will combine with more business-friendly government policies to boost activity. Just not quite yet.