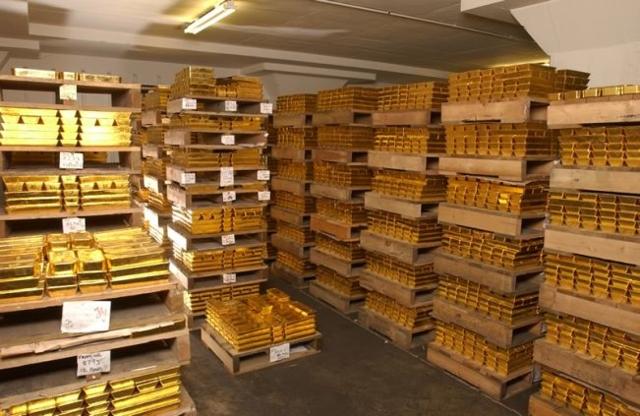 Image Source: Zero Hedge
Technicals suggest that gold is trading at resistance levels. Numerous factors ranging from rake hikes, gold import restrictions by India and weaker gold demand will push gold prices lower. I expect to see that support will break at $1,235 and gold should touch close to the $1,050.00 level.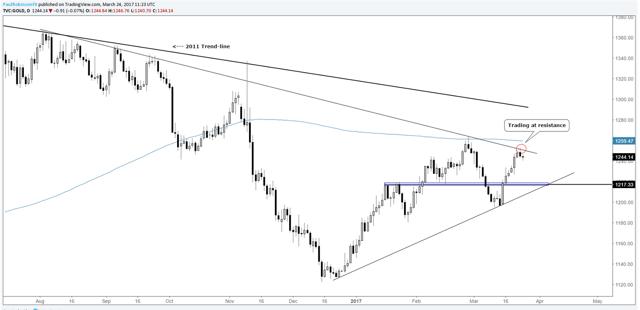 Source: Dailyfx
Interest Rate Forecast
On March 15, 2017, the U.S. Federal Reserve raised interest rates (from 0.75% to 1%) for the second time in three months. This move was spurred by steady economic growth, strong job gains and confidence that inflation is rising to meet the central bank's target, according to the report. After the rate hike, stock markets realized extended gains.
Federal Reserve chair Janet Yellen emphasized that future rate increases would be gradual; current inflation is close to 2% which is the central bank's target. Yellen went on to say:
This seemed like a good time to remind Americans that ... sometimes it (inflation) is going to be below 2 per cent, sometimes it is going to above 2 per cent. Two per cent is not a ceiling."
So although 2% inflation is the Central Bank's target, 2% is not a ceiling, according to Yellen. During a period of inflation goods and services are typically in high demand, creating a drop in availability. Consumers are willing to pay more for the items they want, causing manufacturers and service providers to charge more. Inflation has been a bit higher recently.
The Fed is projecting the unemployment rate would fall to 4.5% for 2017. The Fed's projections showed the economy growing 2.1% in 2017, unchanged from its December forecast, according to the report. On the other hand, deflation can lead to recession.
There is a direct relationship between interest increases/decreases and a stronger/weaker U.S. dollar. Increases in the federal funds rate will result in a strengthening of the U.S. dollar. Vice versa, a decrease in the federal funds rate will result in a weakening of the U.S. dollar.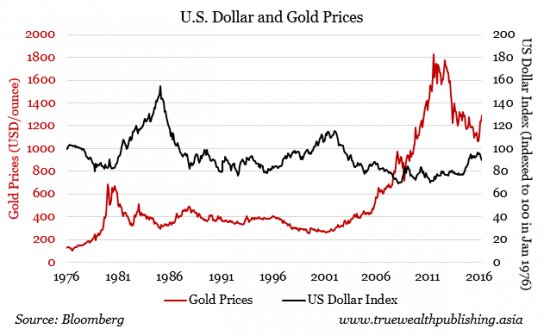 Source: Gold-Eagle
There is also inverse relationship between the U.S dollar index and gold prices. If the U.S dollar index increases, gold prices decrease. I expect the U.S. dollar index will continue to increase, and gold prices will move in the opposite direction (decrease). This strong negative correlation is apparent when you look at long-term price histories, according to Gold-Eagle. The report further says as follows:
When gold prices climbed in the late 1970s, the US dollar was struggling compared to other major currencies
The U.S. dollar climbed 88 percent higher from June 1980 to February 1985, while gold prices fell 56 percent
When the US dollar started falling in 2002, gold began a massive bull run. It climbed 55 percent over the next 35 months
When the US dollar climbed 37 percent from April 2011 to November 2015, gold prices were weak, falling 32 percent
Gold import restriction & weaker gold demand
China and India topped the list of major gold consuming countries by demanding approximately 1,834 metric tons of gold for consumption in 2015. By comparison, world gold production from mines in 2015 was estimated to have been some 3,000 metric tons.

Source: Statista
In India however, the government has been trying to aid CAD (current account deficit) with a number of measures:
Import restrictions on gold
Cancellation of 500 and 1000 rupees notes
Implementation of the gold monetization program
Import restrictions have been successful in this regard; compared to 2011 India's gold imports fell by 497 tons in 2016 as per the below chart. This was the lowest gold import total since 2009. As well, cancellation of 500 and 1000 rupees notes to move toward 2000 rupees notes contributed to lower gold import totals.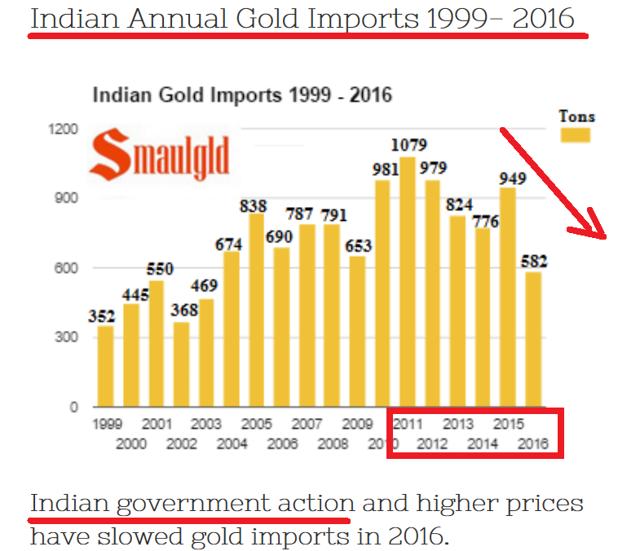 Source: Smaulgld
The gold monetization program was less successful, mostly because Indians hold gold very closely to tradition and customs, rather than as a mere investment asset. Most people were reluctant to deposit it with the government even if earning interest at 2% - 2.5% per annum. Nearly all gold held by Indian households is in the form of jewelry, but the idea was that jewelry deposited under the program would be melted down and refined to pure gold bars, adding tangible backing to India's monetary system and thereby curbing CAD. However, jewelry is a value added product and culturally important, so the program was not a success. According to one report:
India's newest gold monetization scheme has been a colossal failure. After one month, it has netted only one kilogram (2.2 pounds) out of an estimated 20,000 tons of privately-held gold.
Sentiment
We need to understand what the commercial traders are thinking in the marketplace, because they are the users and producers of the commodity, and as such are the main players. They do not use the market to speculate, but instead use it to sell forward/hedge their production or demand. The noncommercial trader includes individual investors, hedge funds, and some large financial institutions.
As per the World Gold Council, gold primarily comes to the market from mining, on average accounting for two-thirds of total supply each year (the remaining third comes from gold recycling). When bringing this gold to the market, mining companies have two options, namely:
Sell newly mined gold at the current price
Sell gold which has not yet been mined (i.e. still in the ground)
If prices are falling, gold miners may choose to hedge (sell their future production at the fixed price) their production in order to protect themselves against price fluctuations. The main disadvantage there is that if gold prices go up they would lose opportunity, which means that their profit potential is limited.
As of March 21, 2017, commercial traders are holding Short Positions of 230,279 contracts versus 101,282 commercial long contracts, which tells us that the sentiment is bearish and they expect that prices may fall. Generally, people short when they think the market is going to fall but a stock with high short interest ratio may show a bullish trend in near future, as there will be upward pressure on the stock arising from short sellers covering their positions. I believe that in terms of commercial traders' short positions indicate a bearish signal.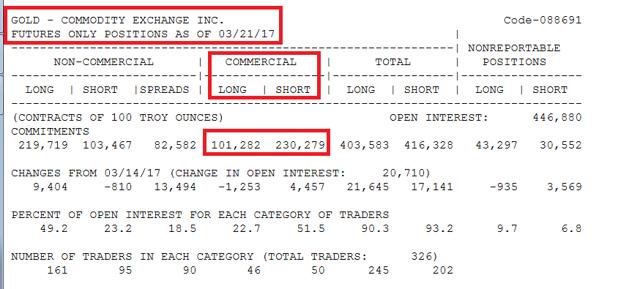 Source: Gold Commodity Exchange Inc.
Conclusion
The economy will continue to grow at the current level of inflation, and the U.S. dollar will continue to appreciate against other currencies. India's gold importation total for 2011 was 1079 tons versus 582 tons for 2016, which is about a 50% reduction. Commercial trader's short positions outweigh long positions, the result of which is a bearish sentiment. I expect gold should touch $1,050 an ounce, which is 2015's low level.
Based on my analysis, I recommend the followings stocks as a SELL and/or SHORT:
(NYSEARCA:NUGT) (NYSE:ABX) (NYSE:NEM) (NYSE:AU)
I recommend (NYSEARCA:DUST) as a BUY. Please keep in mind the risks regarding long-term holdings of leveraged ETFs. Note: Get my articles as soon as they are published by clicking the big orange "follow" button at the top of this page.
Disclosure: I am/we are long DUST.
I wrote this article myself, and it expresses my own opinions. I am not receiving compensation for it (other than from Seeking Alpha). I have no business relationship with any company whose stock is mentioned in this article.