For those of you wondering where I have been, there are several things that happened to me over the past 2 months that hindered my writing time: moving back home from Florida, the loss of my mother and helping take care of the details with her estate. To get you up to date, I invested in 2 issues that I'd like to share with you today. But before we examine them, if you are following my articles, I sold off any preferred issues if they exceeded their call price. That includes many preferred issues mentioned in my articles over the past 12 months. The 2 issues covered below replaced some of them to keep the cash arriving to finance my retirement lifestyle.
Brookfield Real Assets Income Fund (NYSE:RA), a CEF that currently offers a 10.5% yield, pays just short of $0.20 per month and currently sells for about $22.65 per share. RA's market price is selling at a 9% discount to NAV probably because it is only 4 months old. The asset allocation and credit ratings of its fixed income securities are shown below: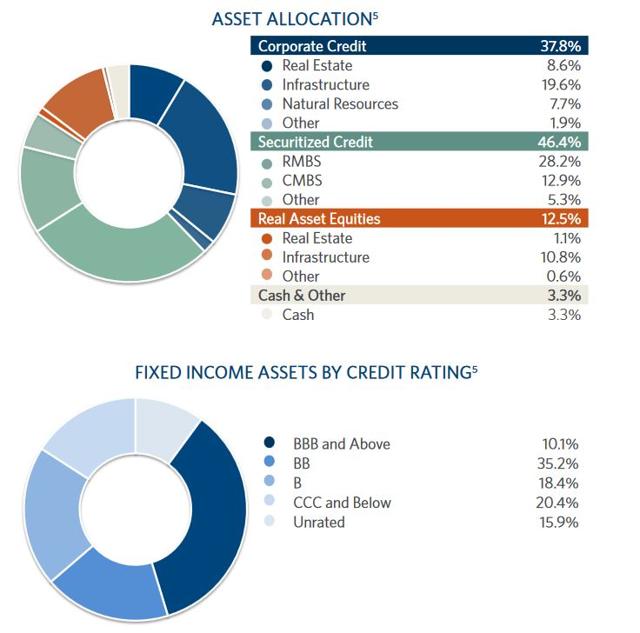 Source: Brookfield Web Site
The top 10 holdings are shown below: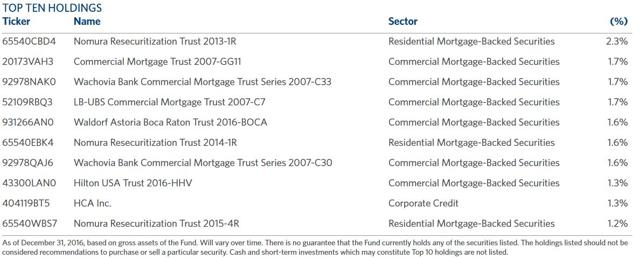 Source: Brookfield Web Site
There are several caveats one should understand before investing in this fund. First of all, it currently uses about 24% leverage. As most of you know, leverage tends to create higher highs and lower lows as markets for its securities move up and down. Management of this fund has agreed to cap all expenses including interest on its loans for leverage at 1.03% for 2 years from October 2016 moving forward. This cap came as a result of Brookfield restructuring its portfolio by folding 3 funds together at the end of 2016 to form RA. Since RA is a combination of these funds, it has a very short history. My interest in this CEF revolves around 2 things: its high yield and its discount from NAV. Keep a close eye on this CEF going forward to make sure it continues to earn its place in your portfolio if you buy it.
TICC Capital Corp. (TICC) is the other issue purchased for my accounts. TICC is currently selling for a little over $7.00 per share with an asset value of $7.50 per share as of 12/31/2016. It currently yields 11%, which is paid out quarterly at $0.20 per share. One needs to know that TICC's dividend was recently reduced to $0.20 from $0.29 per quarter, which more accurately reflects its net investment income. TICC's history of market prices and dividends is shown below: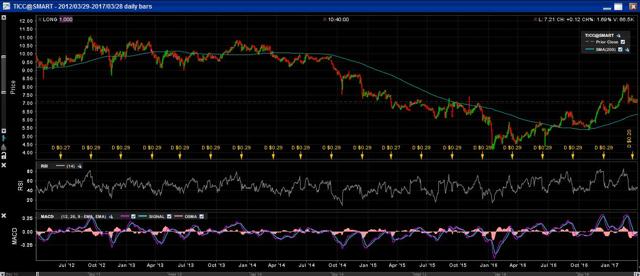 Source: Interactive Brokers
TICC is a business development company (BDC) that provides capital for established businesses but also invests in syndicated bank loans and equity tranches of collateralized loan obligations. As of 12/31/2016 two-thirds of TICC's investments were in senior secured debt. A graph showing its investments by type is shown below: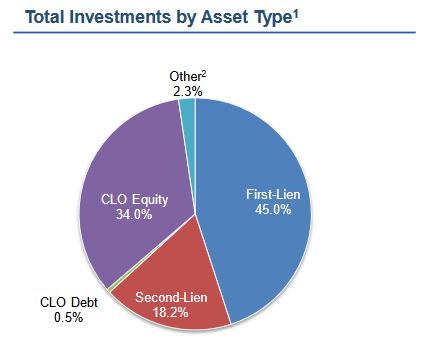 Source: TICC Web Site
During the last quarter TICC reduced its debt from $330 million to $226.5 million, thereby reducing its debt to equity from 0.86 times to 0.57 times. Over the past 6 months three different insiders purchased a total of 75,000 shares at $7.04 per share on the open market. It is also important to note that The Street has a Buy, S&P Capital IQ has a Strong Buy and Ford Equity Research has a Strong Buy on the issue.
It appears that TICC has put its house in order, offers a good dividend and has an actual asset value higher than the market price of the stock. All indications are signaling a buy for the issue with one minor caveat and that is the possibility that the FED will increase interest rates again this year. If interest rates spike up 1% or 2% over the next 12 months, it would greatly decrease the value of TICC's investments.
Disclosure: I am/we are long RA, TICC.
I wrote this article myself, and it expresses my own opinions. I am not receiving compensation for it (other than from Seeking Alpha). I have no business relationship with any company whose stock is mentioned in this article.