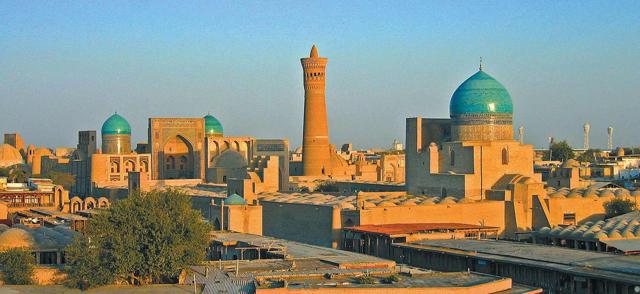 Where in the World to Invest? A Search of the Globe
Elliott R. Morss ©All Rights Reserved
Introduction
It is easy to remain fixated on the US. Buoyed on by the Trump Presidency, US stocks continue up. But as measured by standard indices such as price/earnings ratios, US markets are high.
So where else, and by what standards do we choose?
Regional Growth
Consider first what is happening regionally as measured by projected GDP and population growth rates. Table 1 indicates that the populations of Sub-Saharan Africa are growing most rapidly followed by North Africa and the Middle East. Rapid urbanization is slowing growth rates in other regions. Population growth will at some point become a spur to economic growth as demand from growing middle classes emerge. When it comes to present-day economic growth, Asia leads all other regions.
Table 1. - Projected Population and GDP Growth Rates, By Region

Source: FocusEconomics
Countries
From regions, I went to countries with populations of 5 million and up. I screened out countries facing significant political and military uncertainties. And, as in Table 1, I look at countries using economic and population growth as proxies. I also include the size of the government deficit as an indicator of how well the government is managing the country's finances. Green indicates an impressive number while red signifies a problem area.
Remember BRIC - Brazil, Russia, India, and China. And, at one point, I thought Brazil would be one of the leading countries in the first half of the 21st century. And Russia has serious problems. I worry about India's rapid growth and its failure to invest in needed infrastructure. China made the infrastructure investments but is now in the tricky process of transitioning from a country driven by export growth to one trying to satisfy the demands of a rapidly growing middle class.
Costa Rica, the Dominican Republic, and Peru are my choices in South America. They have progressed steadily over the last decade. The population and GDP growth numbers for the Côte d'Ivoire and Ghana are impressive. In Eastern Europe, Uzbekistan is growing rapidly and is actually running a small government surplus!
In Asia, my favorites are Cambodia, Thailand, and Vietnam. They are "smaller" countries but they have demonstrated the ability to grow steadily, even during political uncertainties. As I have written, India worries me. A democratic form of government is not well suited for a rapidly developing country.
Table 2. - Promising Countries for Investments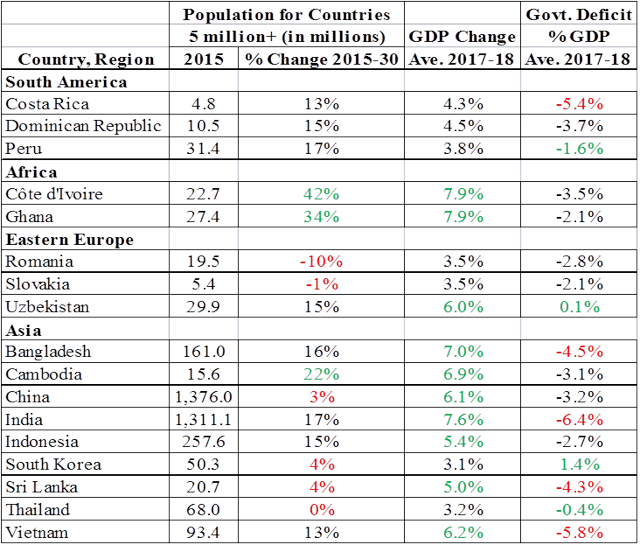 Sources: IMF, FocusEconomics
Investment Vehicles
Table 3 provides information on how to invest in countries I have mentioned above. If a country-specific ETF is not available, I would not invest without physically visiting the country and finding someone I trust to handle transactions.
Table 3. - How to Invest in Selected Countries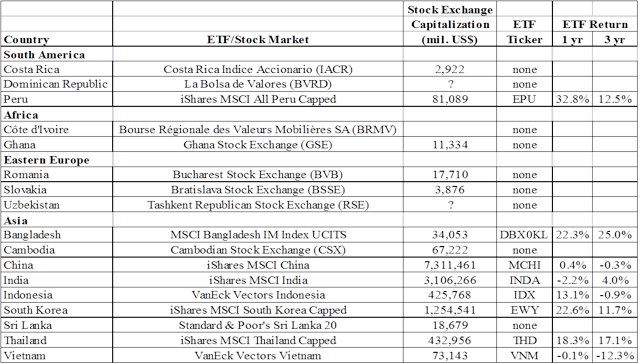 Sources: World Federation of Exchanges, Yahoo Finance, Bloomberg
The above is a starting point for research on investing around the globe.
Disclosure: I/we have no positions in any stocks mentioned, and no plans to initiate any positions within the next 72 hours.
I wrote this article myself, and it expresses my own opinions. I am not receiving compensation for it. I have no business relationship with any company whose stock is mentioned in this article.