By Matthew Carr, Emerging Trends Strategist, The Oxford Club
The casualties are mounting. And the deaths now number in the thousands. There's nothing that can stop it. It's a trend that began years ago and is going to only pick up speed.
For investors who heeded my warnings the past couple of years, they've protected themselves and found ways to profit. For others, you must figure out why you're still living in denial.
I've spent much of the past several years telling you that the death of malls is on the horizon. Some people chimed in and claimed that was "fake news"... because that's what we yell out nowadays when we're confronted with something we don't want to hear. But the trend is real - and irreversible.
As in any market, once you reach a point of oversupply, the bubble bursts. And the U.S. retail brick-and-mortar space was - and still is - the most bloated in the world. In the U.S., there is 23.5 square feet of retail space per person... That's more than the next two closest countries combined.
Over the next several months, 3,500 retail stores will close.
Recently, Sears (NASDAQ:SHLD) basically admitted that it's done. It's closing 10% of its Sears and Kmart locations and stated it has "substantial doubt" about its ability to continue.
Of course, people argue its land holdings are worth billions. But that's overly optimistic at best in my opinion.
J.C. Penney (NYSE:JCP) is shutting 14% of its stores. Macy's (NYSE:M) and Nordstrom (NYSE:JWN) are shutting down locations as well.
So we're seeing a mix of high-end and discount retailers being hit...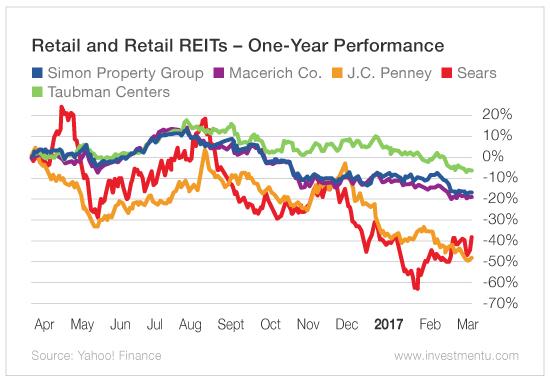 Plus, Wal-Mart (NYSE: WMT) announced it was closing 269 stores worldwide last year, with 154 of those locations being in the U.S. Even Warren Buffett dumped all his Wal-Mart stock.
Over the past 12 months, retail shares have been in the toilet. Shares of J.C. Penney and Sears are down more than 30%. Meanwhile, the damage to retail REITs is just starting to pick up speed...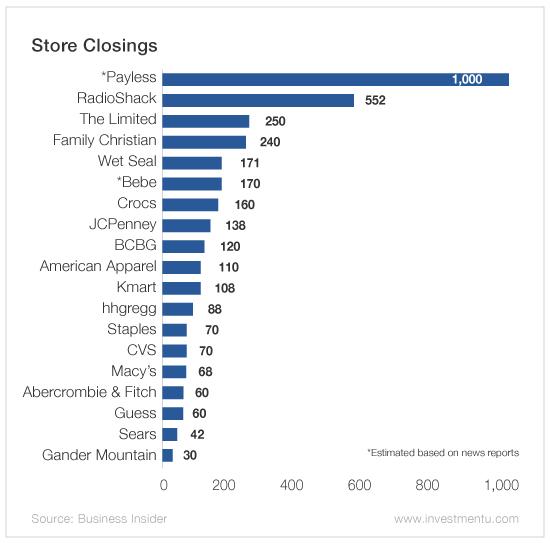 Simon Property Group (NYSE:SPG) and Macerich Company (NYSE:MAC) are down 20%, as Taubman Centers (NYSE:TCO) is down nearly 10%. As retailers pull out of malls, mall operators are stuck trying to fill empty space.
And the only growth we've seen in the mall space are outlets. But that's likely a short-lived trend from my perspective.
The internet is killing retail. And with vigor.
Some retailers like Macy's and Nordstrom have pushed heavily to beef up their e-commerce presence. But it's not enough. Amazon (NASDAQ:AMZN) and mobile are devouring retail. And most companies are simply in survival mode - let alone figuring out how to catch up.
Just this past week, we saw that GameStop (NYSE:GME) is closing 150 stores as it struggles. Video game sales have moved online, with Electronic Arts (NASDAQ:EA) and other video game makers offering their own online stores. As I've stated before, there's no real reason to have a brick-and-mortar game reseller like GameStop... It's a dead concept.
By 2030, it's estimated that 50% of all retail sales not tied to bars and restaurants will move online. Right now, that percentage is between 11% and 14%, approximately $373 billion in 2016. But by 2020, this will grow to $500 billion. And by 2030, it would be close to $2.5 trillion annually.
Wal-Mart is in the midst of fighting back. The company is looking to move beyond discount superstores and has purchased several trendy online retail sites in recent months. These include ModCloth, Moosejaw and ShoeBuy. And last year, the discount retailer bought Jet.com (JET), which includes online home furnishings store Hayneedle.
These acquisitions are very different from Wal-Mart's typical low-price goods. At ModCloth, dresses typically sell for anywhere between $60 and $150. Dresses at Wal-Mart stores typically go for $10 and $25.
Just like brick-and-mortars, the middle class is dying. So Wal-Mart needs to try to bring in money from more affluent customers.
But again, this is survival mode.
Now, the great thing about the death of brick-and-mortars and malls is that retailers can get rid of those costs. We've already seen a considerable amount of pain for investors in the retail space for a couple of years now, with 2016 being the worst.
The bloodletting should ease up. And once all that waste is disposed of, we should start seeing exponential sales growth as more and more retailers start relying on the web for the majority of their revenue.
Malls are being gutted, closed and torn down. The deaths are going to mount. They're already in the thousands. But the strong will survive. And they'll likely be the strongest they've ever been. So investors should cheer the destruction as we wait for the remaining blood to be spilled.
Disclosure: We expressly forbid our writers from having a financial interest in their own securities recommendations to readers. All of our employees and agents must wait 24 hours after online publication or 72 hours after the mailing of printed-only publication prior to following an initial recommendation. Any investments recommended by Investment U should be made only after consulting with your investment advisor and only after reviewing the prospectus or financial statements of the company.