Crude oil (NYSEARCA:USO) seems to have regained its 200-day moving average which may have put my recent bearish argument on hold for the time being. Furthermore, with stocks (NYSE:SPX) clearly demonstrating that they have more than likely printed a daily low, crude may find it difficult to keep falling from present levels. From my calculations, we are on week 18 in this present intermediate cycle in crude oil. Intermediate cycles in oil can usually last 30+ weeks so there is every chance that we may get another daily cycle at the tail end of this intermediate cycle. I still though would recommend caution going long oil here for a number of reasons unless one uses tight stops accordingly. Although a short-term bounce looks on the cards here, there is still meaningful risk to the downside.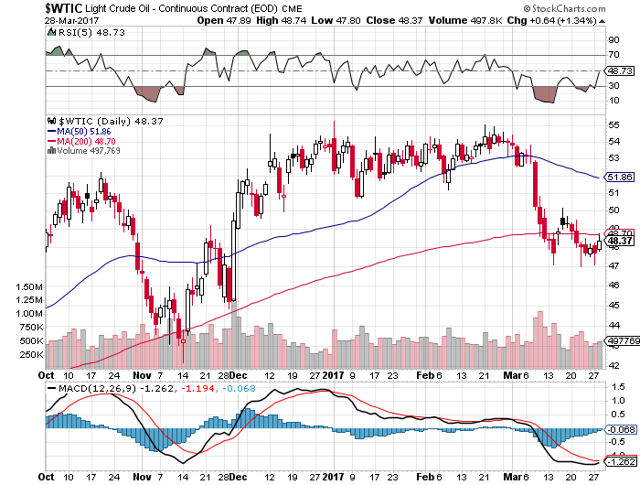 The first reason is pretty self explanatory. If you look at the chart above, you can see crude (thus far in this intermediate cycle) topped out just before the turn of the year last December. This is bearish in the sense that rising intermediate cycles usually top in the second part of the cycle (well past 50%). Now bulls may say that this intermediate cycle has not topped yet especially if we get another strong daily cycle. However, personally, I just can't see it as crude oil would have to rally almost $7 a barrel just to reach last December's highs. Essentially, the selling has been too aggressive in March thus far and this could have ramifications for the rest of this intermediate cycle.
The ramifications are that there is a distinct possibility that last November's lows in crude oil could be taken out and here is why. When an intermediate cycle tops early (in the first stage of the cycle - less than 50%), it is quite common to see the previous intermediate low being breached. As the chart illustrates above, this would be close to the $42 level which a good 14% down from where we are trading at present. Whereas the equities chart looks much stronger (as it continues to make higher highs every cycle), I don't believe crude oil will be able to take out its December highs which means its intermediate decline will probably be much steeper than stocks.
Secondly, crude oil's long-term sentiment reading is at the 42 level. Longs should actually be pleased with this number as the December highs had this number at well over 60. However, for a true intermediate bottom to take place, we need this number much closer to 30 and preferably lower than it. I reckon we will get there over the next few months as we should see a swift move to the downside.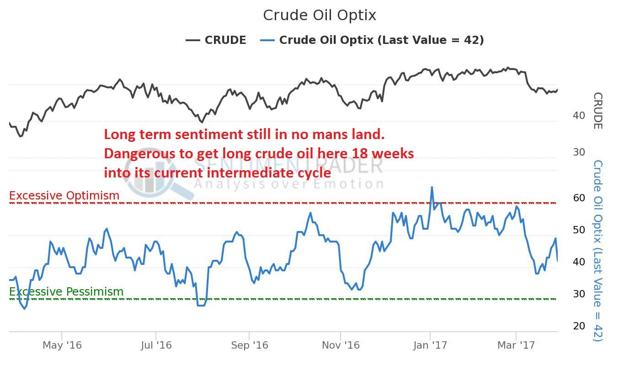 Source: Sentimentrader.com
What could fool many energy bulls here are technical indicators (such as the weekly stochastics) and momentum indicators such as RSI (relative strength index) as both of these indicators look oversold even on a weekly setting. However, volume in the leveraged energy ETF (NYSEARCA:ERX) is still tame, and as mentioned previously, I don't like getting long something so late in its intermediate cycle.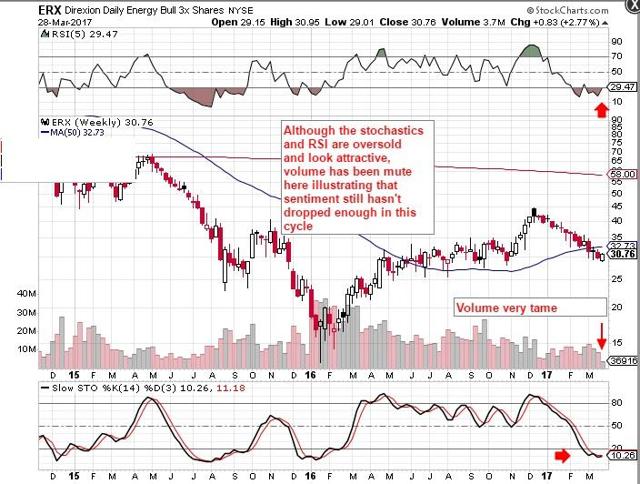 Therefore, I wouldn't be buying this bottom here. Yes, we may get a nice bounce, but I feel lower prices are coming and we will be prepared. Patience is bitter, but its fruit is sweet.
Disclosure: I/we have no positions in any stocks mentioned, and no plans to initiate any positions within the next 72 hours.
I wrote this article myself, and it expresses my own opinions. I am not receiving compensation for it (other than from Seeking Alpha). I have no business relationship with any company whose stock is mentioned in this article.