Introduction
As a hedge fund, we are on a constant look out for mispricing across assets in a multitude of markets comprised of commodities, equities, bonds and currencies. Our latest research is pointing us towards the existence of such a mispricing in natural gas compression service providers in the United States (US).
One of the data points we monitor is the demand composition of natural gas. As per the most recent consumption data published by the Energy Information Agency (EIA), there seems to be a strong underbelly of demand building up at a time when prices are near a two-decade low. Whether or not this increasing demand will manifest itself in to significant price gains for the commodity is entirely dependent on how fast the supply can keep up with the demand growth. To be safe, even if we assume that new supply will be able to offset any new demand and that prices will stay flat over time, the one thing we can certainly count on is an increase in the number of molecules of natural gas in the pipeline system in the US.
Compressors play a vital role in the production, storage, and transportation of natural gas. So any growth in natural gas consumption will have to involve a parallel growth in the total horsepower required to compress this additional gas. Natural Gas Compression Service Providers in the United States are beautifully positioned to offer a patient investor great value and attractive growth over the next several decades; but within that subsector, in our view, the one company that stands out as a hidden gem is Natural Gas Services Group (NYSE: NGS).
We have constructed our argument on four pillars of reason:
Natural Gas - the commodity pillar
Natural Gas Compression - the demand pillar
Natural Gas Play - the risk pillar
Natural Gas Services Group - the value pillar
Natural Gas - the commodity pillar
One of the commodities we regularly monitor is natural gas (NYSEARCA: UNG, NYSEARCA: UGAZ, NYSEARCA: BOIL). Natural Gas prices in the US may have had many intermediate fun rides to the upside but have been in a long secular downtrend. All of the natural gas data that we regularly monitor have been signalling a major turn-around in demand ahead. Our suspicion is that this will also translate into a turn-around in prices.
Prices have gone nowhere since the 90s: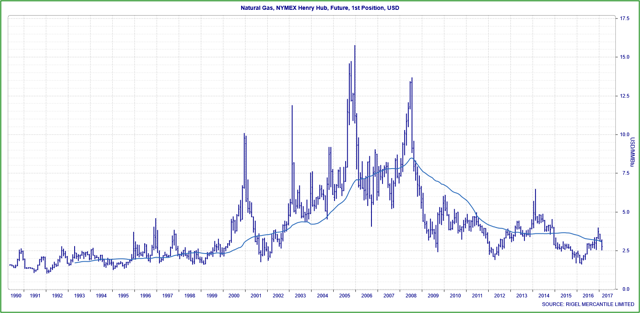 The funny thing about a commodity is that its price is its only remedy. The fact that natural gas prices demonstrated tendencies to rise over $10 is what led to its demise. No utility, or industry wanted to switch over their operations to use natural gas for fear of volatility. For the last eight years, however, a combination of a multitude of factors, viz. low natural gas prices, reduced volatility, increased coal plant retirements, climate-impacts-of-coal-and-natural-gas, etc. have contributed to a healthy underlying demand trend for natural gas.
In our view, natural gas offers great value to a long-term investor, if for nothing else then at least for the fact that it is perceived, by the world at large, as a cleaner alternative to most fossil fuels. From a consumption-forecast point of view this is great because this creates a perpetual political incentive to push for natural gas consumption across the world; a transition to LNG is underway in India, as per the recent budget they slashed the customs duty on LNG imports in half but all of that is just anecdotal evidence.
Let's look at some facts; recent data published by the Energy Information Agency confirms that a healthy consumption pattern is underway. While industrial consumption, which happens to be the second largest component of total natural gas demand, hasn't done much over the last twenty years, the consumption of natural gas by utilities, which is the largest component of total natural gas demand, has grown phenomenally over the same time period.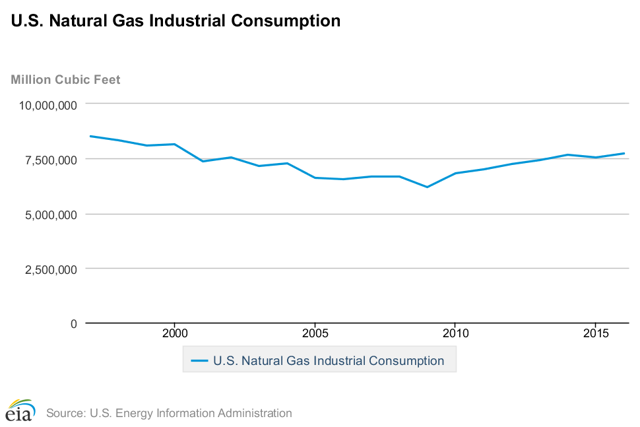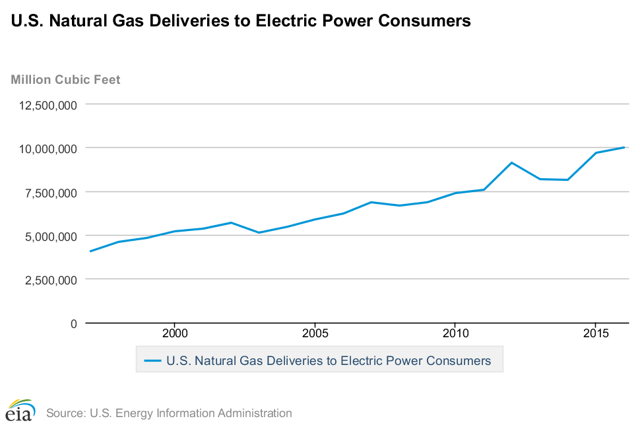 While the total consumption of natural gas by utilities has been steadily increasing, their total expenditure on natural gas is near its decade-lows due to the low commodity price. This is a bullish underpinning for natural gas consumption by utilities because this implies that the commodity price needs to go much higher before utilities even start to think about alternatives.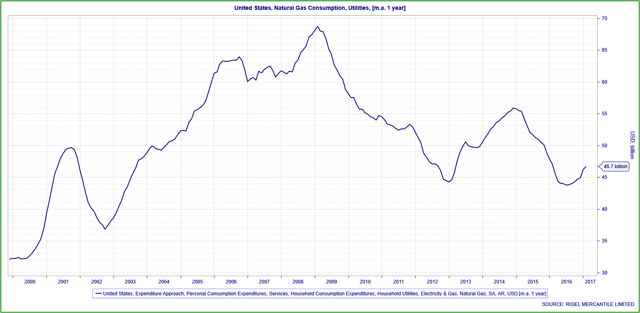 Vehicle fuel consumption is showing a healthy increase as well but in terms of total demand this doesn't even move the needle. Total vehicle fuel demand constitutes less than 20 basis points of total natural gas demand but that's the picture today, which means that the only shock from this segment can be to the upside.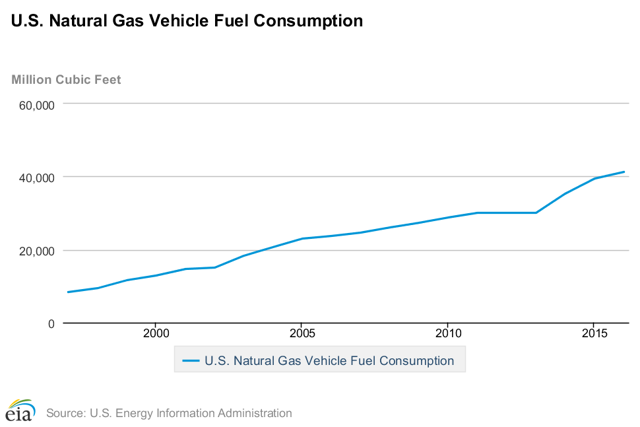 According to data published by the EIA on the total exports and imports of natural gas, total exports are increasing while the total imports are falling. Increasing total net exports is a bullish underpinning for future natural gas demand in the US.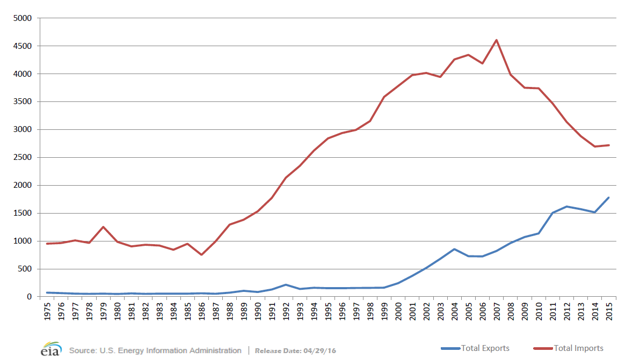 The weekly storage report that is published by the EIA confirms this strong underlying demand for natural gas. Below, we have plotted year-over-year rate of growth in inventories on the first panel and year-over-year rate of change in price in the second panel. Firstly, note the strong inverse correlation between the two panels and secondly, note that the most recent trend in rate of change of inventories is to the downside. This suggests that a turning point in natural gas prices to the upside is likely.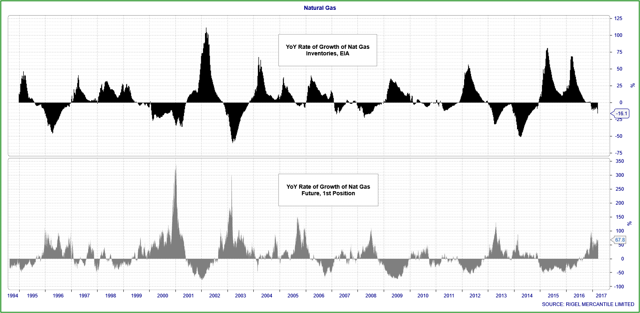 A deeper look at the commodity futures markets reveals the underbelly in consumption patterns. The speculative community in the futures market has definitely smelt something, the net long position is around 19% of total OI, a near 52-week high.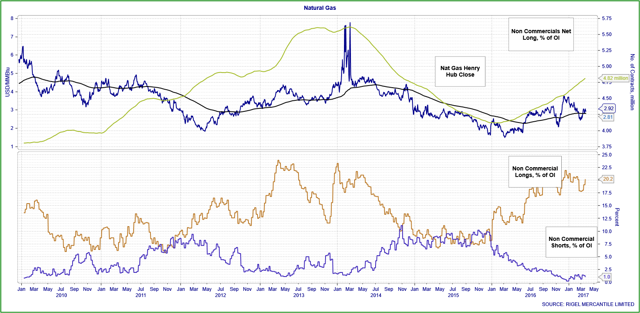 A complement to the analysis of speculative positioning is the ADF indicator, which measures open interest relative to inventories. Any anxiety that the speculative positioning brings this indicator takes away. The financial interest in natural gas, as measured by open interest, is rising faster than inventories, which suggests that this is a case of producers having oversold rather than speculators having overbought.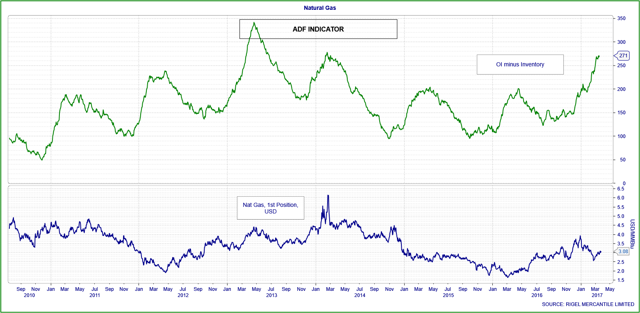 Natural Gas Compression - the demand pillar
As a general rule of thumb, the deeper we go into the earth's crust greater the pressure and higher the temperature. In the early stages of extraction because the pressure is greater at the deposit site, the gas readily flows higher into the pipe and up the well but as gas is extracted the pressure in the well drops and because of this gas no longer flows into the pipe and up the well. Unless a compressor is deployed to increase the pressure in the well to force the gas out. So, natural gas compressors are an essential component of natural gas production.
It doesn't stop there!
Natural gas compression is a mechanical process that increases the pressure on a given volume of natural gas making it easy to transport the gas from point A to point B. This process is essential not just in the production but also in the transportation of natural gas. So, natural gas compression systems are custom designed for wellhead and gathering systems, pipeline transportation systems, storage facilities, processing applications, etc.
To give you an idea of how essential compressors are in the transportation process, below is a map (it's dated but it's the latest they have) published by the EIA, it depicts the pipelines and the compression stations that make up the US natural gas pipeline grid.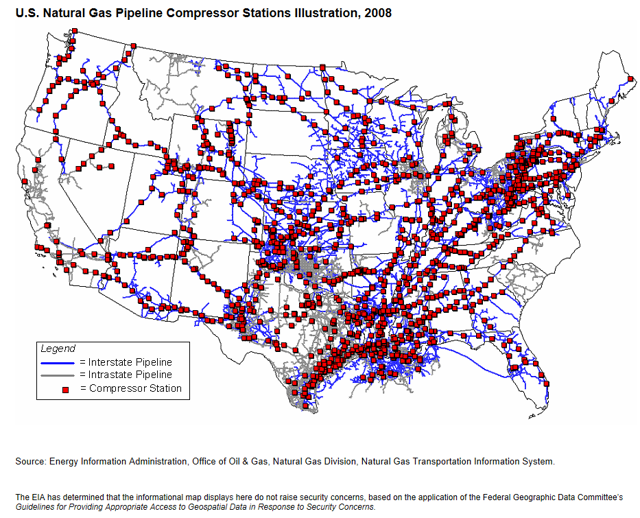 Shale gas wells tend to produce at very high pressures and flow rates initially, but they decline rapidly to a lower level that is sustained for many years. As the pressure declines, gas compressors must be deployed to boost the gas pressure high enough to push it through pipelines to market. Just as the heart is vital to collecting and pumping blood throughout the body, a gas compressor collects natural gas from underground wells and "pumps" it to market."
A page from US natural gas compression history
In 1996 there were 1,047 mainline compressor stations, with installed horsepower of about 13.4 million and a combined throughput capability of approximately 743 billion cubic feet per day. In 2006 there were 1,201 mainline compressor stations, 16.9 million installed horsepower, and a throughput capability of 881 Bcf per day. While it might seem as though this 26-percent increase in installed horsepower and 19-percent increase in throughput capacity during that period materialized due to increased production/consumption of natural gas, the truth is that both natural gas consumption and production were lower in 2006 than they were in 1996. EIA identifies the following four reasons for the increase in compression capacity in that period:
New domestic production sources were developed in areas that required installation of new natural gas pipeline systems or expansion of existing ones.
As domestic natural gas production reached a plateau during the 1990s, demand increased for Canadian natural gas supplies and new pipelines to transport them were created.
Major growth in the number of large-volume natural-gas-fired electric power generating plants required additional capacity in specific markets.
Regulatory demands to reduce the environmental footprint of compressor stations increased the scale of station revitalization and retrofits with improved technology.
All four points mentioned above are just as relevant today as they were ten years ago:
Proven natural gas reserves have, in fact, increased significantly since 2006.
Today we are talking about building pipelines to the south, to Mexico, rather than to the north.
Natural gas consumption by utilities continues to show a robust pace of growth.
US grid modernization is likely to continue for years to come. Deloitte published a report recently on the 2017 outlook on power and utilities, in which they summarize the current state of the grid system in the US:

Upgrading aging infrastructure - It can be said that Thomas Edison would likely recognize much of today's utility infrastructure. A large portion of today's utility infrastructure was built 50-70 years ago, often based on early 20th century designs. In 2016, investor owned utilities (IOUs) spent about $44 billion upgrading the electric transmission and distribution (T&D) system and modernizing the grid with information and communications technologies.
Grid modernization - While this subset of T&D spending totaled about $2.8 billion per year in 2014 and 2015, the Electric Power Research Institute (EPRI) estimated between $17 and 24 billion would be needed annually through 2030 to fully deploy smart grid technologies. The US Department of Energy (DOE) recently allocated $220 million to smart grid funding, but that doesn't come close to filling the $15-20 billion annual funding gap.
Generation/environmental/renewables - IOU capital expenditures hit nearly $40 billion in this category in 2016, driven largely by fuel-switching, as older coal plants were retired and replaced largely by natural gas and renewables. Complying with US Environmental Protection Agency mandates and increasing state renewable portfolio standards was another big driver of capital spending that's likely to continue.
Natural gas pipelines, storage, and distribution - Electric and gas IOUs spent nearly $23 billion on gas distribution system upgrades and shale gas production infrastructure in 2016. About 96,000 miles of US natural gas distribution mains and seven percent of service lines to US homes and businesses are constructed of materials now considered leak-prone, and they may take up to 30 years to replace. In addition, the US Pipeline & Hazardous Materials Safety Administration proposed new gas transmission pipeline safety regulations that it estimates could cost $597 to 711 million to implement over a 15-year period, and some industry estimates are significantly higher.
So, even if we assume no growth in natural gas demand over the next decade, the amount of horse power required for natural gas compression will certainly increase. This is a bullish underpinning for natural gas compression service providers in the US. The US natural gas compression services industry will benefit from increased natural gas production in the US, ageing wells that will require increasingly more compression, increased demand for power generation, increased liquefied natural gas exports, pipeline to Mexico, etc.
The US natural gas pipeline grid
The US natural gas pipeline grid is a delicate balancing act. Transportation of natural gas molecules requires a pressurized environment and, therefore, the pressure inside natural gas pipelines has to be maintained within a certain range. At any given point in time, the total balance of molecules within the pipeline grid must be maintained at the same level to maintain constant pressure in the pipes. If there is a decrease (increase) in the number of molecules in the system the pipeline issues a low (high) inventory operational flow order and imposes a penalty on any consumer who draws (adds) molecules from (to) the grid without prearranged supply (demand) from a producer (consumer).
Natural gas producers/pipelines have a choice, they can either choose to invest capital and acquire compressors or just rent them from compression service providers. Most do both, they invest in compressors to satisfy their fixed compression needs and rent compressors to satisfy their variable compression needs.
The imposition of this balance on producers, consumers, and the pipeline grid means that they all need to have the flexibility to produce, store, and transport natural gas on a variable basis. This means that those natural gas compression service providers that have built their business models around renting compressors rather than selling them will be better positioned to capture any volatility in production and distribution resulting from major weather disruptions. For e.g., a really cold 2017/2018 winter in the southern US.
Natural Gas Play - the risk pillar
There are four distinct ways to bet on a rising trend in natural gas consumption:
Buy natural gas futures.
Buy natural gas ETFs.
Buy natural gas producers.
Buy natural gas compression service providers.
The problem with the first approach is that this market trades at a steep contango. What this means is that the front month contracts on the futures curve trade at steep discounts to the farther month contracts. As of Friday's close, April natural gas futures contract that expires at the end of this month closed at $3.076, the May contract closed at $3.153, June contract closed at $3.228, the July closed at $3.297, and August closed at $3.321. If an investor were to buy the nearest contract and hold it for the next few months, then that investor would have to continuously roll higher, meaning constantly sell the front month low and buy the next month high, not a very wise thing to do unless the investor's expectation is a significant appreciation in spot prices to offset this roll cost.
A chart of the forward curve below, note the steep contango: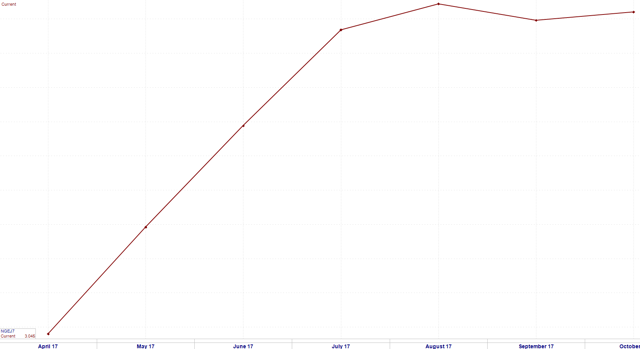 The problem with the second approach is that all ETF plays on natural gas use Henry Hub natural gas futures as their underlying. Commodity ETFs are great when the underlying commodity is trading at a backwardation (the opposite of contango) but when the forward curve is as steep as it is in natural gas, it is hard to justify them as the best trading vehicle. Most ETFs that use futures as their underlying, in general, are ill-designed to cope with the roll costs.
The option to own natural gas producers like BP (NYSE: BP), XTO Energy (NYSE: XOM), ConocoPhillips (NYSE: COP), Chesapeake Energy (NYSE: CHK), etc. is a good way to play the natural gas consumption trend. While it does not have any technical disadvantages like the first two options, the one major disadvantage that this option has, in common with the first two, is that it results in the investor acquiring a significant beta on the price of the commodity.
The fourth option, which is to own natural gas compression service providers like Archrock Partners (NASDAQ: APLP), USA Compression (NYSE: USAC), Tesco Corporation (NASDAQ: TESO), CSI Compressco (NASDAQ: CCLP), Natural Gas Services Group, etc. in our view, is the best option to bet on a rising trend in natural gas consumption because while natural gas compression service providers greatly benefit from an increase in production and distribution, they are not as terribly affected by commodity price declines. This offers investors the upside to natural gas consumption while protecting them from any possible downside in commodity prices.
So, from a risk point of view a long position in natural gas compression service providers offers the best risk-adjusted return if you want to bet on a rising trend in natural gas consumption.
Natural Gas Services Group - the value pillar
So far, we have established a bullish case for natural gas compression service providers in the US but now we will go one step further and make the case that among natural gas compression service providers, Natural Gas Services Group, a small scale natural gas compression provider with a total fleet of around 2000 natural gas compressors and a compression capacity of around 350,000 horsepower, has the biggest upside.
Company Overview
NGS is a leading provider of compression equipment to the natural gas industry. They manufacture, fabricate, rent, sell and maintain natural gas compressors and flare systems for gas and oil production and plant facilities. While the 3 core operating segments of this company are rental, sales, and services by far the largest contributor to the company's top line is their rental division, which operates at a gross margin of 62.4%, in line with peers, and contributes 80% to total revenues. Their rental business is focussed on the non-conventional gas and oil industry (coalbed methane, gas and oil shale and tight gas) and they provide rental of small to medium horsepower compression equipment to customers on a contract basis. These contracts typically range from 6 months to 2 years.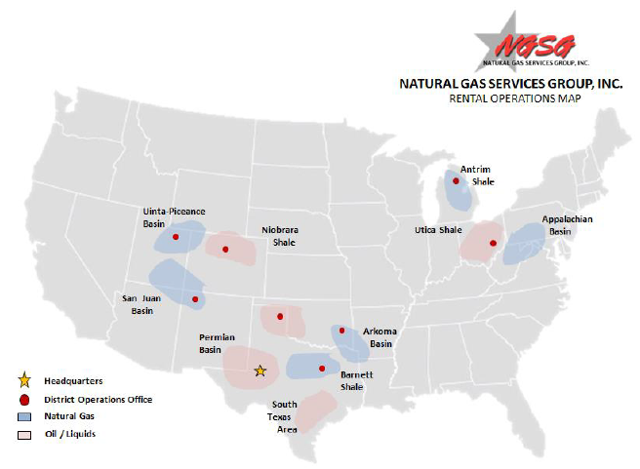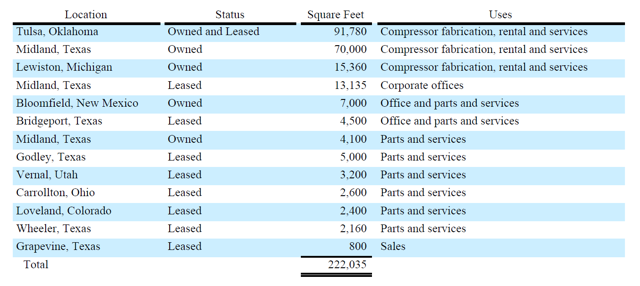 Company Management
Under NGS's Corporate Governance Guidelines, their Chief Executive Officer also serves as their Chairman of the Board, and that person is responsible to the Board for the overall management and functioning of the company. The Board believes that Mr. Taylor's detailed and in-depth knowledge, of the issues, opportunities and challenges that face their industry, makes him the best qualified director to develop agendas that ensure that the Board's time and attention are focused on the most critical matters. Mr. Stephen C. Taylor has been the CEO and President of NGS since 2005. Mr. Taylor worked with Halliburton Company for more than two decades working in their engineering, sales and operational divisions throughout the U.S. and in various management positions including as Vice President of Operations before NGS. NGS is run by a veteran in this space; the company is in highly qualified hands.
Company Strategy
Right from the get-go, NGS's strategy has been to concentrate on the small to medium horsepower, wellhead rental compression market, with a special focus on unconventional natural gas reservoirs, which, by the way, has been the single largest and fastest growing gas source in the US. This focus on the rental business model has worked extremely well for NGS highlighting the synergy that exists between producers and service providers. The advantage to natural gas producers of outsourcing their compression needs is that by doing so they can easily ramp up, or down, their production without being too concerned about the variable equipment run time. Outsourcing also allows them to reduce their compressor downtime, operating and maintenance costs and capital investments.
In addition, they also fabricate natural gas compressors for sale, designing compressors to meet unique specifications dictated by well pressures, production characteristics and particular applications for which compression is sought. NGS is the only rental company with a proprietary compressor brand.
The Natural Gas Compression Industry - the competitors
Considering NGS's niche focus on catering to the compression needs of unconventional natural gas plays, in our view NGS's main peers can be boiled down to two: Archrock Partners and USA Compression Partners.
While both APLP and USAC are substantially larger than NGS, APLP has a total compression capacity of around 3.8 million horsepower and USAC has a total compression capacity of around 1.7 million horsepower, both substantially higher than NGS, which has an aggregate compression capacity of around 0.3 million horsepower.
While all three are natural gas compression service providers, if you take a closer look at the business models of APLP, USAC and NGS a synergy emerges:
A little over 60% of APLP's fleet is made up of compressors with capacity of 1,100 horsepower or greater. This puts them in the medium to large compression segment. USAC is focused on the 1,500+ horsepower, or the large-extra large segment. NGS is focused on the 500 horsepower or less range, or the small to medium compression segment. The fact that the three operate in three different segments within the compression industry makes each of them a great play.
Among the three, APLP and NGS operate with very similar business models with their main focus on the rental compression space and APLP has a fleet of 7,364 compression units while NGS has just over 2,500 units each. While APLP has a substantially larger inventory of compressors relative to NGS here's the thing about unconventional drilling, the pressure dynamics in each well is different from the other, which means that each well will need its own custom fabricated wellhead compression system and each field will need its own custom fabricated pipeline compression system, etc. In such a scenario, large compression service providers who have pre-existing large fleets of compressors might find themselves lagging behind smaller companies in adapting and responding to quickly changing fabrication needs of unconventional shale gas producers. In a changing world, compressor inventory will become a weakness, not a strength. So, even on a relative basis we like NGS over APLP and USAC.
Company Strengths
These are the reasons we believe NGS is a hidden gem among natural gas compression service providers:
The vast natural gas deposits discovered in the US are in the unconventional shale space and NGS's main focus is in this space. NGS is a provider of shale-engineered wellhead gas compression equipment and has the largest and fastest growing wellhead oriented rental fleet in the US. Their fleet has grown at an annual rate of 17%.
NGS's primary business model is compressor rentals, as opposed to compressor sales. Their rental revenue has grown at an annual rate of 13% over the last ten years. Approximately 75% of their rental revenue is from installed rentals and their rental gross margin is around 62%, comparable to industry standards.

---

---

NGS has a strong customer base and strong customer relationships with industry leaders like Exxon Mobil, BP, Occidental Petroleum (NYSE: OXY), ConocoPhillips, Devon Energy (NYSE: DVN), EOG Resources (NYSE: EOG), etc.
NGS has an exceptional ability to generate cash with minimal debt. They have very little maintenance capital expenditures, majority of it is growth related. The company generates more than $0.35 in levered free cash flow for every $1 of revenue.
Their relatively low inventory of compressors affords them the flexibility of being able to fabricate new compression equipment to cater to the needs of unconventional producers.
The stock is trading at a Price/Book of 1.34x, Price/Tangible Book at 1.41 has taken a near 25% beating from the start of this year; probably a gift from a recent downturn in energy prices.
Source: Seeking Alpha
The company has a very low long-term debt ($417,000) and is sitting on cash of $61.2 million making it immune to any direct interest rate shocks. As of the most recent quarter, it had a free cash flow of 492.6% of net income or 109.6% of EBITDA or 47.6% of revenue. Take a look at how efficiently the company has managed their cash. Basically, this company is self-funding their growth.
Total Debt/EBITDA
Considering that energy prices in the US have gone through a difficult period over the last few years, it must have been an understandably difficult period for energy producers and energy service providers as well. Even in that backdrop NGS stands out.
Last, but not the least, NGS's management has demonstrated a remarkable ability to manage capital. At the end of 2005, NGS had long-term debt of around $28 million and a shareholder equity of $45.7 million, today their long-term debt is at $417,000 and their shareholder equity is at $230.6 million.
Conclusion - Asymmetric Risk/Reward
While we are of the view that the path of least resistance for natural gas prices is higher from here, we don't see the need to expose ourselves to price risk or commodity beta, especially considering the lack of a cost-efficient trading vehicle. In our view, a long position in natural gas compression service providers in the US, especially NSG, offers an asymmetric risk/reward play for an investor who wants to bet on rising natural gas consumption.
While this sector has an upside from an increase in natural gas prices in the form of increased exploration, production, and distribution that will likely result from a sustained increase in prices, it is not as terribly affected by commodity price declines because the revenue of compression service providers is driven mainly by volume not price. As the number of molecules of natural gas flowing in and around the system increases or as modifications continue to be made to the grid system in the US, the greater the horsepower required for natural gas compression. This offers investors the upside to natural gas consumption while protecting them from any possible downside in commodity prices.
Price levels and time frame
The stock price has fallen close to 25% year-to-date: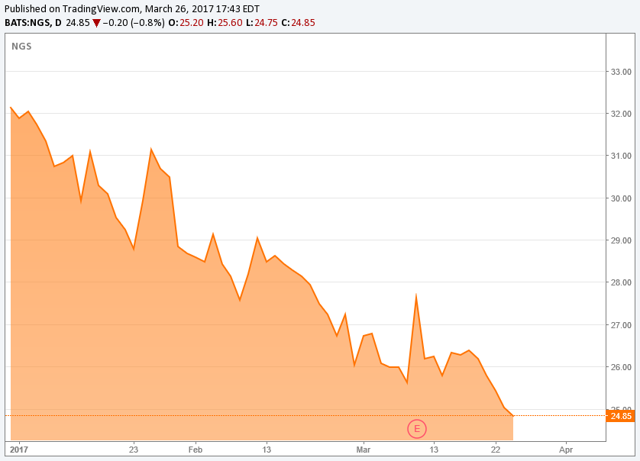 Source: Seeking Alpha
The saying: "You can't judge a book by its cover" couldn't be any more true in the case of NGS. Judging this stock by its year-to-date performance would be misleading without looking at the longer term price formation. See chart below, this 25% decline offers an opportune entry period to go long at levels very close to its long-term moving average at around $24.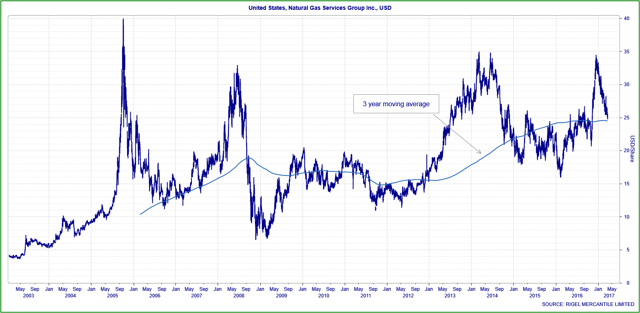 Prices were capped, from early 2015 to late 2016, below the long-term moving average but the stock took off late last year once it broke through its moving average and now prices are coming back to test this support to confirm the breakout. This is healthy.
In the chart below, we have plotted the stock price's deviation from its long-term mean. Our interpretation of this is that that price momentum in this stock typically gets exhausted when the price rallies around 75% higher, or 50% lower, than its long-term rolling mean. In the most recent run-up it was barely 40% higher than its mean when prices turned around. It currently sits around 7% above its mean.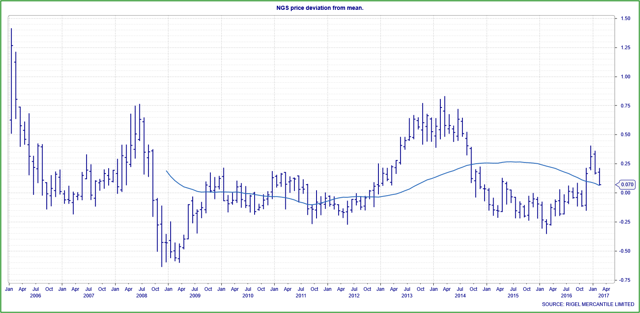 To sum up, our bullish call on NGS hinges on our analysis of natural gas demand trends and natural gas compression growth in the US. In our view, the risk is that we are wrong about these two factors, but recent data published by the EIA supports our analysis. We will continue to watch the data.
If our interpretation is right about the stock's price momentum, then there is plenty of momentum still left in this stock to the upside. If we build a long position in NGS with our average cost base at around $24, we can rest assured that we will make at least 33% from here just if the stock retests its most recent highs. This company has been growing their rental revenues at 13% annualized growth rate. Considering the backdrop of increasing natural gas demand, we believe that this stock should be able to continue growing at around similar rates for several years, earning an aggregate return of around 84% over the next five years.
Disclaimer: Rigel Mercantile Limited specializes in Macro Research and Systematic Trading. The views expressed above are our discretionary ideas that we have arrived at using discretionary analysis and, therefore, are limited to our discretionary portfolios only. Our systematic strategies may or may not have a position (long or short) in the securities mentioned above. Under no circumstances should the information contained herein be used or considered as an offer to sell, or a solicitation of an offer to purchase, any security or investment service. The information presented herein is presented in summary form and is, therefore, subject to qualification and further explanation.
Disclosure: I/we have no positions in any stocks mentioned, but may initiate a long position in NGS over the next 72 hours.
I wrote this article myself, and it expresses my own opinions. I am not receiving compensation for it (other than from Seeking Alpha). I have no business relationship with any company whose stock is mentioned in this article.