Note: This article was co-authored by Kwan-Chen Ma.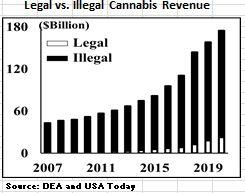 What is Medicinal Cannabis?
Medicinal cannabis, also known as medical marijuana, refers to cannabis when it is used to treat or relieve a symptom, ailment or condition with a prescription from a licensed doctor. Any cannabis containing an effective amount of active cannabinoids can be considered medicinal cannabis if used for that purpose. Reasons for a medical cannabis prescription include but are not limited to muscle spasms caused by multiple sclerosis, nausea from chemotherapy, poor appetite and weight loss caused by chronic illness such as HIV or nerve pain seizure disorders, and Crohn's disease.
Medical cannabis is only legal in the United States in 28 states and Washington DC. The only difference between medicinal and recreational cannabis is that recreational cannabis is used for recreational purposes which are more likely addictive.
Cannabinoids Are the Story
Cannabis contains hundreds of chemical substances and over 100 compounds called cannabinoids. It is the cannabinoids that are responsible for the effects of cannabis. They combine with protein molecules on the surface of cells called receptors. This system of receptors found in the human brain and throughout the body is referred to as the end cannabinoid system. Cannabinoid receptors support a number of physical functions, such as modulating brain and nerve activity, including memory and pain, energy metabolism, heart function, the immune system, and reproduction. The most common reason for prescription is for pain.
Cannabidiol, also known as CBD, is a chemical in cannabis that has a wide scope of medical applications with a lack of side effects. CBD is not to be confused with tetrahydrocannabinol, also known as THC. THC is the psychoactive chemical that people use for recreational purposes. CBD is an anti-diabetic and bone stimulant. It also reduces pain and nausea. THC increases appetite, reduces pain, and relieves spasms. Medicinal cannabis has very low percentages of THC and high percentages of CBD (Figure 2).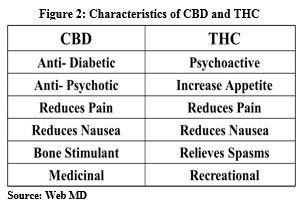 Why Invest in Medicinal Cannabis?
First-Time "Legalized Addiction"
Cannabis has been consumed for thousands of years dating back to the early days of the Ancient Greeks in 440 BC. Humans have a natural tendency to become addicted to substances that they can use for medicinal or recreational purposes. For the first time in history, cannabis is becoming legal for medicinal and recreational use in the United States and Canada. It is becoming one of the most rapidly growing industries that the market has yet to see.
Major Shift in Public Sentiment Toward Cannabis
Recent polls conducted by Gallup suggest that 80% of Americans approve the legal access to medical cannabis and 60% approve the recreational legalization. To put this in perspective, in 1969, the approval for medicinal cannabis was only 10%. The documented beneficial uses for medicinal cannabis have been the main reason for this massive increase of approval. It is not a coincident that the increase in approval corresponds to the speed of legalization of medical cannabis (Figures 6-9) and the significant growth in industry revenue (Figure 3).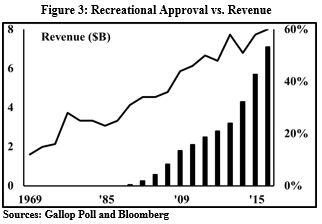 Growing Demand for Pain Management Alternatives
Approximately one in five Canadians suffer from chronic pain, which is currently primarily treated through the use of prescription opioid medications. Opioids are considered effective, but also pose risks of abuse and addiction. Physicians are under increasing pressure to rely on them less. The U.S. has seen a 25% decrease in opioid overdose mortality in states that allow the use of medical cannabis.
Supply Shift from Black Market to Legal Market
The black market for cannabis in the United States is on average 90 times larger than the legal market. For the last 10 years, legal cannabis sales only accounted for 3-8% of the total cannabis market in the United States. Since only eight states have legalized recreational cannabis, the result is that the majority of cannabis is sold illegally. The difference between the total amount of cannabis sold and the total amount of legal cannabis sold is the potential revenue that the United States can gain from legalization. In 2016, the total legal cannabis sale was $7.1 billion compared to the total illegal and legal sales of $87 billion. The $80 billion difference is how much the United States could have made if cannabis was legal nationwide last year (Figure 4).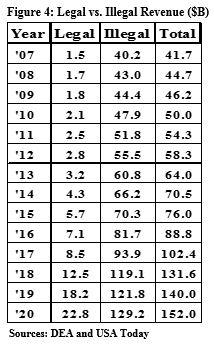 Early-Entry Monopolistic Industry
The cannabis industry is still in its infant stage. Young industries come with a lot of regulations, licensing, fees, and laws protecting the future of the industry. It is difficult to start a company in the cannabis industry due to the heavy regulations. It is virtually a monopoly because there is an enormous market entry barrier for companies to overcome. In Canada, there are only 23 licensed producers of medicinal cannabis.
U.S. Legalization Process Speeds Up
In the United States, cannabis has been taboo since it was prohibited in 1937 on the federal level. Ever since California legalized cannabis for medicinal purposes in 1996, states have been speeding up the pace of the legalization. Between 2012 and 2014, seven states have been legalized cannabis for medicinal use and four for recreational use (Figures 8 & 9). As a result, the revenue growth is 15% and 35% for 2013 and 2014, respectively.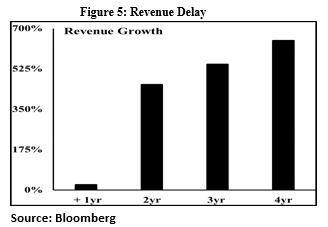 States' legalization creates a one or two years' delay in generating revenue. Once it gets legalized, sales do not begin until 12 to 18 months later. In 2016, four states legalized cannabis for recreational use and six for medicinal use. This has been the largest increase of state legalization in the history of cannabis. The revenue estimated in 2017 is expected to be $8.5 billion, which is a 20% increase from 2016, and a 47% increase from 2015. This is a result of a large number of states legalizing cannabis in 2016.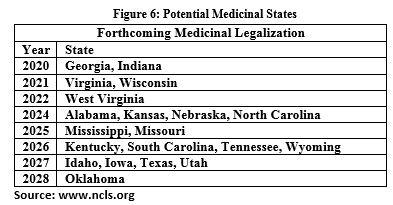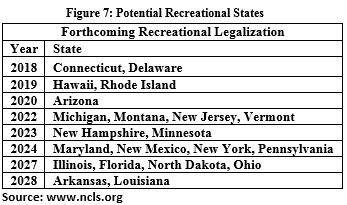 Forthcoming Legalization
In 2017, six states may legalize cannabis (two for medicinal use and four for recreational use), and two more states for each purpose in 2018 (Figures 6 & 7). This is the basis for the 46% forecast increase of revenue for 2019, which is expected to reach $18.2 billion.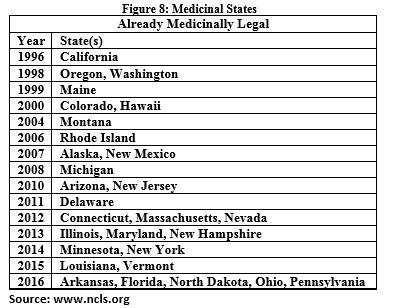 For the 10-year period between 2000 and 2010, for every new state legalizing cannabis, the revenue would increase approximately 50%. As more and more states start legalizing cannabis, revenue is estimated to increase 24% annually between 2020 and 2026.
By 2026, 43 states are expected to legalize cannabis for medicinal purposes, and 23 states for recreational use. Total revenue will reach $79 billion, which is a 1,000% increase from 2016's revenue.
Rapid Increase of Medical Cannabis Patients
The number of patients registered for medicinal cannabis in Canada has increased approximately 1,200% over the last two years. This is due to the nationwide legalization of medicinal cannabis and the amount of successful medicines from CBD that are newly available.
Therefore, the amount of kilograms sold in Canada has risen proportionally to the amount of patients that have signed up under Health Canada. For the last five years, the amount of kilograms of cannabis sold has grown 715% (Figure 10). It is estimated that the amount of kilograms sold in 2017 will double the amount in 2016. The demand for medicinal cannabis in Canada far exceeds what the licensed producers can provide at the current capacity.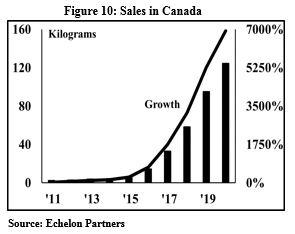 In short, just two years prior to Canada becoming the first G7 nation to fully legalize cannabis use, the industry has already seen explosive growth (Figure 10). And it is estimated that the total sales in Canada are about the same as California. No wonder every single graph we show above seems to suggest that the sky is the limit.
As a result, an investable and tradeable Cannabis Index is created to monetize the legalization of cannabis use. The Index includes the following three socks:
GW Pharmaceuticals (NASDAQ:GWPH)
Business Description: GW Pharmaceuticals plc is a biopharmaceutical company focused on developing and commercializing therapeutics from its cannabinoid product platform in a range of disease areas. The company's lead cannabinoid product candidate is Epidiolex, which is a liquid formulation of pure plant-derived cannabidiol (CBD). The company offers Sativex for the treatment of spasticity from multiple sclerosis. GWPH can be seen as a takeover company for other big pharma companies with failing cannabinoid drugs.
Revenue Breakdown: The company operates through three segments: Commercial, Sativex Research and Development, and Pipeline Research and Development. The Commercial segment distributes and sells the company's commercial products. The Sativex Research and Development segment seeks to maximize the potential of Sativex through the development of new indications. The Pipeline Research and Development segment seeks to develop cannabinoid medications other than Sativex across a range of therapeutic areas using its cannabinoid technology platform. If Epidiolex can break the $1 billion mark, the drug can be a blockbuster, putting it in rare territory. In 2015, only 11 new drugs entered blockbuster status and seven in 2016. GW Pharma is in a league of its own when it comes to cannabidiol treatment for epilepsy; no other company has a drug in the pipelines like GW.
Products and Services: GW's Epidiolex is currently in Phase 3 trials and should expect an FDA ruling by the end of 2017. Epidiolex has huge revenue potentials in being one of the first medical cannabis treatments for epilepsy, among other potential applications. Epidiolex has performed well under rigorous testing. For example, at the American Society of Epilepsy Conference in December, GW revealed that Epidiolex cannabidiol reduced seizure frequency by more than 50% in 44.2% of recipients. The drug is currently in Phase 3 trials for both tuberous sclerosis complex, a genetic brain cancer that affects 40,000 people in the U.S. and up to 2 million globally, and for infantile spasms. Assuming an FDA approval for Epidiolex, analysts are projecting annual sales between $800 million and $3 billion.
GWP42006 (CBDV) is at Phase 2 for both adult partial onset epilepsy and autism. Clinical trials are proceeding for its use in autism spectrum disorder, which is said to affect in some way one out of 68 children. Phase 2 trials are expected to begin in Q3 2017. Further data is expected to be announced by the company in mid-2017 for the epilepsy study. GWP42003 is at Phase 1 for Neonatal Hypoxic-Ischemic Encephalopathy (NHIE). Sativex is a combination of THC and CBD with other specific minor cannabinoids. It is already approved for prescription in 30 countries, but excluding the U.S. It has approvals pending in a further 12 countries. Sativex is used to treat spasticity caused by multiple sclerosis. Its sales have so far been somewhat disappointing, but did rise from £4.2 million to £5.2 million in the past year.
GW Pharma is the most established and well-known company by market cap, within the index and sets itself apart by being the first pharmaceutical company to create cannabinoid oil to combat many health issues. GW Pharma has successfully been growing its revenues at an average annual rate of 12%. This is by far the highest compound annual growth rate of any large and established company in the medicinal cannabis industry and makes it an acquisition target for larger companies to boost their inorganic growth. Consistently beating expectations for the past four quarters, GW Pharma has proven that it is able to sustainably and explosively grow and compete.
Aphria, Inc. (OTCQB:APHQF)
Business Description: Aphria, Inc. is a Canadian-based company, which is involved in producing and selling medical cannabis. The company's retail sales are mainly sold through its online store, as well as telephone orders. Its wholesale shipments are sold to other Medical Purposes Regulations Licensed Producers. The company is also involved in the research and development and commercial production of cannabis oil. Aphria is the first publicly traded LP to report positive earnings in consecutive quarters.
Facility Expansion: Aphria just finished step two in a four-step expansion project to build a 1,000,000-square-foot cannabis cultivation facility producing 70,000 kilograms of dried cannabis every year. In October 2016, Aphria announced a contract with MassRoots to build brand awareness among its Canadian user base in return for per-patient referral fees. MassRoots is positioned as "the social platform for marijuana" and has over 900,000 users.
International Expansion: In October 2016, the company announced an agreement with Copperstate Farms LLC under which Aphria will share its greenhouse growing knowledge in return for an ownership stake in Copperstate, a licensed producer based in Arizona. It owns a 10% membership in the parent company, and a 5% membership interest in the operating subsidiary. Up-listing to the TSX Index will make Aphria a component in most Canadian index funds, such as the iShares MSCI Canada ETF (NYSEARCA:EWC).
While Aphria operates 100% in the Canadian medicinal cannabis market, its two largest competitors are Aurora Cannabis (OTCQX:ACBFF) and CanniMed Therapeutics (OTC:CMMDF). Both are listed under Health Canada's Access to Cannabis for Medical Purposes Regulations. Aphria has 340,000 square feet of expansion space, which is tied for the largest expansion space with Tweed, Inc. This is a necessity in this industry due to the lack of supply for the growing demand of medicinal cannabis in Canada.
Strong EBITDA: Aphria's revenue grew 13% in the past quarter. This is the company's second consecutive quarter with EBITDA greater than $1 million. The EBITDA growth reflects the company's continued focus on its low cost producer status and industry leading patient care. The low cost for production can have some major profit margins for the near and far future of the company's growth.
Revenue Growth: Aphria has experienced very rapid revenue growth in its two years of generating revenue; within the first year, it increased revenues by 1,200% year to year and is on track to achieve this significant growth again in 2017. Average annual revenue has increased by 62%.
EPS Growth: Earnings per share for Aphria have been historically negative until the second quarter of 2016 when it was reported that it had earnings of $0. For the following four quarters, Aphria posted positive earnings. For the past eight quarters, earnings per share have increased 42% on average, fluctuating between -$.05 and $.02. Expected earnings per share over the next four quarters is 4 cents, which is 4 times as much as it has grown in the most recent seven quarters.
Canopy Growth Corporation (TWMJF)
Business Description: Canopy Growth Corporation, formerly Tweed Marijuana, Inc., is a diversified cannabis company. The company is engaged in the business of producing and selling legal marijuana in the Canadian medical market. It is also focusing on producing and selling marijuana in the recreational market in Canada. Its core brands are Tweed and Bedrocan. Tweed is a licensed producer of medical marijuana. Tweed's commercial license covers approximately 168,000 square feet of its Smiths Falls facility and allows Tweed to produce and sell approximately 3,540 kilograms of medical marijuana per year.
Production: Canopy operates four production facilities located in Ontario using a combination of indoor and greenhouse growing methods. The company is currently licensed for annual production of 14,500 kg of dried cannabis and 6,700 kg of cannabis oil, representing over 7M milliliters of finished cannabis oil. Ongoing expansions efforts could add another 16,000 kg of annual production capacity. Tweed Farms is the largest marijuana-producing greenhouse in the world, certainly legally that we've ever come across, with over 350,000 square feet of licensed cannabis production space.
Mettrum Acquisition Expands Market Position: In January 2017, the company acquired Mettrum Health for $335M in stock. Mettrum is a licensed producer of medical cannabis and industrial hemp-based products. The company currently produces approximately 16 strains from a genetic library of over 60 strains, which it refers to as the Mettrum Spectrum. It received its first license in November 2013, and began selling in January 2014. Prior to its acquisition by Canopy, Mettrum was working towards an annual capacity target of 25,000 kg by March 2018.
Revenue Growth: Historical revenue growth for Canopy has been 80% from quarter to quarter since its start. In 2016, revenue has increased 270% from $6.18 million to $22.91 million. Canopy has the fastest growth in its industry. The revenue has grown 4,200% since June of 2014. Just last three quarters, Canopy's revenue has grown over 425%. It is estimated that revenue would grow an average of 34% quarter to quarter for the next four quarters. The estimated revenue for the next four quarters is $68.7 million compared to the most recent four quarters' revenue of $22.9 million. The revenue will increase at a rate of 200% annually and the earnings at a rate of 142% quarterly.
Our valuations suggest that APHQF has a $8 target price vs. the current price at $4.9. TWMJF's target price is $13 with a price at $8.16. GWPH's target price is $160 with a current price at $120. Combining the three stocks equally weighted into a Cannabis Index, the Index has delivered over 300% in the past year (see figure below).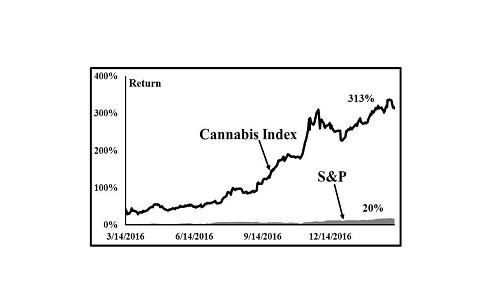 Disclosure: I/we have no positions in any stocks mentioned, and no plans to initiate any positions within the next 72 hours.
I wrote this article myself, and it expresses my own opinions. I am not receiving compensation for it. I have no business relationship with any company whose stock is mentioned in this article.
Editor's Note: This article discusses one or more securities that do not trade on a major U.S. exchange. Please be aware of the risks associated with these stocks.