For traders with a short-term time horizon who are looking for big moves over a short period, we have updated our list of the S&P 1500 stocks trading above $10 that have the largest intraday high-low ranges (based on the average percent spread between the intraday high and low over the last 50 days). The stocks are grouped based on whether they have a rising or falling 50-day moving average (DMA). Stocks highlighted in gray are new to the list this month.
The S&P 500 may be within 2% of its all-time high, but the majority of stocks making up our list of most volatile stocks are currently in downtrends. As shown below, just 21 stocks have rising 50-day moving averages, while 29 have 50-DMAs that are in decline. Of the 50 stocks listed, just fifteen currently have average daily ranges of more than 5%, further illustrating how overall volatility is low. Also, of those fifteen stocks, just five are trading above $20 per share. In terms of sector representation, seven out of the eleven major sectors made the list. Health Care is the most well-represented sector with 17 stocks, followed by Energy with ten and Consumer Discretionary with nine. Looking through the list, you've probably never heard of most of the names listed, but there are some household names including Advanced Micro Devices (NASDAQ:AMD) and Restoration Hardware (NYSE:RH), which are both in uptrends, as well as US Steel (NYSE:X) and Abercrombie (NYSE:ANF), which are in downtrends. Finally, given that most the stocks have relatively low share prices, they may be volatile, but they don't necessarily have very large swings. That said, the highest priced stock listed (Eagle Pharmaceuticals (NASDAQ:EGRX)) trades at over $80 per share, implying an average daily high/low range of just over $3 a day.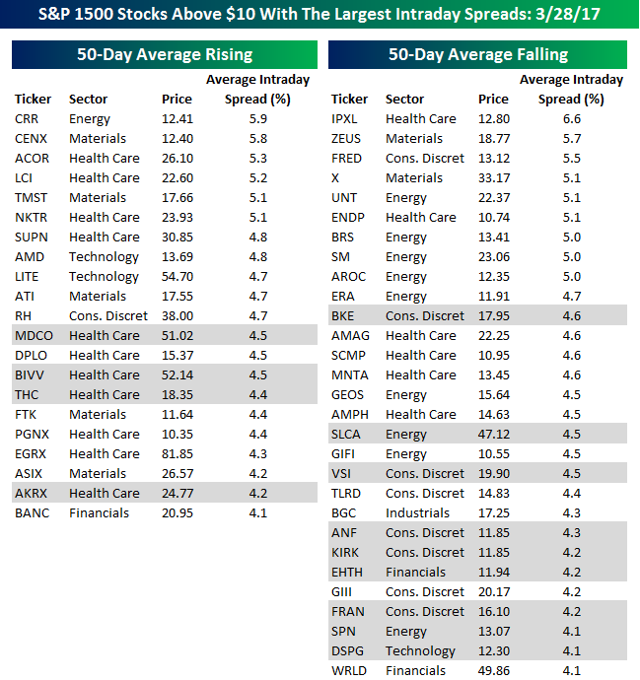 Thanks for reading the article. Follow our account to get our articles as soon as they're posted to Seeking Alpha. To get our full newsletter, sign up for Bespoke Newsletter PRO. Subscribers to that service get access to Bespoke's model stock portfolios, actionable data-driven insights, and in-depth analysis of everything that drives the markets, among other things.