In 2016, ASML (NASDAQ:ASML) sold 139 new and a handful of refurbished lithography tools for semiconductor manufacturing, according to our recent report "Global Semiconductor Equipment: Markets, Market Shares, Market Forecasts."
According to the report, ASML led the market with a 58% market share while competing against Nikon and Canon (CAJ), which is illustrated in Figure 1 below.
Figure 1 - Market share of lithography systems by vendor 1993-2016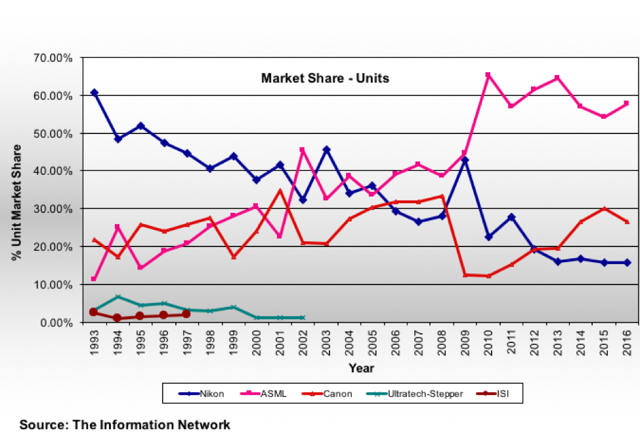 But the big story is next-generation lithography (NGL) - what will be the technology used by semiconductor manufacturers when current optical lithography reaches its limits.
ASML
ASML is the only company with NGL tools on the market, with its EUV (extended ultraviolet) tool having sold four units in 2016 at an average selling price of $110 million.
EUV is expected to enter the mainstream market in the next few years, implemented at GlobalFoundries, Intel (INTC), Samsung Electronics (OTCPK:SSNLF), and TSMC (TSM). In fact, the latter three companies invested billions of dollars in ASML in 2012 to aid in the development of EUV systems.
The time frame for implementation of EUV by these companies is critical to ASML's business model of ramping sales of EUV.
Samsung Electronics has been the most aggressive in adopting EUV. In 2018, the company plans to implement EUV at the 7nm node in its foundry process.
TSMC is ramping its 7nm foundry process in 2017 using optical lithography, but will begin testing EUV in Q2 2017. TSMC will move to 5nm in 2019 utilizing EUV.
Intel will move to 7nm in 2020 and utilize EUV.
GlobalFoundries will be producing 7nm chips in 2018 and move some layers to EUV in 2020.
Only a percentage can be termed "critical masks" and will require EUV, while the majority will continue to be delineated with optical lithography. Only 6-10 mask layers at 7nm will utilize EUV.
One of the advantages of EUV is the reduction in the number of mask layers required to fabricate a device, which increases with decreasing node dimensions. This is discussed below with Nikon's strategy.
Nikon
Nikon has chosen to keep using multiple patterning using optical immersion DUV technology. A benefit of immersion DUV is that the technology has been in production for 10 years and DUV systems cost $35-40 million - about a third of the price of an EUV system. In addition, current throughput of an EUV system is 125 wafers per hour, although ASML promises improvements to 185 wafers per hour in 2020. In contrast, Nikon's NSR-S631E has a throughput of 270 wafers per hour today. That's nearly twice as much throughput as ASML's current NXE:3400B EUV system.
Countering the benefits of lower tool cost and faster throughput is the need for increased number of photomasks because of the need for multiple patterning processes that enable immersion DUV to reach 10nm and below.
Multiple patterning requires the use of many processing steps to form a patterned layer, where conventionally only one lithographic exposure, one deposition sequence and one etch sequence would be sufficient.
Multiple patterning at the 7nm node, as shown in the bottom left of Figure 2 below, requires 27 mask layers. However, by switching to EUV (bottom right) at 7nm, only 14 mask layers are required, similar to the 20nm node with DUV.
As for the terminology, switching from DUV to EUV, the double litho, double etch (LELE) process will be eliminated while ArF-I would continue to be used for the self-aligned double patterning (SADP) and self-aligned quadruple patterning (SAQP) processes. Most importantly, half the processing steps will be eliminated.
Figure 2 - Comparison between DUV and EUV for multiple patterning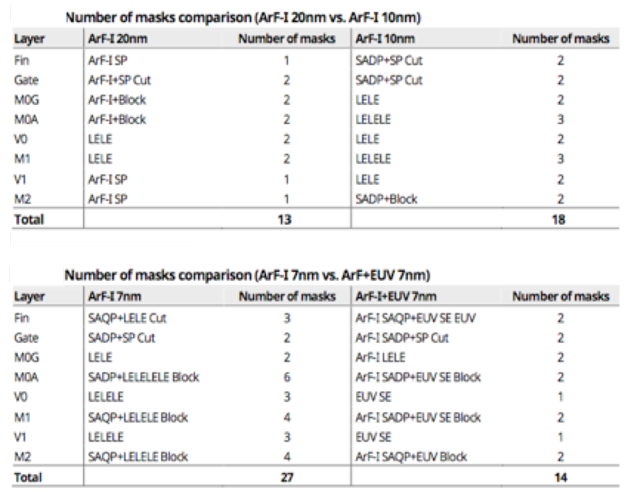 Source: Mirae Asset Daewoo Research
Canon
Canon only sells i-line and KrF lithography tools. Canon is placing its bets on a new and different technology - Nanoimprint Lithography. Invented at the University of Texas, it was refined by the venture-funded startup Molecular Imprints. Canon acquired Molecular imprints in 2014.
Nanoimprint lithography can currently achieve line widths down to 15 nm and could be a much simpler and lower cost option than quad-patterning optical photoresist or the use of extreme ultraviolet lithography. NIL forms circuit details by pressing a mold on to a wafer coated with resist.
Who Wins
Cost of Ownership (COO) is a key metric for companies to evaluate which system to purchase. The next two charts come from Canon and Nikon, and illustrates that there is "not a one-size fits all" technology that will knock out all competitors. The reason is simple - there is a lengthy list of factors contributing to the CoO of a lithography process, including the equipment, the materials used, and the device being processed. Interestingly, I have not been able to find a comparable chart from ASML.
Figure 3 - Lithography cost of ownership from Canon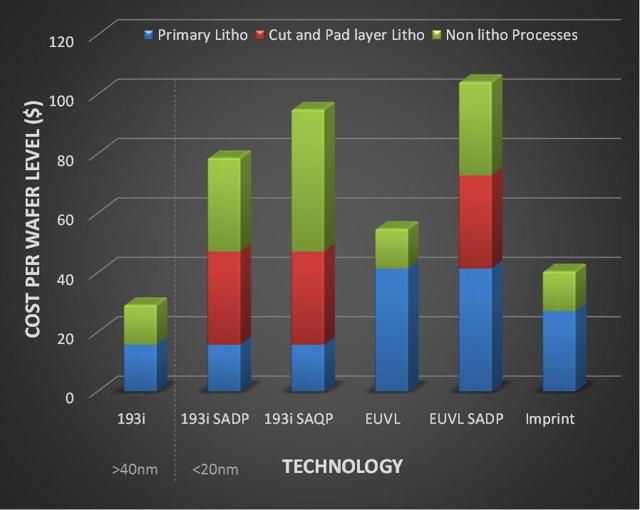 Figure 4 - Lithography cost of ownership from Nikon
Investor Takeaway
The stakes are high in the semiconductor equipment market. ASML noted in its recent Investor Day Conference that modeling indicates that a leading-edge logic fab running 45k wafer starts per month (WSPM) would need to purchase 7-12 EUV systems to handle an anticipated 6-10 EUV layers within "7nm-node" designs. At a price tag of $110 million, this represents revenue of $1 billion per fab to ASML.
Also, if EUV wins out it will not only negatively impact lithography revenues for Nikon and Canon, but also semiconductor equipment and materials used for multiple patterning using immersion DUV. Since multiple patterning is a successive process of exposure - deposition - etch on multiple masks, companies with the most negative exposure to EUV are Applied Materials (AMAT), Lam Research (LRCX) and Photronics (PLAB).
There are companies that will be indirectly impacted by a move to EUV. For example, I discussed in a March 20, 2017, Seeking Alpha article entitled "Cabot Microelectronics Dominated CMP Slurry Revenues In 2016 While Versum Materials Slid," how both CMP slurry companies could be impacted by a switch to EUV because their largest customers have plans to move to EUV. This applies to numerous companies in the semiconductor supply chain because the four semiconductor companies that will be moving to EUV are among the largest in the world.
Editor's Note: This article discusses one or more securities that do not trade on a major U.S. exchange. Please be aware of the risks associated with these stocks.