In our last article, "Investing In Russia, A Quick Guide," we discussed the fundamental reasons for investing in Russia and outlined 10 investments that allow you to do so. As promised, I wanted to take a deeper dive into a few of the funds that we highlighted, starting with the Central Europe, Russia & Turkey Fund (CEE). Being a closed-end fund, CEE trades at a discount, and as an investor who loves things on sale, this fund was a natural starting point.
The Sales Pitch (For The Fund & Asset Class)
For most funds, ETFs, open-end and closed-end mutual funds, you don't have to look too far to find marketing materials from the sponsors telling you why you should consider investing in that fund. While some fund sponsors put on too much of a sales job and not enough facts, I had a difficult time finding ANY sales materials for CEE. Either Deutsche Asset Management does not want new investors for the fund, or they are simply doing a poor job.
The closest thing that I found to sales material was the quarterly fact sheet. Unfortunately, the fact sheet provides zero information as it relates to the fund strategy. Furthermore, the annual reports merely touch on the recent performance and include only a very short Q&A with the manager.
Fund Basics
Sponsor: Deutsche Asset Management
Managers: Sylwia Szczepek
AUM: $186.184 Million
Historical Style: Central Europe Equities. (Emerging Markets)
Investment Objectives: The Fund seeks long-term capital appreciation through investment in equity and equity-linked securities of issuers domiciled in Central Europe, Russia and Turkey.
Number of Holdings: 50
Current Yield: 2.34% based on market price
Inception Date: 3/6/1990
Fees: 1.32%
Discount to NAV: 11.68%
Sources: CEF Connect & YCharts
The Alpha
With the vast majority of the closed and open-end funds along with many ETFs, we are able to identify the management's portfolio strategy for the fund. Unfortunately, for this fund, I was unable to find anything beyond the stated goal of investing in Central European, Russian, and Turkish equities.
What we do know, however, is that unlike typical closed-end funds, CEE does not currently use leverage.
The Portfolio
Being a closed-end fund, it allows the managers to have a little bit more leeway versus traditional investments. The fund is currently invested in securities across the capital stack.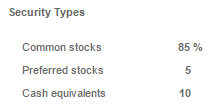 Source: DWS CEE website
Like most investments that invest in Russia, unfortunately, the majority of the top holdings are Energy and Financial names.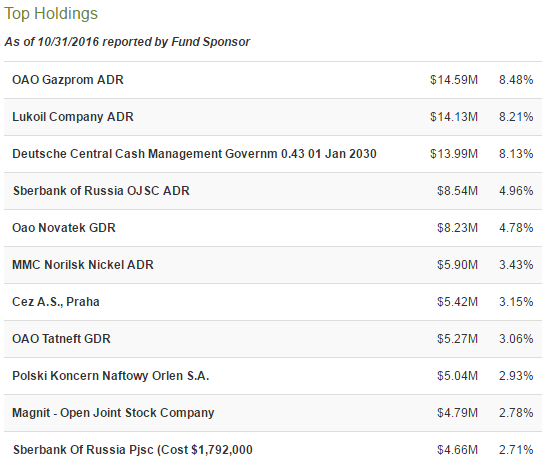 Source: CEF Connect
Overall, Energy and Financials represent nearly 70% of the portfolio.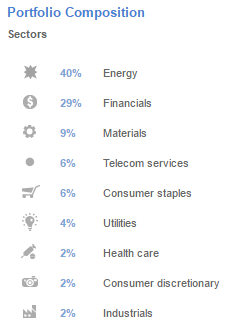 Source: DWS CEE website
When looking at a country breakdown, we have the following.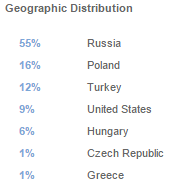 Source: DWS CEE website
Pricing & Performance
One of my favorite charts to look at and include in these articles is a since-inception price chart along with a historical look at the relationship between price and the net asset value, or the discount to NAV.
Over the last 3 years, we can see the discount to NAV has ranged in the 10% to 15%.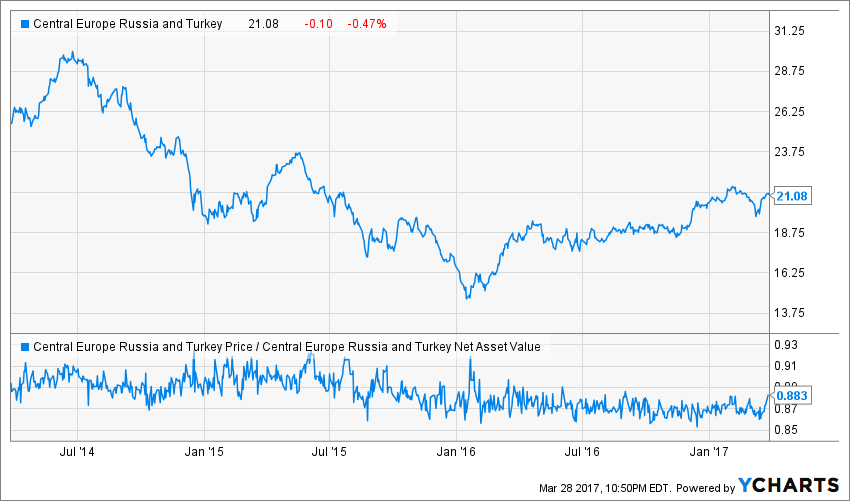 Going back to look at the since-inception time period, we can see the fund has traded from as low as 75% to its net asset value during market selloffs to slightly over par during the emerging markets bull market.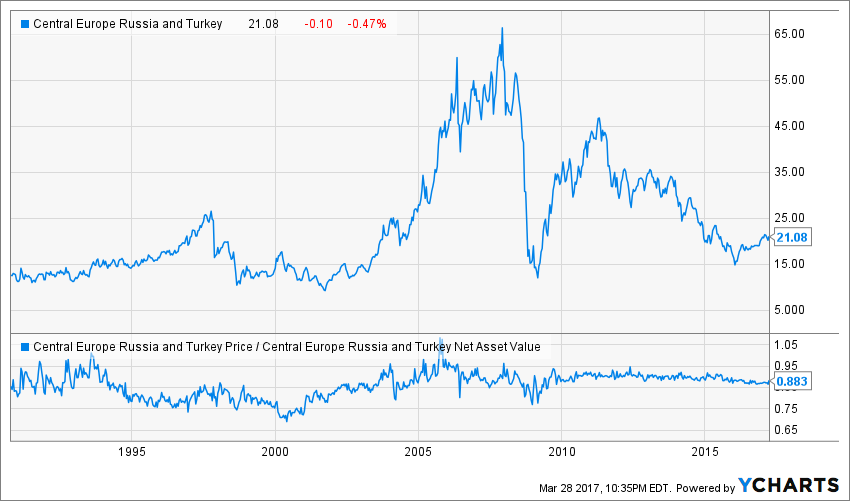 Looking at the fund over the long term, we can see that CEE's discount has been steady in its range over the last 7 years.
Performance wise, much like other closed-end fund investments, we have to look at the total return picture. For our comparison, we will take a look at how CEE has performed in relation to the Market Vectors Russia ETF (RSX).
Year to date, CEE has outperformed RSX and the other ETFs, being up 2.49%, versus a loss of 1.89% for the ETF. This difference can be attributed to the closing of the discount to NAV.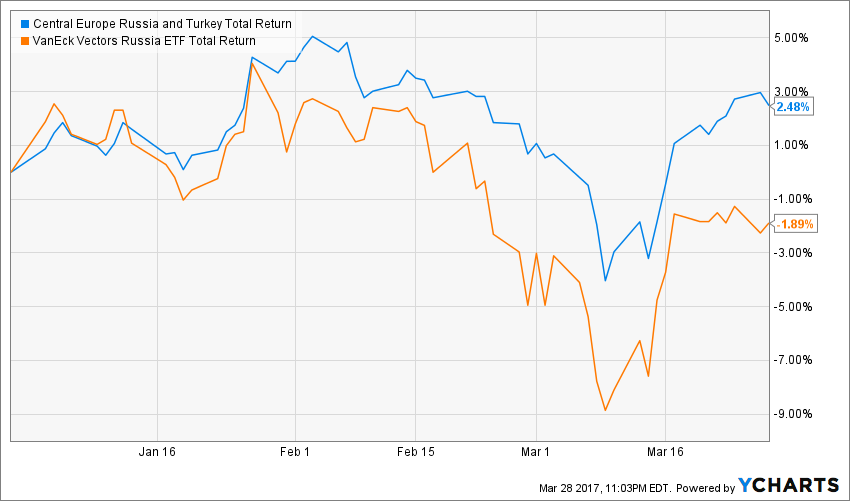 Over the 1-year time frame, we do see a difference in returns, with RSX nearly doubling up the CEF. A number of reasons for this difference can be attributed to this. First, the discount to NAV had opened up over the time frame. Secondly, the fund managers made the decision to reduce some of their Russian exposure during a time when the ruble strengthened and Russian equities rose.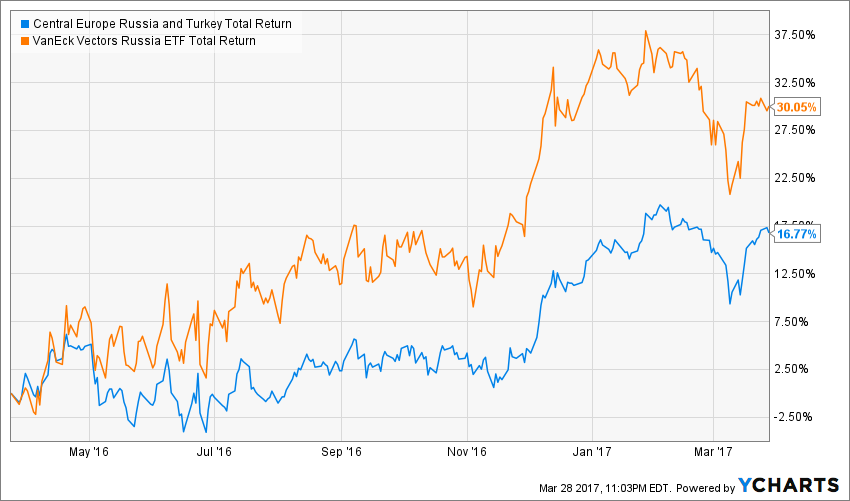 Over the last 3 years, we can see that generally speaking, CEE had outperformed the ETF through January 2016, significantly reducing the volatility in January 2015. Since Q2 2016, however, CEE had underperformed the ETF for the reasons outlined above.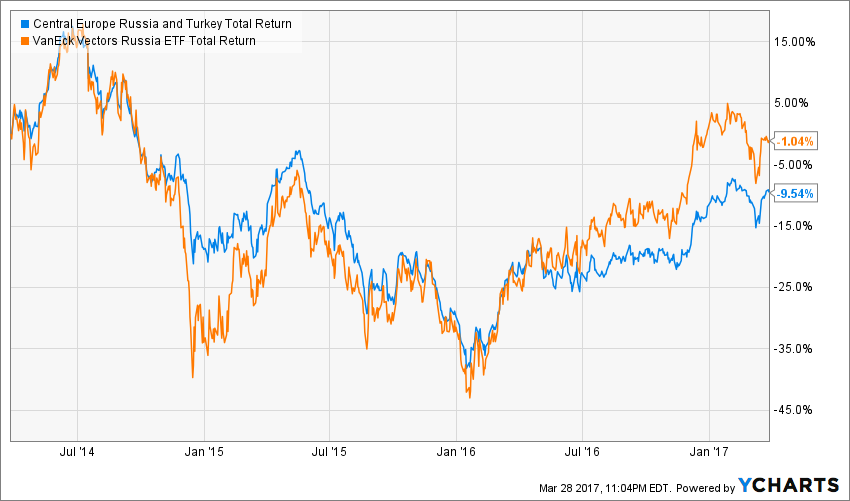 Over the last 5 years, we see the continuation of the 3-year trend; this time, however, the difference between the fund and the ETF being less than 3%.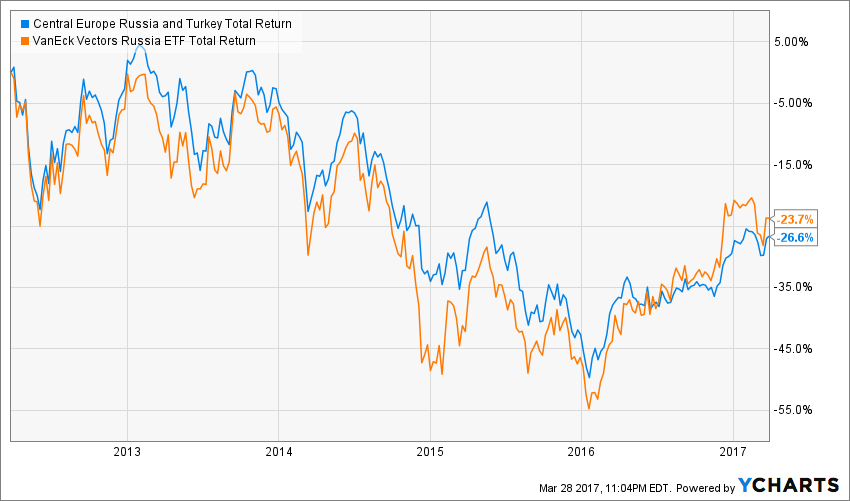 Since inception, we see the picture is no different with the fund generally outperforming the ETF with the performance gap closed over the last 12 months or so.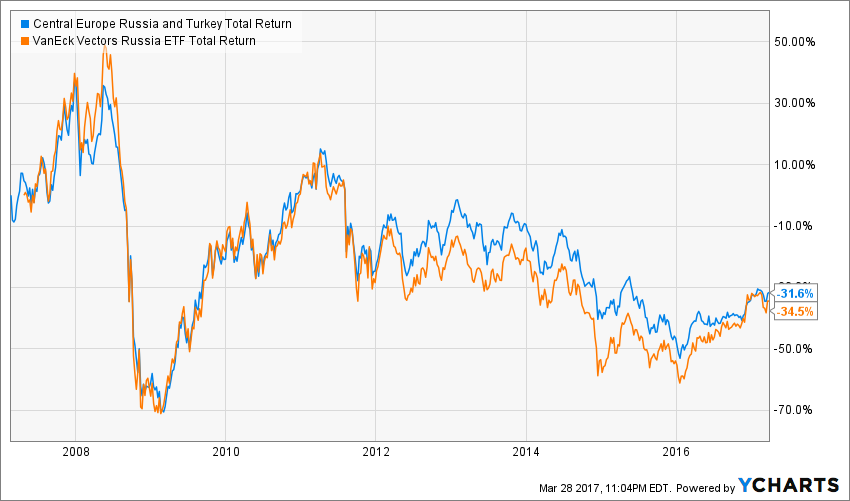 Who's It For? Our Take & Bottom Line
Prior to taking a due diligence deep dive into the fund, I was hoping to find a viable way of investing in Russia with an active manager who can bring alpha to the table. Unfortunately, we don't have that completely. While we do have a closed-end fund that has generally outperformed the Russian ETFs, it has not been transparent enough for me to recommend.
It does not mean, however, that I would not look at this fund for shorter periods of time.
The fund has shown consistently that it will take below average risk by cutting exposure to equities and through its positions in cash and preferred equities. For risk-averse investors and those seeking exposure to the former CIS states, this CEF would fit the bill.
For investors seeking strictly Russian exposure, I would look at this fund in two scenarios.
First, for end of the year tax-loss harvesting. If you are sitting on losses for another Russian investment such as the iShares Russia (ERUS), Market Vectors Russia (RSX), the SPDR Russia (RBL) or Voya Russia Mutual Funds (LETRX), you can sell that before the end of the year, claim the loss, and reinvest for at least 30 days into CEE, and then you can reinvest in another ETF if you wish.
The second scenario I can see for using this fund is to play the discount to NAV game, as many CEF investors already do. When the discounts to NAV open up significantly, particularly during a market selloff, I would consider buying the closed-end fund and hold it until it reaches the targeted goals or the discount to NAV closes down to below average at which point you can sell the fund and reinvest as you please.
The one point I would make, however, that you should be aware of is that the fund has had fairly high turnover in management. I would look to get a bit more clarity on this before making a long-term commitment into the fund.
I hope this was helpful.
Questions? Let's keep the conversation going.
I believe in active management that works, and I am here to help you find those opportunities. Please follow me here on Seeking Alpha as we look for those opportunities and sort out the good managers from the mediocre. Simply click the "Follow" button next to my name at the top of the article or on my profile page.
Disclosure: I am/we are long RSX.
I wrote this article myself, and it expresses my own opinions. I am not receiving compensation for it (other than from Seeking Alpha). I have no business relationship with any company whose stock is mentioned in this article.
Additional disclosure: We certify that the opinions and predictions in these articles are our professional beliefs at the time of publication and should not be construed as personal investment advice. Please consult your financial professional to see how anything discussed here applies to you. Furthermore this is not a solicitation to buy or sell any securities. This is not Tax Advice. Please consult your tax professional.