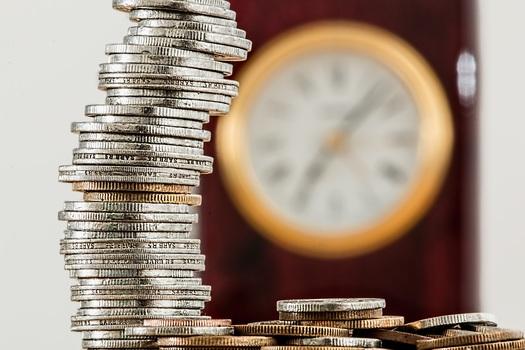 Dividend growth investing is the strategy of buying shares in companies that offer reliable and consistently increasing dividend payouts to shareholders. In practicing this strategy, I have been keeping a log of the dividend increase announcements made by companies in my portfolio since its inception in early 2013.
Earlier this year I gave my dividend growth predictions for the first quarter of 2017, and the results turned out pretty well. Reader response to the effort was also positive, as investors enjoyed seeing my reasoning behind the predictions.
As a result, I am planning to publish more frequent forecasts of upcoming dividend announcements. For this article, I will be highlighting 5 companies from my portfolio that I expect to announce increases during the month of April.
Here are the five companies I identified on my spreadsheet, and their dividend declaration dates over the past four years:
As you can see, the companies have a very predictable trend of dividend announcements, with the declarations generally being made on the same day of the week every April.
If that isn't the definition of reliable and predictable, I don't know what is!
Expanding a bit on each of those companies, here are their dividend growth histories from David Fish's U.S. Dividend Champions List:

Apple (NASDAQ:AAPL) has the shortest streak of growth, as it only just implemented a dividend in 2012. Wells Fargo (NYSE:WFC) also has a short streak, as it was forced to cut its dividend during the Great Recession of 2008/2009.
Meanwhile, Ameriprise (NYSE:AMP) has more than a decade of growth, IBM (NYSE:IBM) two decades, and Exxon Mobil (NYSE:XOM) three decades.
Here are the trailing payout ratios, along with my dividend growth predictions and the resulting payout ratio based on current 2017 EPS estimates. I've also provided the expected dates that the companies will announce the increases.

It looks like the 25th and 26th of April will be exciting times for my portfolio, as I am expecting them all to announce the new rates on those days.
Ameriprise Financial, Inc. has provided tremendous growth in the dividend over the last decade (20.8%) as it has roughly doubled its payout ratio from ~15% to ~30% of earnings.
Its earnings history hasn't been too shabby either, growing at a 10.8% rate over that same time frame. EPS took a dip in 2016, but are expected to rebound in 2017, and continue with double-digit growth thereafter.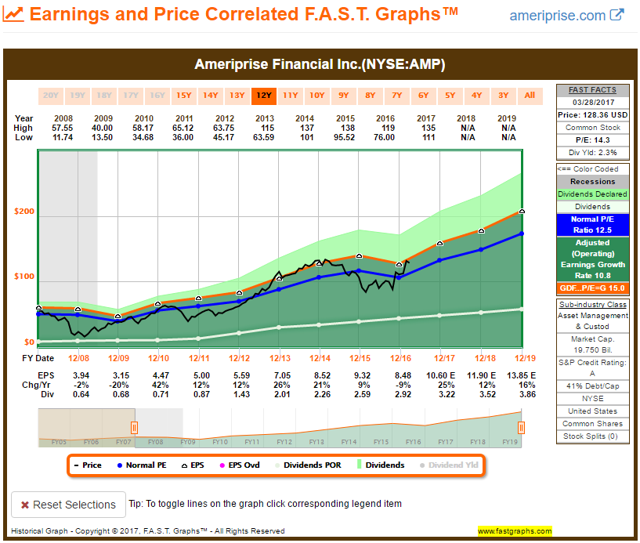 My prediction is that Ameriprise will maintain its double-digit dividend growth with a 10.67% increase to $0.83, which provides a payout ratio of 31.3% of expected 2017 earnings. On the downside, I could easily see the company play it safe and go with a smaller increase to $0.81 or $0.82 to keep the payout ratio closer to the ~30% level.
Ameriprise is reasonably priced, has a forward yield of around 2.6% (based on my projected dividend), and is expected to continue growing at a double-digit rate going forward. Like many of these stocks, this isn't a bad entry point for investors interested in the stock.
Apple Inc. is an interesting case in that it has a short history as a dividend paying company, yet is also the cash-richest company in the market. The only downfall is that a majority of that cash is stranded offshore, and can't be used for paying out dividends unless it is repatriated at currently high tax rates.
The potential changes to the U.S. corporate tax structure and/or repatriation tax holidays will have no bearing on the upcoming dividend announcement, so I am expecting a similar increase to the 8-10% seen in recent years.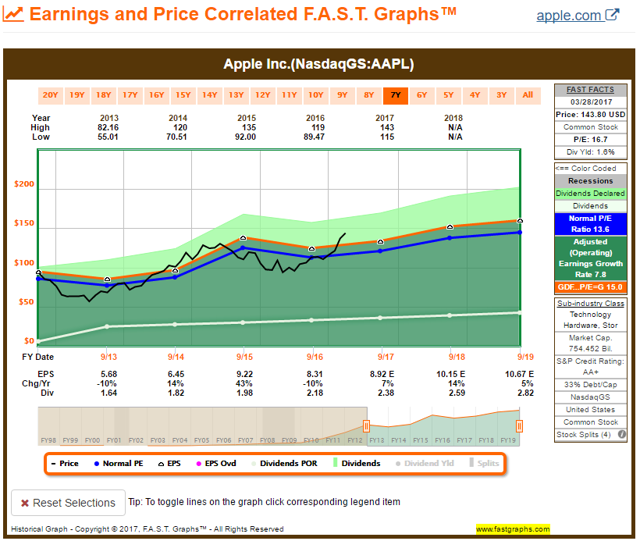 As with Ameriprise, I may be shooting a bit high with my estimate; but I'm an optimistic person, so I hold out hope for Apple coming through with a double-digit growth announcement. Looking ahead, Apple could be one of the biggest beneficiaries of changes to tax policy, so there could be future upside to the dividend should it be allowed to bring overseas funds home at a reduced tax expense.
International Business Machines brings another interesting case to the table. It has been a very good grower of the dividend over the last decade, but has done so by doubling the payout ratio from 20% to 40% rather than by growing its earnings.
This has been especially evident in the last few years, as earnings have shrunk while the dividend has continued to grow. Up until 2013, the company maintained a payout ratio of around 22%, growing the dividend at roughly the same rate as earnings. When earnings declined from 2014 to 2016, IBM continued to raise the dividend, resulting in the current trailing 41.2% payout ratio.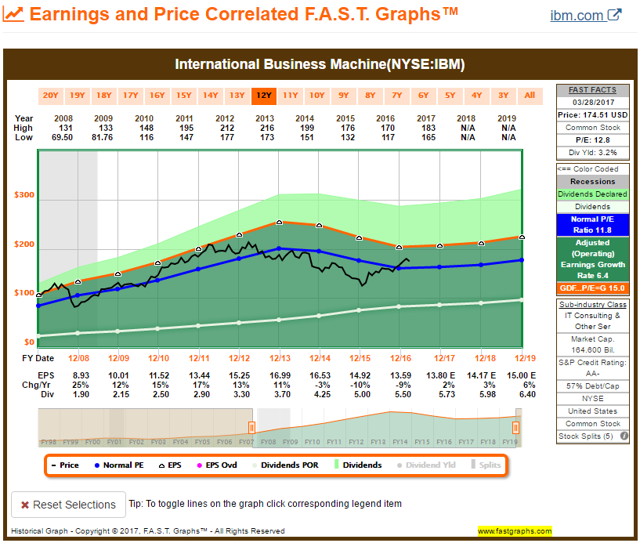 Looking at the last 4 years of increases, IBM has consistently raised in $0.10-$0.20 increments, so I am betting on another dime raise to $1.50 per share. It wouldn't surprise me if the raise came in at a nickel instead, but IBM has the cash and has Warren Buffett to keep happy, so I'm aiming high.
IBM has been working on its turnaround for four years now, and analysts are now expecting EPS growth for the first time since 2013. It takes a long time to turn a ship as big as IBM, but if it executes and gets earnings moving, there could be upside to shares trading at just a 12.6 PE.
Wells Fargo & Company suffered through some self-inflicted wounds in the last year, resulting in its CEO losing his job and a huge PR hit from the false accounts scandal. This has been accompanied by lackluster earnings, which were down slightly over 2015 and are expected to grow by only 3% in 2017.
With a dividend increase of just 1.3% in 2016, and less-than straightforward comments from management about expanding the payout ratio, I am expecting another small increase in April. I don't think Wells Fargo wants (or will be allowed by regulators) to go much above its current ~35% payout ratio, so another half-cent raise is likely on the way.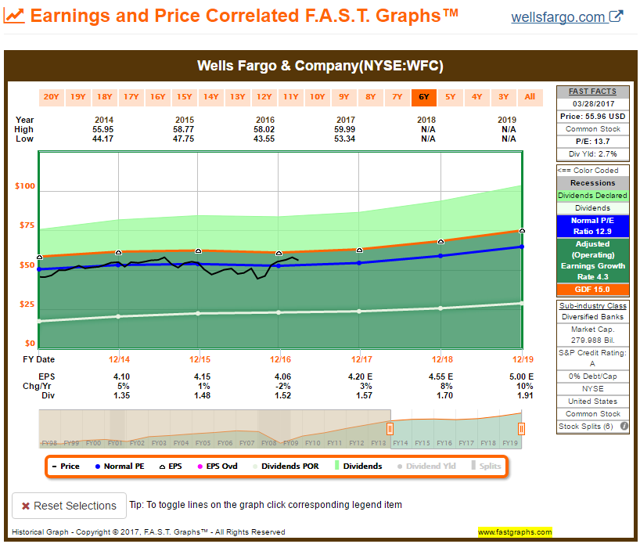 Between rising interest rates, potentially lower tax rates, and reduced regulations, there is plenty of optimism that earnings growth will return for Wells Fargo. In the meantime, I don't think the dividend will be going anywhere fast until that comes to fruition.
Exxon Mobil Corporation has continued to produce annual dividend increases throughout the nearly three year slump in crude prices, and I expect that to continue again this year.
Crude prices are on the rebound, and Exxon still has plenty of borrowing room if need be considering its excellent AA+ credit rating and low 13% debt/cap. That said, I'm not expecting much growth, and think it will be another two-cent raise to match last year.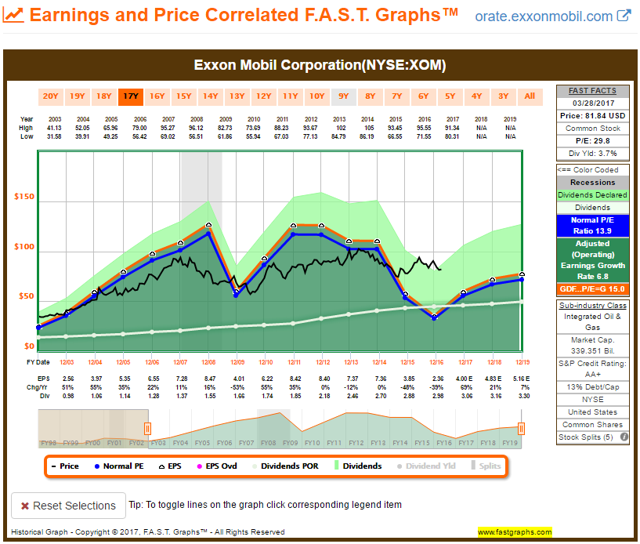 Exxon operates in a cyclical business, and it appears we are at the trough of the current earnings cycle. At a 3.7% yield, this isn't a bad place to get in for those interested in buying the top dog in the oil & gas industry.
Summary & Conclusion
This month's predictions proved a bit more challenging than my previous update. Between the lack of dividend guidance, low earnings growth, and expanding payout ratios, my expectations for growth are fairly limited with this group.
That said, these are all high-quality companies that I expect to hold for a long, long time. Despite the current uncertainty, I expect they will all reward me with continued dividend growth in the long run.
So what do you think? Are there any differing expectations for the upcoming announcements? I'd love to hear them in the comments below!
Happy Investing!
If you would like to receive notifications when my future articles are published, I kindly ask you to click the "follow" button next to my name at the top of the page.
Disclosure: I am/we are long AAPL, AMP, WFC, XOM, IBM.
I wrote this article myself, and it expresses my own opinions. I am not receiving compensation for it (other than from Seeking Alpha). I have no business relationship with any company whose stock is mentioned in this article.
Additional disclosure: I am a Civil Engineer by trade and am not a professional investment adviser or financial analyst. This article is not an endorsement for the stocks mentioned. Please perform your own due diligence before you decide to trade any securities or other products.