By the end of tomorrow there will be a new occupant of Glaxosmithkline's (NYSE:GSK) chief executive's chair, and for the first time in big pharma it will be a woman. Emma Walmsley was named six months ago to lead the FTSE-100 company, an appointment that almost immediately made headlines for an apparent disparity in pay.
The British drugmaker defended the decision to pay her less than the outgoing Sir Andrew Witty on the basis of her experience, pointing out that this will be her first CEO role. An EP Vantage analysis finds that while her starting base salary is the lowest awarded to the existing generation of global big pharma chiefs, it does not seem out of line with her predecessor's first pay checks.
Glaxo will pay Ms. Walmsley a base salary of £1m ($1.2m) this year. Mr. Witty was paid £1.1m last year, although perhaps a better comparator is his starting base salary, of £850,000. Adjusted for inflation this is now the equivalent of Ms. Walmsley's; notably the Glaxo role was also Mr. Witty's first CEO position.
He worked his way up in Glaxo for more than 20 years to head the company's European operations before snagging the top job. Ms. Walmsley was previously head of Glaxo's consumer healthcare unit; she joined the British group in 2010 after 17 years at L'Oreal (OTCPK:LRLCF) (OTCPK:LRLCY).
Intensifying scrutiny of boardroom pay will have also shaped her remuneration package. Investors have become increasingly vocal about perceived excessive compensation, and were said to have put pressure on the Glaxo board to show restraint when putting together Ms. Walmsley's offer.
Whatever forces were at work, the incoming CEO's total package is certainly smaller than her predecessor's at exit. The pension arrangement is less attractive, for example, while the potential bonus she might achieve is also capped at a lower level.
Glaxo's annual report estimates that she is likely to receive a package worth £3.8m this year. Including his base salary of £1.1m, Mr. Witty took home the equivalent of £6.80m last year when bonuses, pensions and other perks are included.
Still, setting pay according to experience does not seem an unreasonable benchmark, even at the upper echelons of corporate power. And Ms. Walmsley's package is not out of line with Mr. Witty's at the start of his tenure – he took home £1.8m in salary, bonus and benefits in 2008, although this jumped to £3.1m the following year, his first full year in the job.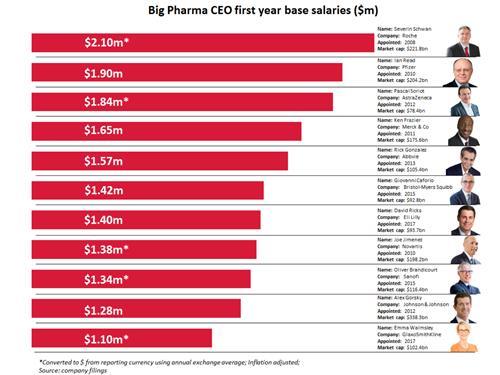 The analysis above shows that Glaxo has form in pitching its CEO base salaries at the low end of the spectrum, among its peers. This should give exasperated investors a certain amount of comfort, particularly as on other measures the company ranks higher - of the world's 11 big pharma names, it is currently eighth on market value and seventh on global drug sales.
The table also helps explain why Pascal Soriot's first pay cheque raised ire at the time, mainly for including a £4m "golden hello" to compensate him for lost bonuses as he switched to work for Astrazeneca. The UK-based company is the smallest big pharma name by market value and at the low end on drug sales. Alex Gorsky's salary looks restrained in contrast, considering that Johnson & Johnson's (NYSE:JNJ) market cap is four times Astrazeneca's (NYSE:AZN).
Of course base salary is only one part of the picture, as the analysis below of total compensation packages reveals.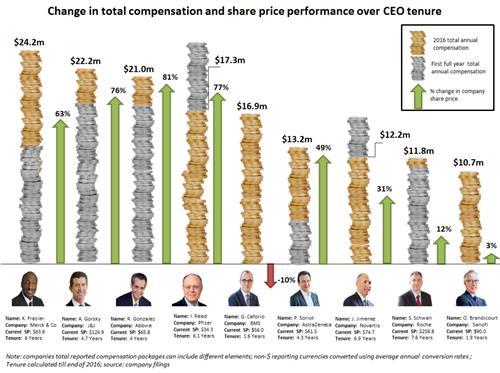 On this measure Mr. Gorsky has always enjoyed substantially larger rewards than Mr. Soriot. This geographical trend is reflected across much of the corporate world, and it is well known that US executives get paid considerably more than their European counterparts. Stock options and other perks are much more important to remuneration packages in America, where base salary frequently does not shift much. What is included when packages are disclosed also varies; for example in the UK the value of stock options is not always fully reflected.
There will also be cultural differences between individual companies that make direct comparison of executive packages difficult. As such, the salaries of the incoming Ms. Walmsley and outgoing Mr. Witty are a better case study, and equal pay activists will be keeping a close eye on how she progresses. As the first big pharma female CEO and only the seventh woman to head a FTSE-100 company, she is breaking through more than one ceiling.
Investors, however, should be equally concerned that growth in her salary – and of the other executives in this group – adequately reflects any shift in shareholder returns. And in the last few years growing scrutiny of excessive remuneration from the financial sector has also found support among politicians, in Europe at least.
So Ms. Walmsley may find justifying pay rises much harder than her predecessor did, for reasons other than her chromosomes.