Thesis:
The valuation of Rocky Brands (NASDAQ:RCKY), is much more attractive now that the shares have fallen. The balance sheet, cash, dividend, and overall financial strength of the company is very appealing; however, without options hedging or catalysts, it makes it more difficult to take a position.
Earnings (February 12, 2017, via press release):
Nothing great here. Mostly a wait and see if the earnings can resume growth.
Fourth Quarter Revenue Increased 2.6% to $67.0 Million

Debt Reduction: Funded Debt Decreased 38.5% Year-Over-Year to $14.6 Million

Fourth Quarter 2016 Sales and Income

Fourth quarter net sales increased 2.6% to $67.0 million versus net sales of $65.3 million in the fourth quarter of 2015. The Company reported a fourth quarter net loss of $0.6 million, or ($0.09) per diluted share, compared to fourth quarter net income of $1.4 million, or $0.18 per diluted share in the year ago period.

Fiscal Year 2016 Sales and Income

For fiscal year 2016, net sales decreased 3.4% to $260.3 million versus net sales of $269.3 million in fiscal year 2015. Excluding the $1.2 million reorganizational charge, fiscal 2016 net income was $0.6 million, or $0.08 per diluted share.

Mike Brooks, Chief Executive Officer, commented, "The fundamentals of our business continued to improve in the fourth quarter following a difficult start to 2016. While our full year results were disappointing, we've taken a number of actions that we believe will improve our earnings power going forward. I'm confident that the changes we've made to our operating strategies and leadership team in response to the challenges of the past 12-months have made us a stronger organization and better positions Rocky Brands to return greater value to its shareholders over the long-term."
Attractive Valuation:
This graph presents the favorable valuation the company now presents. The market cap has been reduced below the level of cash/ current assets, providing the margin of safety in the shares.
Dividend/Yield:
We like to see a consistent dividend and the company has actually raised the dividend from .09 to .11 and the current yield is 3.9% based on the current price. It's pretty rare to find a company that has a share price that has fallen by 50% and is still able to keep raising a dividend.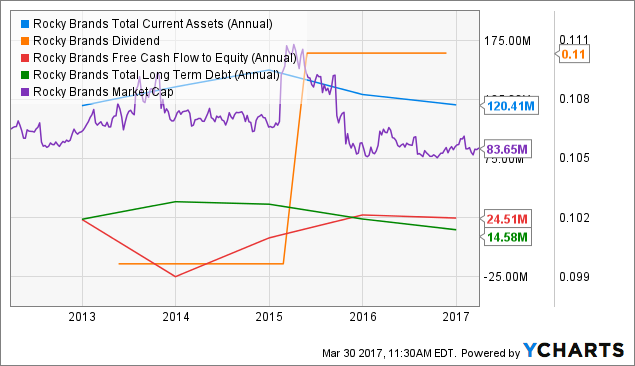 RCKY Total Current Assets (Annual) data by YCharts
Cashflow:
The cashflow is not as strong or consistent as we would like to see. However, the low valuation and assets make up for this fact.
The share price basically trades on cash flow and correspondingly, current assets. The p/e over the past 5 years is basically flat.
Relative Price Action:
We see the shares have traded down from a recent high of over $20 a share two years ago to $11.40 today. This changes the value proposition of the shares due to the low book value, cash flow generation, and current assets the company has. At this price level, we see the current assets of the business cushion much of the risk in the downside. This is an $84M market cap company with $120M in cash/ current assets and minimal debt.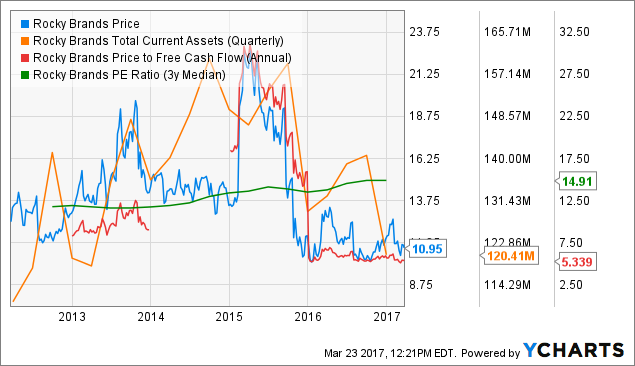 Book Value:
The company trades at a large discount to book value. While not the best gauge of value, this confirms the other margin of safety we see in the shares specifically, the cash/assets.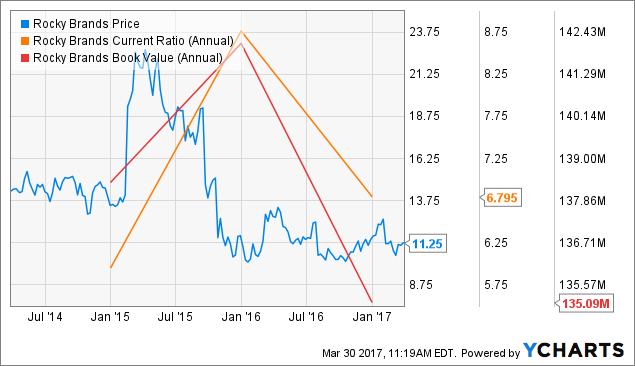 Growth/Earnings:
The potential issue for the company is maintaining the business and growing the revenues. The decelerating growth is now priced into the stock. If the company were to resume growth, the shares at this price level would be viewed in hindsight as a true bargain.
The company mentioned some new initiatives they were implementing on the conference call to resume growth. It is unclear if these will be effective.
New Contracts (via Seeking Alpha):
And they received some new military contracts in January.
Rocky Brands won a one year contract for approx. $8.4M to produce "Hot Weather" combat boots and three years contract for approx. $30M to produce "Temperate Weather" combat boots for the U.S. Military.

The Company expects to begin fulfilling both orders in the first half of 2017.

Mike Brooks stated, "We are extremely pleased to receive these new contracts from the U.S. Military. As we previously stated, increased sales to our military is a key component of our diversified growth strategy and we have the capabilities to meet the footwear requirements of our military in our recently expanded Puerto Rico manufacturing facility."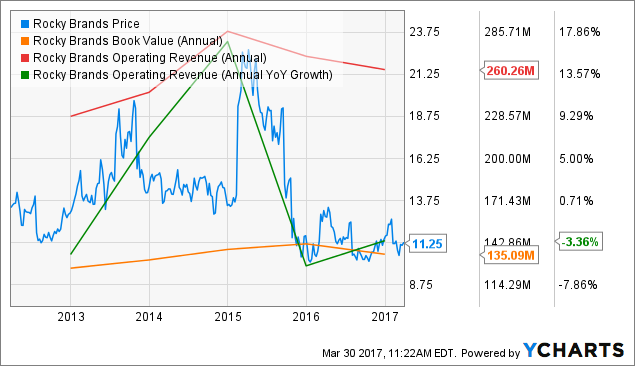 Retail/Catalysts:
The overhang of the whole retail sector could present a headwind on price appreciation. In addition, it's hard to find a near-term potential catalyst that could move the shares higher. A 3.9% yield is nice, but insufficient for the types of returns I look for.
Technical Overview/Insider Buying:
An encouraging sign is the recent insider purchases as the stock returned to the $10-$12 level.
And the shares have been forming a nice base which could prevent more downside and give the shares the base to resume a climb to higher levels.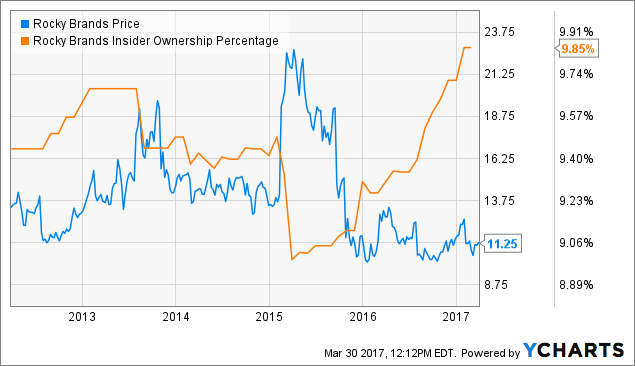 Medium-Term Catalysts: A valuation this low could present numerous positive medium- term catalysts including a buyout and or/ activist investors. However, in the near-term it is hard to find an exciting catalyst.
Lack of Options:
Unfortunately as happens with small cap companies, RCKY does not offer options to hedge or create ways to enhance the yield or create a buy-write strategy. This makes it much harder for a sophisticated investor to become excited in this situation. I like to create positions in a stock where I am paid to wait, as I described in RIG recently.
Conclusion:
I find the valuation of the company to be very attractive. However, the lack of options and near-term catalysts presents a situation that presents not enough upside in the near-term and there are better situations elsewhere. I will keep monitoring the situation, but am not buying the shares.
Disclosure: I/we have no positions in any stocks mentioned, and no plans to initiate any positions within the next 72 hours.
I wrote this article myself, and it expresses my own opinions. I am not receiving compensation for it (other than from Seeking Alpha). I have no business relationship with any company whose stock is mentioned in this article.
Editor's Note: This article covers one or more stocks trading at less than $1 per share and/or with less than a $100 million market cap. Please be aware of the risks associated with these stocks.