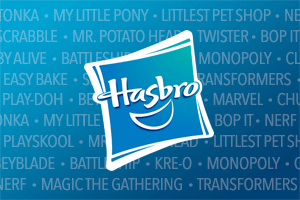 Hasbro (NASDAQ:HAS) gained much attention recently when the stock jumped 14% in February 6 trading, after the company unveiled strong quarterly results that easily beat expectations. I analyzed Hasbro's financials and historic stock performance and recommend the investors to BUY the stock for long-term gain.
A look at Hasbro's income statements for the past three years reveals a stable business model that depends on only one thing: revenue. Superior results in 2016 (a 21.6% increase in diluted EPS) are exclusively the result of almost 13% revenue growth.
Table 1: Hasbro Income Statement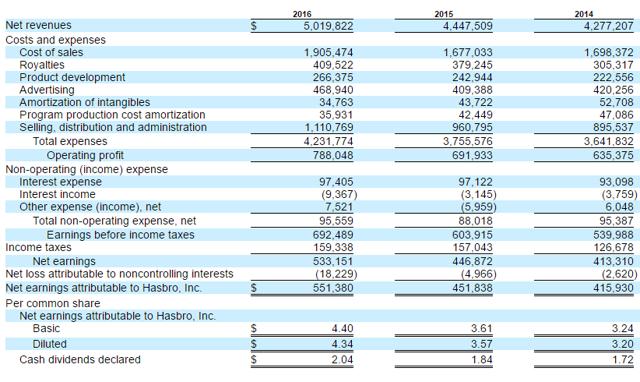 Source: Hasbro 10-K
Ratios of different classes of expenses to revenue are fairly constant, as seen in Table 2.
Table 2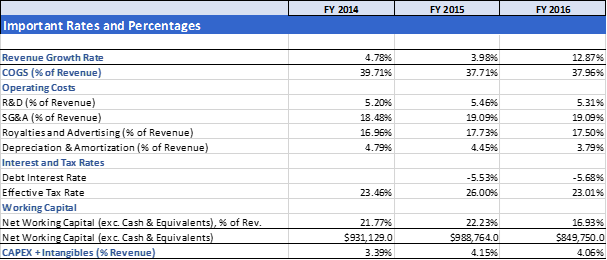 Source: data - Hasbro 10-K, model by author
Hasbro is involved not only in production of toys, but also in motion pictures, television, and digital content. As stated in its latest 10-K: "Program production costs are capitalized as incurred and amortized using the individual-film-forecast method." This means that for a cash flow projection, we need to consider not only capital expenditures, but also program production costs as cash outflow positions. Same goes for depreciation and amortization, which is reported in detail only in the cash flow statement, presented in Table 3.
Table 3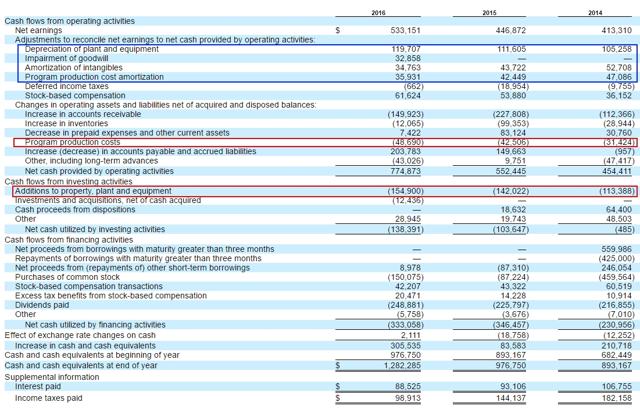 Source: data - Hasbro 10-K, highlights by author
For the purpose of this model, I have treated three classes of D&A as a consolidated projected position, and Capex + program production as a single cash outflow position.
DCF projections are presented in Diagram 1, and final calculation and estimated stock price in Diagram 2. In Diagram 1, you can see the ratios I used for projection (mostly averages of the past three years). The most important one is revenue growth rate, which is strongly influenced by high growth in 2016. (However, in Diagram 2, there is a sensitivity analysis that includes the possibility of a significantly lower revenue growth rate, and it still results in an upside of over 13% against the March 29 closing price.)
Diagram 1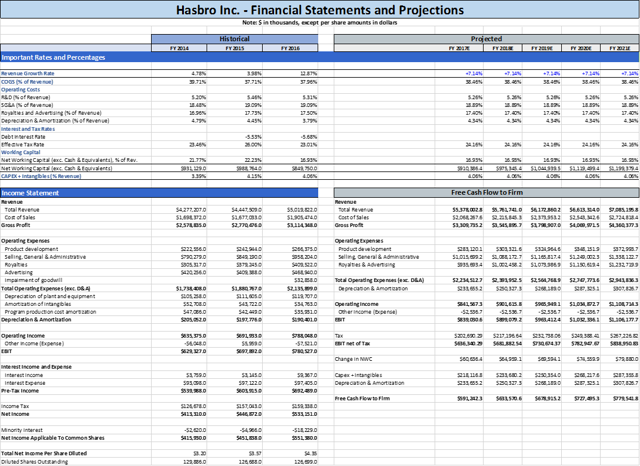 Source: data - Hasbro 10-K, DCF model by author
My DCF model estimates the fair value of Hasbro's stock at $124.95 (over 25% upside), while the sensitivity analysis results in a range between $113.27 and $137.79 per share. An important factor in this valuation is Hasbro's low beta (levered) of 0.71, despite being three times higher than industry average debt to equity ratio. I have opted for slightly adjusted company's beta as I believe that using industry beta, relevered to Hasbro's debt to equity ratio, doesn't make much sense (but that discussion would be outside the scope of this article). By the same logic, I think it is safe to ignore the results computed by using company's beta relevered to industry's D/E.
Diagram 2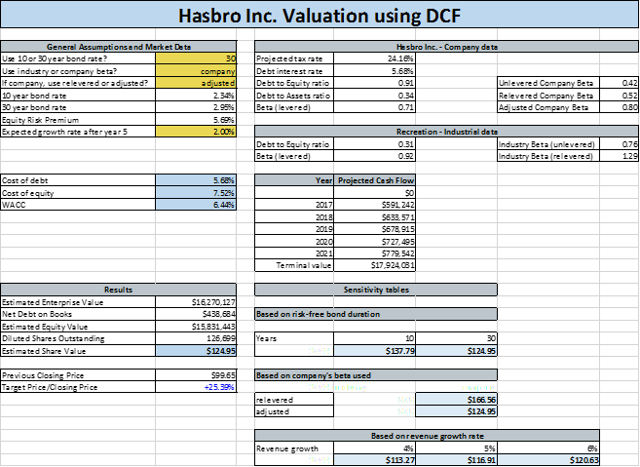 Source: data - Hasbro 10-K, DCF model by author
In the end, let us compare how Hasbro's stock has performed against the overall market, using S&P 500 as benchmark. I have used total return data (as provided by Yahoo Finance) for both, NOT the unadjusted historic closing numbers. Diagram 3 shows HAS and S&P 500 performance over the course of 10 years, since January 1, 2007.
Diagram 3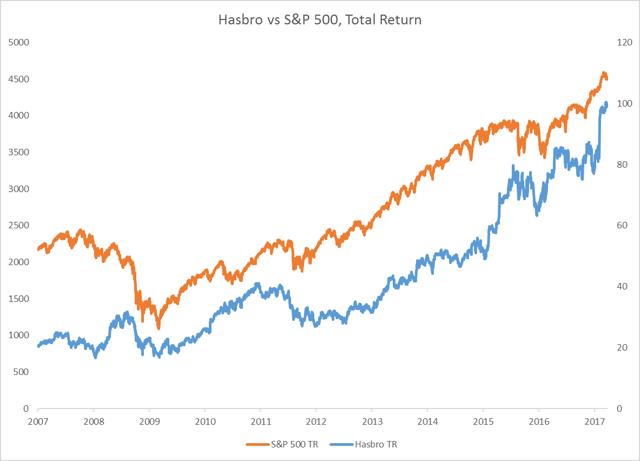 Source: data - Yahoo Finance, infographics by author
It would seem that S&P has outperformed HAS at least since 2009, right? Wrong. It's always interesting how "raw" charts can obscure the percent change, especially when comparing two or more securities. Diagram 4 represents percent return on a dollar invested on January 1, 2007, either in HAS or in S&P 500.
Diagram 4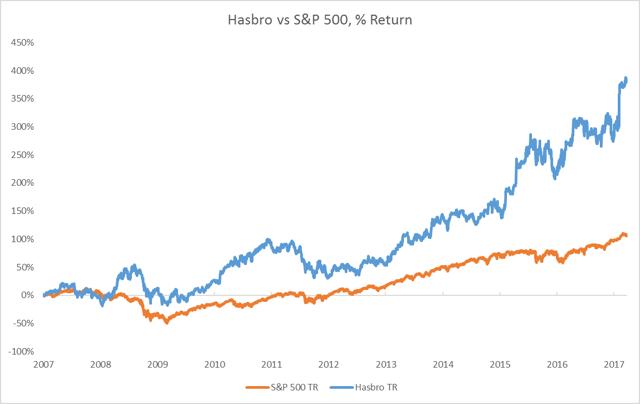 Source: data - Yahoo Finance, infographics by author
Here, we see that Hasbro has consistently outperformed S&P 500 for over 10 years, and has returned a cumulative ROI of 382% vs. only 107% for S&P 500.
Opinion
DCF analysis shows that the company is undervalued and offers a strong upside for investors, even under the assumption that high revenue growth in 2016 was a one-time occurrence. Furthermore, Hasbro's historic stock performance demonstrates a record of "positive surprises". I set a BUY recommendation for this stock, with a target price range of $115-135, which represents a 15-35% upside.
Disclosure: I/we have no positions in any stocks mentioned, and no plans to initiate any positions within the next 72 hours.
I wrote this article myself, and it expresses my own opinions. I am not receiving compensation for it (other than from Seeking Alpha). I have no business relationship with any company whose stock is mentioned in this article.