High-Yield Corporate Bonds With Downside Protection
High-yield bonds have been an a year-long bull run. The two large high-yield bond ETFs, iShares iBoxx $ High Yield Corporate Bd (HYG) and SPDR® Blmbg Barclays High Yield Bd ETF (JNK), are up 13.9% (NYSEARCA:HYG) and 15.2% (NYSEARCA:JNK) TTM for total return. Of course, this follows a dismal year: HYG was down -4.7% and JNK lost -7.1% the previous 12 months. There are ample indications that this streak may have run its course.
At the beginning of March the yield-spread reached its lowest point since June 2014. These two charts show the correlation between turnarounds in the yield curve and the responses of the ETFs.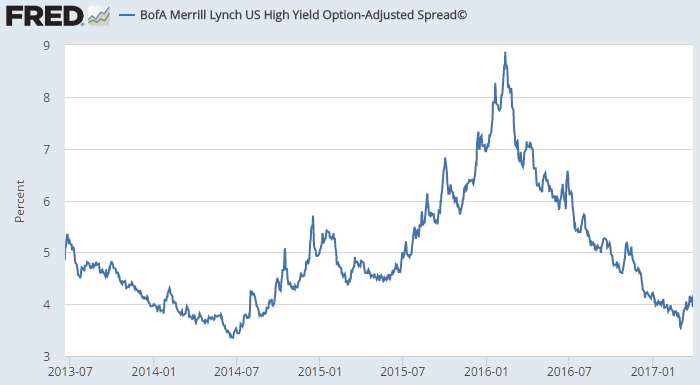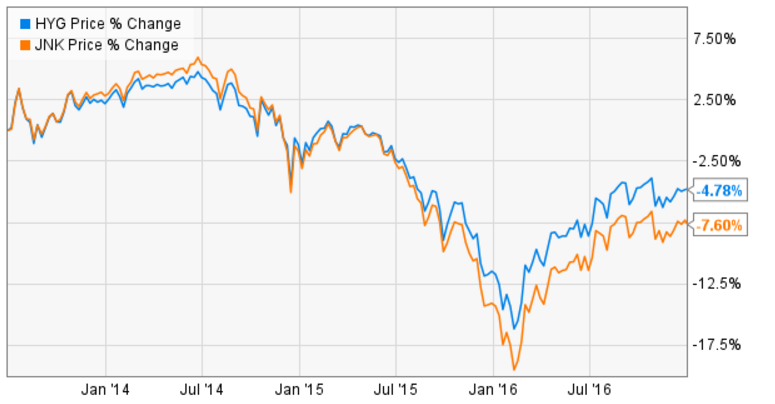 Since the 1 March low, the yield curve has increased by 40 basis points. It may, of course, hold at low levels for extended periods, but I'd prefer not to wait and see if a suitable alternative can be found.
This leads me to consider ways to stay invested in high-yield bonds, which may take many months to start dropping. One path can be looking outside the US market. Emerging market high-yield is looking attractive right now, but that's the subject of another article, one I hope to get to in the next few days. Today I'd like to look at an alternative domestic high-yield ETF that tends to keep pace with HYG and JNK in flat to modestly moving markets but adds considerable downside protection when the market goes through its periodic precipitous drops.
The ETF is First Trust Tactical High Yield ETF (HYLS). In this next chart I add HYLS to the ETFs shown above: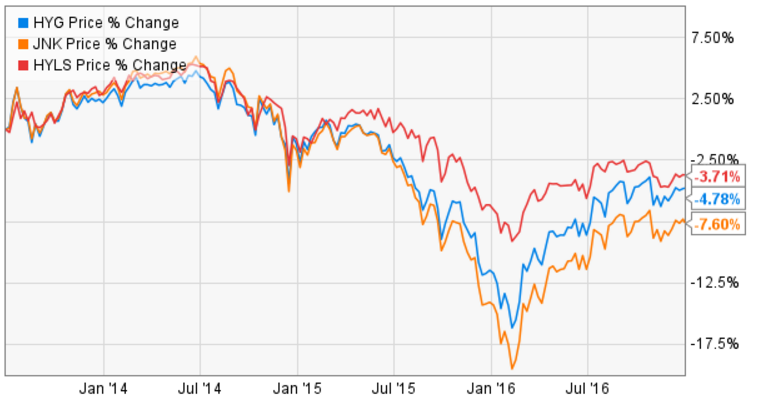 It's clear that for the flat period from mid-2013 through the beginning of the 2015 decline, HYLS kept pace with the traditional high-yield ETFs. But when the bottom fell out, HYLS fared much less poorly than HYG or JNK.
Like HYG and JNK, HYLS deals primarily in below investment-grade securities. Unlike those passive index funds, HYLS is actively managed and takes short positions when market conditions favor a short strategy. The fund's long positions may total up to 130% of its net assets. The fund's short positions will range between 0% and 30% of its net assets. In addition to short positions in high-yield securities, the fund may also take short positions in US Treasuries and investment-rated corporate debt.
Active management here involves a rigorous fundamental credit selection, market evaluation, diversification, long and short positions and the ability to reallocate investments among senior and subordinated debt and derivatives. This is coupled with fundamental analysis including evaluation of industry trends, management quality, collateral adequacy, and the consistency of corporate cash flows.
As always, this level of management comes at a price. Management fees are 0.95%. Borrowing costs add another 0.28% for a total expense ratio of 1.23%. By contrast, HYG's fees are 0.50% and JNK's are 0.40%.
The fund has an inception date of 25 Feb 2013, so we have a four-year history for it that includes a considerable swing in the market cycle.
Let's start with a look at 30- and 60-day rolling total return for HYLS and HYG.
These charts emphasize the point that HYLS captures the upside and holds the downdraws to generally well above HYG's. The hot high-yield market early in 2016 is the only period where HYG has sustained stronger positive returns.
Here is an analysis from portfoliovisualizer.com covering March 2013 through Feb 2017:

Nearly every metric favors HYLS: CAGR more than a percentage point higher than HYG and much lower drawdowns. Again, the hot 2016 market gave HYG and JNK a considerable edge in the Best Year return.
This is seen graphically in the next chart (portfoliovisualizer.com) where P1= HYG, P2=JNK, and P3=HYLS. 2013 covers March through December and 2017 covers January and February.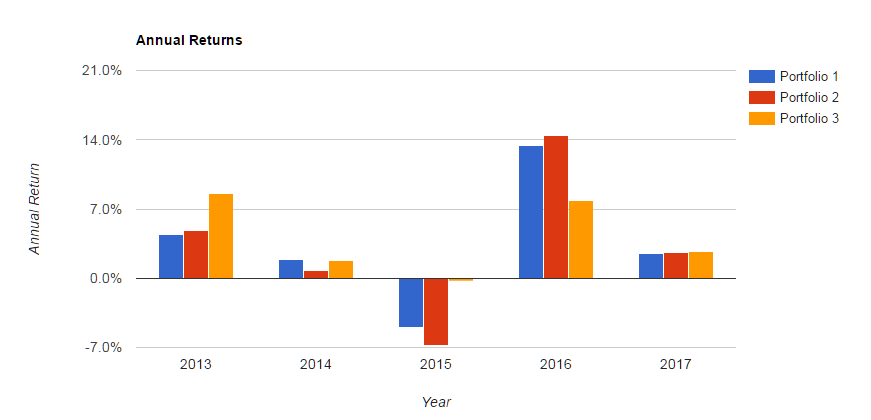 And for one final chart, here is a total return for the full four years of HYLS's existence comparing it with HYG: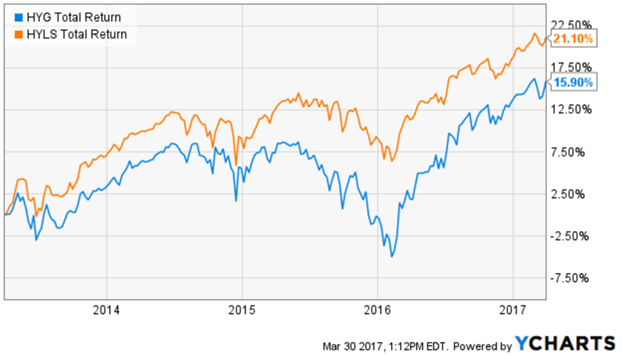 Yield is essentially the same as HYG and below that of JNK:

I consider an allocation to high-yield bonds to be a component of a well-diversified portfolio. The asset class tends to be more correlated with equity than other domestic bonds classes: investment-grade corporate bonds and treasuries, which are negatively correlated with equity. HYLS is less correlated with equity than the passive high-yield ETF, HYG, and behind REITs and emerging market bonds relative to equity. This table shows the correlations of HYLS, HYG and representative ETFs from these other asset classes:
There are low correlation coefficients for HYLS and all of these asset classes. It has a surprisingly (to me, anyway) low correlation to HYG as well.
It's my view that HYLS is a superior ETF for exposure to high-yield debt than either of the two large high-yield ETFs. It has outperformed them over its four-year history, suffered much lower losses in market cycle downturns, and has a more attractive fit as a portfolio diversifying element as well.
Disclosure: I am/we are long HYLS.
I wrote this article myself, and it expresses my own opinions. I am not receiving compensation for it (other than from Seeking Alpha). I have no business relationship with any company whose stock is mentioned in this article.
Additional disclosure: I am not an investment professional and this article does not constitute investment advice. I am passing along the results of my research on the subject. Any investor who finds these results intriguing will certainly want to do all due diligence to determine if any security mentioned here is suitable for his or her portfolio.