Five Prime Therapeutics (NASDAQ:FPRX) is a San Francisco-based immunoncology company that is developing novel monoclonal antibodies for the treatment of various cancers. The company has been a focus of investor attention after signing a potential $1.74 billion deal to develop Cabiralizumab/FPA008 with Opdivo (anti-PD1 antibody) in various cancers. The stock has pulled back after a 52-week high of $61 in November 2016 and could reverse course due to up-coming catalysts. Institutional investors like FMR LLC (Fidelity) and Vanguard have added to their stakes in February 2017 and Instinet/Nomura initiated coverage with a Buy rating and a price target of $94 on 3/2/17. We decided to take a look at the company.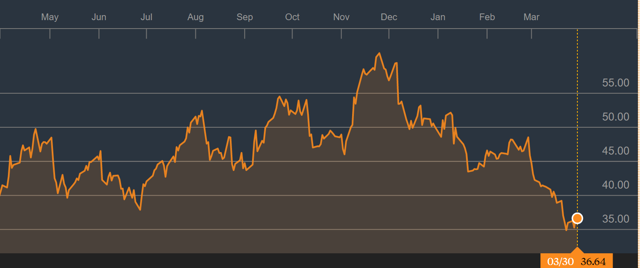 (Five Prime Therapeutics, common stock price chart. Source: Bloomberg)
Product Pipeline: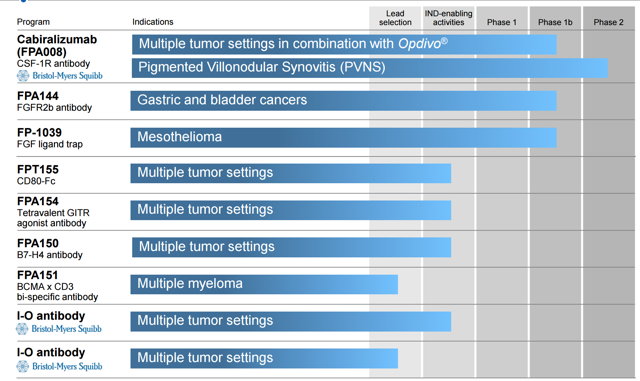 (First Prime Therapeutics, product pipeline)
Cabiralizumab/FPA008:
Colony stimulating factor CSF-1R controls the survival and function of certain immune response cells like monocytes and macrophages. By inhibiting CSF-1R, FPA008 inhibits tumor-associated macrophages.
Pigmented villonodular synovitis (PVNS) is characterized by locally aggressive tumor of synovium and is caused by overexpression of CSF-1. Local PVNS can be treated by surgical resection but there are no approved therapies for diffuse PVNS. It affects about 25,000 patients in the US. FPA008 has Orphan drug designation for FDA and EMA in this indication. A phase 2 trial of FPA008 monotherapy in this indication is ongoing (results expected in mid-2017 at ASCO meeting). Based on the results, a pivotal trial will be planned.
FPA008 is also being tested in combination with Bristol-Myers' (NYSE:BMY) Opdivo in the treatment of various cancers. The combination could be synergistic in the treatment of certain cancers. Bristol-Myers has the worldwide commercial rights to FPA008 in oncology and non-oncology indications. Under the agreement, Bristol-Myers paid First Prime $350 million upfront payment, a potential $1.04 billion in milestone payments in oncology indications, a potential $340 million milestone payments in non-oncology and PVNS indications and mid-teen to low-20s percentage of net sales as royalty revenue. Under a separate agreement, Bristol-Myers and First Prime are also collaborating to develop three unidentified immune checkpoint pathways (potential milestone payments worth $300 million+royalty payments for First Prime).
In a preclinical pancreatic cancer model, the combination showed synergistic action shown by reduction in tumor mass higher than either drug alone (see figure below).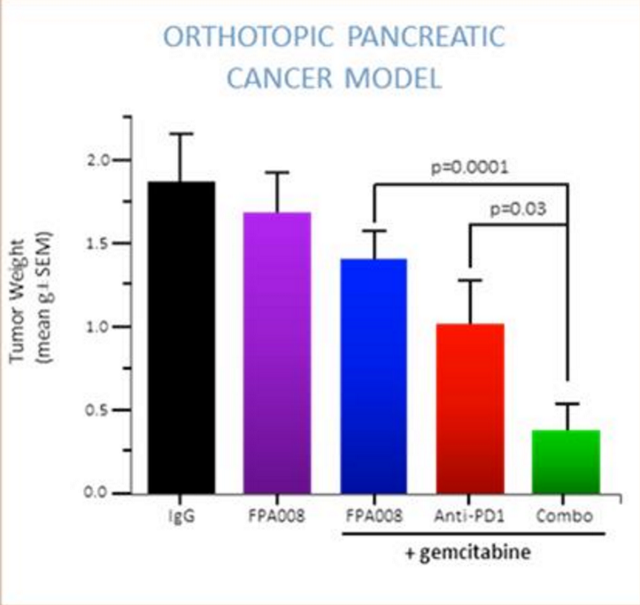 In a phase 1 study, the combination was found to be safe and well-tolerated with the most common treatment related adverse event being eyelid/periorbital edema (which is a class effect on anti-CSF1 mAbs).
FPA008 and Opdivo combination is being tested in a phase 1b trial (enrolling 280 patients) in: 2nd line or 3rd line in non-small cell lung cancer, NSCLC (antiPD1 naive), antiPD1 resistant NSCLC, 2nd line in squamous cell cancer of head and neck (SCCHN), 2nd line in pancreatic cancer, 3rd line in renal cell cancer, 3rd line in ovarian cancer, and 2nd line in glioblastoma multiforme. Data from this on-going phase 1b trial is expected in the second half of 2017. Various patents for FPA008 extend till 2031.
Potential competition for FPA008 includes other anti-CSF1 antibodies/small molecule drugs under development, for example PLX3397 (Daiichi Sankyo), emactuzumab (Roche), LY3022855 (Eli Lilly), AMG820 (Amgen), SNDX6352 (Syndax Pharma), BLZ945 (Novartis), etc. PLX3397 is in a phase 3 trial in PVNS. Amgen is testing AMG820 (anti-CSF1 mAB) in combination with Keytruda in phase 1b trial in various solid tumors. Astra Zeneca (NYSE:AZN) and Eli Lilly (NYSE:LLY) are testing a combination of Durvalumab (anti-PDL1) and anti-CSF1 LY3022855 in solid tumors (phase 1a/b). Novartis (NYSE:NVS) is also testing a similar combination (BLZ945 and FPR001) in solid tumors (in phase 1/2). BMS/First Prime have a time-lead in this combination therapy.
FPA114:
It inhibits fibroblast growth factor receptor (FGFR) 2b that promoted tumor cell growth. It is in a phase 1b trial in gastric cancers that overexpress FGFR2B (data expected at ASCO 2017). Gastric cancer affects about 74,000 patients in the US (and 26,000 new cases per year) and 3-9% may overexpress the FGFR2 oncogene. So far, it has shown 3 confirmed partial responses, 4 confirmed stable disease responses and 2 progressive disease responses in gastric cancer. It has Orphan drug designation from FDA in this indication. It is also being tested in a phase 1b trial in FGFR2b+ bladder cancer and has shown one complete response. Five Prime owns all commercial rights to this molecule but will pay aggregate about low teens to mid-twenties percentage on net sales as royalty payments to Galaxy Biotech and Biowa-Lonza. Various patents extend till 2029-30.
Potential competition includes Daiichi Sankyo's DS-1123 (FGFR2 non-isoform specific Ab) which is in phase 1 trial in Japanese patients with solid tumors. Astra Zeneca is developing AZD4547, a panFGFR small molecule inhibitor but has the disadvantage of causing hyperphosphatemia unlike FPA114.
FPA1039:
It is a selective antibody that blocks FGFR1 only and thus has better safety and tolerability than non-selective FGF blockers like small molecule FGF tyrosine kinase inhibitors like nintedanib (that cause hyperphosphatemia). It was initially licensed by Glaxosmithkline (NYSE:GSK) but First Prime owns all the worldwide commercial rights now. It is being tested in a phase 1b trial in FGF2+ mesothelioma. Mesothelioma affects about 3000 new cases in the US annually. Data from the phase 1b trial is expected at ESMO annual meeting in the second half of 2017. Various patents extend till 2029-30.
Preclinical programs:
FPA154: It activates GITR (glucocorticoid-induced tumor necrosis factor) which is one of the most potent inhibitors of tumor cell growth. Unlike other GITR antibodies, FPA154 has a tetravalent structure. It has the potential to be combined with anti-PD1 antibodies. IND is planned to be filed in Q4, 2017. Five Prime will pay low double-digit percentage of net sales as royalty to InhibRx.
Other GITR agonists include MEDI873 (Astra Zeneca) which is in phase 1 in solid tumors and INCAGN01876 (Incyte, Agenus) which is also in phase 1 in solid tumors.
FPA155: It activates CD28 and decreased tumor cell ability to evade CD8 cells binding to and blocking CTLA-4 and PD-L1. It is one of the most potent inhibitors of tumor growth. IND is planned to be filed in 2018.
FPA150: It blocks a CD8 T cell checkpoint pathway and inhibits B7-H4 on tumor cells, thus increasing antibody-dependent cell-mediated cytotoxicity.
Leadership:
CEO and founder, Lewis Williams, MD, PhD: He served as the Chief Scientific Officer at Novartis Vaccines and Diagnostics/Chiron Corp. He also served on the faculties of Harvard Medical School and University of California.
COO, Aron Knickerbocker: He served as Senior Director, Business Development at Genentech, and Director of Commerical Development at Alza Corp. (acquired by J&J).
CMO, Helen Collins, MD: She served as Program Lead for Gilead's (NASDAQ:GILD) GS-5829 and GS-4059 programs, and Global lead, Oncology Biosimilars at Amgen.
The Board of Directors includes several prominent industry veterans including current Board members at Immune Design (NASDAQ:IMDZ), Biocryst Pharmaceuticals (NASDAQ:BCRX), Genomic Health (NASDAQ:GHDX), a former VP/Head of Oncology at Roche, a former CEO at COR Therapeutics, a former CMO at Receptos (Acquired by Celgene), a former SVP at Schering-Plough, a former CEO at PDL Biopharma, a former SVP, Business Development at Pfizer (NYSE:PFE), etc.
Financials and valuation:
Five Prime Therapeutics is expected to have $421.7 million in cash reserves at end of 2016. Operating cash burn was $79.8 million in 2016 and we don't anticipate any immediate dilution. The management expects operating cash burn of <$120 million in 2017 and end 2017 with cash reserves of $300 million. There is no long-term debt.
We expect FPA008, FPA1039 and FPA144 to be priced at AWP=$175k/year in the US (in line with Opdivo, a monoclonal antibody) or average sales price, ASP=$129,500K/year (at 74% of AWP, average per Pharmagellan guide). We input cumulative probability of FPA008, FPA1039 and FPA144 of reaching the market in this indication=30% (based on average probability of success for phase 2/3 trials and regulatory stage success for oncology drugs, Pharmagellan guide).
We modeled peak, risk-adjusted U.S. revenue for BMS from FPA008=$2.02 billion (in 2024) in PVNS, 2nd/3rd line NSCLC, 2nd line in pancreatic cancer and SCCHN, and 3rd line RCC or peak $506 million royalty revenue for Five Prime. Our estimate for peak, risk-adjusted revenue for Five Prime from FPA008 (royalties), FPA1039 (mesothelioma), and FPA144(gastric cancer) is $653 million. Market share trajectory and peak market share were modeled in line with the guidelines of the Pharmagellan guide.
Using rNPV method (15% cost of capital), we calculated fair value of equity= $1.84 billion after adjusting for non-operating assets, operating loss carryforwards and liabilities (using diluted share count) or $55.51 per share.
We are initiating coverage on Five Prime Therapeutics common stock with a Buy rating and a first price target of $56 (minimum 2-3 years time frame). We also expect the preclinical pipeline, especially GITR agonists to be a significant revenue driver in the future.
Cowen initiated coverage on the stock with a Buy rating (no PT given) on 3/24/17.
Upcoming catalysts:
- Results of phase 2 trial of FPA008 in PVNS are expected at ASCO in mid-2017.
- Results of phase 1b trial of FPA008+Opdivo in various solid tumors is expected in the second half of 2017.
- Results of phase 1b trial of FPA144 in gastric cancer are expected at ASCO in mid-2017.
- Results of phase 1b trial of FPA1039 in mesothelioma are expected at ESMO meeting in the second half of 2017.
Risks in the investment:
It is possible that the ongoing clinical trials may fail, regulatory agencies might not approve the products, unexpected side effects might be seen in the future, clinicians might not widely prescribe the products or insurers might not reimburse them. Competing products from other companies might gain significant market share in the planned clinical indications. The company may also need to raise additional capital in future.
Note: To get more investment ideas like this as soon as they are published, click on my profile and hit the big orange "Follow" button and choose the real-time alerts option.
Premium Research Service
Get more investment ideas like this by subscribing to Vasuda Healthcare Analytics, our premium equity research service (listed in Seeking Alpha's Marketplace). Subscribers have earlier access to the research reports, have access to the model portfolio (with price targets and suggested allocation) with regular updates, conviction buy list (30 companies), a contrarian portfolio and a subscriber-only chat room. Link to subscribe.
Disclosure
This article represents my own opinion and is not a substitute for professional investment advice. It does not represent solicitation to buy or sell any security. Investors should do their own research and consult their financial adviser before making any investment.
Disclosure: I am/we are long FPRX, BMY, IMDZ.
I wrote this article myself, and it expresses my own opinions. I am not receiving compensation for it (other than from Seeking Alpha). I have no business relationship with any company whose stock is mentioned in this article.