My favorite stock market sector is healthcare. While I am long-term bearish on the outlook for the broader stock market, I have become increasingly bullish on the prospects for the healthcare sector. This positive sentiment goes back to mid-2016 when I began accumulating healthcare positions, and as of today, it is my largest sector overweight with my portfolio stock allocation. The following are just a few reasons why I remain constructive on the healthcare sector.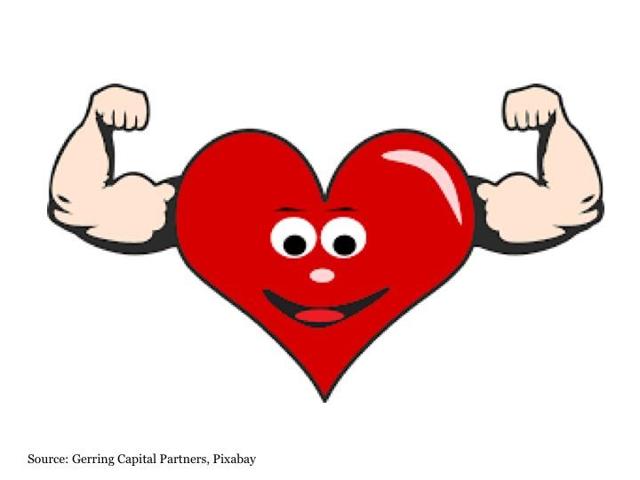 Consistently Positive Earnings Trends
Unlike the broader market that is just now emerging from a two-year earnings recession, the healthcare sector has hardly missed a beat in recent years. Since the summer of 2011 when we began to see meaningful divergences in both U.S. and global size, style and sector performance, the earnings per share on the S&P 500 healthcare sector has steadily risen from the $25.00 to $35.00 range to date.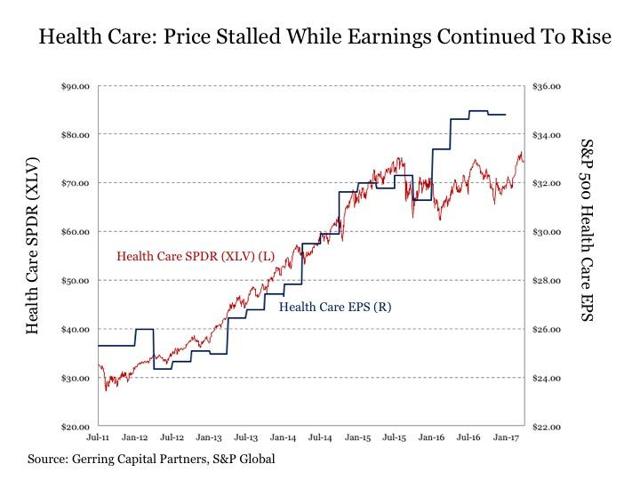 More notably, starting in the summer of 2015, the price performance of the healthcare industry as measured by the Health Care Select Sector SPDR ETF (NYSEARCA:XLV) began flattening out. This was due to a cooling in what had been previously white hot bullishness for biotech stocks (NASDAQ:IBB) as well as the emergence of concerns about the increasing involvement of government in regulating drug prices. And over the past two years, while healthcare earnings continued to steadily rise, the sector has been oscillating in a sideways trading channel. As a result, the stock price of the sector has trailed the trend implied by underlying earnings. This is a favorable set-up that provides room for stock prices in the healthcare sector to catch up to the upside.
More Reasonable Valuations & Attractive Fundamentals
While I would not go so far as to say that the healthcare sector as a whole is inexpensive, it boasts a variety of attractive valuation characteristics.
First, a number of the key industries that make up the healthcare space such as pharmaceuticals (NYSEARCA:IHE) and medical device (NYSEARCA:IHI) companies are trading at reasonable valuations if not outright discounts to both their normalized price-to-earnings ratio as well as their intrinsic value.
Second, the fact that the price of healthcare stocks have collectively stalled at a time when underlying earnings have risen has made valuations more reasonable on an absolute price-to-earnings ratio basis. The same principle holds true on a price-to-sales basis, as sector revenues have continued to steadily rise in support of these higher earnings, which is particularly constructive from a valuation standpoint.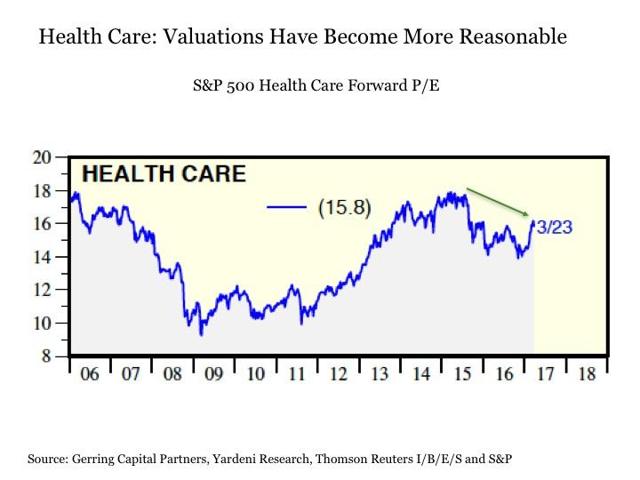 Third, forward earnings forecasts remain robust for the sector in the +15% to +30% year-over-year range, implying that the price may have even greater room to catch up to the upside in the coming quarters as earnings growth accelerates.
Lastly, healthcare sector valuations relative to the S&P 500 Index (NYSEARCA:SPY) have also become increasingly attractive over the past three years. Whereas the sector once traded at a premium relative to the broader market just a few years ago, it now trades at a 10% discount. And the opportunity to own a defensive sector at this stage of the market cycle at a discount to the broader market is appealing both from a potential returns standpoint, but also from a downside risk protection perspective.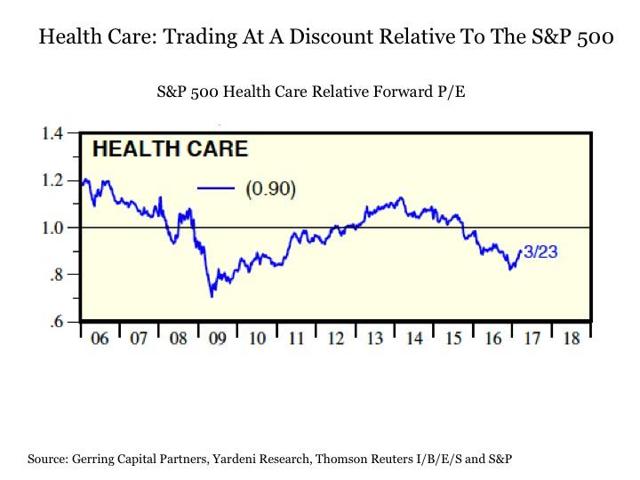 Waning Government Intervention Risk
Another qualitative factor favoring the healthcare sector in the current environment is the fact that a number of the regulatory and fiscal policy overhangs are now waning.
For example, investors had been understandably concerned about the implications for the healthcare industry resulting from the uncertainty associated with the potential repeal and replacement of the Affordable Care Act. But this risk is much more muted today than it was even a month ago.
Worries over the increasing intervention by the government on drug pricing are also on the fade, as consensus in Washington remains elusive and policy makers are increasingly finding themselves bogged down in other issues.
And even if the government were to turn its sights on the healthcare industry in general and drug pricing in particular, investors can find a degree of reassurance in the fact that when it comes to lobbying influence in Washington to protect their interests, there are few industries that have a larger presence in this regard than healthcare.
A Number Of High-Quality Names From Which To Choose
The healthcare sector also offers a number of attractively valued stocks from well-managed and high-quality individual companies from which to choose. Consider XLV where more than half of the entire ETF is made up of the 10 well-known individual stocks listed below:
When considering this list, it is worth noting that nine out of the ten stocks on the list above are trading at a discount to their long-term average price-to-earnings ratio. The only exception in this regard is UnitedHealth, which is trading at a still fairly reasonable +10% premium. And several are even trading at a discount to their intrinsic value including Pfizer and the biotech trio of Amgen, AbbVie and Gilead Sciences.
The Bottom Line
Fortunately, the U.S. stock market is also a market of stocks. And while I remain bearish on the future prospects for the broader U.S. stock market (NYSEARCA:DIA) as measured by the S&P 500 Index beyond the next few months, I remain constructive on the outlook for healthcare including a number of the individual names that make up the sector.
Disclosure: This article is for information purposes only. There are risks involved with investing including loss of principal. Gerring Capital Partners makes no explicit or implicit guarantee with respect to performance or the outcome of any investment or projections made. There is no guarantee that the goals of the strategies discussed by Gerring Capital Partners will be met.
Disclosure: I am/we are long PFE, MRK, MDT, GILD.
I wrote this article myself, and it expresses my own opinions. I am not receiving compensation for it (other than from Seeking Alpha). I have no business relationship with any company whose stock is mentioned in this article.
Additional disclosure: I have been trading BMY on a short-term basis in recent months but do not hold it at the present time.