Foamix (NASDAQ:FOMX) reported mixed phase 3 results of FMX-101 ('101 for convenience) in moderate-to-severe acne this week. The candidate hit the first co-primary endpoint (reduction in inflammatory lesions) in both phase 3 trials but missed on the second co-primary endpoint (proportion of patients with Investigator's Global Assessment (IGA) success) in one of the two trials - the IGA score trended in the right direction but did not reach statistical significance. The company did not provide much in terms of additional details or a way forward for '101, but I will do my best to address the shortcomings of this trial.
A look at the results
Below are the key top line data copied from Foamix's press release (emphasis added):
Co-primary endpoint - Absolute changes from baseline in the number of inflammatory lesions
Trial 04: -14.16 for FMX101 and -11.17 for the vehicle (p=0.0071); percent reductions were 43.93% for FMX101 and 34.03% for the vehicle (p<0.01)
Trial 05: -13.46 for FMX101 and -10.72 for vehicle (p=0.0058); percent reductions were 42.94% for FMX101 and 33.94% for vehicle in Trial 05 (p<0.01)
Co-primary endpoint - Proportions of patients with IGA success
Trial 04: 8.09% for FMX101 and 4.77% for the vehicle (p=0.2178)
Trial 05: 14.67% for FMX101 and 7.89% for the vehicle (p=0.0423)
So, '101 managed to beat the vehicle but failed to reach statistical significance in the 04 trial on the IGA scale. The company was shy on details about the way forward on the conference call - it intends to conduct thorough analysis and discuss the results with the FDA and inform the public afterwards.
I doubt the FDA will approve '101 based on these results, but would leave it as a possibility that could add to Foamix's upside potential over the next 12-18 months. I think it is realistic for the FDA to demand a new trial that shows '101 is effective against vehicle without a doubt. The difference in a new phase 3 trial will be the treasury of knowledge Foamix will gain from these two very large phase 3 trials. The design of the trial was based on a smaller scale phase 2 trial, and with more data and knowledge of the pitfalls to avoid in the next trial, the chances of success will be higher.
There is another thing to consider after these results: They were significantly weaker than those achieved in the phase 2 trial. Here is how phase 3 data compares to phase 2 data (FMX-101 4% is only compared as the 1% dose was not used in the phase 3 trial):
Absolute change in the number of inflammatory lesions - 43-44% in phase 3 versus 71% in phase 2.
IGA: 8-14.7% in phase 3 versus 20% in phase 2.
The lesion reduction is right in line with main competitor Solodyn and the IGA score is similar at the high end and inferior to Solodyn at the low end. My thesis partly rested on '101 having better efficacy which would make it a dominant market force, but the case doesn't look that way anymore.
The safety profile still looks better than Solodyn's as headache appeared in 2.3% to 6% of '101 patients compared to 23% in Solodyn's trial as well as the overall emergence of side effects - 17-33% in '101's trials versus 56% in Solodyn's. I still think '101 can have a better label than Solodyn which is orally administered and comes with systemic risks, and I think this will be an important differentiator and a solid growth driver for '101, if approved.
Updated valuation
My previous price target on Foamix was $16 and $7 per share was assigned to '101. If we eliminate '101 completely from the valuation, the price target would be $9. Based on the similar efficacy, I don't see '101 as a clear market leader in the market anymore and am reducing my peak sales potential from a $300-500 million range to $150-200 million as I believe that safety differentiation against Solodyn and similar efficacy will still make '101 a viable treatment option. I am also moving the peak-sales year two years out (from 2022 to 2024) as I believe Foamix will need to conduct a new phase 3 trial. The good news is that the previous two phase 3 trials cost around $16-17 million and a new trial will not create meaningful additional costs to the company (delayed approval hurts more than the actual trial costs). The above-mentioned changes reduce '101's NPV from $7 to $3 at the low end of the estimate range. This reduced my price target on Foamix from $16 to $12 (model available to Growth Stock Forum subscribers).
The good news is that acne drugs ramp up fairly quickly following approval. The presentation slide below shows a pretty rapid uptake for all recent launches, so I think it is safe to assume that '101 would become profitable fairly quickly if/when approved.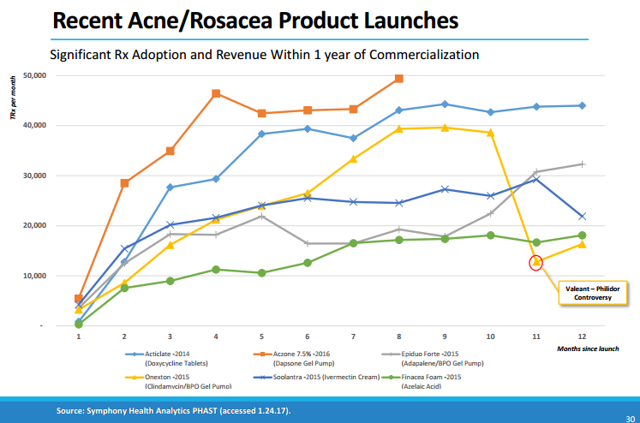 Source: Foamix investor presentation
There are also two things that are not included in my valuation:
The $131 million cash balance - roughly $3 per share, but I assume cash will be burned over the next three years. Last year's cash burn was $27 million and the company believes the current balance is sufficient to fund the pipeline into 2019.
Collaborations with large pharma companies. In addition to Finacea, which is marketed by Bayer and included in my valuation, the company has additional products in various stages of development (preclinical, phase 2 and phase 3) with the following partners: Teva (NYSE:TEVA), Mylan (NASDAQ:MYL), Sebela, and Bayer (OTCPK:BAYRY). Foamix is entitled to receive upfront payments, contingent payments and royalties on sales of these product candidates. Unfortunately, these candidates are not disclosed in the company's filings, so we can't make valuation assessments, but approval of any of these products stands to add value in the long run.
Conclusion
'101's phase 3 results are a setback for Foamix but certainly not a thesis killer. I am reducing my price target on Foamix from $16 to $12 per share, which translates into solid upside from the current price. Even if I eliminate '101 from my valuation, the price target would be $9. I think $4-5 per share is a good place for new money and I may add to my position in that range over the next few weeks. I should note that patience will be needed here as there are no immediate catalysts for the stock. FMX103 phase 3 start in rosacea is scheduled for mid-2017 with a data readout sometime in 2018 and the only near-term catalyst is clarity on '101's regulatory pathway (Foamix could file an NDA with data on hand without the need to conduct a new phase 3 trial) or something coming out of the collaborative pipeline since no timelines for these candidates are disclosed (but I wouldn't count on this one).
Author's note: Growth Stock Forum subscribers had an early look at this article, and have access to regular exclusive updates on every stock I am covering. Readers are invited to take a two-week free trial in the Seeking Alpha Marketplace.
Disclosure: I am/we are long FOMX.
I wrote this article myself, and it expresses my own opinions. I am not receiving compensation for it (other than from Seeking Alpha). I have no business relationship with any company whose stock is mentioned in this article.
Additional disclosure: This article reflects the author's personal opinion and should not be regarded as a buy or sell recommendation or investment advice in any way.